Yak-28P Firebar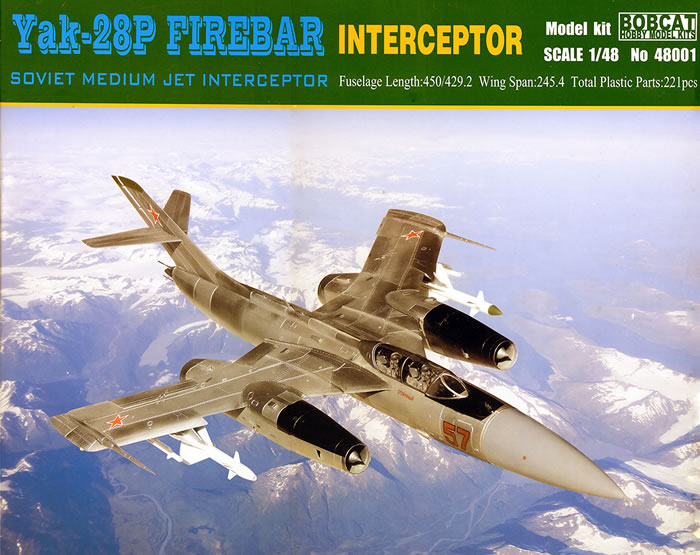 Bobcat Hobby Model Kits, 1/48 scale
S u m m a r y

Catalogue Number:
Bobcat Hobby Model Kits Item No. 48001 - Yak-28P Firebar
Scale:
1/48
Contents and Media:
208 parts in grey plastic and 11 parts in clear; markings for 18 schemes
Price:

USD$29.98 plus shipping available online from Lucky Model
and hobby shops worldwide and online.



Review Type:
FirstLook
Advantages:
Great detail and sharp panel lines; accurate details; full weapons load; good decals.
Disadvantages:
None worth mentioning.
Conclusion:
An amazingly well done first effort for Bobcat and an unusual Subject. Highly Recommended.

Reviewed by Jennings Heilig

Eduard's 1/72 scale Bf 110 G-4 is available online from Squadron.com

As an old(ish) Cold Warrior, anything Soviet, and especially anything PVO (Protivo-Vozdushnaya Oborona - Air Defense Forces) related always gets my attention. And when you start talking about things like Yak-28P Firebars, you really get my attention! Several years go some enticing images showed up online, purportedly of a new kit from a new manufacturer in the Czech Republic called Hippo Models. Images were of what appeared to be a really nice 1/48 Yak-28P Firebar. Some of us got really excited, then sadly, all trace of Hippo disappeared and it was said the project would never see the light of day.
Fast forward a few years, and rumors of yet another new company, this one in China, called Xuntong popped up. Xuntong actually did put out a couple of 1/48 kits of WWII Soviet types, but unfortunately they were rather heavy handed. When it was announced that Xuntong was changing its name to Bobcat Hobby Model Kits, and that they were going to be doing a Yak-28P Firebar interceptor and an Il-28 Beagle bomber, I was a little dismayed that they might come out looking like their first couple of kits. I'm still not completely clear what, if anything, Bobcat's Firebar has to do with the Hippo kit, but I am elated to say that all of my fears were totally unfounded. From what I can tease out, I would have to say that this new Yak-28P kit from Bobcat is pretty much the last word we're ever likely to hear on the subject, and that it's outstanding!
---
Background
The Yakovlev Design Bureau has an illustrious history of designing really great fighter aircraft for the Soviet Air Force. Its Yak-3 and Yak-9 families were instrumental in helping achieve the Soviet victory over the Germans in WWII, and many served well into the 1950s. After the war, Yak delved into radar equipped interceptors for the PVO, and supersonic strike aircraft for the VVS, with what became a large family of aircraft. The genesis of what eventually became the Yak-28P supersonic interceptor is far too long and complex to go into here, but suffice it to say that the Yak-28P was but one of many versions of the same basic design that served the VVS and the PVO for many years, with the last Yak-28P interceptors only having been retired in favor of the Su-27 and MiG-31 in the 1980s. The Yak-28P served exclusively with PVO units, and was only deployed to East Germany on a few occasions, otherwise never venturing outside the borders of the USSR, and never being exported.
Bobcat's new kit is just about everything a fan of the Yak-28P could possibly want. It consists of five sprues of medium grey styrene and one of clear, with a respectable total of 219 parts. It is all packed in a traditional tray and lid style box made of thin corrugated cardboard, providing a good strong container. Each sprue is packed in its own clear bag. A few small parts had separated from the sprues by the time mine arrived, but nothing was damaged. A few parts have some very minor flash, but for the most part are free of it, as well as intrusive mold release pins. Instructions are black & white, but are made up of CAD style perspective drawings. The last two steps are contained on double page fold-outs to allow the drawings to be big enough to see what needs to be done. My only observation on the instructions is that the font used for part numbers and paint codes is identical, so you have to watch what you're looking at. While not as slick and professional looking as other manufacturers' instructions, they are none the less clear and very user friendly.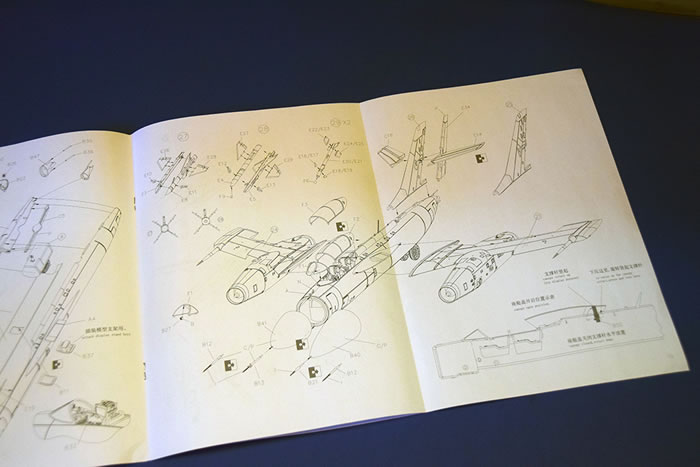 The parts themselves are spectacular! They feature very fine engraved detail that is every bit the equal of anything anyone else in the hobby is putting out. Panel lines are thin, and what fastener detail there is is confined to where there are rows of large screws on the aircraft, and not the acres of rivets we see from some other manufacturers. Given that your choices of color scheme are natural metal, natural metal, or natural metal, that's a relief.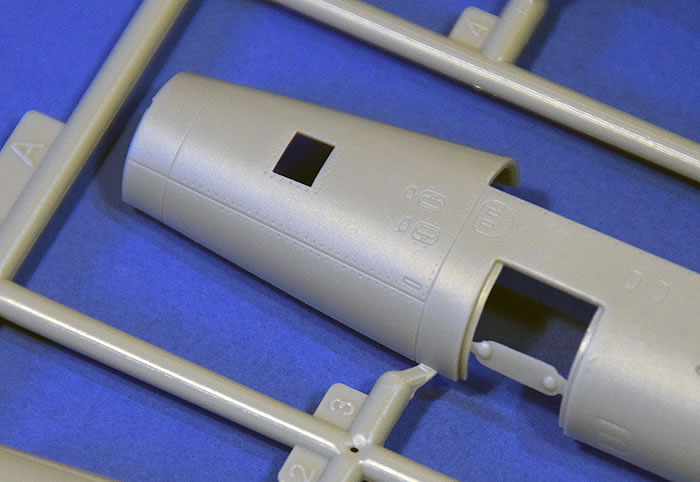 This is a first look review, so I can't comment on parts fit, but the kit gives a very good visual impression. All control surfaces are separate, including the flaps. The aircraft is somewhat unusual in having a bicycle type landing gear setup, with outrigger wheels that retract into fairings near the wing tips. Despite the aircraft's somewhat unorthodox appearance, the parts breakdown is pretty standard. The long slender fuselage is split left and right, with separate radomes (early short, and later long), a separate lower fuselage panel allowing for good surface detail there, and a choice of vertical tails with two different fin tip antenna setups. I suspect we will see a Brewer bomber variant, which I believe will account for one of the vertical tails as well. A choice of radome mounted pitots is provided, showing that Bobcat did their homework. I can't make heads or tails of which airplanes had them when, so the best I can say is, check your references!
Wings are separate left and right upper surface halves, with lower surfaces that consist of an inset. This allows the drooped leading edge to be accurately molded, with no seam line along the leading edge. The large fairings where the outrigger gear retract into, combined with large anti-flutter masses, are molded separately. Ailerons and flaps are also molded separately.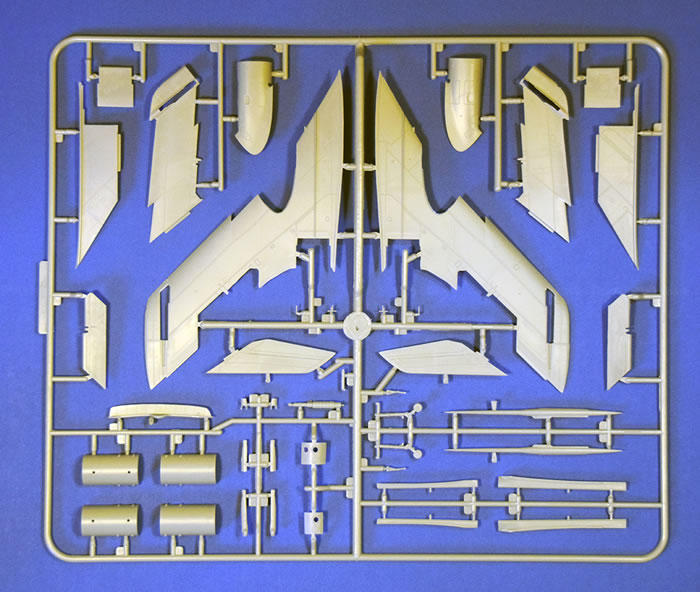 While nothing like "super detailed," the cockpit is certainly well appointed. A single piece dual tub is provided with side consoles in place and a separate floor. Multi-part main and WSO instrument panels with radar scopes have "clocks" molded in, but the layout looks basically correct. I will note here that despite all my research, I have yet to find what I can positively state to be a clear photograph of a Yak-28P cockpit. Some references say the cockpits are very similar to other Yak-28 variants, but since the strike versions don't have a rear cockpit, I'm not sure how much stock to put in those claims. The front cockpit may well be similar, but photos of them aren't exactly thick on the ground. The ejection seats are made up of multiple parts as well. The back and seat cushions look more like egg crate than seat cushions, and there are no belts provided. From what little reference I've found, at least the upper parts of the seats look reasonably accurate. I believe these seats were unique to the Yak-28 family, so more research is clearly needed.
One of the most distinctive features of the Yak-28 is its long slender engine nacelles, These are molded as left and right halves, with additional panels for the upper area that blends with the wing upper surface, a separate exhaust ring, separate intake ring, and panels for the landing lights. A note on those - some Yak-28Ps seem to have one landing light on each nacelle, while others have one on the right and two on the left. The kit portrays this variation, but check references. The intakes are complete with a dart-like intake bullet supported by three 'wings'. From the look of it, I would say the way this is mounted inside the intake is inviting it to be knocked loose, so be sure it's well secured in place. The instructions have you paint the tip of the intake bullet red, with a red ring just aft of it. I've never seen this in evidence on any in-service Yak-28P. From what I can tell, the nacelles (as well as the rest of the kit) portray the various access panels with their quick release fasteners as close to perfectly as I am able to discern. Many of the quick release fasteners were painted blue with a red push button on one end, which would add some visual interest on the natural metal scheme that is your only choice for the Firebar. The blow-in doors on either side of the intakes are supplied as separate opened or closed doors - another nice touch. The afterburner cans are equipped with spray nozzles and the visible turbine blades, and a separate convergent/divergent nozzle ring. This is basically the same engine found in early MiG-21s, so if you wanted to go crazy and use an Eduard Brassin MiG-21 set (or two), you probably could, not that it would be a huge improvement over the kit parts, given what's visible. There are numerous small cooling intake scoops all around each nacelle. These are all molded separately, and are (thankfully!) slide molded so that they have an actual intake. Unfortunately they all have a noticeable sink mark in them, but they should be easy enough to repair with a little super glue.
The landing gear and gear bays are made up of several parts each, and appear accurate. Wheel hubs are separate on the main and nose wheels, and the hub detail looks accurate. The tires have the typically Soviet radial ribs, and should look good when painted up. The outrigger gear is molded with the small wheels in place , but with a separate drag link and gear door. All doors have internal structure molded in, as do the side panels on the main gear bays - a nice touch! Provision is made for building the model inflight, with separate parts for closed nose and main gear doors, and retracted outriggers. A part is provided for insertion in the belly allowing for a stand, but no stand is included.
The Yak-28P's armament consisted of the AA-3 Anab missile, with standard fit being one IR homing version and one semi-active radar homing version. Some aircraft also carried the AA-2 Atoll heat-seeking missile. Bobcat's rendering of the IR and SARH versions of the Anab and the Atolls is outstanding, and all you could ask for. However, their research let them down on the mounting. Correct pylons are provided, but for the "early" version (short radome) they tell you to mount the AA-2s inboard of the engine nacelles. No Yak-28P ever carried missiles in that location, and early (and many late) Yak-28Ps did not carry the AA-2s or their pylons at all. I have quite a few photos of Firebars taken from aboard US reconnaissance aircraft, and the majority of them are not carrying the AA-2s or their pylons. The choice is up to you, but just don't mount them inboard!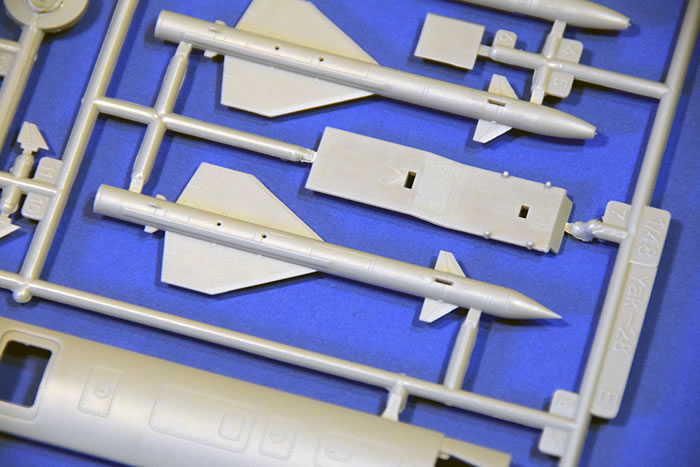 Clear parts are very well molded. Two main canopies are provided, one with a center frame, and one without. Some references say the center frame was an early feature, and others say it was a late feature. Given that it's virtually impossible to tell from 99% of the photos I've seen which canopy is fitted, I'm going with the one that tickles my fancy when I get to that point. It would seem to make sense that later aircraft would have had a clear view canopy, but this is a Soviet machine, so who knows? The parts are very clear, and without noticeable distortion. I believe the framing on the forward windscreen section is a little on the thin side compared to photos, but not a deal breaker. Clear parts are provided for the landing lights, the navigation lights, and the IR seeker heads on the AA-2 and AA-3 (IR) missiles.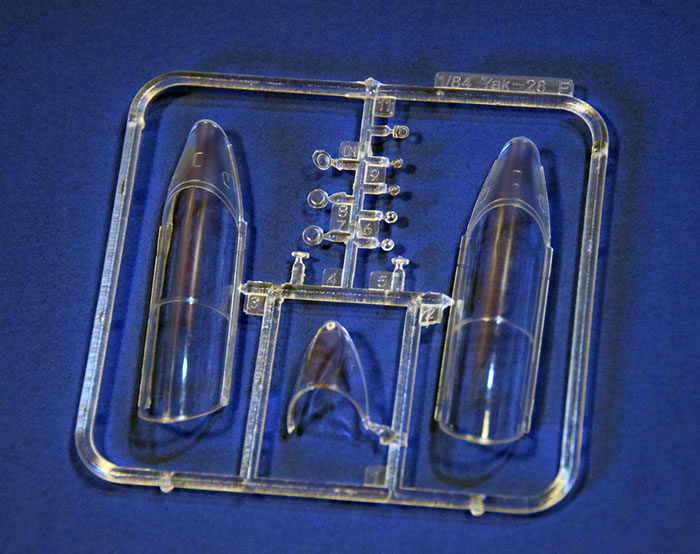 The decal sheet is amazingly complete. Bort numbers in yellow (mainly for prototypes), red, and blue are provided in a variety of styles seen on Yak-28Ps. While I can't say that it's complete or completely accurate, a very nice variety of stencil data - in Russian (Eduard…) - is provided. The Yak-28P preserved in Arkhangelsk seems to have most of its stencil data faithfully applied, and the kit's matches up with it reasonably well. Markings are even provided for the missiles, although whether these were routinely applied to live in-service missiles is a question for me. They don't appear in most photos from live intercepts, but then those photos are not terribly clear for the most part.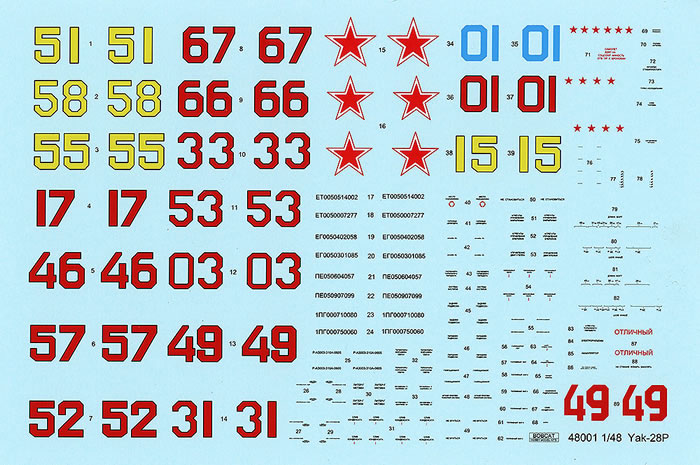 One part of the decal that is a little bit of a disappointment is the Soviet stars. The vast majority of natural metal finished Soviet aircraft used stars with no white outline around the main red star. They were simply red with a thin red outline painted directly onto the natural metal. Once you start noticing this, it's very common on everything from MiG-21s to Bears. The kit's stars have the white background. I was able to scale up several good photos of Yak-28P bellies (taken from the bushes near East German air bases…) and determined that the majority of Yak-28Ps had wing stars that were 1200 mm tall (overall height, not arm spread). The tail stars were 900 mm tall. The kit provides six stars that scale out to approximately the 900 mm size.

To say I'm elated to see this kit - and to see it so very well done by Bobcat - would be understatement in the extreme. I never dreamed I would see the day when I would hold an accurate, very well done, and well detailed model kit of the Yak-28P in my hand. Whoever did the research for this kit did a great job, and the execution lives up to it. The next kit due from Bobcat is the Tupolev SB, to be followed by the Il-28 Beagle down the road. I'm looking forward to all of them!

My kit was purchased from Red Star Scale Models (www.redstarscalemodels.com), and is also available from Lucky Model and various eBay sellers.
---
Review Text Copyright © 2017 by Jennings Heilig
Page Created 7 February, 2017
Last updated 7 February, 2017
Back to HyperScale Main Page
Back to Reviews Page