Curtiss P-40N Warhawk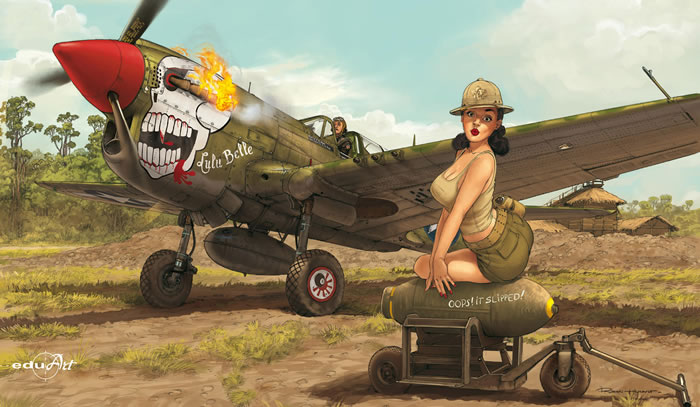 Eduard EduaArt Series, 1/32 scale
S u m m a r y :

Catalogue Number:

Eduard Kit No. 11104 - Warkawk EduArt Series

Scale:

1/32

Contents & Media

375 plastic parts on 24 sprues of grey plastic and three sprues of clear plastic; two photo-etched frets; markings for three aircraft.

Price:

Available online from:

Eduard for USD$165.00 plus shipping

Hannants for £106.80 EU Price (£89.00 Export Price) plus shipping

Review Type:

First Look.

Advantages:

High quality plastic parts; includes all the parts required for any P-40E, M or N; good level of detail; crisp and fine surface textures; worthwhile resin and photo-etched upgrades; excellent decal sheet; great to see this almost unobtainable kit available again, if only in limited numbers.

Disadvantages:

Conclusion:

This isn't a cheap kit, but it's certainly one I'm pleased to see on the market, especially in this gorgeous EduArt format! Highly Recommended.

Reviewed by James Hatch

Special Hobby's Mirage F.1B/BE is available online from Squadron.com
The Curtiss P-40 Warhawk is an American single-engine, single-seat, all-metal fighter and ground-attack aircraft that first flew in 1938. The P-40 design was a modification of the previous Curtiss P-36 Hawk which reduced development time and enabled a rapid entry into production and operational service.
P-40 Warhawk was the name the United States Army Air Corps and after June 1941, USAAF-adopted name for all models, making it the official name in the U.S. for all P-40s. The British Commonwealth and Soviet air forces used the name Tomahawk for models equivalent to the P-40B and P-40C, and the name Kittyhawk for models equivalent to the P-40D and all later variants.
P-40s first saw combat with the British Commonwealth squadrons of the Desert Air Force in the Middle East and North African campaigns, during June 1941. No. 112 Squadron Royal Air Force, was among the first to operate Tomahawks in North Africa and the unit was the first Allied military aviation unit to feature the "shark mouth" logo, copying similar markings on some Luftwaffe Messerschmitt Bf 110 twin-engine fighters.
The P-40's lack of a two-speed supercharger made it inferior to Luftwaffe fighters such as the Messerschmitt Bf 109 or the Focke-Wulf Fw 190 in high-altitude combat and it was rarely used in operations in Northwest Europe.

However, between 1941 and 1944, the P-40 played a critical role with Allied air forces in three major theatres: North Africa, the Southwest Pacific, and China. It also had a significant role in the Middle East, Southeast Asia, Eastern Europe, Alaska and Italy. The P-40's performance at high altitudes was not as important in those theatres, where it served as an air superiority fighter, bomber escort and fighter-bomber.
Although it gained a post-war reputation as a mediocre design, suitable only for close air support, recent research including scrutiny of the records of individual Allied squadrons indicates that this was not the case: the P-40 performed surprisingly well as an air superiority fighter, at times suffering severe losses but also taking a very heavy toll of enemy aircraft.
The P-40 offered the additional advantage of low cost, which kept it in production as a ground-attack aircraft long after it was obsolete as a fighter.
The Warhawk was used by most Allied powers during World War II, and remained in frontline service until the end of the war. It was the third most-produced American fighter, after the P-51 and P-47; by November 1944, when production of the P-40 ceased, 13,738 had been built, all at Curtiss-Wright Corporation's main production facilities at Buffalo, New York.
The first thing that surprised me is just how big the box is for this kit, and how heavy it is too. Adorned with one of Romain Hugault's beautiful lady-inspired artworks that is the raison d'être for this release from Eduard's new 'EduArt' range (following on the heels of the recent P-47 Dottie Mae), we finally see more P-40N plastic on the market. Note the saucy 'Oops! It Slipped!' on the bomb that the lady is sitting upon. Can't beat some nice innuendo in our hobby!
Whilst it is still possible to buy other variants of the P-40, the 'N' variant hasn't been available for some time now, and it seems that this is the one that modellers are wanting to see. I suppose from that angle, Eduard's new Warhawk release is a canny move on their part. Be warned though, only 3000 of these kits are available, and the Overtrees sprues have already sold out.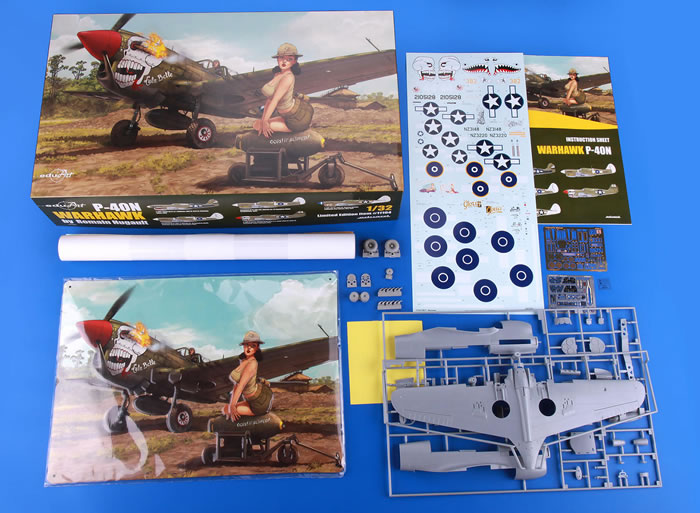 Inside the box, all sprues are bagged into two sleeves, with the three sprues of clear parts being separate to protect them from scuffing. Most of the grey sprues are interconnected. I would've liked to have seen all sprues and sprue groups individually packed, but there is no real evidence of scuffing on my parts.
Also within the bag is a little packet of polycaps.
As this is an Eduard re-pop though, there are of course some of their extras to adorn this model. These take the shape of two PE frets (one printed in colour), set of correct resin wheels with appropriate 'N' type hubs, fishtail exhausts, clear acetate for the gunsight, and a set of masks for both canopy options.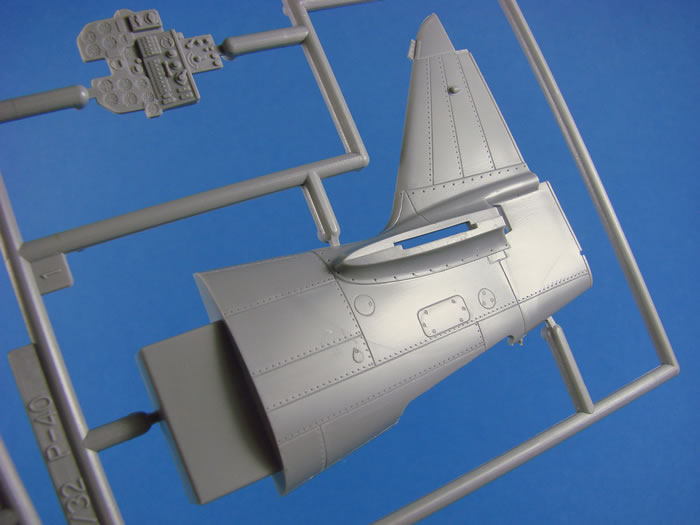 What is this 'EduArt', I hear you say. Okay, the rather stunning lid box art is included TWICE inside the box. One of these takes the form of a rolled-up A2 size poster, and the other is a new addition to the range, namely a beautifully printed reproduction of the box art, on an embossed metal plate, so you can feel the various relief, and it should of course catch the light nicely too. More of that later though. A small criticism here as to how this plate is packed. I found mine was sitting directly on top of all the sprues, including the clear one, and although the plate is nicely packed itself, I wasn't keen on that weight bearing down on my plastic parts in case it deformed them. Top tip….remove from box as soon as you receive it.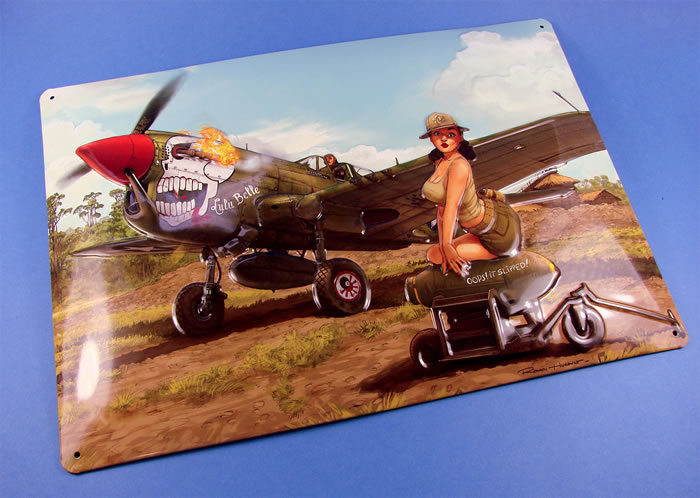 The majority of this kit has seen action with previous Hasegawa P-40 releases, with the exception of the N version tail parts, cut-down rear cockpit area and the new canopy parts to suit, and the wheels with the specific hubs.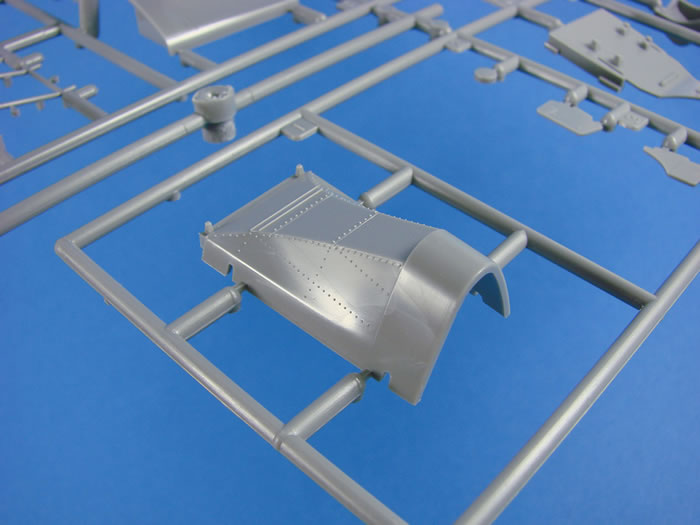 This release does include two schemes which will use the high back cockpit and the older style canopy too.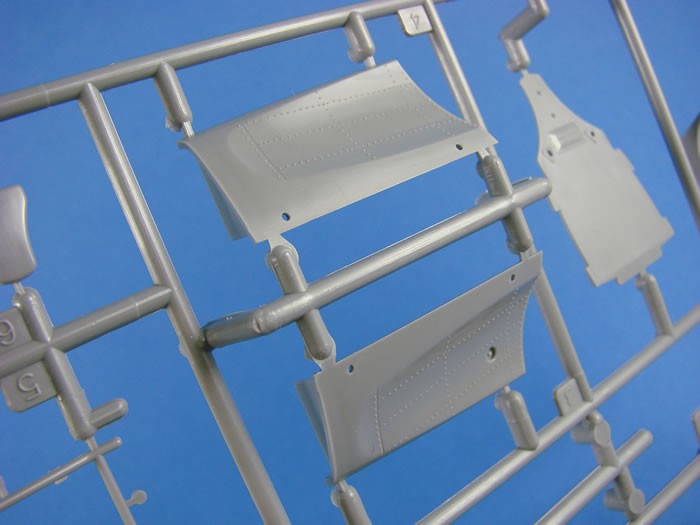 As an added, unlisted bonus, the earlier, shorter fuselage tail section is also included amongst the parts.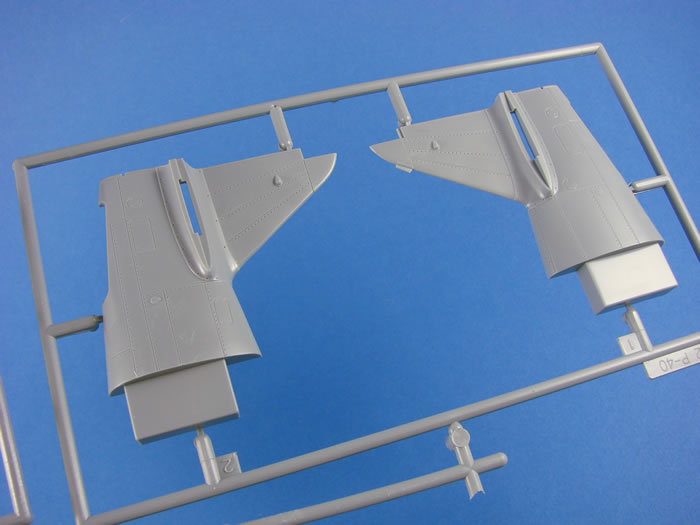 It isn't even down on the parts plan, and is certainly not slated for use in this specific Warhawk release. This opens up more options for the modeller.
Construction typically starts with the cockpit, and even without Eduard's touch, the office in this release is actually very good, taking into account that this is a kit that was still only tooled in 2008. However, this fully-featured office now has two coloured, multi-layer instrument panel options as well as decals for the standard plastic part, colour-printed seatbelts and numerous other instrument consoles and placards on offer, to supplement the already excellent detail in this area. Also included is a rear mirror (fluffy dice optional!). Two seat options are included. A small number of PE options are provided as decals too. It goes without saying that there will need to be some surgery to perform if you want to implement Eduard's PE sets, but it is fairly minimal, and includes shaving some sidewall details, and removing the raised detail from the instrument panel. You'll also have to bend a few metal parts for items such as the map case replacement. Nothing too onerous though.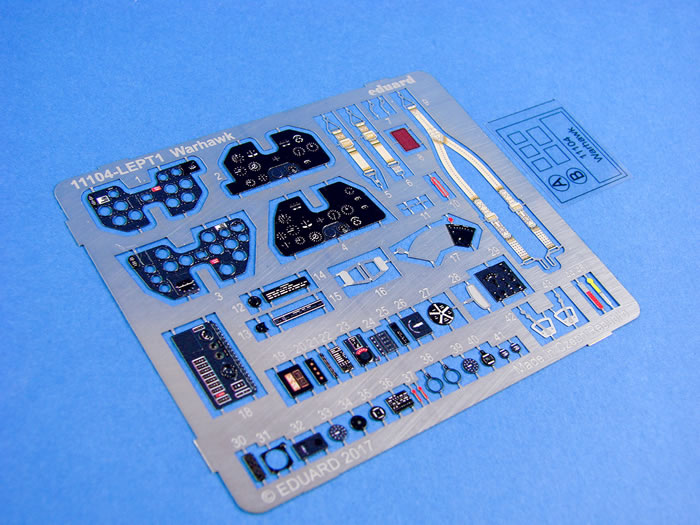 Leaving the cockpit, the PE parts also include the circular intake grilles, aerial mast attachment point, canopy fastening latch, and numerous other external details such as surface panels, trim tab linkages, a small selection of undercarriage bay parts, fuselage fuel tank/bomb rack mounting point, and completely new PE underwing bomb attachment parts. The included Brassin wheels also have photo-etch for the optional external hub disks.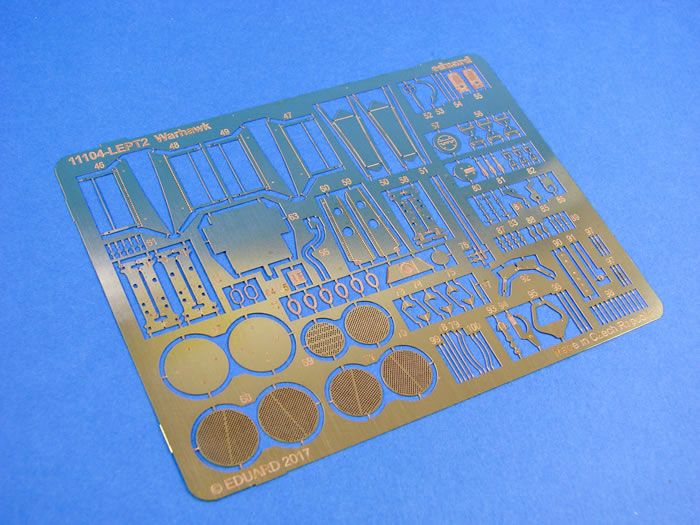 One area of contention with modular fuselage design is how you seamlessly fit items such as the separate tail unit. Hasegawa's instructions called for this to be plugged in after joining the main fuselage. Eduard has recognised the general folly of this and indicated that you need to join the tail halves to the fuselage before you bring the fuselage together finally. That's pretty sensible and how I approach this in general. The rudder is a separate part, meaning it can be posed dynamically, if you trim back the location tabs. Looking at the fuselage parts shows how nicely refined the external detail is, and makes me wonder why I haven't built one of these before. Fine panel lines and port access details are the order of the day, with everything looking suitably scale to my eye. Being ex-Hasegawa, there is of course no major riveting to be seen, so if you want a little extra visual interest, you'll have to dust off Rosie, or even better, use a beading tool. Some key rivet lines exist, but that is all. Ventilation plates, exhaust panels and rear cockpit are separate to the main fuselage halves, in true modular style.
The wing is a simple affair to build, with a full-span lower piece, and port/starboard upper panels. Ailerons are integral, as they tend to be with Hasegawa. Surgery will be required if you want otherwise. This also applies to the stabilisers, with integrally moulded elevators. The multipart main gear bay is based around a single spar and is simply sandwiched between the upper and lower wing panels. Separate inserts are included for the Browning machine gun leading edge panels. Detail-wise, there isn't anything you really need to add here as the plastic parts are very good. Moulding quality is excellent throughout, with no visible defects or badly placed ejector pin marls to suck away the fun.
---
Clear Parts
Four clear sprues are included. One of these contains the common windscreen which is moulded along with the external fuselage adjoining panel. This neat idea means you won't need to worry about gaps being present between the windscreen and fuselage. Another windscreen is supplied, but again, it's not for use with this release.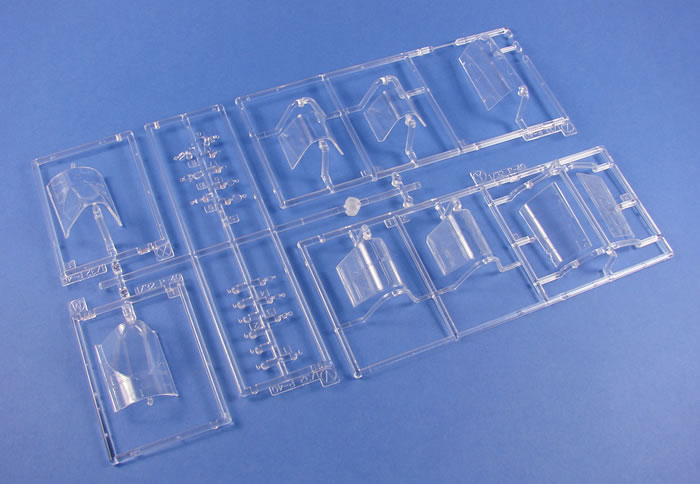 Main hoods for both the early machine and the cut down fuselage version, are supplied, along with their respective rear canopy sections. Hood parts are included for both open and closed versions of both style of hood. Frame lines are well-defined and the parts are crystal clear. One sprue contains smaller clear parts for landing lights etc.
---
Photo-Etch
The photo-etch parts are typically superb, as is the norm, with the printing being very good. With some colour PE, I've been left disappointed due to ink pixilation, but these are very good, and under a coat of matt varnish, they should look just perfect. Attachment gates are nice and thin and should present no problem.
---
Resin Parts
There aren't too many resin parts in this release, but Eduard has made them count. First up are the replacement wheels with their separate hubs. Not having to remove seams automatically makes these a better option, but the detail is also far nicer and more comprehensive. Secondly, fishtail exhausts are included. Each side is cast in three banks of two manifolds, and they are handed, meaning you will not only need to get them in the correct order, but also on the appropriate side of the cowl. They are easy enough to identify, so there shouldn't be a problem.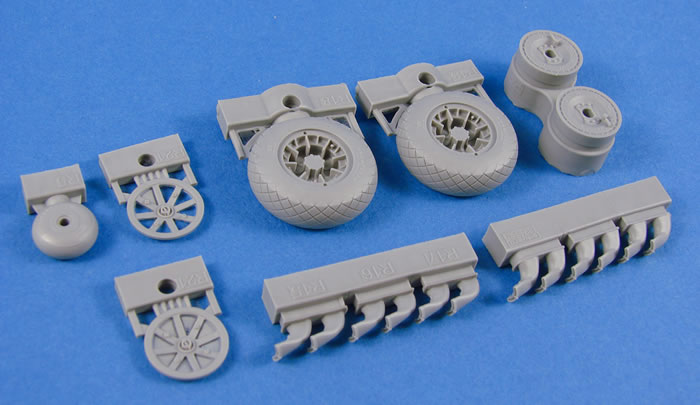 Casting quality is flawless. Eduard's wheel hubs always take a little sawing to free them from their blocks, but the wheels come away from them quite easily and clean-up is quick too.
A single sheet of Kabuki masks is included, with parts for both canopy options (obviously!), and also wheel hub masks. Cutting is sharp and you should have no problems.
---
Marking Options
The decals are provided on a single, large, Cartograf-printed sheet. Colour is solid and authentic, with minimal carrier film, thinly laid inks and a nice glossy surface. Registration is also perfect.
Those markings which contain the white bars have those printed here too, but I'd probably opt to mask and airbrush these. Still, the option is there. Stencils and cockpit decals are also included.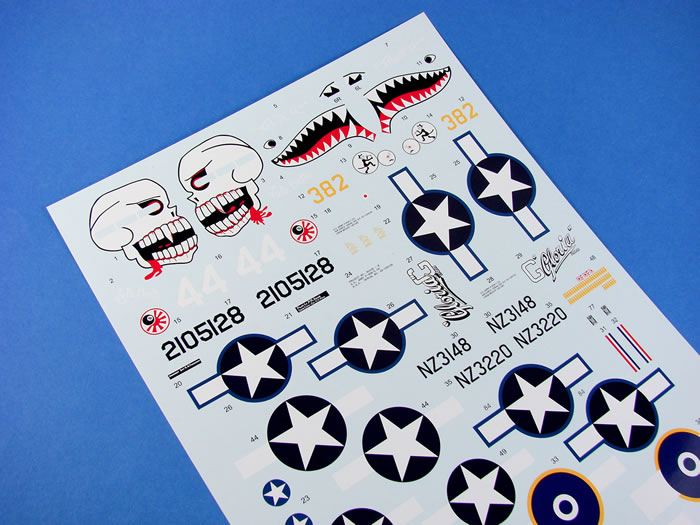 The five schemes available in this release are:
P-40N-5 s/n 42-105128 flown by Lt. P. S. Adair, 89th FS, 80th FG, Nagaghuli, India, February 1944

Kittyhawk IV (P-40N-1), NZ3148, No. 18 Squadron RNZAF, Ondonga, New Georgia, November 1943

P-40N-1 flown by Lt. G. L. Walston, 16th FS, 51st FG, Kunming, China, 1944

P-40N, 7th FS, 49th FG, Cyclops Airfield, Hollandia, New Guinea, May 1944

Kittyhawk IV (P-40N-20), NZ3220, No. 18 Squadron RNZAF, Bougainville, 1944
---
Extras
It's the embossed metal plate that is the real showstopper here. Romain's box artwork has been transposed to a quite weighty, fairly thick gauge metal plate, and the various relief has been stamped into this, giving a semi-3D sort of feel to the item. The printing is great too! Holes are provided for handing this on your workshop wall, so you won't need to damage the plate to do this yourself. The same art is provided on a rolled-up A2 size poster too. You can never have too many copies of Romain's work.
This isn't a cheap kit, but it's certainly one I'm pleased to see on the market, especially in this gorgeous EduArt format! There are plenty of options in this release, both official and unofficial, and the schemes themselves are excellent. It'll still be tempting to do the shark mouth machine, so I must resist. I do feel that Eduard could've included the PE with the landing flaps etc. This is now available as an upgrade to this kit. All in all, a very attractive and welcome package that I really can't wait to get to the bench. Doubtless the most accurate P-40N on the market. Watch out for my build soon in Military Illustrated Modeller.
Highly Recommended
Thanks to Eduard for the sample
---
Review Text and Images Copyright © 2017 by James Hatch
Page Created 10 July, 2017
Last updated 17 July, 2017
Back to HyperScale Main Page
Back to Reviews Page