Fw 190A-5 Light Fighter
Weekend Edition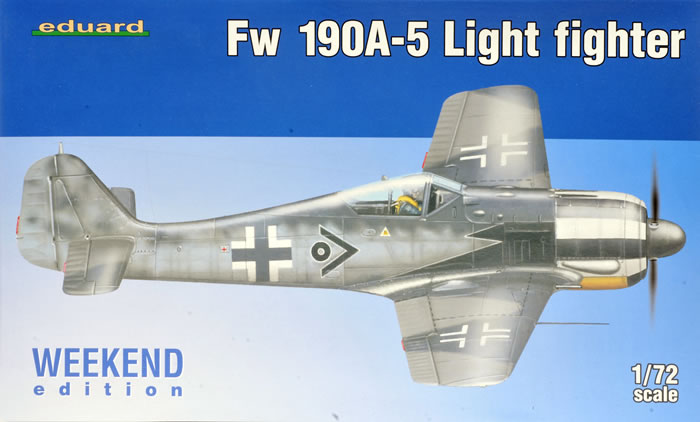 Eduard, 1/72 scale
S u m m a r y :

Catalogue Number:

Eduard Kit No. 7439 - Fw 190A-5 Light Fighter Weekend Edition

Scale:

1/72

Contents & Media

64 grey and four clear styrene parts, and decals for two markings options.

Price:

Available on-line from these stockists:

Click for currency conversion.

Review Type:

First Look.

Advantages:

The best 1/72 Fw 190A-5; very accurate, great detail, and very attractively priced.

Disadvantages:

None noted.

Conclusions:

Eduard's Fw 190A-5 is the best in 1/72 scale by a long measure, and is a superb example of the 1/72 kit maker's art.

Whilst the Profipack Edition offers a bit more detail by virtue of its PE fret and offer the convenience of a canopy mask, the Weekend Edition still betters any other brand's 1/72 Fw 190A-5 by a considerable margin. It is the ideal choice for those that dislike PE or plan to build a closed canopy model.

I think it represents incredible value and cannot recommend it highly enough.

Reviewed by Mark Davies


Eduard's 1/72 Fw 190A-5 Light Fighter Weekend Edition is available online from Squadron.com

No Introduction Necessary
The Fw 190 represented a watershed in fighter design; in particular it showed how a radial engine could be installed to rival in-line engine streamlining.
The design was rugged, fast, very manoeuvrable, and had a powerful armament; added to which were good pilot visibility and an ergonomic cockpit layout. It was unmatched as a fighter when first encountered by the RAF in 1941.
Readily adaptable to many roles, it had a wide range of weapon and equipment fits; whilst further development led to in-line engined versions and the Ta 152 series of fighters.
The A-8 was the most produced sub-type of this superlative design.
For those interested, a more detailed account can be found here at Wikipedia.
---
Previous 1/72-scale Fw 190A-5 Kits
There have been numerous Fw 190A & F series kits in 'The One True Scale' over the years, but surprisingly few Fw 190A-5 variants, with some laying a doubtful claim to represent an A-5 anyway. In my opinion, there is only one decent Fw 190A-5 kit, this being from Hasegawa. Other A-5 kits include those by Advent, MasterCraft, MPM (from 1994) and ZTS Platsyk; and even vac-forms by K&K and Mavi.
Hasegawa's kits are accurate, have refined surface detail, and are problem free to build. Their weaknesses are basic cockpit and their usually a high retail price.
Excluding limited availability over-trees, Eduard has previously released the Fw 190A-5 as a Profipack Edition, and an Fw 190A-5 Heavy Fighter Weekend Edition. These kits share the same styrene parts as the kit that is the subject of this 'First Look', but also include an alternate lower wing option cannon equipped off MG FF bays; whilst the Profipack Edition also has coloured PE details, a pre-cut canopy mask and more decal options. I reviewed the Profipack Edition here on in May 2016, and the Heavy Fighter Weekend Edition here in September 2016.
The Contents
The parts come in a somewhat oversized top-opening box and are enclosed in re-sealable cellophane bags, with the clear sprue and decals each in their own separate bags.
The instruction booklet is printed in colour on glossy paper, with clear and easy to follow drawings. These can be viewed or downloaded from Eduard's website by clicking here. Colour call-outs are cross referenced to Gunze Sangyo's Aqueous and Mr. Color paint ranges, and include RLM codes for the camouflage colours. Quite a few parts are surplus to requirements, as the parts map indicates: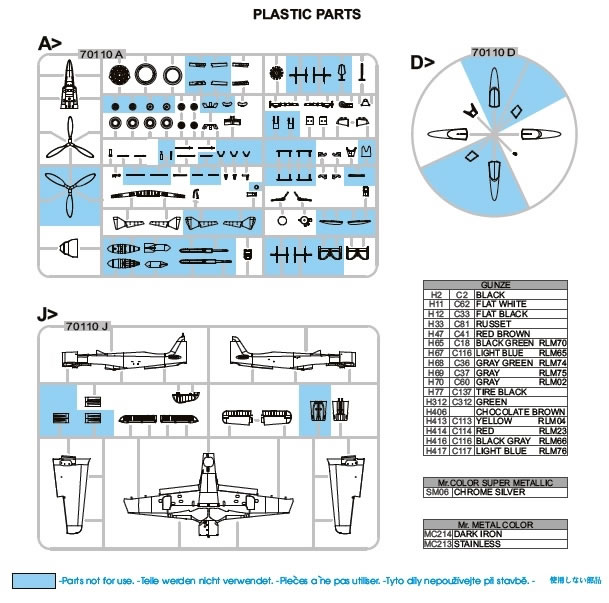 The moulding of the two main grey sprues is flawless, with super-crisp and delicate detail, narrow sprue gates, and thoughtfully positioned ejector pins. The clear parts are likewise flawless, thin and clear.
---


The Kit
The first thing that struck me was the delectable surface detail this kit exhibits. It has ultra-fine and consistent recessed panel lines, and has some of the best rivet detail I have encountered in the scale. Rivets have come back into modelling fashion, but unlike many brands following this trend, Eduard has managed to keep theirs unobtrusive and in the right places.
They have also avoided the another flawed practice common to Fw 190 kits, that of moulding the control surfaces with a heavy representation of the underlying framed structure. Instead Eduard's simulate drum-tight fabric with rib-tapes, as they should.
There is not a lot of room in an Fw 190's cockpit in this scale, but Eduard has made a nice job of the tub, seat, and control column. The rudder pedals are just the mounts for the PE examples provided with the Profipack Edition, but they will be extremely hard to see any way.
The side console faces with raised details are separate parts that fit to the tub. This allows for different versions, plus there is smooth option to mount coloured PE faces available in the Profipack Edition or separate detail sets. All very thorough! The two-part instrument panel has raised detail and optional instrument decals, and again there are smooth equivalents to accept coloured PE parts. There is a gun-sight molded in clear plastic and separate cockpit coaming.
The cockpit is finished off with a nice a decal harness; which I think is best cut out with backing paper in place to give it a 3D effect and aid realistic positioning (you will need to colour the backing paper to match the harness colours).
The canopies are nice and clear with separate windscreen enabling them to be modeled open if wished. It is here we see an example of Eduard's thoroughness; because the sliding canopy varied in width as it slid open it caused the Perspex hood to flex and subtly change shape, so the kit has open and closed alternatives for each style! There is an armoured headrest and brace to mount inside the canopy, and a decaled stencil warning of the quick release explosive charge to add to the headrest.
The fuselage halves enclose the cockpit tub, firewall and the exhaust ejector stubs that project out of the fuselage side openings. The engine is a more than adequate relief molding with separate reduction gear housing.
The panel over the fuselage MG17's which has the gun muzzles moulded integrally so they protrude into the upper cowl panel's twin blast troughs. This and the cowl panel fit once the fuselage halves are joined together. The rudder is provided as a separate item.
The wings are split between their upper and lower surfaces as you would expect. In this kit the wings and fuselage are supplied on Sprue "J", whereas the Fw 190A-5 Heavy Fighter mentioned earlier has these parts on Sprue "G". The difference between the two is the review kit lacks outboard MGFF cannon and associated under-wing bulges, thus its Light Fighter title.
To the lower wing section is added a wing spar, some structural detail in a choice PE or styrene, some piping, the inboard MG151 cannons, and the wheel well roof. The underside exhausts stubs are provided as an insert in the bottom cowl panel molded with the lower wing, with a separate pipe run for cylinder #8 to fit and exit through its own hole in the panel. The separate ailerons can be attached once the upper wing surfaces are in place.
With the wings attached to the fuselage the combined oil-cooler/cowl lip and its armoured ring can be attached to complete the engine cowl. The prop, its spinner and cooling fan finish off the engine side of things.
The finely moulded tailplanes are two single moldings with integral elevators, the balance horns of which are unattached to the horizontal stabilizer for added realism (the gap is so fine it's easy to miss without magnification).
The undercarriage is very nicely represented with good levels of detail. A choice of treaded or smooth tyres for the main wheel is also provided for. Brett Green's build review of the similar Fw 190A-8 kit here on HyperScale reported that "The landing gear legs are also well detailed, but I found them tricky to position as the main locating hole is quite shallow. Patience and repeated test-fitting is the answer here."
All that is left to mention is a pitot for the starboard wing, ventral antenna, DF-loop, and boarding step.
Given it relative complexity, it seems that the less-detailed Hasegawa kit will probably beat the Eduard kit for ease of assembly. However, Brett Green's build article of the similar Fw 190A-8 mentions the very good fit and general ease of assembly, provided test-fitting is practised. His article included a couple of useful pointers about removing a mounting lug when fitting the upper cowl panel, and spreading the fuselage slightly to meet the wing roots. I would also add to pay careful attention to the instructions, as there are several surplus parts that appear similar to those required; this being the result of mould engineered for multiple versions.
Of course, Eduard specialises in aftermarket details and accessories; and in the case of the Fw 190A-5 there are numerous sets well worth checking out at Eduard's website.
---
Colours & Markings
The decals provide for two markings options, along with quite extensive stenciling. Each scheme is illustrated in colour with a single page of four-view drawings, whilst the stencil locations are identified in a separate page of their own.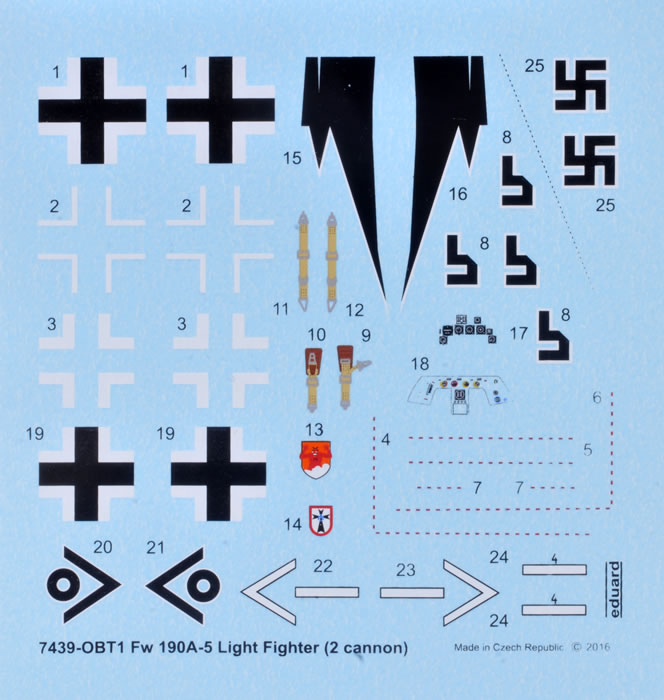 The machines covered are those of:
Oblt. Rolf Strohal, Stab I./JG 1, Deelen, The Netherlands, April 1943; and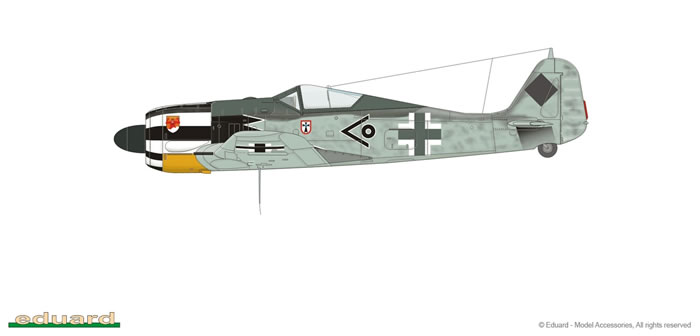 Stab JG 54, Pskov, Soviet Union, spring a943.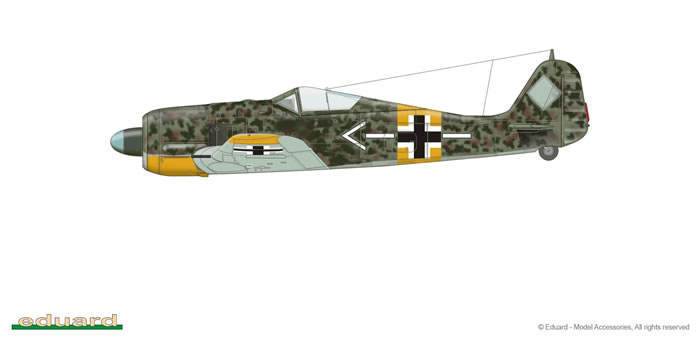 The decals appear to be of excellent quality.

Swastikas are provided as two-part decals on all sheets, with complete swastikas included in a corner that can be cut off for markets that do not permit its display.
Eduard's Fw 190A-5 is the best in 1/72 scale by a long measure, and is a superb example of the 1/72 kit maker's art.
Whilst the Profipack Edition offers a bit more detail by virtue of its PE fret and offer the convenience of a canopy mask, the Weekend Edition still betters any other brand's 1/72 Fw 190A-5 by a considerable margin. It is the ideal choice for those that dislike PE or plan to build a closed canopy model.
I think it represents incredible value and cannot recommend it highly enough.
Thanks to Eduard for the sample
---
Review Text and Images Copyright © 2016 by Mark Davies
Page Created 28 February, 2017
Last updated 28 February, 2017
Back to HyperScale Main Page
Back to Reviews Page