Messerschmitt Bf 110 F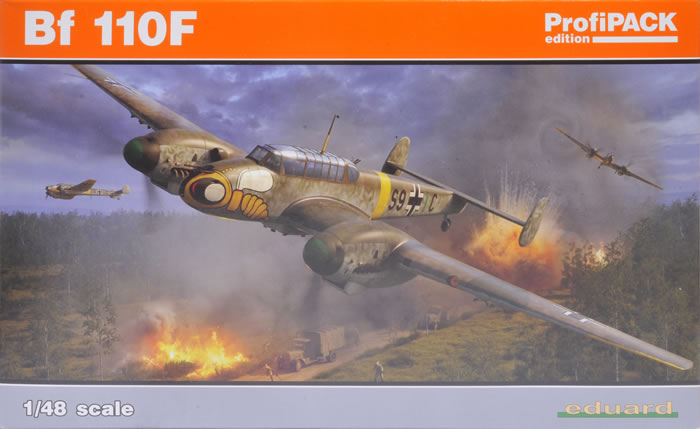 Eduard, 1/48 scale
S u m m a r y

Catalogue Number:
Eduard Kit No. 8207 - Messerschmitt Bf 110 F
Scale:
1/48
Contents and Media:
Approximately 420 grey coloured plastic parts (alhtough nearly 200 are unused); 13 clear plastic parts; colour photo-etched fret; masking sheet; markings for five aircraft; one resin dachshund.
Price:
Review Type:
FirstLook
Advantages:
High level of detailed; superb surface features including crisply recessed panels and subtle rivet lines where appropriate; includes comprehensive colour photo-etched parts; lots of useful ordnance and night fighter options; separate canopy parts for closed/open cockpit; correct size nacelles and generally very accurate; very high quality plastic; narrow sprue attachments; attractive marking options.
Disadvantages:
Modelling experience will be required; a few minor modifications required for total accuracy.
Conclusion:
It is great to see a Bf 110 F finally join Eduard's ProfiPACK series. This is a very well detailed model of a historically important aircraft, but may be challenging to build in places.

Reviewed by Brett Green

Eduard's 1/48 scale Bf 110 G-4 is available online from Squadron.com

The Luftwaffe's heavy fighter arm, the Zerstorer Gruppen, was a prestigious force in the pre-war and Blitzkreig era. The theory of a large, twin-engine, long range, heavily armed and self-sufficient fighter was popular at the time, and worked well in practice over Poland, the Low Countries and France.
The Zerstorers fortunes turned over the skies of Britain. Along with the much maligned Stuka, the Bf 110 earned a miserable reputation during the Battle of Britain thanks to the lop sided contest with faster and more maneuverable Spitfires and Hurricanes.
Nevertheless, the useful life of the Messerschmitt Bf 110 was far from over. The Bf 110 remained a stable and reliable weapons platform for another five years. It continued in the heavy fighter and fighter-bomber role in the Meditteranean and on the Eastern Front, fitted with bombs, gun packs and additional fuel tanks.

The Messerschmitt Me 210 was developed to replace the Bf 110, but the new aircraft's flying characteristics were more dangerous to its pilots than enemy fighters. The Bf 110 was therefore treated to a major upgrade.
In 1942, the Messerschmitt Bf 110 F was fitted with newly designed streamlined engine cowlings housing DB601F engines, the powerplant intended for the Me 210. These each produced 1350 hp - almost double the power of the original Jumo engines fitted to the Bf 110 B. The large spinners were the same as the Me 210 and the Bf 109 F and G series, with a cap covering the centre hole.
The Messerschmitt Bf 110 G was introduced soon after with the new DB 605 engine. This version retained the streamlined engine nacelle with some added scoops and revised inspection windows. A new style of rear canopy was introduced with a side-opening hatch replacing the gunner's sliding clamshell. The defensive armament was also upgraded to a twin 7.92mm MG 82Z machine gun. This variant was equipped with many field conversions, including 300 litre drop tanks, twin 20mm gun trays, a 37mm gun pack, air-to-air rockets and, of course, bombs beneath the wings and fuselage. In the desperate days of 1943 and 1944, the Bf 110 G was even thrown into daylight battle with American bombers, with predictably disastrous results.
---
The Messerschmitt Bf 110 F in 1/48 scale
Since launching their Bf 110 series ten years ago, Eduard has released most of the main variants in their 1/48 scale ProfiPACK series with the notable exception of the Bf 110 F.
A Bf 110 F-4 was made available in the Weekend Edition in late 2012, which was reviewed at the time by Brad Fallen.
However, this is the first time that Eduard has made a 1/48 scale Bf 110 F kit available in their ProfiPACK series.
Eduard has mixed and matched sprues from its Bf 110 C, D, E and G kits to come up with this 1/48 scale Messerschmitt Bf 110 F.
The result is mostly correct with just a few tweaks required for total accuracy:
Bf 110 F Compared to Bf 110 G
The engine nacelles for the Bf 110 F were almost indistinguishable from the Bf 110 G in shape. The Bf 110 G's nacelles were only 21mm wider than the F (around .826"), which will be hard to pick in 1/48 scale. You you will just need to slice off the small scoops moulded on the front of the engine nacelles. Three inspection windows will also need to be drilled out where the triangular ports are scribed onto the kit nacelles.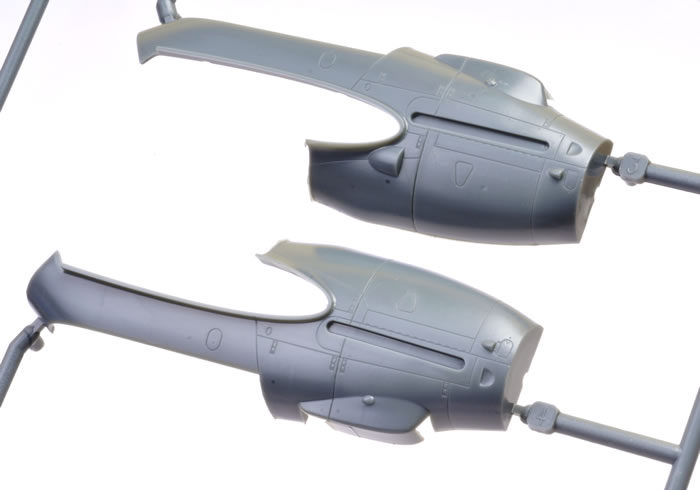 The F shared the G-2's four-gun nose and small tail surfaces, but was normally fitted with the earlier style of rear canopy and single defensive machine gun. These are provided in this kit. Please note that later production Fs were upgraded to the side-opening rear canopy with the twin machine guns, so check your references carefully.
The only other external differences are the use of the large DF loop and the blind landing antennae under the fuselage (still offered in this kit as part nos. G30 and PE 37) and the pitot tube mounted under the starboard wing (also per the C/D/E). The F-style pitot is not included in the box but will be easy enough to build from scratch.
---
In the Box
Eduard's 1/48 scale Messerschmitt Bf 110 F comprises approximately 420 grey coloured plastic parts (although nearly 200 are unused), 13 clear plastic parts, colour photo-etched fret, masking sheet, markings for five aircraft, and the return of the resin dachshund.
We have seen all of these sprues at one time or another since the initial release of the 1/48 scale Bf 110 E kit until the later Gs.
Eduard offered a bonus resin 1/48 scale dachshund in their initial September 2007 1/48 scale Bf 110 E release. The little resin sausage dog makes its return in this boxing too.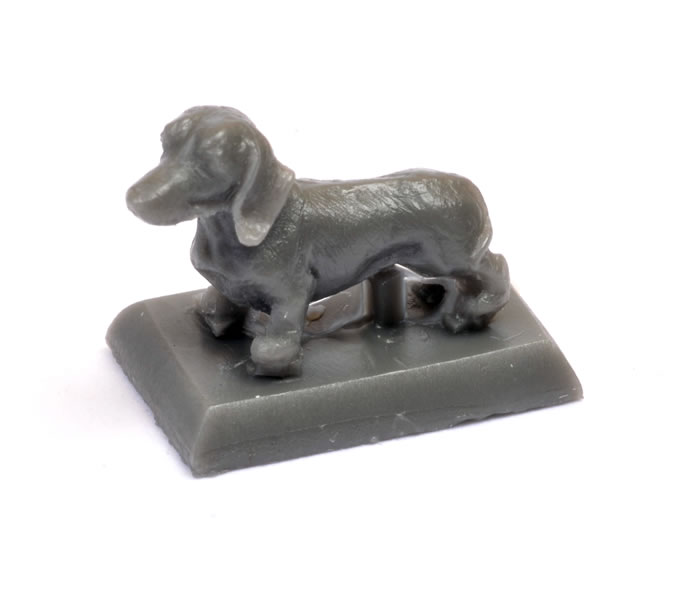 In his review of the Weekend Edition kit, Brad Fallen produced a useful table showing the plastic sprues used by Eduard to arrive at this and their other Bf 110 kits:

Sprue

Bf 110 variant

C

D

E

F

G-2

G-4

A (early wings)

X

X

X

X

B (early short fuselage & horizontal tailplanes)

X

X

X

X

X

C (wheels, early props, ailerons etc)

X

X

X

X

X

X

D (weapons & tanks)

X

X

X

X

E (clear)

X

X

X

X

F (clear)

X

X

X

X

X

X

G (miscellaneous)

X

X

X

X

X

X

H (early nacelles & vertical tailplanes)

X

X

X

J (undercarriage)

X

X

X

X

X

X

N (late vertical tailplanes etc)

X

Q (early long fuselage)

X

R (late nacelles & props, intermediate vertical tailplanes)

X

X

X

S (late horizontal tailplanes, radar array arms etc)

X

X

X

T (radar array arms, exhausts)

X

X

U (clear)

X

X

V (exhausts & late fuselage)

X

X

W (late wings)

X

X

Y (37mm cannon)

X
There will be a large number of plastic parts left over from this mix-and-match package, resulting in a boon for the spares box.
In common with other ProfiPACK kits, this Bf 110 F includes a coloured photo-etched fret that includes a pre-painted colour instrument panel, consoles, harness straps and more.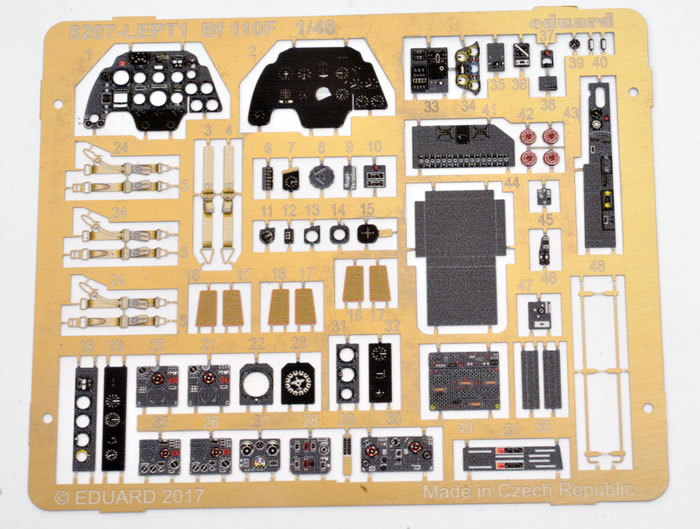 A second brass-plated photo-etched fret adds more details to the cockpit and to the interior.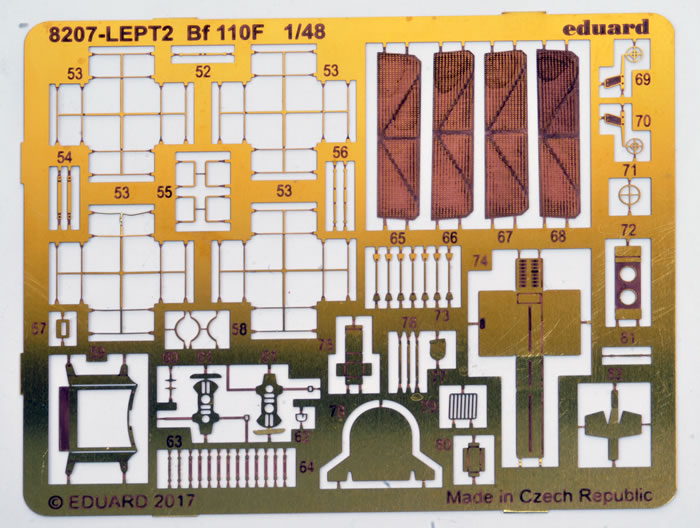 Self-adhesive, die-cut masks are also offered to ease the painting of the canopy and wheels.
---
The Details...
This release continues Eduard's tradition of world class quality injection moulded parts, high level of detail and colourful markings.
The styrene parts for the kit are attached to twelve sprues via fine connectors. Moulding quality is excellent.
Crisply recessed panel lines are partnered with suitably subtle rows of rivets. I like the treatment of the fabric control surfaces too, with rib tape detail being the most prominent feature - no massive sagging of fabric.
The fuselage is broken down into the main halves with a separate nose (upper and lower) plus an insert for the deck immediately aft of the cockpit.
The cockpit is beautifully fitted out with a combination of delicate plastic and colour photo etched parts.
The lower fuselage cannon are visible through the fuselage floor, and plenty of spare ammunition is provided.
The wings are moulded with the flaps and leading edge slats in the closed position. This may disappoint some modellers, but I did a quick check of several books and nearly half of the Bf 110s were parked with the slats and flaps up. If you really want to drop the flaps and/or slats, the kit engineering will make this task fairly straightforward with the bulges behind the nacelles moulded as part of the bottom of the kit flaps. Also, Quickboost now offers a separate set of leading edge slats for the Edaurd Bf 110 C/D/E releases that will fit this kit too.
Ailerons are provided as separate parts.
Wheel well detail is excellent.
The shape of Bf 109 F/G and Bf 110 F/G spinners has proved elusive to manufacturers. Eduard has done a pretty good job with theirs, although the openings for the propeller blades appear to be too large and lack their characterisic teardrop profile, pinched in at the base.
Eduard masks are also included to ease the pain of painting that maze of canopy frames.
---
Marking Options
Five attractive marking options are offered - three day fighters and two night fighters.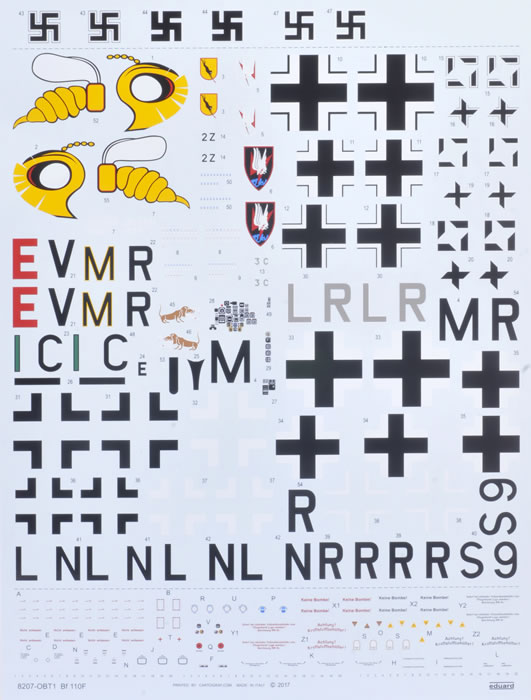 Decals are beautifully printed by Cartograf, with perfect register and colour saturation.
I am delighted that Eduard has finally added a well-detailed 1/48 scale Messerschmitt Bf 110 F in their ProfiPACK series.
This is a beautifully presented kit. The high parts count and some of the smaller and delicate parts mean that some modelling experience will be necessary before tackling this project, but there can be little doubt that a stunning replica will be the result of your efforts.
Thanks to Eduard for the sample
---
Review Text Copyright © 2017 by Brett Green
Page Created 23 August, 2017
Last updated 24 August, 2017
Back to HyperScale Main Page
Back to Reviews Page