Messerschmitt Bf 109 F-2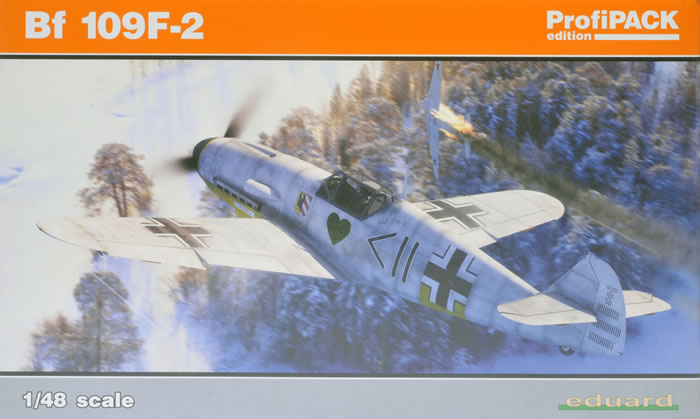 Eduard ProfiPACK, 1/48 scale
S u m m a r y

Catalogue Number:
Eduard Kit No. 82115 - Messerschmitt Bf 109 F-2 ProfiPACK
Scale:
1/48
Contents and Media:
186 parts in grey coloured plastic (including 98 marked not for use); 14 parts in clear (8 not used); colour photo-etched fret; two brass photo-etched frets; self-adhesive die-cut masking sheet; markings for five aircraft
Price:

USD$49.95 plus shipping, available online now from Eduard

GBP£32.30 (£26.92 Export Price) plus shipping available from Hannants

Review Type:
FirstLook
Advantages:
Accurate; high level of detail; outstanding surface features including crisply recessed panels and subtle rivet lines where appropriate; includes colour photo-etched parts; separate control surfaces; many useful options including alterative propeller blades, wheels, oil cooler housings, bomb racks, trop filter and supercharger intakes (some parts not applicable for this kit); high quality decals; includes die-cut canopy masks.
Disadvantages:
Toothy exhaust stacks.
Conclusion:

This is the first time that Eduard has released a Messerschmitt Bf 109 F-2 as a standalone kit.

Eduard's 1/48 scale Bf 109 F-2 kit is accurate, well detailed and boasts surface textures as good as anything currently available. The addition of coloured photo-etched parts plus an excellent decal sheet with six varied options is a real bonus.

I have already built three of Eduard's 1/48 scale Bf 109 G kits and they were a joy to work on - straightforward engineering, brilliant fit and a gorgeous result once they're finished. I have no reason to expect that this kit will be any different.

Highly Recommended.

Reviewed by Brett Green

Eduard's 1/48 scale Messerschmitt Bf 109 F-4 ProfiPACK will be available online from Squadron.com
Compared to the earlier Bf 109 E, the Bf 109 F was much improved aerodynamically. The engine cowling was redesigned to be smoother and more rounded. The enlarged propeller spinner, adapted from that of the new Messerschmitt Me 210, now blended smoothly into the new engine cowling. Underneath the cowling was a revised, more streamlined oil cooler radiator and fairing. A new ejector exhaust arrangement was incorporated, and on later aircraft a metal shield was fitted over the left hand banks to deflect exhaust fumes away from the supercharger air-intake. The supercharger air-intake was, from the F-1 -series onwards, a rounded, "elbow"-shaped design that protruded further out into the airstream. A new three-blade, light-alloy VDM propeller unit with a reduced diameter of 3 m (9 ft 8.5 in) was used. Propeller pitch was changed electrically, and was regulated by a constant-speed unit, though a manual override was still provided. Thanks to the improved aerodynamics, more fuel-efficient engines and the introduction of light-alloy versions of the standard Luftwaffe 300 litre drop tank, the Bf 109 F offered a much increased maximum range of 1,700 km (1,060 mi) compared to the Bf 109 E's maximum range figure of only 660 km (410 miles) on internal fuel, and with the E-7's provision for the 300 litre drop tank, a Bf 109E so equipped possessed double the range, to 1,325 km (820 mi).

The canopy stayed essentially the same as that of the E-4, although the handbook for the 'F' stipulated that the forward, lower triangular panel to starboard was to be replaced by a metal panel with a port for firing signal flares. Many F-1s and F-2s kept this section glazed. A two-piece, all-metal armour plate head shield was added, as on the E-4, to the hinged portion of the canopy, although some lacked the curved top section. A bullet-resistant windscreen could be fitted as an option. The fuel tank was self-sealing, and around 1942 Bf 109Fs were retrofitted with additional armour made from layered light-alloy plate just aft of the pilot and fuel tank. The fuselage aft of the canopy remained essentially unchanged in its externals.
The tail section of the aircraft was redesigned as well. The rudder was slightly reduced in area and the symmetrical fin section changed to an airfoil shape, producing a sideways lift force that swung the tail slightly to the left. This helped increase the effectiveness of the rudder, and reduced the need for application of right rudder on takeoff to counteract torque effects from the engine and propeller. The conspicuous bracing struts were removed from the horizontal tailplanes which were relocated to slightly below and forward of their original positions. A semi-retractable tailwheel was fitted and the main undercarriage legs were raked forward by six degrees to improve the ground handling. An unexpected structural flaw of the wing and tail section was revealed when the first F-1s were rushed into service; some aircraft crashed or nearly crashed, with either the wing surface wrinkling or fracturing, or by the tail structure failing. In one such accident, the commander of JG 2 "Richthofen", Wilhelm Balthasar, lost his life when he was attacked by a Spitfire during a test flight. While making an evasive manoeuvre, the wings broke away and Balthasar was killed when his aircraft hit the ground. Slightly thicker wing skins and reinforced spars dealt with the wing problems. Tests were also carried out to find out why the tails had failed, and it was found that at certain engine settings a high-frequency oscillation in the tailplane spar was overlapped by harmonic vibrations from the engine; the combined effect being enough to cause structural failure at the rear fuselage/fin attachment point. Initially, two external stiffening plates were screwed onto the outer fuselage on each side, and later the entire structure was reinforced.
The entire wing was redesigned, the most obvious change being the new quasi-elliptical wingtips, and the slight reduction of the aerodynamic area to 16.05 m² (172.76 ft²). Other features of the redesigned wings included new leading edge slats, which were slightly shorter but had a slightly increased chord; and new rounded, removable wingtips which changed the planview of the wings and increased the span slightly over that of the E-series. Frise-type ailerons replaced the plain ailerons of the previous models. The 2R1 profile was used with a thickness-to-chord ratio of 14.2% at the root reducing to 11.35% at the last rib. As before, dihedral was 6.53°.
The wing radiators were shallower and set farther back on the wing. A new cooling system was introduced; this system was automatically regulated by a thermostat with interconnected variable position inlet and outlet flaps that would balance the lowest drag possible with the most efficient cooling. A new radiator, shallower but wider than that fitted to the E was developed. A boundary layer duct allowed continual airflow to pass through the airfoil above the radiator ducting and exit from the trailing edge of the upper split flap. The lower split flap was mechanically linked to the central "main" flap, while the upper split flap and forward bath lip position were regulated via a thermostatic valve which automatically positioned the flaps for maximum cooling effectiveness. In 1941 "cutoff" valves were introduced which allowed the pilot to shut down either wing radiator in the event of one being damaged; this allowed the remaining coolant to be preserved and the damaged aircraft returned to base. However, these valves were delivered to frontline units as kits, the number of which, for unknown reasons, was limited. These cutoff valves were later factory standard fitting for Bf 109 G and K series.
---
Bf 109 F-0, F-1, F-2
As the DB 601 E was not yet available in numbers, the pre-production F-0 (the only F variant to have a rectangular supercharger intake) and the first production series F-1/F-2 received the 1,175 PS (1,159 hp, 864 kW) DB 601N engine driving a VDM 9-11207 propeller. The F-0/F-1 and F-2 only differed in their armament; the F-1 being fitted with one 20 mm MG FF/M Motorkanone firing through the engine hub, with 60 rounds. The F-1 first saw action in the Battle of Britain in October 1940 with JG 51. The most experienced fighter aces, like Werner Mölders, were the first ones to fly the first Bf 109 F-1s in combat in October 1940. A total of 208 F-1s were built between August 1940 and February 1941 by Messerschmitt Regensburg and the Wiener Neustädter Flugzeugwerke.
The F-2 introduced the 15 mm Mauser MG 151 cannon with 200 rounds. The Motorkanone was supplemented by two synchronized 7.92 mm (.312 in) MG 17 machine guns mounted under the engine cowl, with 500 rpg. As the harder-hitting 20 mm Mauser MG 151/20 version become available, a number of F-2s were retrofitted with it in the field. About 1,380 F-2s were built between October 1940 and August 1941 by AGO, Arado, Erla, Messerschmitt Regensburg and WNF. No tropicalized version was built, although individual F-2s were retrofitted with sand filters in the field. The maximum speed of the F-1 and F-2 was 615 km/h (382 mph) at rated altitude.
F-0 (Pre-production aircraft built from E series airframes, Adolf Galland was one of the few to fly one operationally
F-1 (Armed with 1 × 20 mm MG FF/M Motorkanone cannon and 2 × 7.92 mm/.312 in MG 17 machine guns)
F-2 (Armed with 1 × 15 mm (.59 in) MG 151 cannon and 2 × 7.92 mm/.312 in MG 17)

F-2 trop (tropicalized version, only as field conversion)
F-2/Z (high-altitude fighter with GM-1 boost, cancelled in favour of the F-4/Z)
* Historical summary courtesy of Wikipedia
This is the first time that Eduard has released a 1/48 scale Messerschmitt Bf 109 F-2 on its own. Eduard offered a Messerschmitt Bf 109 F-2 in their 2016 Royal Class Bf 109 F release, but this is the debut release of the standalone kit.
Also note that this model is based on the new and improved tooling that appeared in 2016.
Eduard's new 1/48 scale Bf 109 F-2 ProfiPACK comprises 186 parts in grey plastic, although there are 98 marked "not for use", bringing the total actually used to 88. There are also 14 parts in clear (8 not used), a coloured photo-etched fret, a brass photo-etched fret, self-adhesive canopy masks and markings for six aircraft.
I think that we have seen all of these plastic sprues before in either Eduard's Bf 109 F-4, G-2 or G-6 kits, but this is the first time in this specific combination.
The fuselage is presented as a full-length side per half, including the fin moulded in place, so there should not be any dramas with aligning multiple parts. The upper cowl is moulded to each fuselage half too, with inserts provided for the gun troughs.
In 2013, Eduard's Spitfire family set a new benchmark for 1/48 scale surface detail, and this new Bf 109 F-2 is equally impressive in this regard. Panel lines are very crisp, fine and even. Lines of rivets are present, but they are very subtle.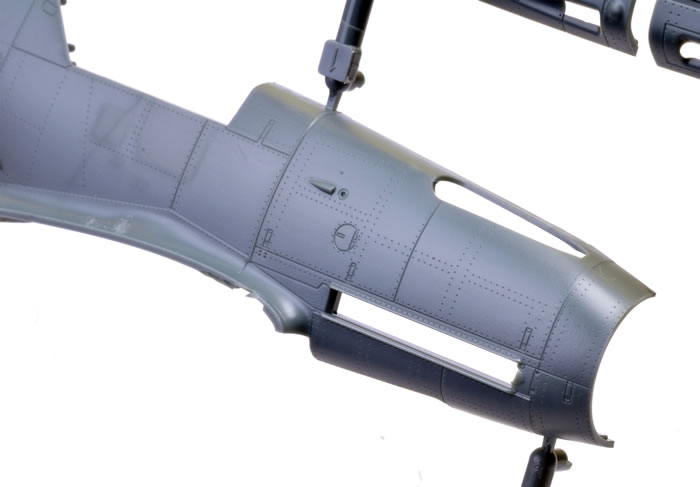 Fabric matches this high standard, with strip and stitching texture beautifully presented on the control surfaces. If you look closely enough, you will even see the zig-zag pinking edges on the fabric strips.
Eduard combines plastic and colour photo-etched parts in their ProfiPACK, resulting in a very high level of detail straight from the box. The cockpit benefits most from the dedicated Bf 109 F-2 coloured photo-etch with a nice multi-layered instrument panel, harness straps and other coloured details. Half-tones and shading seem to have taken a great leap forward on this photo-etched fret, especially the harness straps.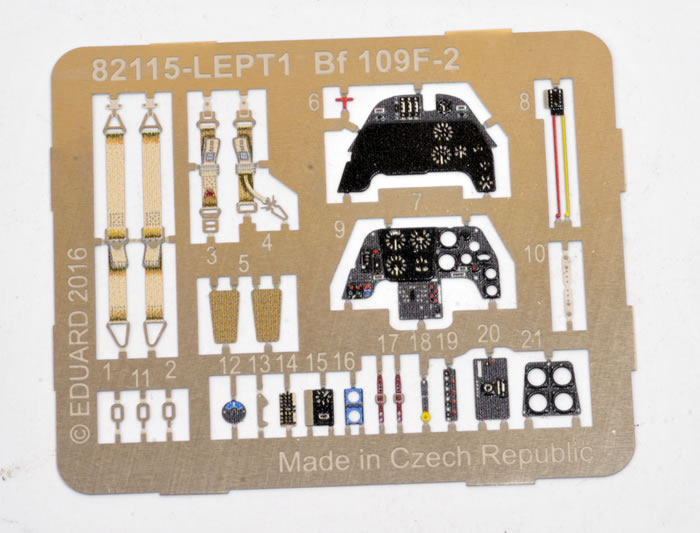 A second brass photo-etched fret supplies more detail for the exterior and a unique third fret in this boxing has more bits and bobs for bombs.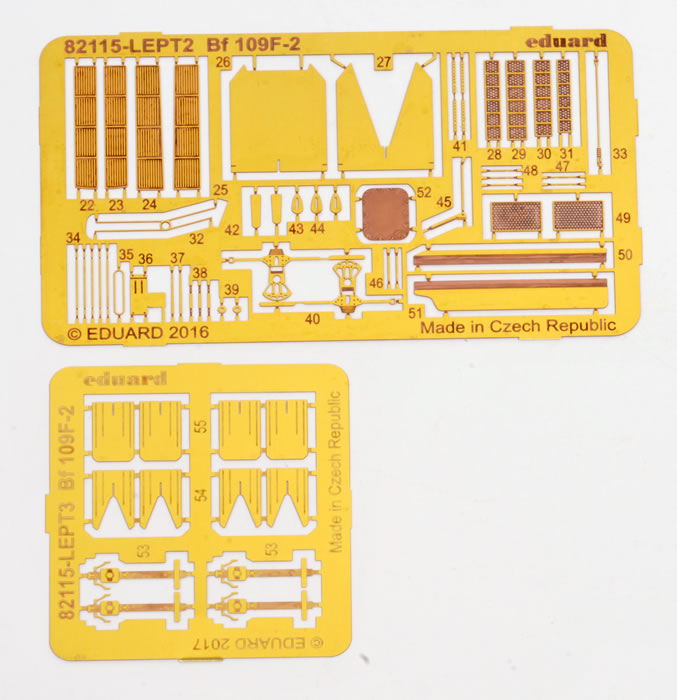 The cockpit is fitted with the pan G-style seat
The canopy is offered in three pieces with the windscreen, fixed rear section and poseable centre. The inclusion of the clear fuel line is a welcome touch. The inspection tube may be masked so that it remains clear after painting.
The circular wheel wells are nicely detailed. Eduard depicts the wheel well sidewalls with the zippered canvas covers at the front and rear. The fabric texture looks good, and the zipper is represented by a raised line.
The exhausts are supplied in one piece for each side with an optional moulded-on shroud. The centreline weld beads are present, and each of the stacks are hollowed out at the end.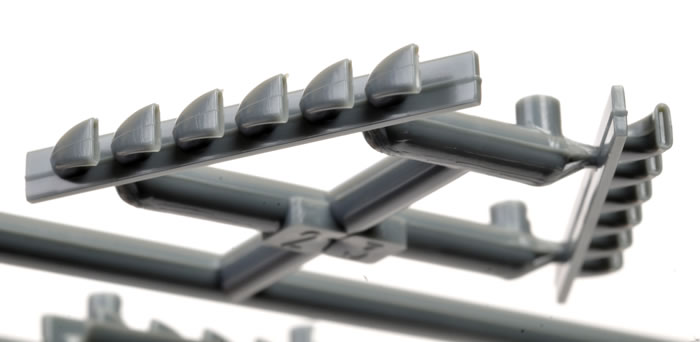 Three propeller assembly options are supplied with nice pitch collar and hub detail.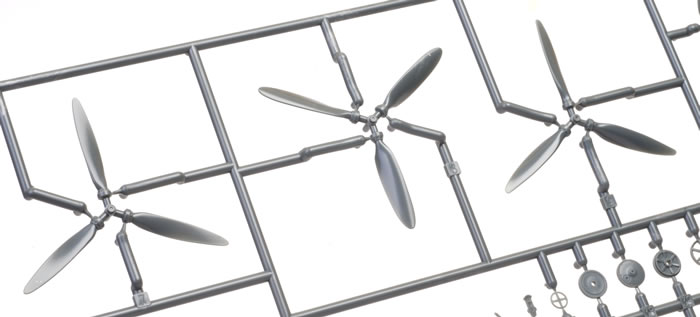 Two styles apply to earlier versions, while the third is appropriate for the Bf 109 G-2.
---
Engineering and Options
The model may be built as a standard F-2, or an F-2/Trop.
Other options are also available on the sprues although not necessarily mentioned in the instructions.
The kit is broken down conventionally. The fuselage is full-length with no structural inserts. The two deep pressed gun troughs are separate parts.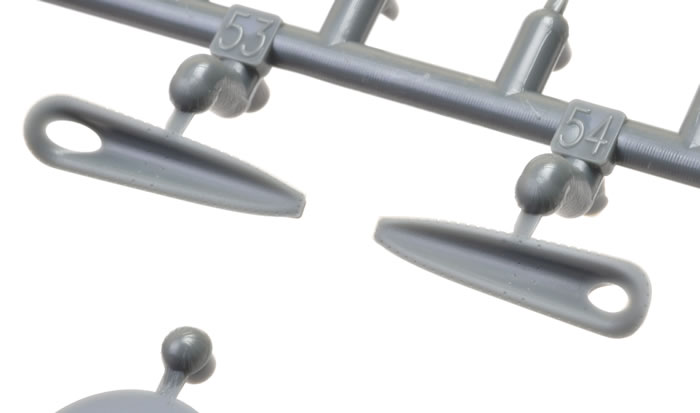 The upper and lower cowls are moulded as part of the fuselage sides.
The wings do not have the upper bulge, and have the squared-off wheel well openings below.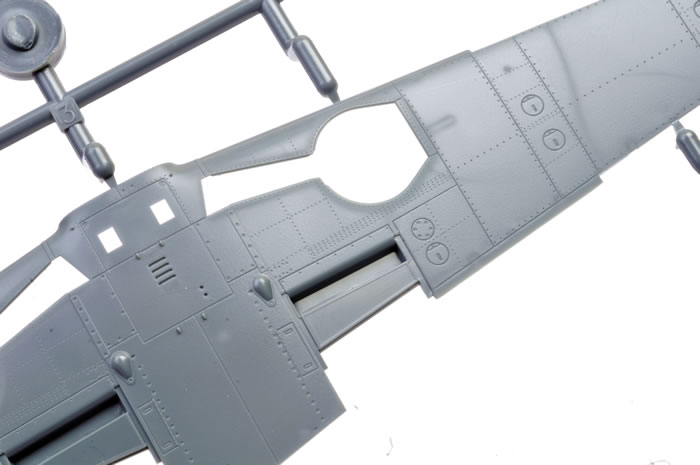 There are a quite a number of options on the sprues that apply to earlier or later versions, so pay attention to the instructions.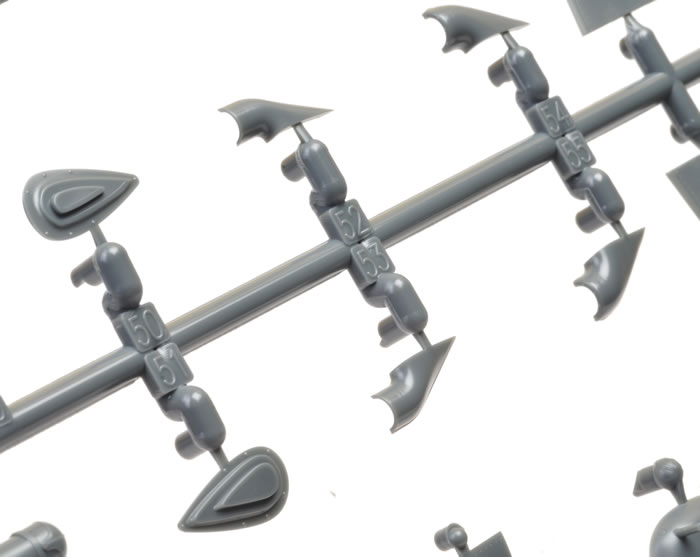 Your spares box will enjoy a boost!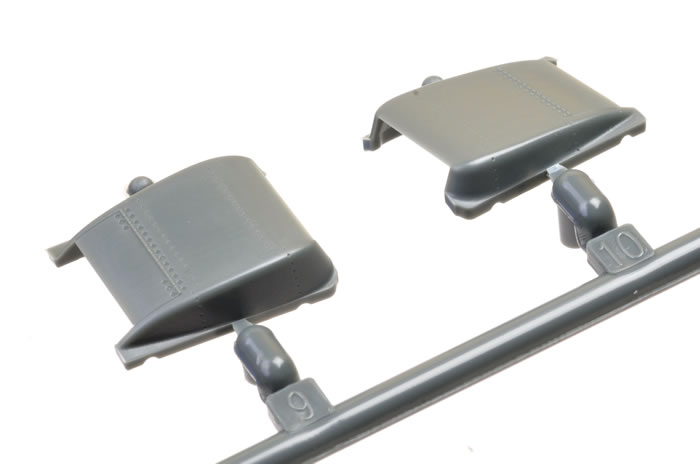 The wing tips are moulded as part of the upper wing halves with solid navigation lights and the pitot tube moulded in place.
All control surfaces are separate, including leading edge slats, ailerons, flaps, elevators and rudder. The ramps at the leading edges of the radiator housings and the cooling flaps at the back of the oil coolers are moulded shut. All the radiator faces are supplied as photo-etched parts.
Many options are offered on the sprues including a drop tank, bombs, bomb racks and different styles of wheel hubs. Some of these relate to earlier and later Bf 109 G or F versions and do not apply, but others – even though they are marked "not for use" – might come in handy for the enterprising modeller.
Check your references to see which of these features is present on your preferred subject – a number of different combinations are possible.
---
Markings
Markings are supplied for five varied Messerschmitt Bf 109 F-2s.
Bf 109F-2, Hptm. Hans Philipp, CO of I./ JG 54, Krasnogwardeisk, Soviet Union, March 1942

Bf 109F-2, W. Nr. 9553, Oblt. Siegfried Schnell, CO of 9./ JG 2, Théville, France, November 1941

Bf 109F-2, Lt. Horst Buddenhagen, 5./ JG 3, Darmstadt – Griesheim, Germany, April 1941

Bf 109F-2/b, Oblt. Wilhelm Hachfeld, 2./ JG 51, Kijev, Soviet Union, Summer 1941

Bf 109F-2, W. Nr. 9538, Lt. Hans Beißwenger, 6./ JG 54, Ostrow, Soviet Union, July 1941
The two decal sheets are perfectly printed in the Czech Republic.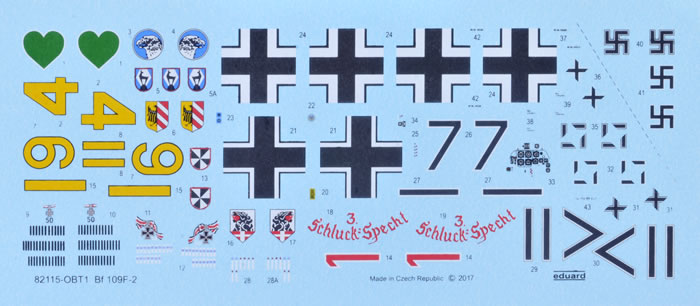 One sheet carries the national markings and unique numbers, chevrons, Gruppe markings, unit insignia and kill markings; while the other has a wide selection of generic Bf 109 stencil markings.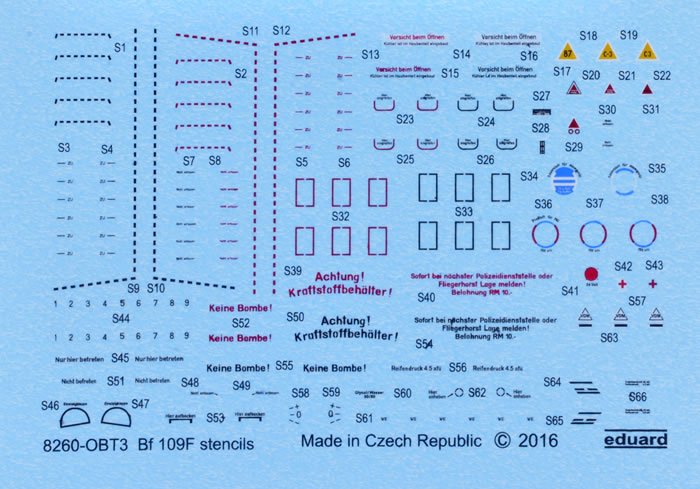 Printing, colours and registration is perfect on my sample, however, the wax paper cover had stuck to some of the decals on my sheet, lifting them when I removed it.
This is the first time that Eduard has released a 1/48 scale Messerschmitt Bf 109 F-2 as a standalone kit.
The model is accurate, well detailed and boasts surface textures as good as anything currently available. The addition of coloured photo-etched parts plus an excellent decal sheet with six varied options is a real bonus.
I have built three of Eduard's 1/48 scale Bf 109 G kits and they were a joy to work on - straightforward engineering, brilliant fit and a gorgeous result once they're finished. I have no reason to expect that this kit will be any different.
Highly Recommended.
Purchased by reviewer.
---
Review Text Copyright © 2017 by Brett Green
Page Created 1 June, 2017
Last updated 1 June, 2017
Back to HyperScale Main Page
Back to Reviews Page