Mercury Spacecraft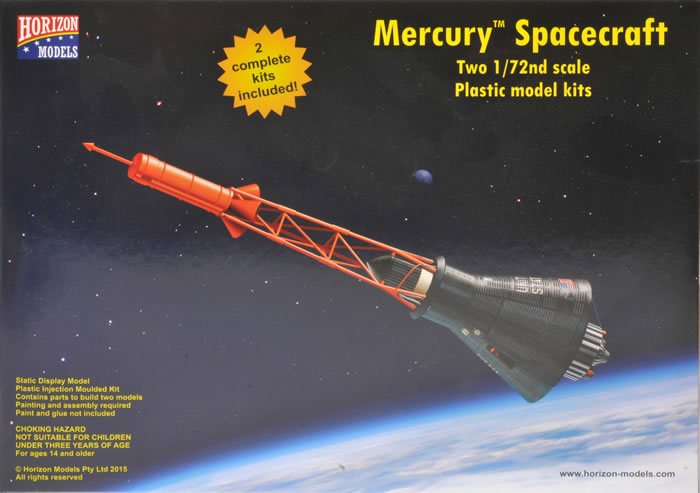 Horizon Models, 1/72 scale
S u m m a r y :

Catalogue Number:

Horizon Models Kit No. 2003 – Mercury Spacecraft

Scale:

1/72

Contents & Media:

Per kit: 21 grey styrene parts (excluding stand and adapter section), one PE fret of 13 parts. Two kits supplied with decals for 14 missions.

Price:

Available online from Horizon Models for US$27.95

Click here for currency conversion

Review Type:

First Look

Advantages:

Well detailed, crisp moulding, lots of options.

Disadvantages:

None noted.

Conclusion:

This looks to be an excellent pair of kits, with numerous options enabling the Big Joe, MR-BD, MR-1 to MR-3, MA-1 to MA-4, and MA-5 to MA-9 missions to be modelled. I highly recommend it.

Reviewed by Mark Davies


Kitty Hawk's 1/32 scale OS2U Kingfisher will be available online from Squadron.com

Project Mercury was the first human spaceflight program of the United States, running from 1958 through 1963. An early highlight of the Space Race, its goal was to put a man into Earth orbit and return him safely, ideally before the Soviet Union. Taken over from the U.S. Air Force by the newly created civilian space agency NASA, it conducted twenty unmanned developmental flights (some using animals), and six successful flights by astronauts. The program, which took its name from the god of travel in Roman mythology, cost $277 million in 1965 US dollars, and involved the work of 2 million people. The astronauts were collectively known as the "Mercury Seven", and each spacecraft was given a name ending with a "7" by its pilot.
Source: Wikipedia
---
Previous 1/72 Scale Mercury Spacecraft Kits
I am aware of just two previous kits of Project Mercury capsules in 'The One True Scale', these being by Real Space Models and Dragon.
The Real Space Models kits are resin, and come in four boxings; three are the capsule with one of the three launch vehicles used in the program, Little Joe, Redstone and Atlas; and one is boxed with Gemini and Apollo capsules. The Dragon kit is injected styrene and comes with the Redstone launch vehicle.
There may well be others, Revell comes to mind here, but space models are not my forte. For this reason, I also cannot comment on the accuracy of the kits discussed here.
The Contents
The identical twin-pack kits come packed in an end-opening box with art-work on the front and the instructions on its rear. Each kit consists of a single sprue in its own cellophane bag, with the two PE frets and decals further enclosed in their own zip-lock plastic bag.
The kit is designed in Australia, which is also where the PE parts and box are made, whilst the plastic parts are moulded in China and the decals printed in the USA by Microscale.
The kit provides parts and markings for the Big Joe, MR-BD, MR-1 to MR-3, MA-1 to MA-4, and MA-5 to MA-9 mission configurations, along with marking for each. The capsules can be completed in launch configuration with retro-pack, nose fairing and escape tower; orbital configuration with retro pack; or re-entry mode with just the capsule.
---
The Kits
As well as being printed on the box, the instructions are downloadable from Horizon Models' website. It is soon apparent that one needs to decide which mission is to be modelled before starting assembly, as quite few detail differences apply to each, along with individual markings. I recommend the instructions be read several times to be fully conversant with the mission differences to be modelled. Colour call outs are generic, and keyed throughout the instructions.
The parts are crisply moulded and delicate where necessary. Sprue gates are quite fine, but care separating parts will be needed, with perhaps PE razor saws being the best option in some cases. The quality of the PE is very good, and the decals appear excellent in all respects.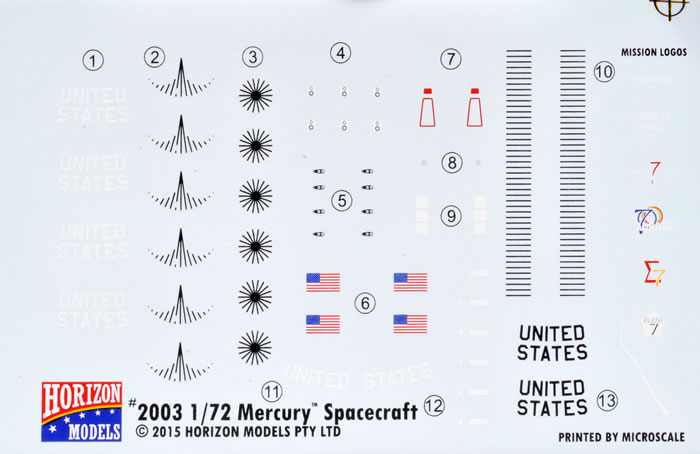 The louvered external finish of the functional capsule is nicely done, and is captured using three sections for tooling reasons. These are assembled around a central tubular core;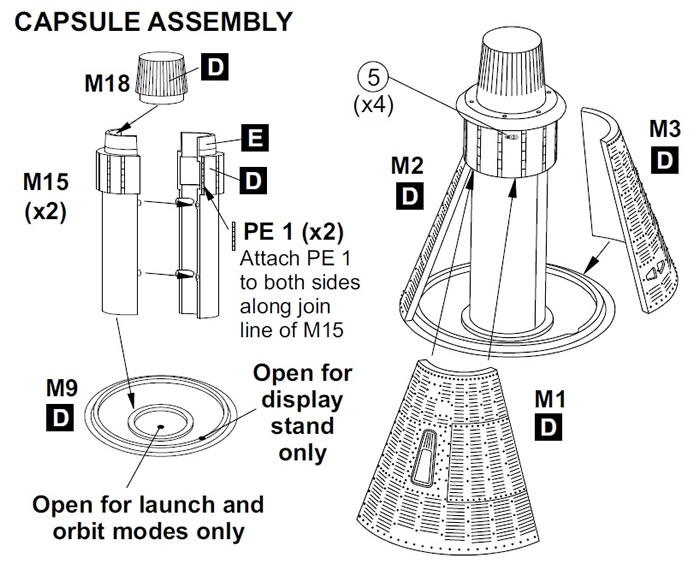 Whilst the simpler boiler plate mass-simulator 'capsule' is moulded as a single piece, to which the same heat-shield as used for the functional capsule is added.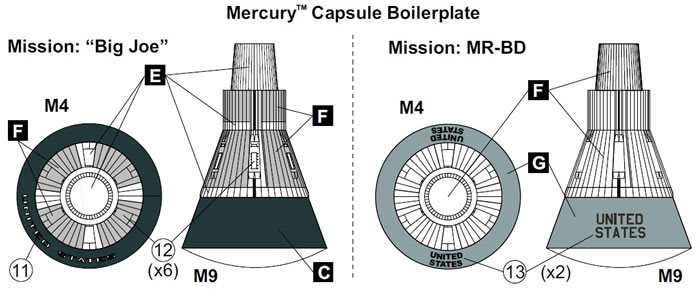 The escape tower includes some finely moulded parts, and looks to be the most challenging aspect of assembly involving the plastic components.

Differences between the various functional capsules are catered for by PE details like portholes, alternate hatch, and rows of bolts, all of which must be glued to the craft's louvered skin.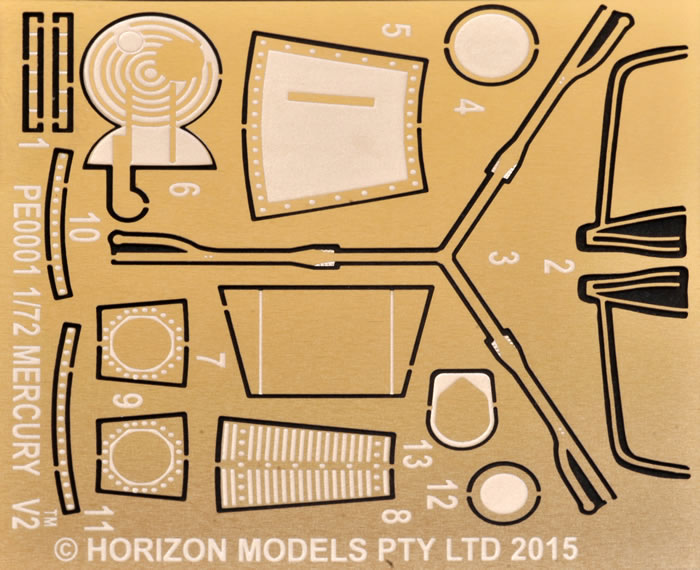 Obviously the PE parts will need to be annealed and curved to match the capsule's conical form. I confess to wondering how convincing and fully integrated these appliqué parts will look under close scrutiny at least; although I must admit that fret is made of very thin PE, so it will probably be fine.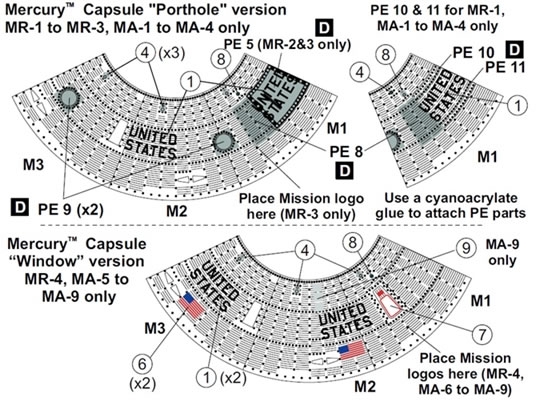 PE also provides the retro-pack restraining cord, the escape tower straps, sensors, LOX-vent and its cover.
Each kit includes a display stand. Alternatively, an even more impressive display can be achieved, as the same capsule kit is supplied in another boxing featuring the Atlas launch vehicle used for Project Mercury's "Big Joe" and "MA" orbital missions (kit #2002). I shall review the Mercury-Atlas kit at a later date. Horizon Model's website also advises that a Mercury-Redstone kit is to be released shortly as well, which will cover the sub-orbital "MR" missions.
I think this looks to be great kit, and a worthy tribute to NASA's first manned space missions, made all the more poignant by the death just on a month ago of a true American hero, John Glenn.
---
Award Winner
Horizon's website also mentions that the kit was winner of the 2016 ModellFan "Modell des Jahres" (Model of the Year) in the category of Science Fiction/Fantasy. It seems ironic that a true-life subject gets classified with fictional ones, but it says a lot for the kit if it beat the various movie-derived competitors I assume it was judged against.
This looks to be an excellent pair of kits, with numerous options enabling the Big Joe, MR-BD, MR-1 to MR-3, MA-1 to MA-4, and MA-5 to MA-9 missions to be modelled.
I highly recommend it.
Thanks to Horizon Models for the review sample.
---
Review Text Copyright © 2017 by Mark Davies
Page Created 9 January, 2017
Last updated 9 January, 2017
Back to HyperScale Main Page
Back to Reviews Page