Mirage IIIBE/D/DE/DS/D2Z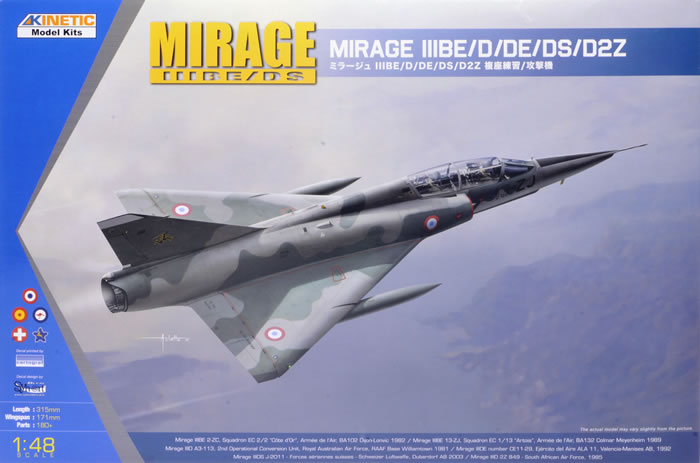 Kinetic, 1/48 scale
S u m m a r y

Item No.
Kinetic Model Kits Item No. K48054 - Mirage IIIBE/D/DE/DS/D2Z
Contents and Media:
233 parts in grey plastic; 10 parts in clear; markings for six schemes.
Scale
1/48
Price:
USD$39.99 plus shipping available online from Lucky Model
Review Type:
FirstLook
Advantages:
Versatile package with five variant options; high level of detail and sharp panel lines; beautiful new fuselage; accurate detail; crisp decals
Disadvantages:
Recommendation:

A superb kit of the two-seater Mirage III series and even better with the all-new fuselage.
Reviewed by Brett Green

HyperScale is proudly supported by Squadron.com
Background
The Dassault Mirage III is a family of single-engine fighter aircraft produced by Dassault Aviation for the French Air Force and widely exported.
Prominent operators included Argentina, Australia, South Africa, Pakistan and Israel, as well as a number of non-aligned nations. Though an older design, the second-generation fighter is a fairly maneuverable aircraft and an effective opponent in close-range dogfighting.
In French service it was armed with air-to-ground ordnance or R.550 Magic air-to-air missiles.
The versatility of the design enabled production of trainer, reconnaissance and ground-attack versions, as well as the Dassault Mirage 5, Dassault Mirage IIIV and Atlas Cheetah variants.
A Mirage III was the first Western European combat aircraft to exceed Mach 2 in horizontal flight
The Mirage IIID series was the two-seat trainer version of the Mirage IIIE, powered by 41.97 kN (9,440 lbf) dry and 58.84 kN (13,230 lbf) with reheat Atar 09-C engine. Fitted with distinctive strakes under the nose. Almost identical aircraft designated Mirage IIIBE, IIID and 5Dx depending on customer.
Variants were:
Mirage IIID: Two-seat training aircraft for the RAAF. Built under licence in Australia; 16 built

Mirage IIIDA: Two-seat trainer for the Argentine Air Force. Two supplied 1973 and a further two in 1982.

Mirage IIIDBR: Two-seat trainer for the Brazilian Air Force, designated F-103D. Four newly built aircraft delivered from 1972. Two ex-French Air Force Mirage IIIBEs delivered 1984 to make up for losses in accidents.

Mirage IIIDBR-2: Refurbished and updated aircraft for the Brazilian Air Force, with more modern avionics and canard foreplanes. Two ex-French aircraft sold to Brazil in 1988, with remaining two DBRs upgraded to same standard.

Mirage IIIDE: Two-seat trainer for Spanish Air Force. Six built with local designation CE.11.

Mirage IIIDP: Two-seat trainer for the Pakistan Air Force. Five built.

Mirage IIIDS: Two-seat trainer for the Swiss Air Force. Two delivered 1983.

Mirage IIIDV: Two-seat trainer for the Venezuelan Air Force; three built.

Mirage IIIDZ: Two-seat trainer for the South African Air Force; three delivered 1969.

Mirage IIID2Z: Two-seat trainer for the South African Air Force, fitted with an Atar 9K-50 turbojet engine; giving 49.2 kN (11,100 lbf) thrust dry and 70.6 kN (15,900 lbf) with reheat. Eleven built.
Historical summary sourced from Wikipedia.
---
Kinetic Mirage III Kits
Kinetic released their first 1/48 scale Mirage IIIE kit early in 2015 followed by a Mirage IIIE/5 in 2016.
In his initial detailed in-box review, Mirage expert Mick Evans was very impressed with the kit, stating that it was accurate, well detailed and one of Kinetic's best kits to date.
Kinetic's 2017 addition to the Mirage III family is the two seater. A Mirage IIIB, IIID, IIIDE, IIIDS or IIID2Z may be built straight from the box.
Kinetic's third variation on the Mirage III brings us the two-seater Mirage IIIBE/D/DE/DS/D2Z
The kit comprises 233 parts in grey plastic with 10 parts in clear plastic and markings for six schemes. There are many parts that do not apply to this version and many more optional parts, so the count of parts actually used for the build will be substantially lower than 233.
Surface detail on the previous Kinetic was recessed and fine - more than respectable - but this kit boasts a brand new fuseage sprue. The surface textures on the new two-seater fuselage lifts the kit into a different league. It is as good as Kinetic's 2016 Su-33, which is to say that it is as good as the very best surface detail available today.
In addition to the new fuselage, the modeller is offered a choice of two chisel noses - one with side strakes and one without.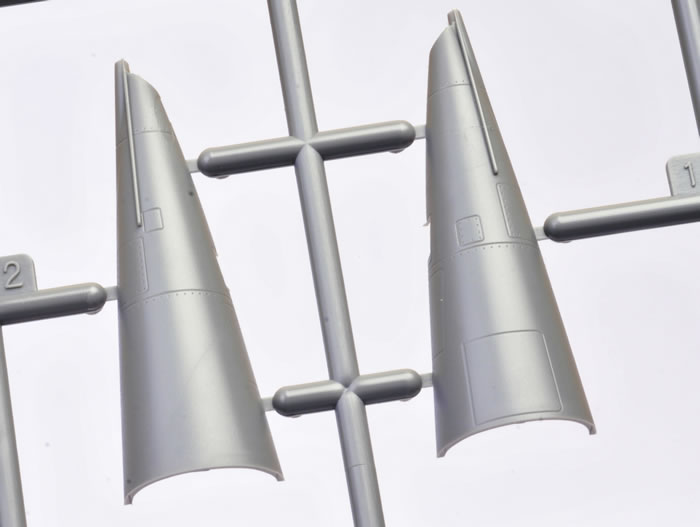 Two new instrument panels and an extra ejection seat are included too.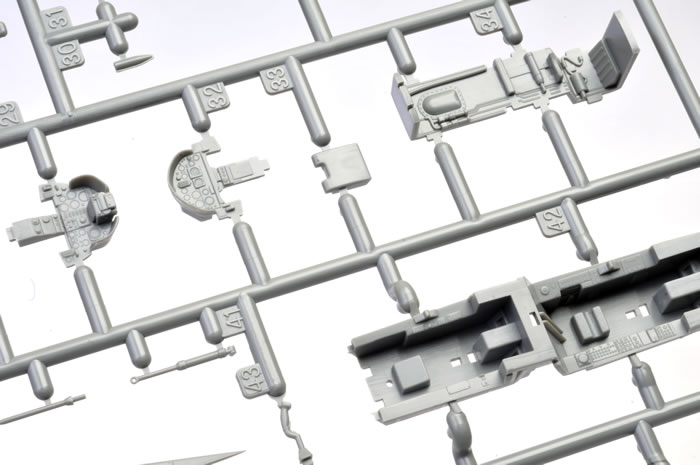 The detail in the all-plastic cockpit is very nice, but you will have to bring your own harness straps.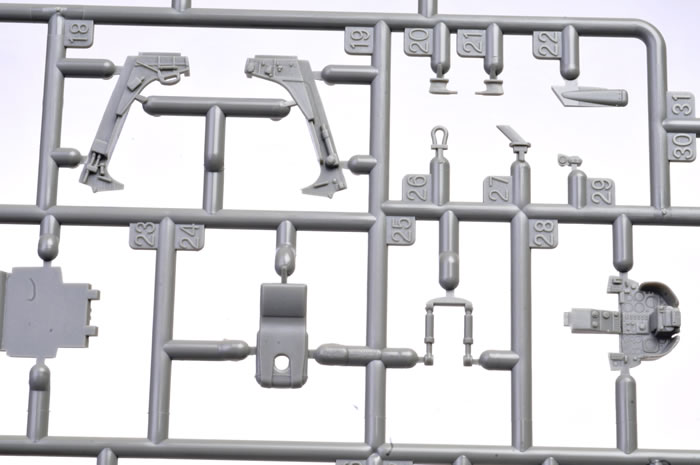 Flaps may be posed lowered or raised, and the wing air brakes are also poseable.
The new clear parts are thin and free from distortion with no centreline seam to remove.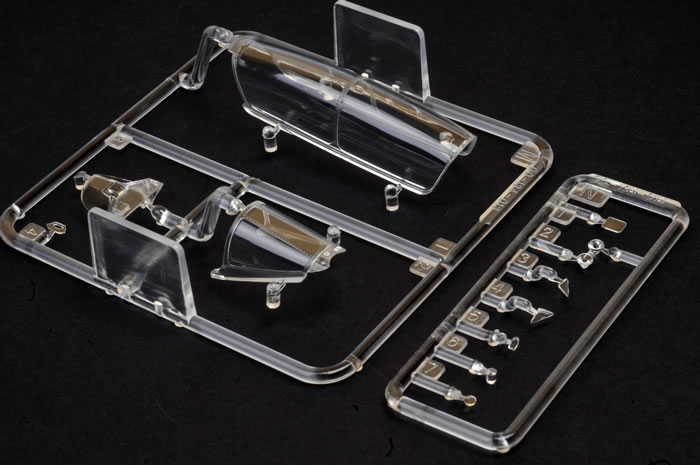 Although it is not listed in the instructions, the kit includes Sprue Y that includes, amongst other things, two Matra 530 missiles and centreline mounts. These are very welcome additions, although they are not used on the IIID.
Other ordnance included on Sprue Z includes the 500 litre supersonic tanks, and AIM-9B Sidewinders.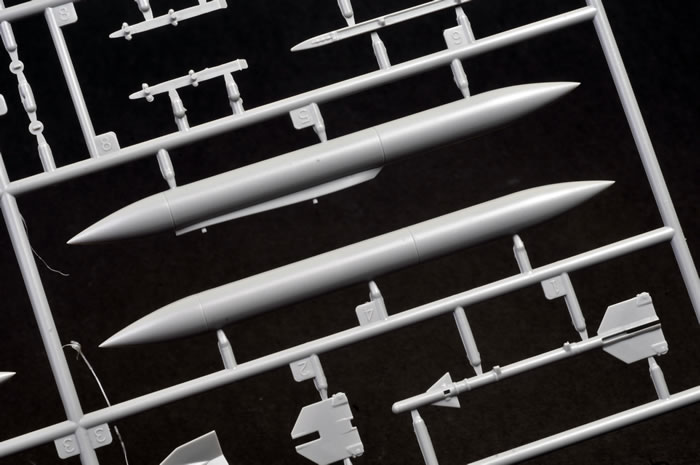 ---
Markings
Six varied marking options are offered on the Cartograf-printed decal sheet.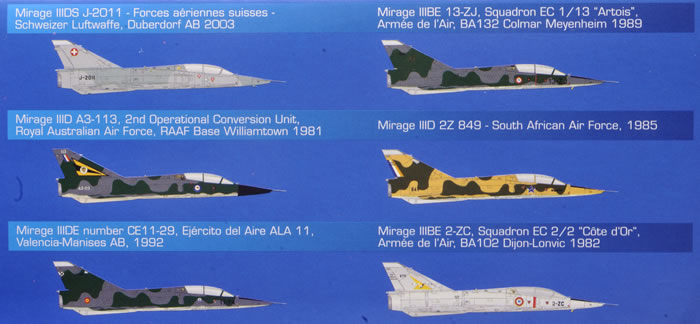 They have been designed by Syhart and printed by Cartograf.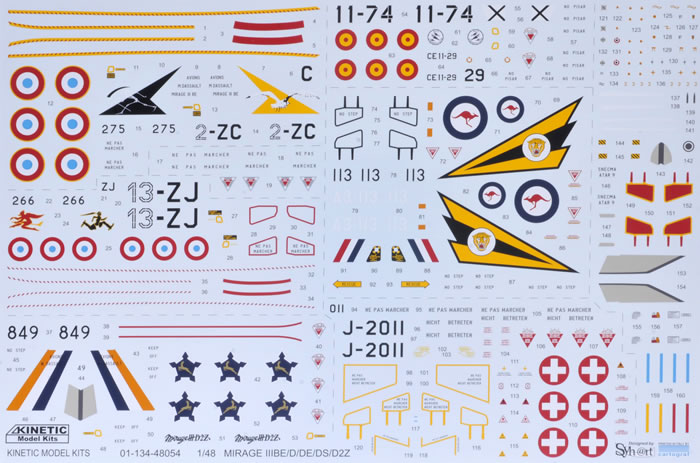 The markings supplied are as follows:
Mirage IIIBE 2-ZC, Squadron EC 2/2 "Côte d'Or", Armée de l'Air, BA102 Dijon-Lonvic 1982;

Mirage IIIBE 13-ZJ, Squadron EC 1/13 "Artois", Armée de l'Air, BA132 Colmar Meyenheim 1989;

Mirage IIID A3-113, 2nd Operational Conversion Unit, Royal Australian Air Force, RAAF Base Williamtown 1981;

Mirage IIIDE number CE11-29, Ejército del Aire ALA 11, Valencia-Manises AB, 1992;

Mirage IIIDS J-2011 - Forces aériennes suisses - Schweizer Luftwaffe, Duberdorf AB 2003;

Mirage IIID 2Z 849 - South African Air Force, 1985.
Kinetic's first 1/48 Mirage IIIE was a great kit and this two-seater release adds a new dimension with the new and improved fuselage sprue.
Surface textures are beautifully crisp and fine, detail is very good and in my opinion at less than $40.00 the kit also represents extremely good value.
Highly Recommended.
Thanks to Lucky Model for the samples
---
Review Text and Images Copyright © 2017 by Brett Green
Page Created 29 June, 2017
Last updated 30 June, 2017
Back to HyperScale Main Page
Back to Reviews Page