Yakovlev Yak-40 Codling
(Early Version)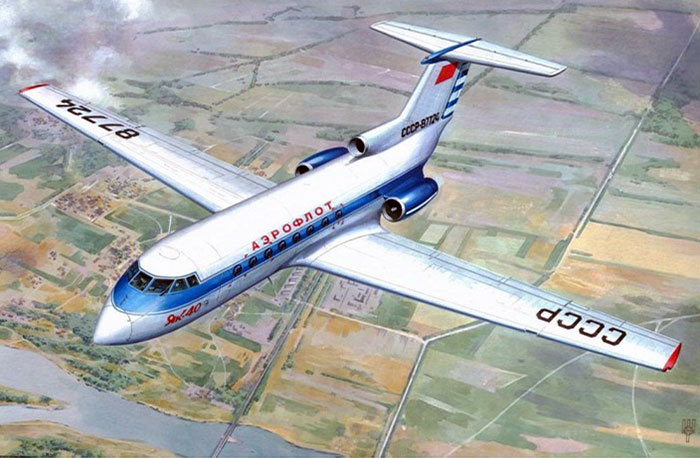 Mars Models, 1/72 scale
S u m m a r y

Catalogue Number:
Mars Models Item No. 72101 - Yak-40 Codling (early version).
Scale:
1/72
Contents and Media:
60 parts in grey plastic and 17 parts in clear; markings for 1 scheme.
Price:
Review Type:
FirstLook
Advantages:
First accurate kit of this iconic airplane, simple parts breakdown, good detail.
Disadvantages:
Short run injection molding.
Conclusion:
Highly Recommended.

Reviewed by Jennings Heilig

Eduard's 1/72 scale Bf 110 G-4 is available online from Squadron.com

These are truly good times for modelers who love Soviet hardware. From pre-WWII to the latest thing from Sukhoi and Mig, and almost everything in between, we're enjoying a veritable flood of new kits of Soviet/Russian types from around the world.
One of the latest is an effort from Mars Models. I believe this is Mars's first full aircraft kit - their previous efforts having been in the aftermarket accessory line. I know that this model was done by Amodel under contract, so if you're familiar with Amodel's products, this one will look very familiar to you in terms of presentation and execution. Fortunately that's a good thing, as Amodel's quality has been improving steadily.
The kit was designed using CAD and CNC technology. While still very much a limited run item (you are forewarned - buy it now!!), it is still very well done, and will reward careful construction.
---
Background
The Yakovlev Design Bureau had no previous experience with civilian aircraft before it was asked in the early 1960s to design a small jet powered feeder airliner that would be able to serve the more remote and undeveloped destinations on the Aeroflot route system (and there were - and are - a LOT of those).
Yak stepped up to the task admirably, designing a simple, rugged, and reliable low winged, T-tailed trijet, reminiscent of a mini-727, which had just made its appearance around the same time. Powering the Yak-40 was the brand new Ivchenko IA-25 medium bypass turbofan, which in its initial versions produced a whopping 3,300 lbs of thrust.
The Yak-40 was not especially ground-breaking in its design, but its large unswept wing, tall landing gear, and large tires helped give it the performance needed to do what was asked of it. Simplicity was Yak's guiding principle, and it outfitted the Yak-40 with a self-contained ventral aft air stair door (also like the 727, DC-9, and Caravelle).
The Yak-40 first flew in late 1966, and entered Aeroflot service in 1968.
Aside from helicopters and the Antonov An-28, the Yak-40 remains the only airliner capable of serving a number of airports in Russia and the former Russian republics.
The Yak-40 was the first Soviet airliner to be designed to meet western airworthiness standards, and a number were sold or leased to operators in western Europe, as well as having been widely exported to Soviet client states and "friendly" countries.
A total of around 1000 Yak-40s were built before production ended in 1981.
I've been eagerly awaiting this kit since I first found out through a Ukrainian contact that it was coming several years ago. I am happy to report that it has been worth the wait. In the 1970s the American company J&L produced a vacuformed 1/72 Yak-40. At that time the J&L kit was pretty good, given that there wasn't a flood of information available in the west on the aircraft (and there still isn't). In the intervening years there have been a couple of other 1/72 resin kits, but sadly none of them was very accurate. The poor Yak-40 seemed to be one of those doomed airplanes that nobody was ever going to get right. I'm happy to report that that has now been forever remedied by Amodel/Mars Models!
The kit comes in a fairly small box, given the size of the wing on the airplane. Typical of Amodel and related companies, the bottom of the box is light corrugated cardboard, with the top in a rather flimsy paperboard, with a full color painting of the aircraft. Parts are provided on seven light grey sprues, one clear sprue, and one PE fret, with one large and two smaller decals. Surface detail is very petitely scribed.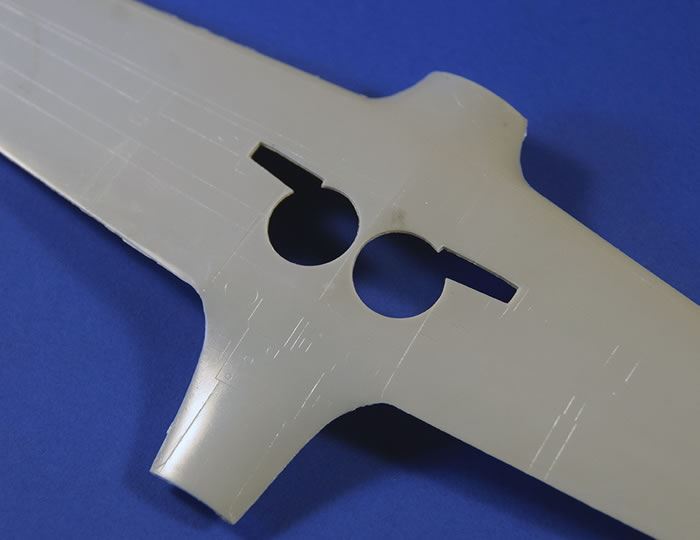 Unlike some other recent Amodel kits I've seen, this one lacks the rough feel to the scribed panel lines. Some of the detail will undoubtedly be lost with sanding, so it may require a bit of deepening here and there. Control surfaces are all molded in place. Most Soviet era airliners did not have much in the way of aerodynamic sealing between the control surfaces and the wing and tail structure, so it might actually benefit you to cut out the ailerons, rudder, and elevators and reinstall them with some sheet plastic hinges to more accurately portray the look of the real thing. But as-is they look great. All of the doors and hatches in the fuselage are molded closed.
A fairly detailed cockpit is provided, with a decal for the main instrument panel. I doubt much will be visible through the cockpit windows, so I don't plan to spend a lot of time detailing in there. No cabin interior is provided, which given the small size of the round cabin windows is fine by me.
The wing is molded in one piece from tip to tip for the lower surface, with separate upper wing halves. This provides the correct dihedral, and incorporates the main gear wells and a small section of the lower fuselage. There is some minor flash (again, typical Amodel) that needs to be removed, and some trimming and filing will be required for a good fit. The main gear wells themselves are made up of separately molded side walls, with a separate upper surface incorporating nice structural detail. Several small PE parts are added to round out the detail. Note that like the 737, the Yak-40's main wheels are not covered by doors. They simply retract into recesses in the belly and their outer surfaces remain exposed.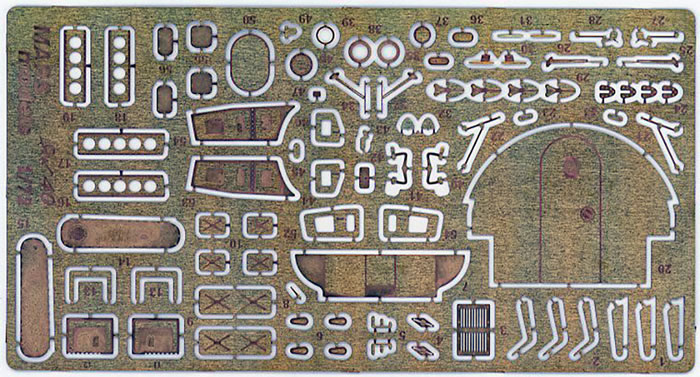 The landing gear is simply, but well molded. The Yak-40 was designed to fly from unprepared surfaces if need be, so the gear legs are pretty beefy, and are fitted with large low pressure tires. Each wheel is molded in a left and right half, with good detail on the hubs. The real things don't have a lot of fiddly detail, and the kit captures them well.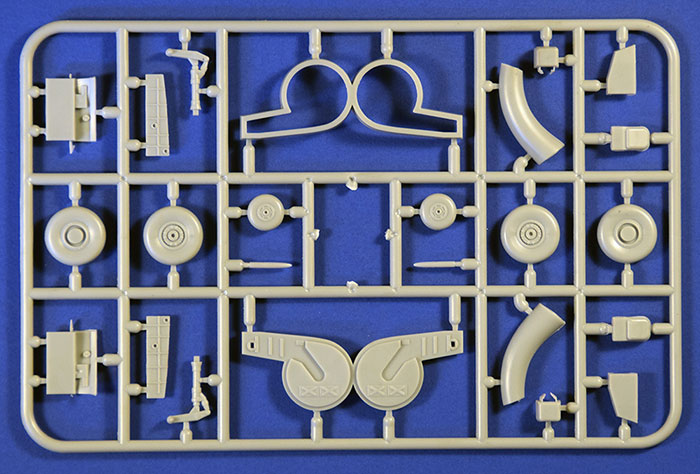 Each engine nacelle is comprised of nine parts. The intake is provided as a fully cylindrical part - no nasty seams to hide. The intake fan and exhaust turbine are separate, as is the exhaust nozzle. The intake fans probably need some inlet guide vanes to be completely accurate, but I haven't seen a decent photo to prove it. The center engine is mounted in the aft fuselage ala the 727's, fed by an S shaped duct mounted in the vertical fin. Note that this first release from Mars is the early Yak-40 version which lacked a thrust reverser on the center engine. The later variant coming down the pike will feature the later style center exhaust/thrust reverser setup. The S duct is provided as left and right halves, meaning it will have a seam to be worked on. The inlet ring is a separate piece, so not that much of the S duct will actually be seen in there. The early Yak-40's center inlet looked much like a 727. On later versions (and I believe retrofitted to most of the early ones) there was a small fairing between the inlet and the top of the fuselage. I can't find this on the sprues, but it may be there and I'm overlooking it. Oddly, the early style #2 exhaust setup is incorporated on the sprue with the engine nacelles, so I am not sure if there will be a separate small sprue added for the later style, or if it will be a totally separate engine nacelle sprue. I'm not aware of any obvious difference between the nacelles on early and later build Yak-40s.
Clear parts consist of a one piece cockpit windscreen/cab assembly (kudos), with separate parts for each of the round cabin windows, to be glued in from the inside. Their round shape should make masking them easy enough.

The windscreen is very thin, clear, and free of distortion.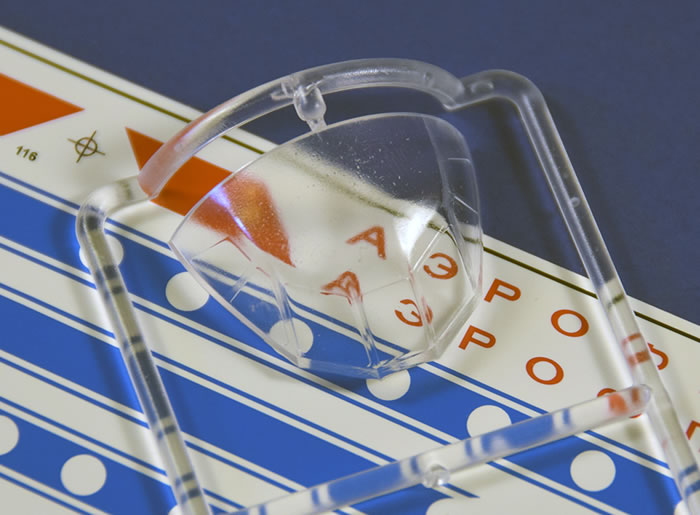 The PE fret contains a multitude of parts for the interior of the cockpit and the exterior of the airplane. Items included are landing gear parts, windscreen wipers, pitot tubes, and IFF antennas. Several of these items should really be more three-dimensional (such as the pitot tubes), and might benefit from being scratch built. But the PE is nicely done and will definitely add to the look of the finished model.
Decals are provided for one basic early Aeroflot color scheme, with three different bort (registration) numbers. Note that the decal paper is white, so none of the white markings show up on the scan of the decal. The decals appear well designed and accurate.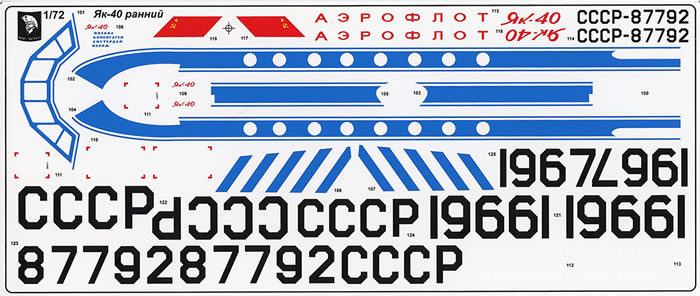 I know other Amodel decals have proven to be tricky to use, so be careful here. Two small supplemental sheets are provided, one for the airframe stencil data (of which there is a good amount), and one with the main instrument panel plus German and Syrian flags, hinting at future decal subjects (General Air of West Germany and Syrian Air). Note that on my very early production kit no decal placement instructions are provided, but color side profiles of them are on the sides of the box.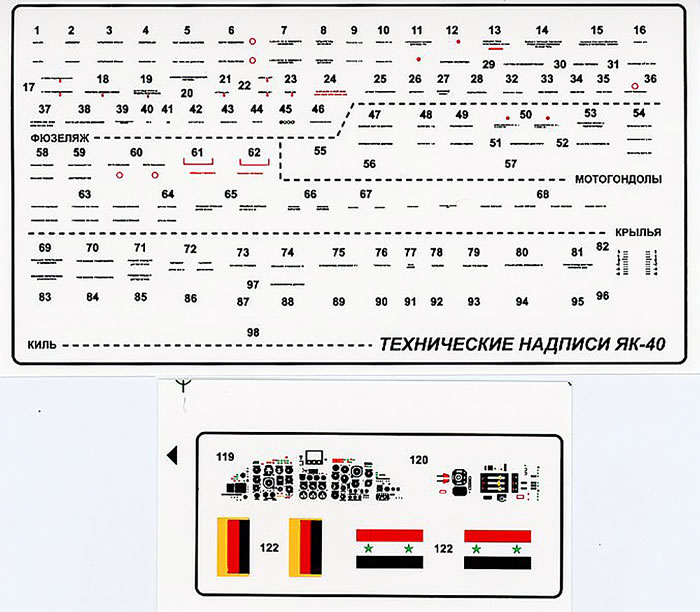 I had been told that the instruction sheet was still several weeks away when I purchased the kit, but to my surprise at least the basic assembly instructions were inside.
As with my recent 1/48 Yak-28P review, to say I'm elated to see this kit would be understatement in the extreme. With several false starts in the 1/72 area, at last we have what appears to be a very accurate, relatively easy to build kit of this great airplane. I am itching to get started building this one!
My kit was purchased from an eBay seller in Ukraine. It will be available online from Hobby Terra and other eBay sellers.
---
Review Text Copyright © 2017 by Jennings Heilig
Page Created 7 February, 2017
Last updated 15 February, 2017
Back to HyperScale Main Page
Back to Reviews Page