Focke-Wulf Fw 190 A-8
A-8/R11 Night Fighter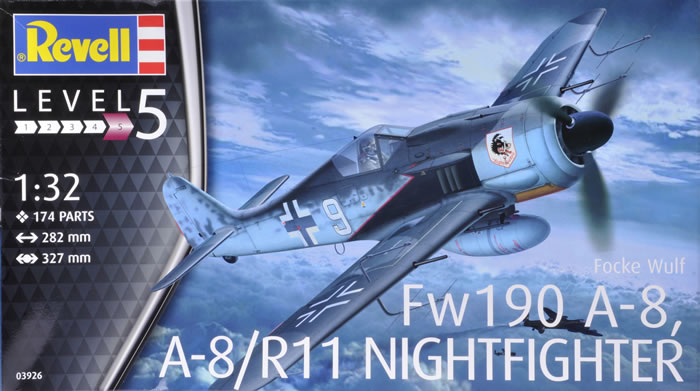 Revell, 1/32 scale
S u m m a r y

Item No.
Revell Kit No. 03926 - Focke-Wulf Fw 190 A-8, A-8/R11 Night Fighter
Contents and Media:
166 parts in grey plastic; 12 clear styrene parts; markings for two aircraft
Scale
1/32
Price:
GBP 36.99 (GBP 30.83 Export) plus shipping available online from Hannants
Review Type:
FirstLook
Advantages:
High level of detail including full engine; crisply recessed panel line detail; subtle fabric surfaces; separate control surfaces; useful options (although some not mentioned in instructions) including flat/blown, open/closed canopies; new variant without separate inserts.
Disadvantages:
A few sink marks.
Recommendation:

Revell has delivered another bargain large-scale classic with their 1:32 scale Focke-Wulf Fw 190 A-8. This looks like a very well-detailed kit of an extremely popular subject.
Reviewed by Brett Green

HyperScale is proudly supported by Squadron.com
The Focke-Wulf Fw 190 Wurger (English: Shrike) is a German single-seat, single-engine fighter aircraft designed by Kurt Tank in the late 1930s and widely used during World War II. Along with its well-known counterpart, the Messerschmitt Bf 109, the Focke-Wulf 190 Wurger became the backbone of the Luftwaffe's Jagdwaffe (Fighter Force). The twin-row BMW 801 radial engine that powered most operational versions enabled the Fw 190 to lift larger loads than the Bf 109, allowing its use as a day fighter, fighter-bomber, ground-attack aircraft and, to a lesser degree, night fighter.
The Fw 190A started flying operationally over France in August 1941, and quickly proved superior in all but turn radius to the Royal Air Force's main front-line fighter, the Spitfire Mk. V, especially at low and medium altitudes. The 190 maintained superiority over Allied fighters until the introduction of the improved Spitfire Mk. IX. In November/December 1942, the Fw 190 made its air combat debut on the Eastern Front, finding much success in fighter wings and specialised ground attack units called Schlachtgeschwader (Battle Wings or Strike Wings) from October 1943 onwards. The Fw 190 provided greater firepower than the Bf 109, and at low to medium altitude, superior manoeuvrability, in the opinion of German pilots who flew both fighters.
The Fw 190A series' performance decreased at high altitudes (usually 6,000 m (20,000 ft) and above), which reduced its effectiveness as a high-altitude interceptor.
The A-8 entered production in February 1944, powered either by the standard BMW 801 D-2 or the 801Q (also known as 801TU). The 801Q/TU, with the "T" signifying a Triebwerksanlage unitized powerplant installation, was a standard 801D with improved, thicker armour on the BMW-designed front annular cowling, which still incorporated the BMW-designed oil cooler, upgraded from 6 mm (.24 in) on earlier models to 10 mm (.39 in). Changes introduced in the Fw 190 A-8 also included the C3-injection Erhohte Notleistung emergency boost system to the fighter variant of the Fw 190 A (a similar system with less power had been fitted to some earlier Jabo variants of the 190 A), raising power to 1,980 PS (1,953 hp, 1,456 kW) for a short time.
---
Variants
Fw 190 A-8/R2 - The A-8/R2 replaced the outer wing 20 mm cannon with a 30 mm (1.18 in) MK 108 cannon.

Fw 190 A-8/R4 - The A-8/R4 featured GM1 nitrous boost to the standard BMW 801 D/Q engine. GM1(nitrious oxide) injection increased power for short amounts of time, up to 10 minutes at a time. A 20 minute supply was usually carried.

Fw 190 A-8/R8 - The A-8/R8 was similar to the A-8/R2, but fitted with heavy armour including 30 mm (1.18 in) canopy and windscreen armour and 5 mm (.2 in) cockpit armour.

Fw 190 A-8/R11 - Night fighter variant fitted with FuG 218 Neptun (Neptune) radar equipment. Flame-dampening boxes were fitted over the exhaust exits. *
* Adapted from Wikipedia.
---
The Focke-Wulf Fw 190 A-8 in 1:32 scale
Hasegawa released their first 1:32 scale Focke-Wulf Fw 190 A kit in the 1970s. The original boxing claimed that it could be built as an A-5/U3, A-7/R3, A-8/R3 or a G-3. It probably best represented an A-8. The kit was good for its time, featuring petite raised panel lines and none of the gimmicky working parts sometimes seen on other large-scale kits of the same era.
This kit was also re-boxed by Frog in the 1970s and by Revell in the early 2000s.
Detail was basic, as you would expect, but this was the best 1:32 scale Wurger until Hasegawa trumped its own hand in 2003 with a brand new 1:32 scale Focke-Wulf Fw 190 A-8.
This was an excellent kit, with crisply recessed panel lines and a high degree of accuracy. Hasegawa followed up in 2004 with an equally good Focke-Wulf Fw 190 A-5 and in 2005 with an F-8.
The biggest shortcomings of these kits are that they are hard to find and expensive when they do surface from time to time.
After more than a decade since the last 1:32 scale Wurger tooling, Revell delivered an all-new Focke-Wulf Fw 190 F-8 in early 2015.
They have now quietly slipped a 1:32 scale Fw 190 A-8 into their range.
This one escaped me completely. I had no idea that it was already available and only a vague recollection that it might have been on the way. As soon as I knew that it was out, I ordered one.
The kit may be built as a standard Fw 190 A-8 day fighter, or as a Fw 190 A-8/R11 Night Fighter straight from the box. Contents comprise a modest 166 parts in pale grey plastic and 12 parts in clear. Markings are supplied for two aircraft, one A-8 and one A-8/R11.
The kit features crisply engraved panel lines with some limited recessed rivet detail. Texture on control surfaces comprises very fine raised lines. I like this low-key approach.

The cooling vents on the fuselage sides are moulded open.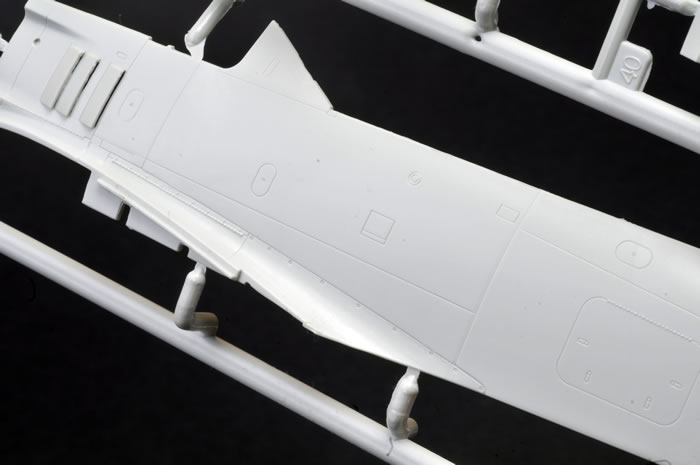 Cockpit detail looks okay for this scale, with simple raised bezels and blank dials on the instrument panel. A separate seat cushion is supplied, as are decal harness straps. However, some modellers will undoubtedly want to enhance the front office. You could easily adapt the after market cockpits and other upgrades already available for the F-8 kit.
Full engine detail is supplied including push rods, manifolds, cooling fan and exhausts. Despite its completeness, the engine is broken down relatively simply with around 16 parts in total.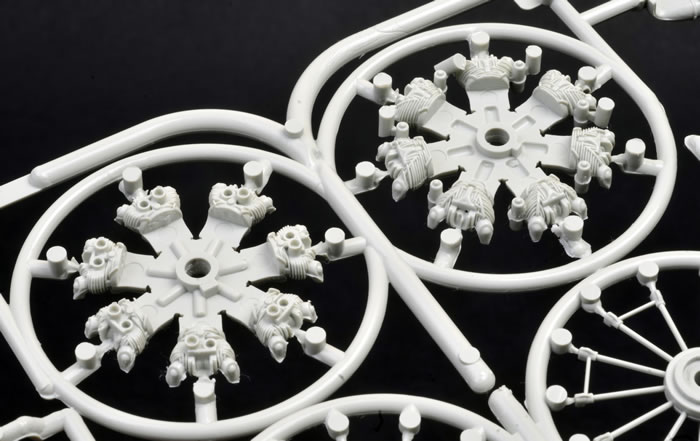 Cowl guns with ammo feeds and chutes are provided too. The engine cowls and the cowl deck cover are all separate parts. Faired-over cowl gun troughs are an option.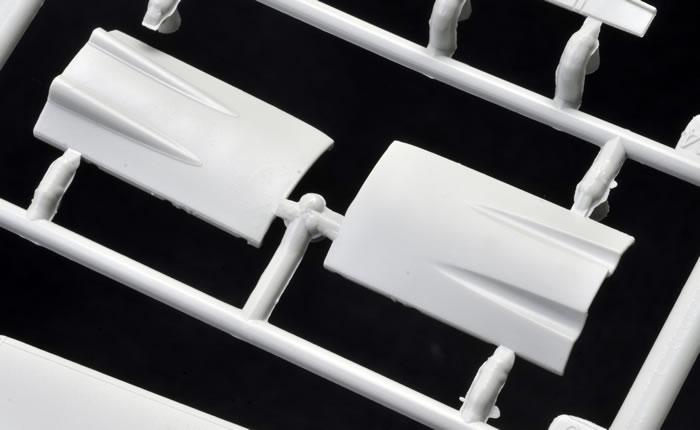 There was some discussion about the carburettor bulges on the sides of the nose when the F-8 kit was released. To my eye, the shape looks fine. After a quick browse through reference photos, it would seem that there is quite some variation between individual aircraft, with some showing a sharp demarcation between the bulge and the panel, while others show a softer, blended pressing. If your subject is blended, a swipe of putty at the base of the bulge should do the trick.
Mercifully, the wing root cannon bay is moulded closed.
The propeller represents the metal VDM 9-12067 A, which was commonly fitted to A-8s.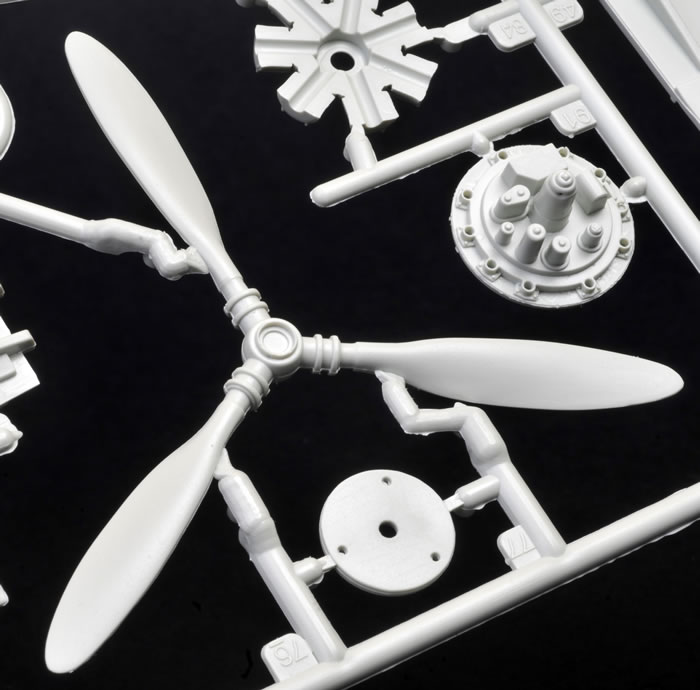 The backs of my propeller blades suffer from a shallow sink mark.
The kit wheel bays will be glued to a stout wing spar incorporating the engine bay firewall, ensuring the correct dihedral. The characteristic dimples in the top of the wheel wells look good.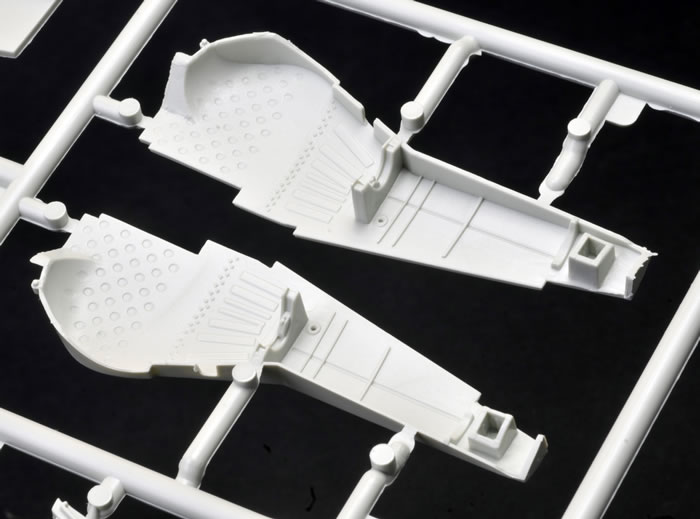 Alternative parts, including wheels and gear covers, are offered for a raised undercarriage option.
The wing is moulded specifically as an A-8 with the outer gun positions and lower panels. However, there is a faintly raised rectangle around the lower wing gun panel, suggesting that there might be tooling provision for an alternative wing in the future. Maybe an A-8/R2 or R8 Sturmbock on the way?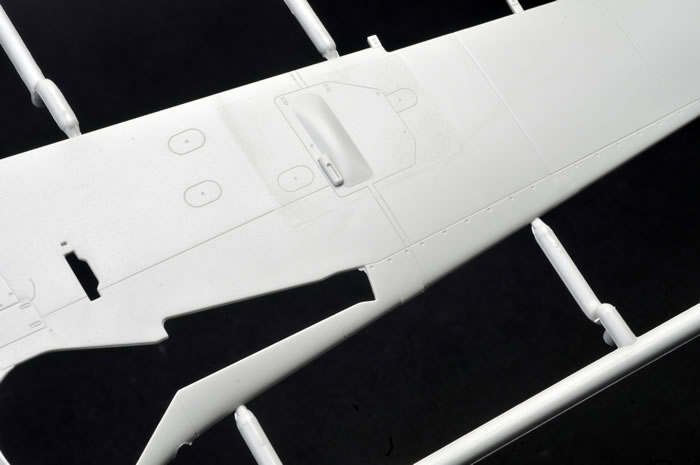 All control surfaces, including flaps, are supplied as separate parts and may be posed to taste.
Four versions of the clear sliding canopy are included. These are the early flat canopy (open and closed), and the final blown version (open and closed). The open version of each canopy is slightly pinched in at the lower front corners to accurately represent the inward flexing of the real canopy when it slid back along its rails.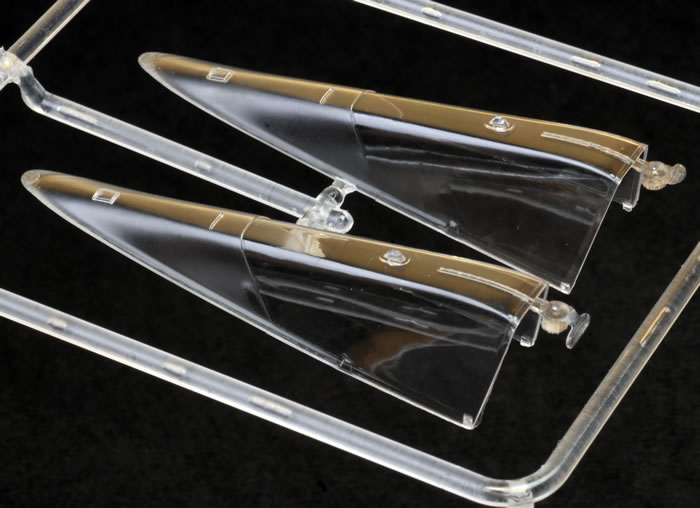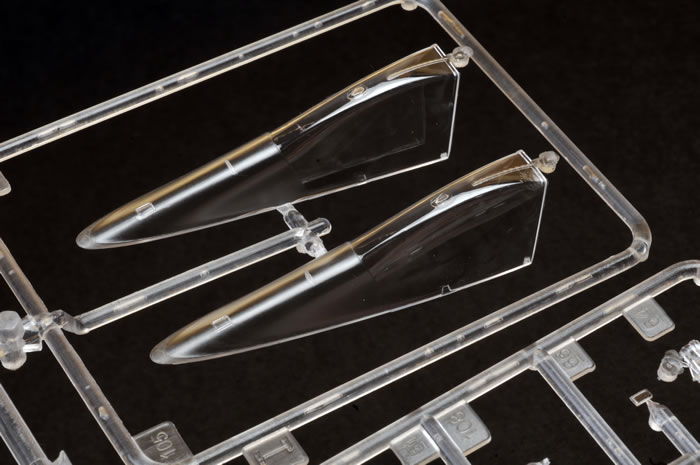 Other options include different parts for raised or lowered undercarriage, pilot's step, upper wing gun covers, ribbed or smooth tyres, blanked-off cowl gun cover, and a number of alternative gun barrels.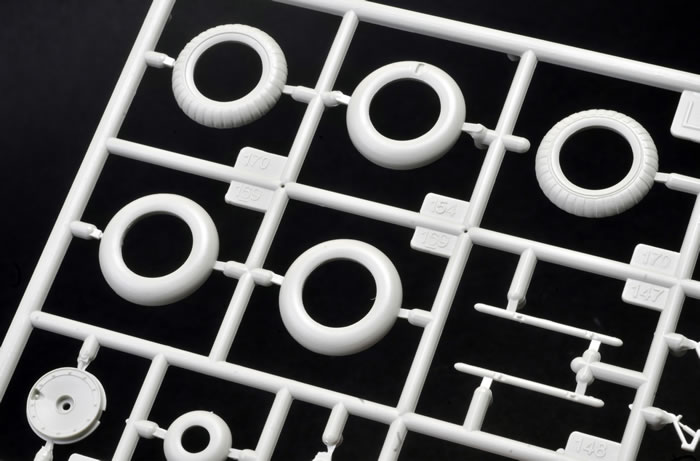 The radar array and the flame dampers are provided on small separate sprues.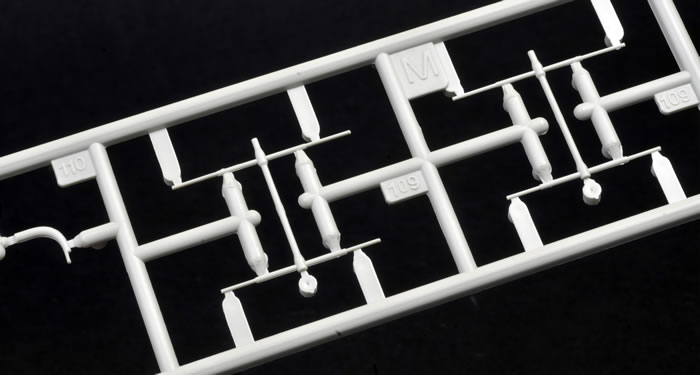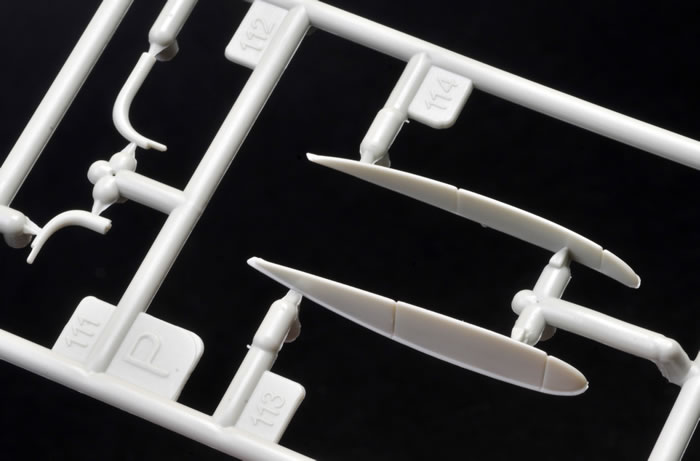 The package is rounded out - literally - with a large stand and circular base. This may be built to allow the model to swivel and tilt - just what you need for those desktop dogfights!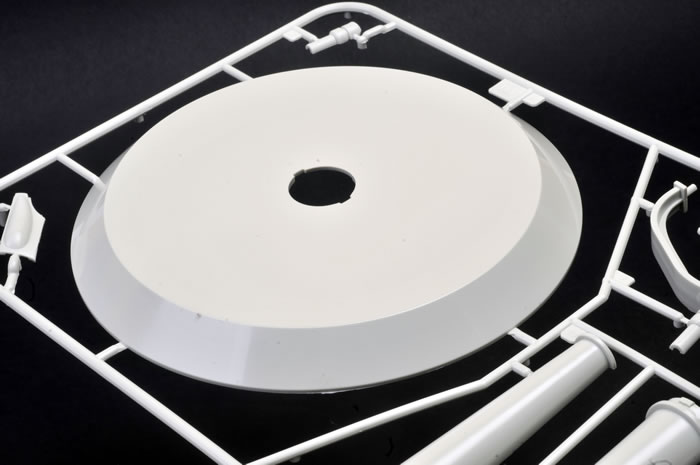 The shape of the overall airframe looks very good. I haven't heard anything to the contrary since the F-8 was released.
---
Markings
Markings are supplied for two aircraft, one A-8 and one A-8/R11.
Both aircraft are finished in mid-war colours of RLM 74 Grey Green and RLM 75 Grey Violet upper surfaces with RLM 76 Light Blue below.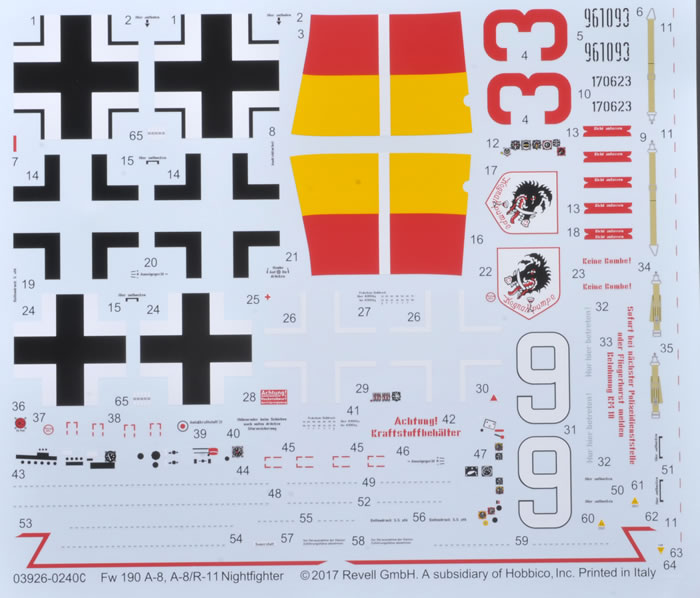 The decals are printed by Cartograf and, contrary to most of Revell's releases, are presented in glorious gloss finish.
Revell has delivered another bargain large-scale classic with their 1:32 scale Focke-Wulf Fw 190 A-8.
This is a very well-detailed kit of an extremely popular subject.
I built the Revell 1:32 scale Fw 190 F-8 shortly after its release and it proved to be an enjoyable and straightforward project. I don't expect that this Fw 190 A-8 will be any different, although I might add some after market goodies this time.
I can't wait to start snipping parts off the sprues!
Purchased by the reviewer
---
Review Text and Images Copyright © 2017 by Brett Green
Page Created 15 August, 2017
Last updated 15 August, 2017
Back to HyperScale Main Page
Back to Reviews Page