Focke-Wulf Fw 190 D-9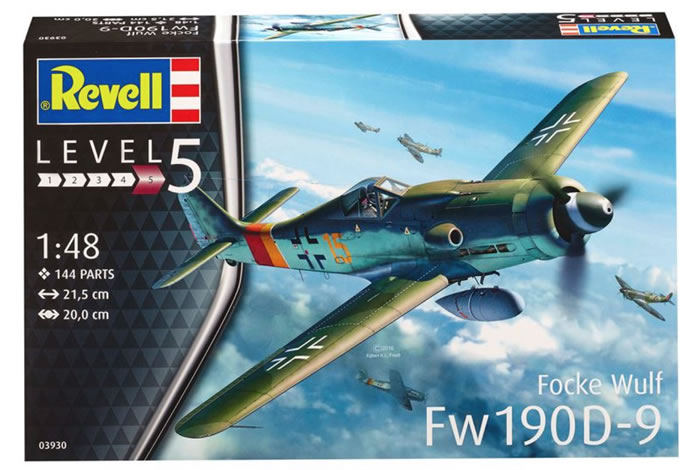 Revell, 1/48 scale
S u m m a r y

Catalogue Number:
Revell Kit No. 03930 - Focke-Wulf Fw 190 D-9
Scale:
1/48
Contents and Media:
136 grey coloured plastic parts; 11 clear parts. Single decal sheet with markings for two aircraft.
Price:

£29.99 EU price (£24.99 Export Price) plus shipping available from Hannants

Review Type:
FirstLook
Advantages:
Highly detailed; excellent surface textures; useful options.
Disadvantages:
Flimsy box.
Recommendation:
This is a cracker of a kit.

Reviewed by James Hatch


Revell's 1/72 Do 17 Z-10 will be available online from Squadron.com

The Fw 190D was a latecomer to the war effort, having been introduced in the latter part of 1944.
This version exhibited several key changes over the A and F series machines. Principally, the main changes were those that radically altered the appearance of the Fw 190 from being a stout-looking, stubby nosed fighter, to a sleek and streamlined hunting machine.
The BMW801 series radial engine was replaced with the 12-cylinder Jumo213 inline engine with a pressurised cooling system that meant that only a small, annular radiator was mounted behind the spinner. The longer engine necessitated a need to restore the centre of balance back to the correct position, and this meant the addition of a 12 inch section of fuselage, sandwiched between the tail unit and the main fuselage, creating the characteristic step in the curvature of the upper fuselage.
Performance was also better, with increases in speed, range and ceiling. Armament was slightly reduced on the D-9, with 2 fuselage MG131 (as per other versions) and only two wing-root mounted MG151 cannon, and no provision for outboard wing guns.
There were several other incarnations of the D variant, but it was from the D-9 that Kurt Tank based his Ta 152 design.
If you don't include Eduard's 'Overtrees', then this is the 10th time we have seen an incarnation of this basic kit since its initial Eduard release in 2010. The only difference we are seeing here is that this is now a product packaged and sold by Revell.
Whilst Eduard has boxed this a D-9, D-11, and D-13 over the last 7 years, it is the D-9 variant that Revell has chosen as the subject of this release. I have to say that I really like the new style of artwork/design for the new Revell releases, but they still suffer from the terrible side-opening box problem. These boxes are flimsy, easily crushed, and not at all modeller-friendly. Improvements in Revell's releases also extend to a new design and approach to their instruction manual. I'll take a look at that in a little more detail later.
This kit contains five grey coloured sprues, packed into a single bag, with the clear sprue in a sleeve of its own, placed within the main bag. I really don't like multiple sprues occupying the same sleeve, for obvious reasons, and a very small amount of scuffing has occurred in places. No deal breaker of course, but annoying nonetheless. This release contains 144 parts.
Kit credentials are as follows:
Detailed machine gun position in the fuselage

Separate ailerons

Rotating propeller

Detailed cockpit

Faithfulyl reproduction of the area behind the engine

Detailed undercarriage
For detail fans, this kit provides a nice base for further work, whilst containing enough out of box detail to suffice for your average builder. Unlike Eduard's earlier Fw 190A/F kits, this release doesn't come with a detailed engine, which is really no loss as the complexity of the cowl arrangement on the other kits meant that you needed to keep your wits about you on engine installation. However, with the Fw 190D series, a quick peer into the main gear wells would show the rear of that powerful Jumo engine, with its associated plumbing, oil tank, magneto and engine bearer detail. This is included in this kit as a module that you install prior to closing up the fuselage, having been secured to bulkhead onto which the fuselage ammunition bins are fastened. The exhausts are moulded as port and starboard strips with hollowed tips, and are fastened into place from within the fuselage. This does slightly complicate painting later on, so it might be advised to paint before installation and then protect the paint with liquid mask. The forward cowl is a separate entity to the fuselage and comprises the forward ring into which you sit the annular radiator, followed by a backing plate. Options are provided for both open and closed cowl flaps. A single piece propeller completes the ensemble, together with a two-piece spinner. The shape of the spinner and prop is quite key to the appearance of the Dora, and they both look correct to my eye.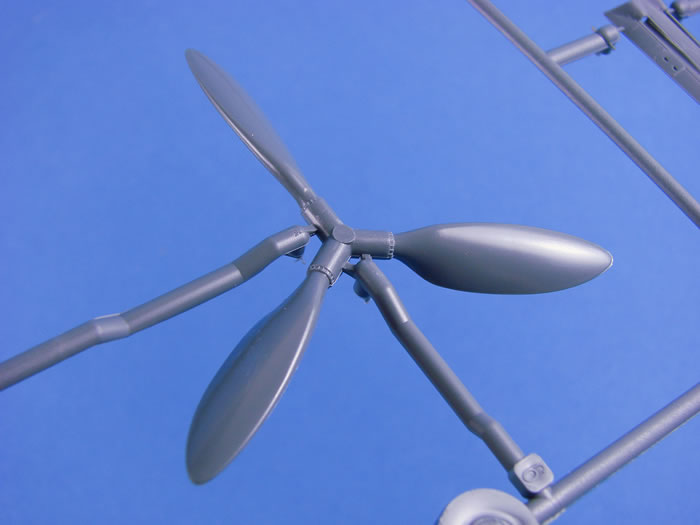 What this kit does have are some nice weapons bays. Of course, these can be displayed with the covers in the open position. A nice level of detail exists in the fuselage bay, including a little moulded wiring. The guns themselves are quite nice, but I would look at replacing the barrels with a set from the excellent MASTER range. Posing the gun bay as open also reveals some nice internal detail within the weapon's bay hood. This part is reasonably thin enough to still look good. I've seen a number of these models on various tables at model shows, so I know how good this can be made to look. Both wing root weapons bays can be posed in the open position too, again with internal panel detailing. The gun bays in this location are constructed as modules with internal floor and sidewall details. These are then glued into the upper wing panels before main assembly. Again, the only thing that would enhance this area are the firing cables. Gun barrels are separate to the guns, and are installed through the main gear bay.
That main gear bay is based around a central spar and a series of short forward ribs. A locating point in the main spar will receive the rear end of the MG barrels, and again, it could be worth replacing these with some better brass parts, although if you aren't too bothered, the kit parts will certainly suffice. The ceiling detail is moulded within the inside of the top wing panel, and looks very good. There are two wheel options with this kit with both the treaded and un-treaded versions available, although neither of these options are weighted. Undercarriage struts are quite delicate in appearance, and look excellent.
Eduard usually make a nice job of their cockpits, so it's no surprise that this Revell release scores great marks in that department. This area is based around a central tub with integral sidewall units and rudder pedal mounts. The instrument consoles themselves are separate parts, and the instrument panel comprises upper and lower halves. Detail here is very good, with an option to use a decal for the panels. I don't like this option as it means that you'll need to try to get it to settle over the individual raised details. Maybe opt to punch out the discs, or get yourself some Airscale instrument decals to suit.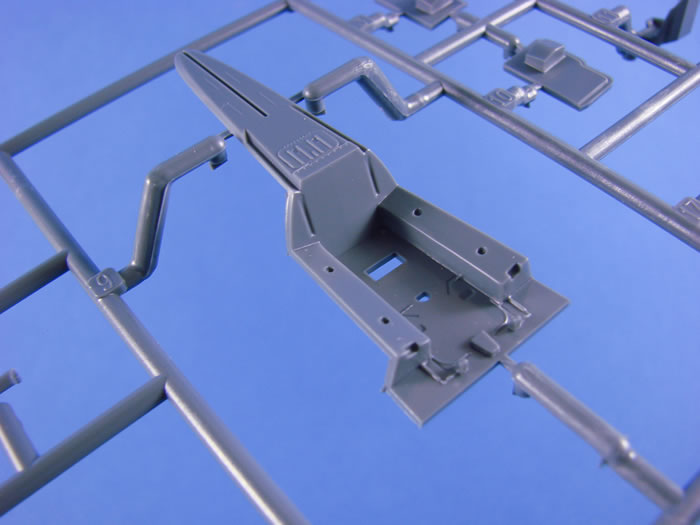 The single clear sprue is just that….clear, and very much so. Transparency is excellent. Options are provided for regular hood and the blown, bubble type. Strangely, the instructions say not to use the other clear parts, but these appear to be the pinched hoods that you would use if you were to pose the canopy in the open position.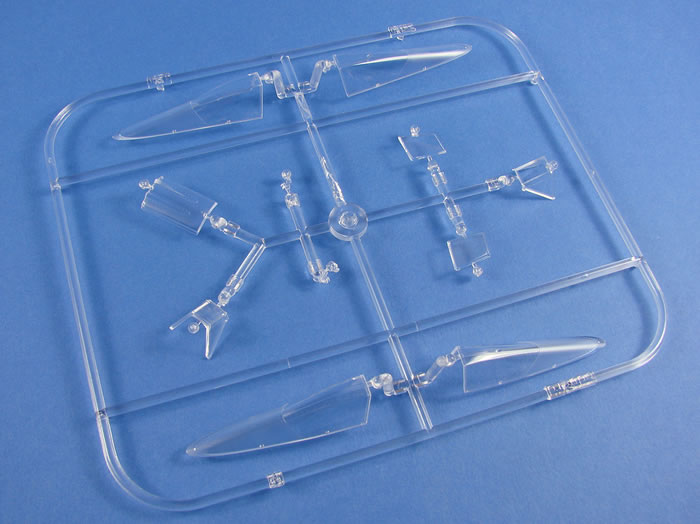 External detail is very, very good, with finely recessed panel lines and access ports, and restrained rows of subtle rivets. The moulds must still be in mint condition despite the numerous re-releases of this, as flash and seams are virtually non-existent. Apart from a couple of very minor sink marks on a couple of internal components, no other flaws can be seen in the moulding.
---
Markings
Two schemes are supplied in this kit, catered to by a single Cartograf-printed sheet. The schemes are:
Focke Wulf 190 D-9, Werknr. 500666, II./JG 301, Erfurt-Nord, May 1945

Focke Wulf 190 D-9, Werknr. 210194, I./JG 2, Aachen, 1 January 1945
Decal printing is excellent, with solid and authentic colours all thinly printed, and with minimal carrier film. Stencils are included, as are the aforementioned instrument panel decals.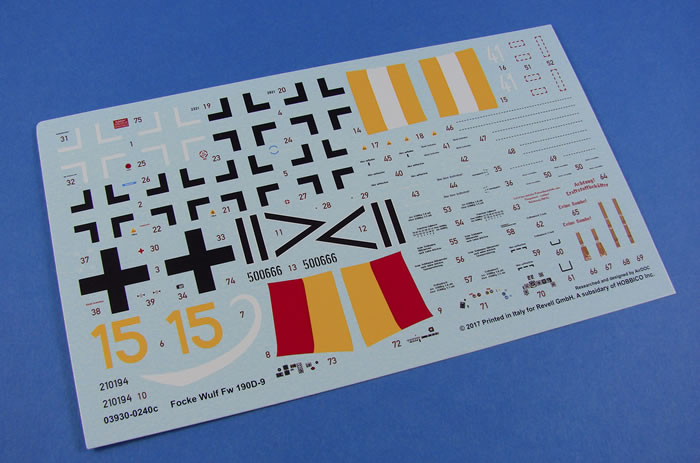 A colour A4 instruction manual is provided, which is a massive improvement over the presentation you are probably used to. These look a lot like HpH in style, with good, clear drawings and colour icons to denote specific instructions. There are 50 constructional sequences here, as well as colour-printed profiles and a parts and paint map. Colour call-outs are supplied through the manual, for Revell's own range, not surprisingly!
This is a cracker of a kit, and it's always good to see another incarnation of it, whoever has their label on the box. It's also a fairly inexpensive kit that offers the modeller many options and possibilities, whatever their skill level. Revell has chosen two attractive schemes for this release with both canopy options present. I'd love to see them put the D-11 and D-13 amongst their release schedule too.
Revell model kits are available from all good toy and model retailers. For details visit www.revell.de/en, @RevellGermany or facebook.com/Revell
---
Review Text and Images Copyright © 2017 by James Hatch
Page Created 22 March, 2017
Last updated 22 March, 2017
Back to HyperScale Main Page
Back to Reviews Page