Dornier Do 17Z-10 'Kauz'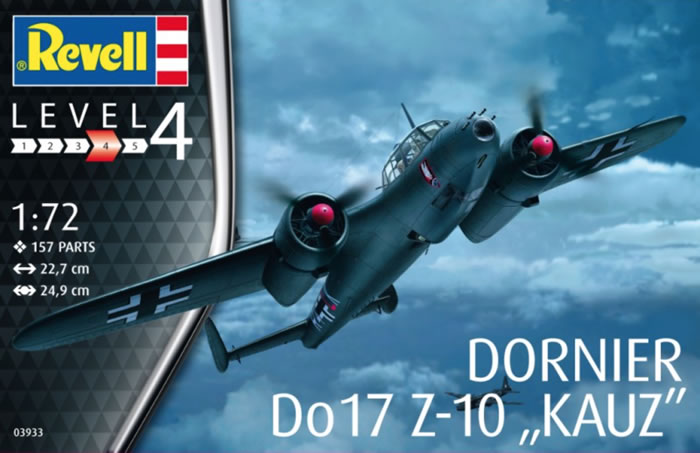 Revell, 1/72 scale
S u m m a r y

Catalogue Number:
Revell Kit No. 03933 - Dornier Do 17Z-10 'Kauz'
Scale:
1/72
Contents and Media:
Three grey sprues and one clear sprue. Single decal sheet with markings for two aircraft.
Price:

£17.99 EU price (£14.99 Export Price) plus shipping available from Hannants

Review Type:
FirstLook
Advantages:
Fnely engraved surface detail; high level of detail; welcome subject.
Disadvantages:
Flimsy Revell box and sprues not individually bagged; no swastikas on decal sheet.
Recommendation:
A very nice release that can be found for under £20 in the UK, at time of writing. That really is great value for money for such a detailed little model kit that will doubtless provide many hours of enjoyable assembly and painting.

Reviewed by James Hatch


Revell's 1/72 Do 17 Z-10 will be available online from Squadron.com

The Dornier Do 17 was designed as a lightweight, fast bomber that could, in theory, outrun any attempts by fighters to shoot them down.
The long thin fuselage of the aircraft led to its nickname of 'flying pencil', and its shoulder mounted wing carried two engines, whilst its tail design was of twin fin/rudder arrangement, typical of that on the Bf 110.
Initially powered by inline Daimler-Benz/BMW engines, but these were changed in favour of two Bramo 323 radials.
A crew of three was carried, and up to 1000kg of bombs could be carried internally.
Civil War in Spain saw the first baptism of fire for the Do 17, operating with the Condor Legion. Many of these pilots were unknowingly honing their skills for future operations against Poland, leading to the start of WWII, and eventually to the skies over Britain in 1940. It was here that the Do 17 became seriously outclassed by British fighter defence.
The main version was the Do 17Z, which is the subject of this kit. The Z-10 variant had the glazed nose was replaced with a solid unit that contained four forward-firing MG17 and also an infrared detector for target illumination.
As with a number of recent Revell releases, the plastic within this kit does not originate with this company. Instead, this is a re-box of the excellent ICM kit (Ukraine), which only saw its first initial outing last year (2016). So far, this is now the third time an incarnation of this kit has come to market, with ICM also having released the Z-2 version last year.
Revell's insistence on using their awful end-opening boxes, still sees no sign of abatement. Easily crushed and non-modeller friendly, at least the new livery makes it look at attractive package.
There is a total of THREE medium grey sprues, and one clear sprue. A single decal sheet and instruction manual complete the package. All sprues are packaged into a single re-sealable clear sleeve, with the clear sprue in its own package. Thankfully, no damage is apparent to any of the fragile parts within.
I'm a self-confessed large scale guy, and I rarely look at anything less than at least 1/48 scale. The last time I checked out anything like a 1/72 Dornier was many decades ago, so forgive me for being rooted in the past when it comes to models such as this one.
The original company, ICM, made a superb job of this kit in terms of engineering and detail. The first sprue is almost mirrored in terms of content.
Being a twin-engine aircraft, the upper two thirds of this sprue contains the post and starboard engines, nacelles, wheel bay panels, cowls and exhausts etc.
Each engine, including bulkheads and mounts, props etc, is made up from around 16 parts, and the detail throughout is superb. You might best be advised to remove a number of these parts with a razor saw so as to prevent deforming them during sprue removal.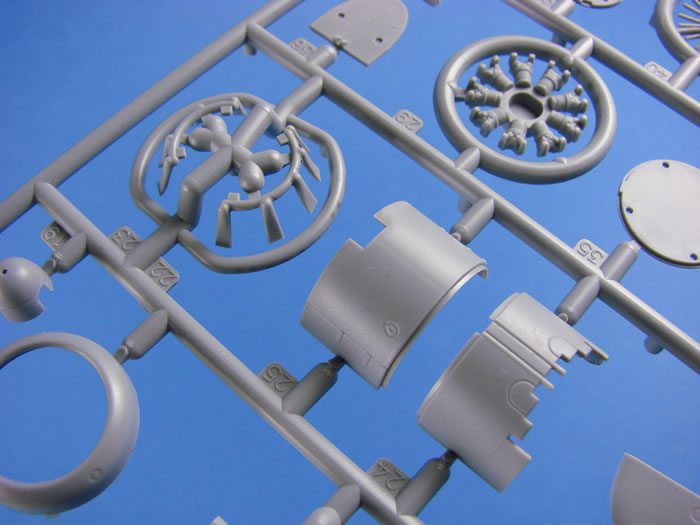 Looking the main gear well walls shows an unusual approach to the design of this model, but one that I am sure will make the building experience a lot more pleasurable. ICM has designed this kit so that the builder can construct the interior of the main gear bays, along with the retractor strut assemblies, before the nacelles themselves are built. With the wing built and fitted to the fuselage, the forward bulkhead is slotted into the wing underside, followed by the rear bulkhead with the retractor gear. These are them coupled with the main gear bay walls. When the engine bulkhead is fitted to the nacelle exterior, the nacelle halves may then be offered up to the wing, where they are connected by tabs into the wing itself.
From here, the modeller can choose to them add the engines, cowls and main gear/wheel assemblies after main painting, and thus ensuring less breakage as the model is worked upon. The remainder of this first sprue holds the props, ammo saddles, machine guns, bombs (not for use on this release) and other smaller external detail parts.
If cockpits are your thing, then this has a better one than some 1/48 models I've seen over the last years. The remainder of parts for this kit, except for the wing and transparencies, are found on the next sprue, including the cockpit parts.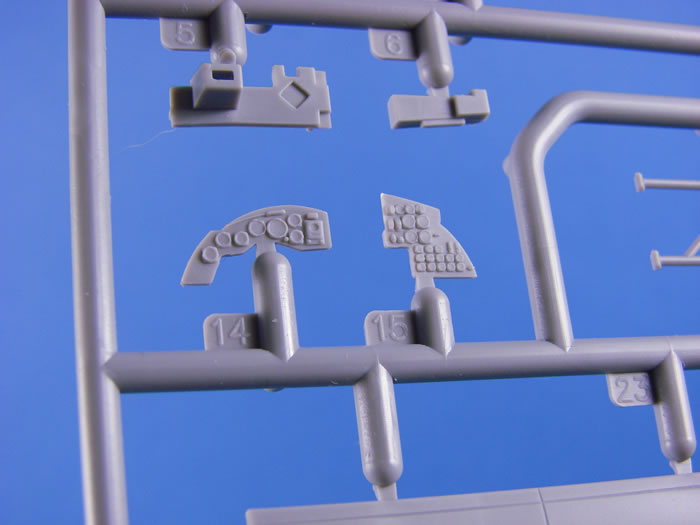 This model's construction does indeed begin with the cockpit, and here you will find some excellent side wall details, consoles, instrument panels, airframe elements etc. as well as nicely rendered pilot seat, control column and separate grip, rudder pedal assemblies. Of note here are the other crew seats with their depiction of the woven strap detail. It is a little over-scale in appearance, but still looks very good. No crew belts are supplied for any seats, so it's time to either get some PE ones from Eduard, or make some from spare wine bottle foil.
The fuselage interior itself has more moulded details to complement the additional details, and the external details are just beautiful. This model isn't festooned with rivets, but instead a series of extremely fine engraved details such as panel lines and port details.
Instead of the nose being integral to the fuselage, it is moulded as a separate entity, to facilitate the different versions of this kit that ICM/Revell will doubtless release over time.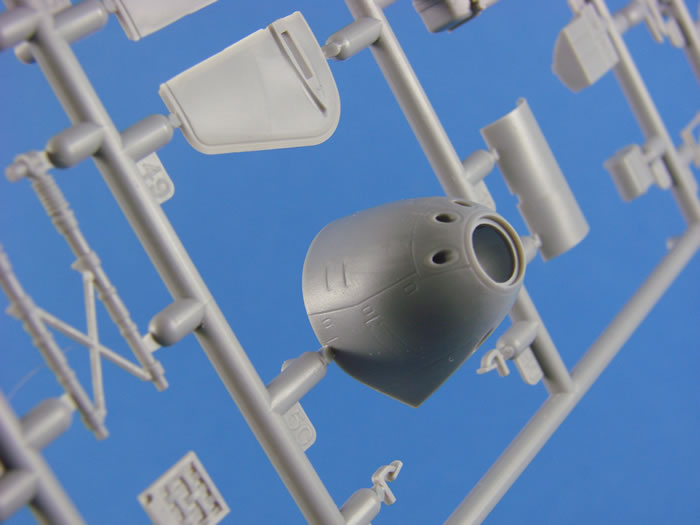 This model also has a detailed bomb bay, but as it didn't operate as a bomber, this is taken over with what looks like a large fuel tank. The bomb bay itself is framed with several fuselage formers with some nice structural details included. With the inclusion of all this detail, you can opt to use the single piece bomb bay doors that are provided, or to glue a single piece option into here if you aren't too bothered about the interior being on show. Instructions show the separate door parts as being unused in this kit, so check to see if the Z-10 opening was faired over and not openable under normal circumstances.
Instead of a single piece horizontal stabiliser, the parts here are provided as port and starboard sides, with the control surfaces being moulded separately, as are the rudders and wing ailerons. It's all too easy to foul up the rib and fabric details on these things, but here I feel they are nicely portrayed, and very delicate. And of course, all control surfaces can easily be mounted in any dynamic position that you want. The remainder of parts on here include components for the undercarriage struts (superb mouldings!) and the wheels (un-weighted).
The upper wing is a full span unit with separate port and starboard underside panels. As previously mentioned, the ailerons are moulded separately, but the landing flaps are not. At the time of writing, no Eduard options appear to yet be available for this kit, so keep an eye out for them. Fabric texture is very subtle.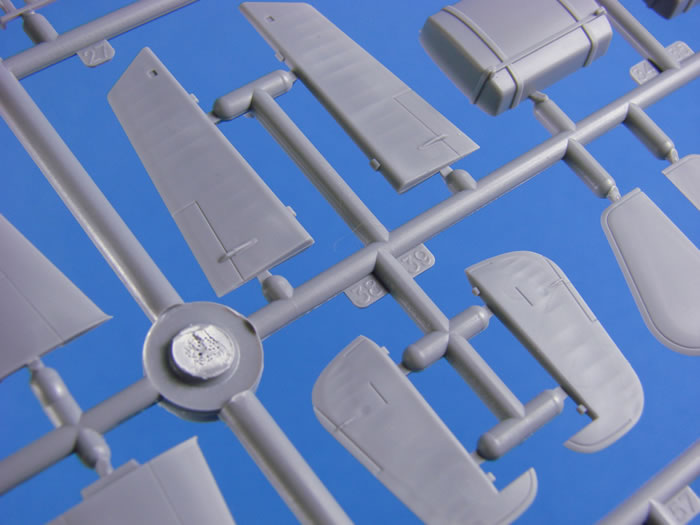 Surface detail is excellent, with more finely engraved panel lines and ports and a distinct lack of rivets which I think is perfect for this scale.
A single clear sprue contains a single piece upper canopy, side glazing, mid fuselage window, IR lamp window and gondola window.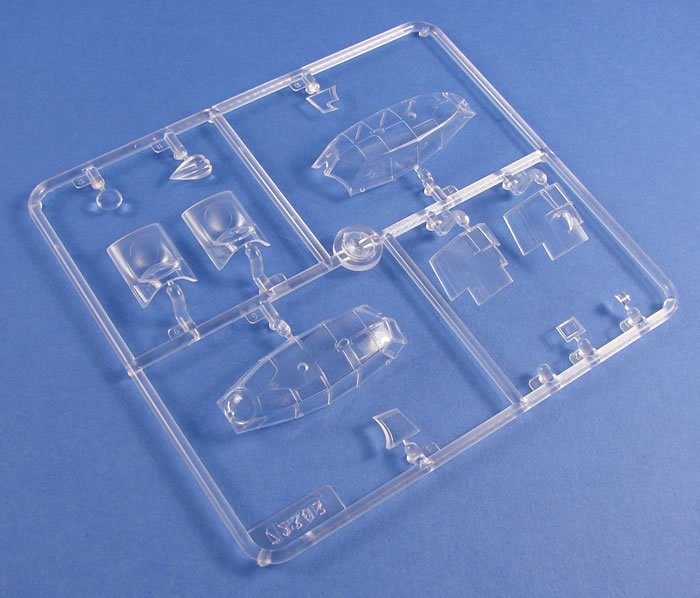 A number of extra parts exist here, but won't be used on this release, so care is needed so that you fit the correct ones. The transparencies are superb with well-defined framing etc. In fact, the whole kit is beautifully produced with no plastic flaws anywhere and flash/seams are virtually non-existent. Ejector pin marks are also thoughtfully located and shouldn't impinge on the modeller's enjoyment of putting this one together.
---
Markings
TWO schemes are included for this release, with one being an all-black machine, and the other carrying a typical Luftwaffe RLM70/71 splinter scheme with RLM65 undersides. I loathe black schemes, so I'll probably opt for the latter. The markings options are:
These are provided on a small decal sheet, printed by Cartograf, and including stencils and instrument decals, alongside the scheme markings.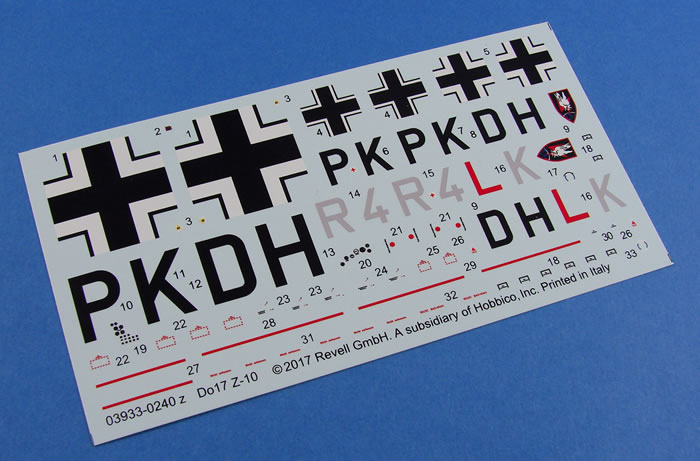 Being a Revell release, no swastikas are included here, so I'm afraid it will mean another root through your spare decal stash. Printing is what we now expect from Cartograf, with minimal carrier film, solid colour and perfect registration. The finish on these is also matte.
---
Instructions
A colour A4 instruction manual is provided, which is a massive improvement over the presentation you are probably used to. These look a lot like HpH in style, with good, clear drawings and colour icons to denote specific instructions. There are 64 constructional sequences here, as well as colour-printed profiles and a parts and paint map. Colour call-outs are supplied through the manual, for Revell's own range, not surprisingly!
A very nice release that can be found for under £20 in the UK, at time of writing. That really is great value for money for such a detailed little model kit that will doubtless provide many hours of enjoyable assembly and painting. If all 1/72 models were like this, I might be more inclined to dip my toe in the water more often. Full marks!
Revell model kits are available from all good toy and model retailers. For details visit www.revell.de/en, @RevellGermany or facebook.com/Revell
---
Review Text and Images Copyright © 2017 by James Hatch
Page Created 16 March, 2017
Last updated 16 March, 2017
Back to HyperScale Main Page
Back to Reviews Page