Yakovlev Yak-3
"Onward to Berlin"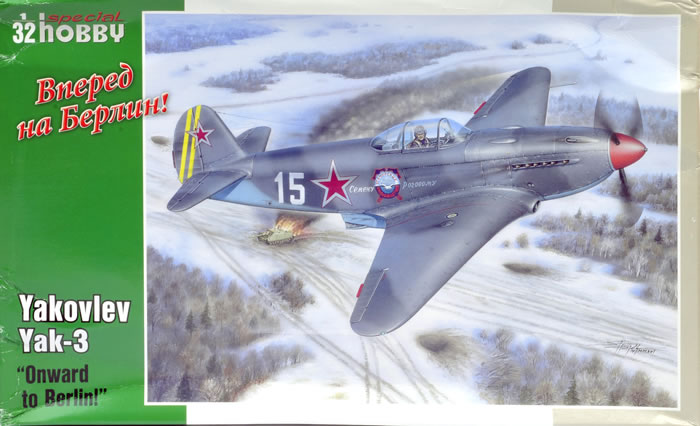 Special Hobby, 1/32 scale

Reviewed by Brett Green


Kitty Hawk's 1/32 scale OS2U Kingfisher will be available online from Squadron.com

The Yakovlev Yak-3 was a World War II Soviet fighter aircraft.
Robust and easy to maintain, it was much liked by pilots and ground crew alike. It was one of the smallest and lightest major combat fighters fielded by any combatant during the war. Its high power-to-weight ratio gave it excellent performance. It proved a formidable dogfighter. Marcel Albert, World War II French ace, who flew the Yak in USSR with the Normandie-Niémen Group, considered it superior to the P-51D Mustang and the Supermarine Spitfire.
In 1943, Yakovlev designed the Yak-1M which was a lighter version of the Yak-1. It incorporated a wing of similar design, but with smaller surface area and had further aerodynamic refinements, like the new placement of the oil radiator, from the chin to the wing roots (one of the visual differences with the Yak-1, -7, -9).
A second Yak-1M prototype was constructed later that year, differing from the first aircraft in that it had plywood instead of fabric covering of the rear fuselage, mastless radio antenna, reflector gunsight and improved armor and engine cooling. The chief test pilot for the project Petr Mikhailovich Stefanovskiy was so impressed with the new aircraft that he recommended that it should completely replace the Yak-1 and Yak-7 with only the Yak-9 retained in production for further work with the Klimov VK-107 engine.
The new fighter, designated the Yak-3 entered service in 1944, later than the Yak-9 in spite of the lower designation number.
After the war ended, it was also flown by the Yugoslav and Polish Air Forces.
Production accelerated rapidly, so that by mid-1946, 4,848 had been built.*
* Historical summary courtesy of Wikipedia
Special Hobby released a 1/32 scale Hi-Tech version of the Yak-3 last year, reviewed by James Hatch on HyperScale at the time. That release included resin and photo-etched parts plus self-adhesive masks to supplement the plastic sprues.
This time around, we are presented with an all-plastic kit plus one small resin part. The good news is that detail is still very respectable and the price is substantially lower - Euro 39.90 compared to Euro 54.90 for the Hi-Tech kit.
Special Hobby's 1/32 scale Yakovlev Yak-3 "Onward to Berlin" comprises 123 parts in medium grey plastic, ten parts in clear, one small resin part and markings for three aircraft on two decal sheets.
The quality of the plastic is very good. It would be best classified as high quality limited run, as the surface is smooth and sprue attachments are quite fine, but it misses out on little luxuries such as locating pins.
The wings and much of the fuselage was of wooden construction. The kit's restrained approach to surface texture reflects this well.
In certain areas that are of metal construction, we are presented with crisp and finely recessed panel lines and rows of rivets. Fabric and rib texture on the control surfaces is well done too.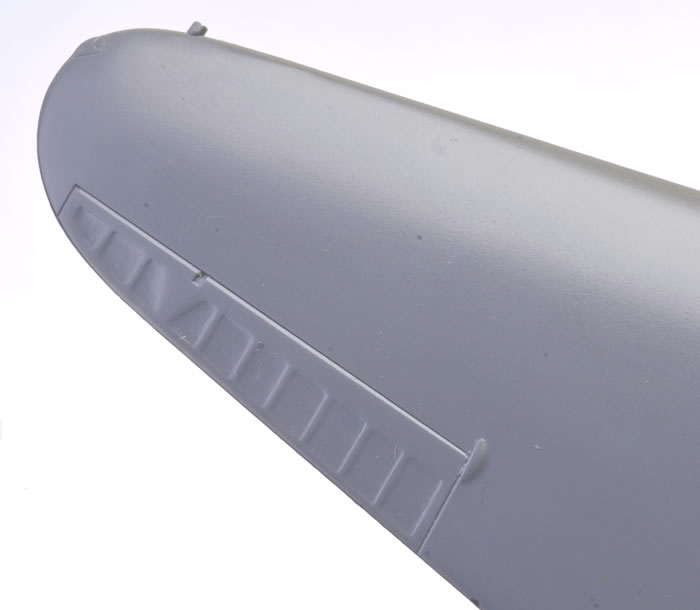 The ailerons are moulded to the wings but the elevators and rudder are separate parts that may be posed to taste.
The cockpit is encased in accurate tubular framing with separate plastic parts for side consoles, upper sidewalls and the radio equipment on the deck behind the pilot's head.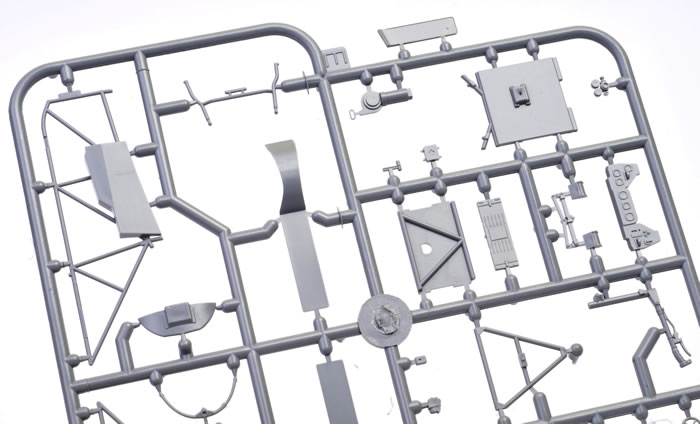 The control column is nicely detailed. The instrument panel looks very simple but individual decals are supplied for the dials. Fuel gauges for the wing inspection ports are also offered as decals. Clear covers are also included. Harness straps are not included for the two-piece pilot's seat.
The exhausts are plastic and moulded solid, so you'll need to put your drill and hobby knife to work if you want hollowed stacks.
A resin part is included to blank off the starboard gun trough. This is applicable for only one of the three marking options.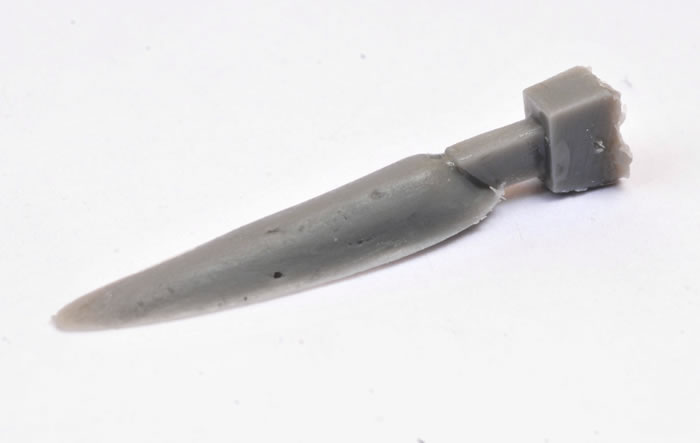 Undercarriage wheels, legs and bays are well detailed.
The canopy offers the option of a single closed part or three separate clear parts if you want to display the sliding section open.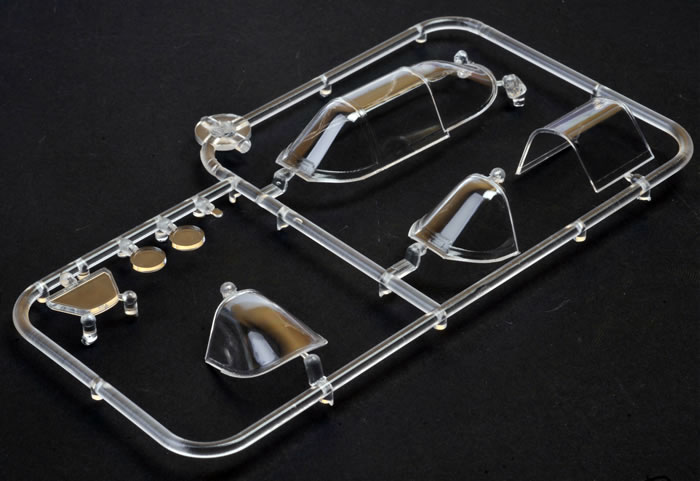 Armoured glass and a rear vision mirror are also included.
---
Markings
Markings are supplied for three schemes - all Blue Grey and Dark Grey upper surfaces over Light Blue.
Details are as follows:
Yak-3 No.15, lieutenant Semyon Ivanovich Rogovoi (5 victories), 64 Guards Fighter Regiment (GIAP), 4 Guards Fighter Division (GIAD),2ndBalticFront,Autumn1944.Themachinewaspresented to lt.Rogovoi by sailors of the Amur River Flotilla in the Far East.

Yak-3, No.114, senior lieutenant Valentin Grigoryevich Ermokhin (9 victories), 402 Fighter Regiment (IAP), 265 Fighter Division (IAD), 1st Belorussian Front, Spring 1945.

Yak-3, No.10, s/n 1712, lt. colonel Boris Nikolaevich Eryomin (8 victories + 9 or 15 shared), Deputy CO of 6 GIAD, 2nd Ukrainian Front, Spring 1945. Eryomin´s second fighter aircraft paid for by Ferapont Petrovich Golovatyi was an early production batch machine with one cannon and only one machine gun.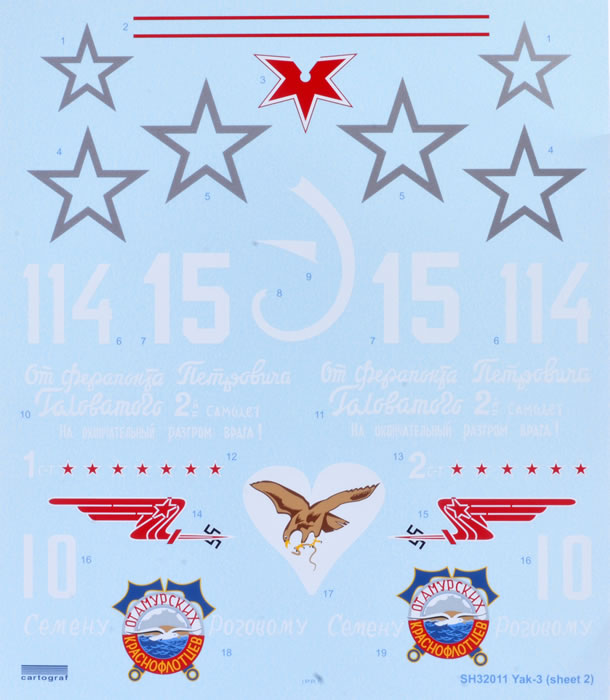 Each of the schemes boasts large artwork or lettering.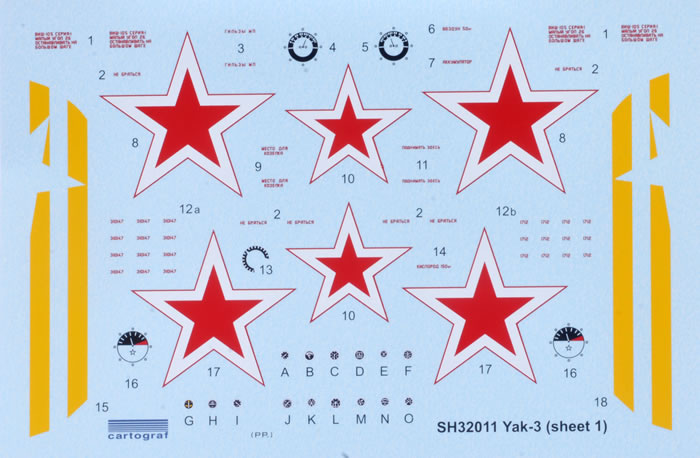 Two decal sheets are included. They have been printed by Cartograf. Colours are luxurious and registration is perfect on my sample. The finish is glossy.
Special Hobby's 1/32 scale Yak-3 is nicely detailed and relatively simple in parts breakdown.
Despite the absence of locating pins, it should not present any challenges to experienced modellers.
Highly Recommended
Thanks to Special Hobby for the review sample
---
Review Text and Images Copyright © 2017 by Brett Green
Page Created 29 August, 2017
Last updated 30 August, 2017
Back to HyperScale Main Page
Back to Reviews Page