Sopwith F.1 Camel "BR.1"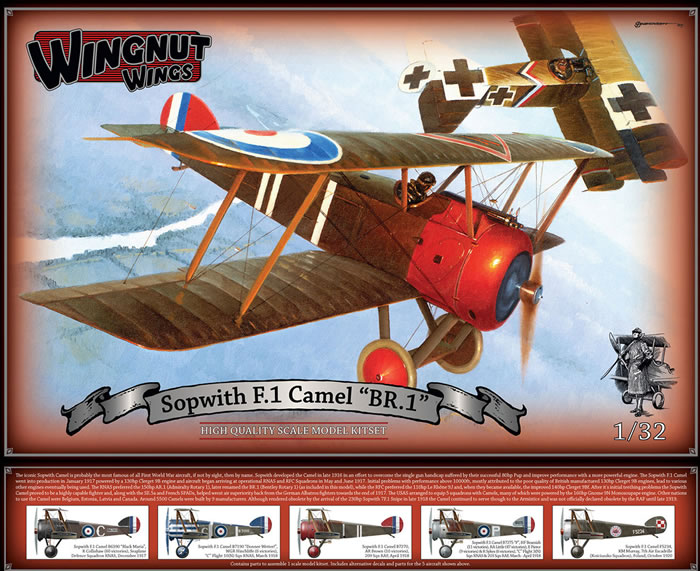 Wingnut Wings, 1/32 scale

Reviewed by James Hatch


Revell's 1/32 scale Me 262 B-1/U1 Nightfighter will be available online from Squadron.com

The Sopwith Camel was a British First World War single-seat biplane fighter aircraft introduced on the Western Front in 1917. It had been developed by the Sopwith Aviation Company as a successor to the earlier Sopwith Pup and would become one of the most iconic fighter aircraft of the First World War.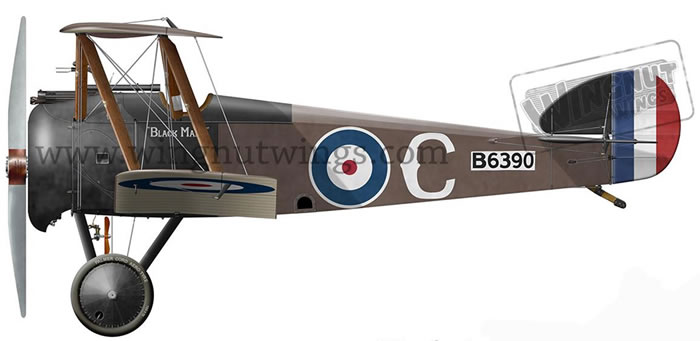 The Camel had a mostly conventional design for its era, featuring a wooden box-like fuselage structure, an aluminium engine cowling, plywood panels around the cockpit, and fabric-covered fuselage, wings and tail. While possessing some clear similarities with the Pup, it was furnished with a noticeably bulkier fuselage. For the first time on an operational British-designed fighter, two 0.303 in (7.7 mm) Vickers machine guns were mounted directly in front of the cockpit, synchronised to fire forwards through the propeller disc.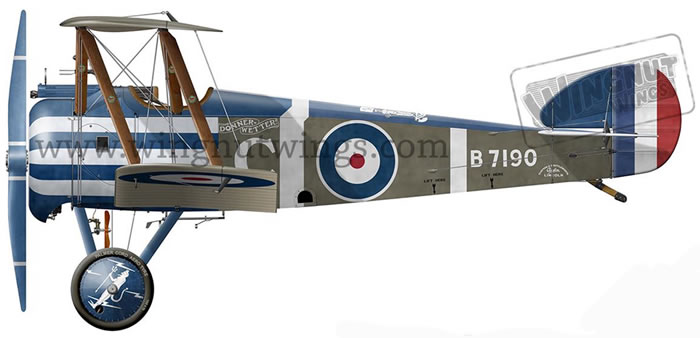 In addition to the machine guns, a total of four Cooper bombs could be carried for ground attack purposes. Production Camels were powered by various rotary engines, most commonly either the Clerget 9B or the Bentley BR1. In order to evade a potential manufacturing bottleneck being imposed upon the overall aircraft in the event of an engine shortage, several other engines were also adopted to power the type as well.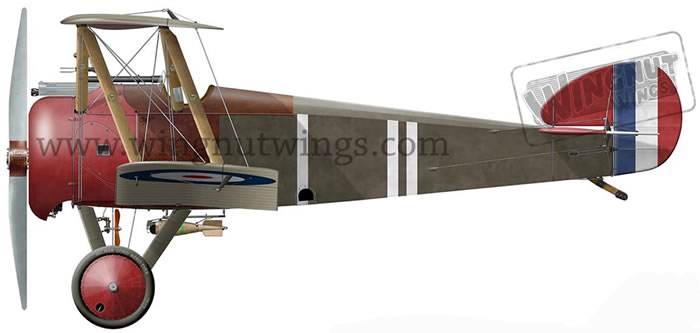 A metal fairing over the gun breeches, intended to protect the guns from freezing at altitude, created a "hump" that led pilots to refer to the aircraft by the name Camel. However, the Camel name never had any official status in regard to the aircraft.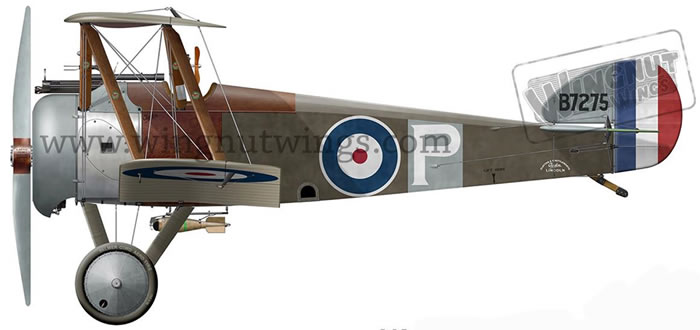 The 130 horsepower (97 kW) Clerget 9B was an important engine for the British Royal Naval Air Service and Royal Flying Corps, being license-produced in Britain and powering several important British aircraft, including the Sopwith Camel. However, at £907 a copy it was expensive, and prone to overheating, so the Admiralty asked Lieutenant W. O. Bentley, an established pre-war engine designer, to produce a modified version to solve these problems.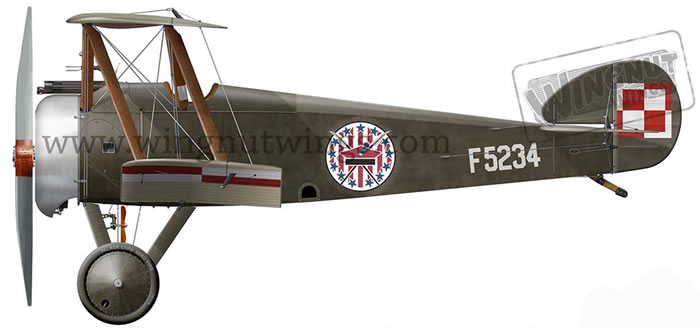 Bentley came up with his idea of an engine - fitted with aluminium cylinders with cast iron liners, and aluminium pistons. Dual ignition was introduced to improve reliability, and the stroke increased to 6.7 inches (17 cm) which allowed power to be increased to 150 horsepower (110 kW). The cost of the engine was also reduced, falling to £605 (almost £40,000 at 2016 conversion) per engine. The resulting engine, initially known as the A.R.1 for "Admiralty Rotary", but later called the BR.1 ("Bentley Rotary") was manufactured in quantity, although initially against Admiralty orders. It was standardised for the Camel in RNAS squadrons, but unfortunately there were never enough to entirely replace the inferior and more expensive Clerget engine in British service, and most RFC Camel squadrons continued to use Clerget engines; in fact licensed production of the Clerget continued.
Courtesy of Wikipedia.
We very recently took a look at the Clerget-engine Sopwith Camel kit, and this kit isn't too dissimilar from that, with only a single sprue being different. This relates to the engine of course, with this kit having the Bentley BR.1 engine. We won't be looking at each sprue as we already have done, with the exception of the BR.1, and the parts options which are to be used in this release. Wingnut Wings' official kit info describes the kit as thus:
164 high quality injection moulded plastic parts.

16 part highly detailed 150hp Bentley BR.1 engine.

Optional fuselage halves with alternative lacing details, windscreens, cut down cockpit decking, common or Bentley style engine cowlings, small & large cut out top wing centre sections, early and late undercarriage, propellers, 20lb Cooper bombs & carrier.

10 photo-etched metal detail parts.

24 page fully illustrated instruction manual.

High quality Cartograf decals for 5 aircraft
---
Sprue E (Bentley BR.1)
Being a derivative of the Clerget, it's not surprising that this engine is generally very similar, but it's the attention to detail, of course, that drives our passion with these kits.
Being Wingnut Wings, you can pretty much guarantee that the levels of research were beyond our own mortal levels of understanding!
The engine itself has 16 parts, with the rear of the cylinder block being separate to the front, but not along a centreline joint, which is a welcome touch. The joint itself is pretty much hidden from view when built, with it lurking around the rear face. Cooling fin detail is amazingly fine. The cylinder heads are separate and also have some beautiful detail, including the spark plugs, which are tiny! More nice detail on the induction pipe section too.
As with many parts in WNW kits, I recommend you take a fine razor saw to this sprue when removing a number of the parts for assembly.
---
So what else is different?
Essentially, nothing. However, you do get the opportunity to use some parts here that weren't for use in the Clerget kit. Whereas the aforementioned kit has one cowl choice, the Bentley offers TWO, out of a possible four that are on Sprue A. The unused parts on this sprue, more or less mirror those of the Clerget release. This also applies to the other sprues, including the clear parts.
One other part of note that can be used in this release is the mid-upper wing section, with the larger upward viewing cut-out. Both large and small cut-out sections are for use in this release, but with the Polish scheme E being the one for the larger cut-out.
---
Markings
Five scheme options are available here, printed on a single, large Cartograf sheet. As with the previous kit, the printing is perfect with solid and authentic colour, minimal carrier film and perfect register. The finish is also glossy, which is what I personally prefer. Stencils are included, as are instrument decals.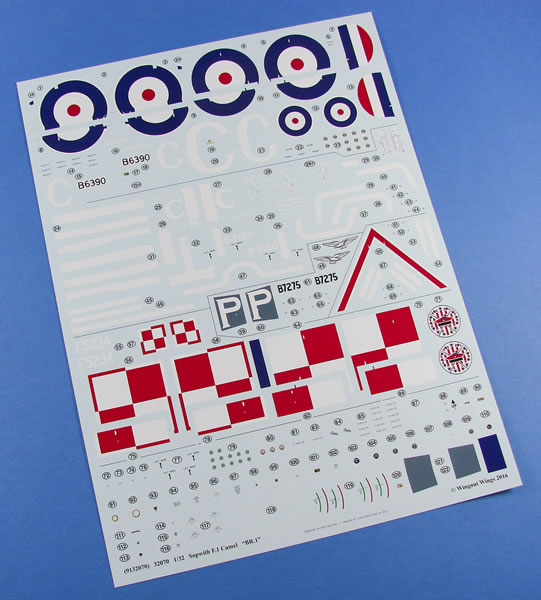 The five schemes on offer are:
Sopwith F.1 Camel B6390 "Black Maria", R Collishaw (60 victories), Seaplane Defence Squadron RNAS, December 1917.

Sopwith F.1 Camel B7190 "Donner-Wetter!", WGR Hinchliffe (6 victories), "C" Flight 10(N) Sqn RNAS, March 1918.

Sopwith F.1 Camel B7270, AR Brown (10 victories – including Manfred von Richthofen, the Red Baron), 209 Sqn RAF, April 1918.

Sopwith F.1 Camel B7275 "P", HF Beamish (11 victories), RA Little (47 victories), E Pierce (9 victories) & R Sykes (6 victories), "C" Flight 3(N) Sqn RNAS & 203 Sqn RAF, March - April 1918.

Sopwith F.1 Camel F5234, KM Murray, 7th Air Escadrille (Ko?ciuszko Squadron), Poland, October 1920
As with the Clerget release, there isn't anything at all to fault or criticise here. If you like colourful schemes, then I think Wingnut Wings has done very well to incorporate some of the more unusual elements of what are normally very samey-looking aircraft, especially with the blue/white striped nose of scheme B.
I don't doubt that will be high on the options for many purchasers of this kit.
Another classy release that will offer the modeller the perfect levels of detail and buildability.
Highly Recommended.
Thanks to Wingnut Wings for the sample
---
Review Text and Images Copyright © 2017 by James Hatch
Page Created 25 April, 2017
Last updated 25 April, 2017
Back to HyperScale Main Page
Back to Reviews Page