THINNERLINE Circle Cutter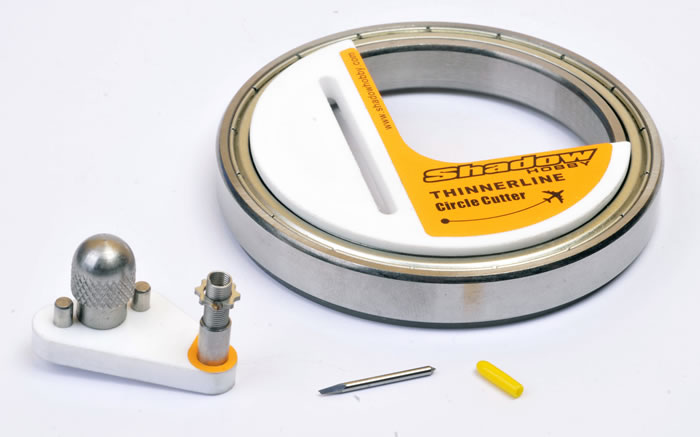 Shadow Hobby

Reviewed by Brett Green

HyperScale is proudly supported by Squadron.com

Modeller have many applications for cutting circles - instrument dials, panels, masks, custom scribing templates and more.
I have been using an Olfa Circle Cutter for many years. This is a simple but effective tool. You adjust the diameter of the arm, press a pin into the centre of the material and rotate the arm to create a circle. The downsides are that you have to deal with a small hole in the centre from the anchor pin, and also that slippage is possible if you are not careful. The smallest size is also not quite small enough for a lot of modelling applications so I tend to find myself using my Waldron Punch and Die for tiny circles.
The new Shadow Hobby THIINERLINE Circle Cutter addresses all of these issues.
The THINNERLINE Circle Cutter is a stout metal and plastic tool that will cut circles in materials up to 0.2mm or more, depending on the blade used.
The main body of the tool is a metal circle that rotates smoothly due to the use of ball bearings. A cutting arm and knob are fitted to the main body. These parts may be adjusted to produce circles from 0.5 to more than 50 mm diameter. The body features a graded scale and the cutter arm has an arrow to allow you to precisely set circle sizes.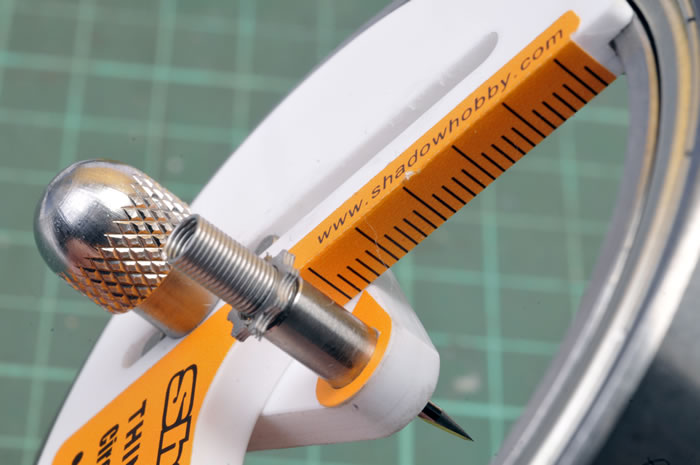 The cutter includes a 60 degree blade that will cut material up to .001 in diameter - ideal for paper, light cardboard and masking tape. 45 and 30 degree blades are available separately for heavier stock up to 0.2mm and more.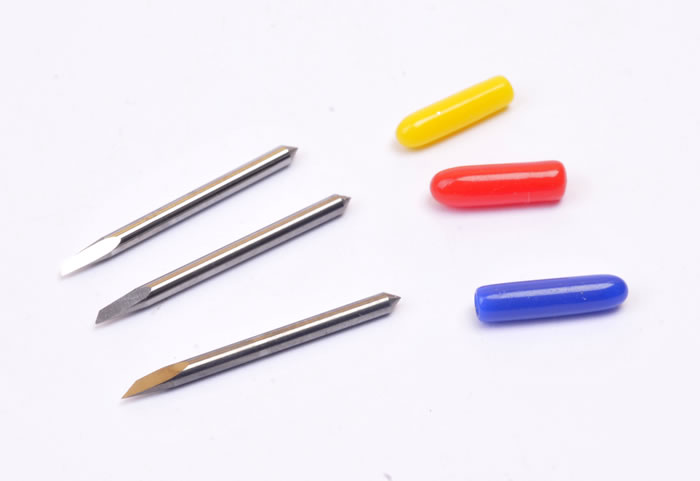 The blade may be adjusted via a tension spring and adjuster. I found it best to make the adjustment with the tool flat on top of the material to be cut. The tool should always be adjusted and operated on a cutting mat.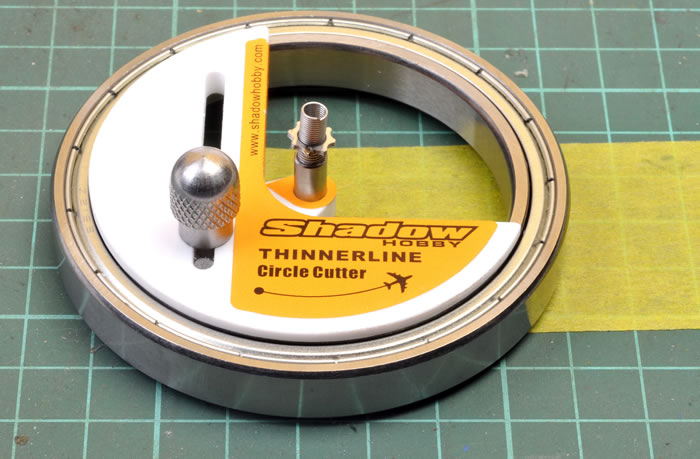 To create a circle, smply rotate the tool anti-clockwise. A single rotation will be sufficient for thinner materials. Rotation is smooth and easy using the metal knob. Also, the operation of the tool does not require a centre punch, ensuring a clean circle straight away.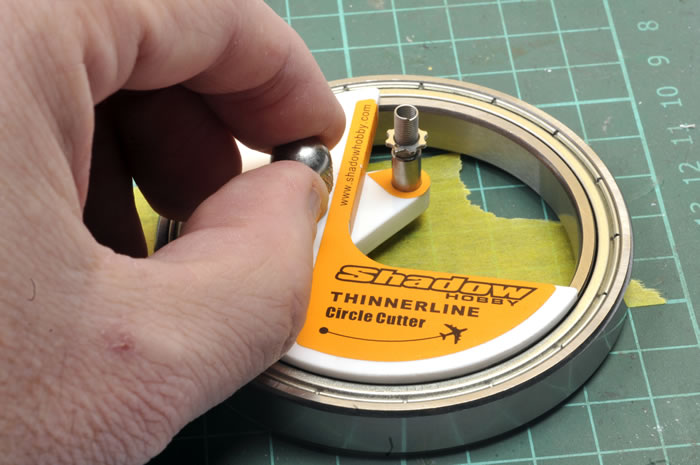 I set the tool to various sizes from very small to quite large and was impressed with the clean edges and precise cutting on Tamiya tape.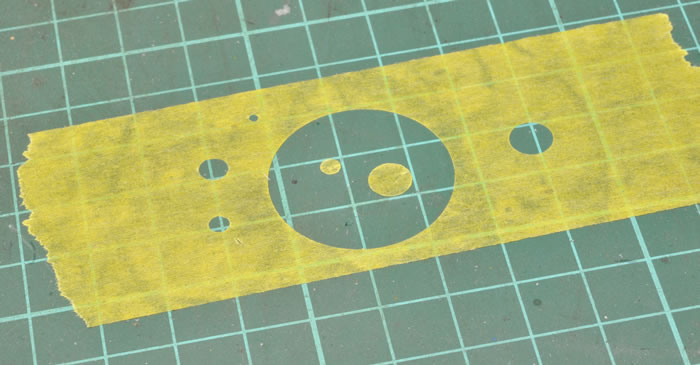 I also tried the largest diameter setting on paper. Once again, result were very crisp.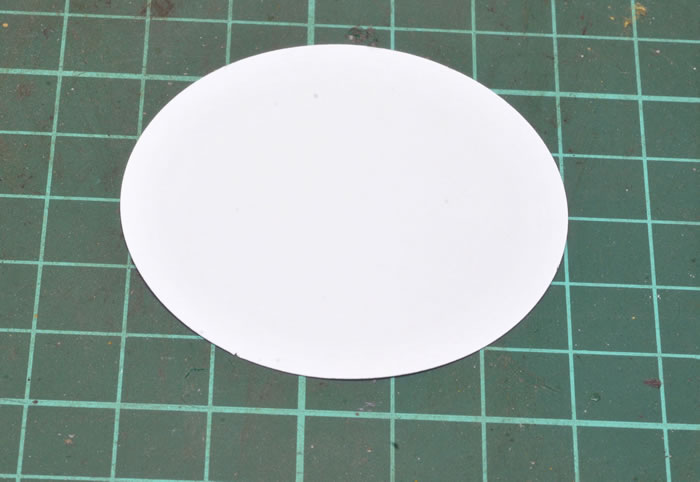 Instructions for assembly and operation of the tool are included.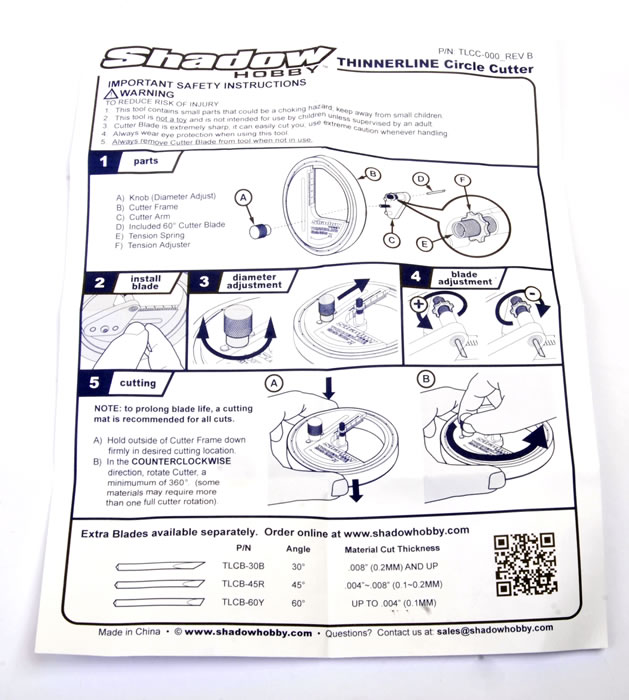 The tool feels robust and of high quality.
Shadow Hobby's THINNERLINE Circle Cutter is a high quality and robust tool that will find plenty of use for aircraft and military modellers. With circle diameters from 0.5 to more than 50 mm, it will suit most circle cutting applications.
The option of alternative blades is a nice touch too.
The THINNERLINE Circle Cutter has now superceded my Olfa Circle Cutter as an essential part of my modelling toolshop.
Highly Recommended.
Thanks to Shadow Hobby for the sample
---
Page Created 23 June, 2017
Last updated 23 June, 2017
Back to HyperScale Main Page
Back to Reviews Page