ID Models (Tigger) 1/32 scale vacform
Boulton Paul Defiant
by Suresh Nathan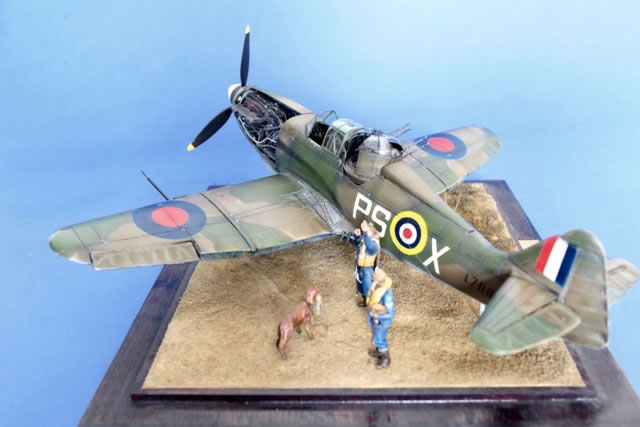 Boulton Paul Defiant



Hobby Boss's 1/48 F4U-7 Corsair is available online from Squadron.com
The Boulton Paul Defiant is one of those planes everyone wants in their collection. What's there not to want? I mean a fighter with 4 guns in a turret? It's very kooky. Alas the only option for this in large scale is the rare Scratchbuilder's resin kit and the ID Models (masters now owned by Tigger models) vacform kit. I chose the latter and scratchbuilt…..erm…..everything!
The ID Models vacform styrene is very sturdy. It's 0.7 mm thick and is structurally very sound. Ity does not require expanding foam to keep it intact at all.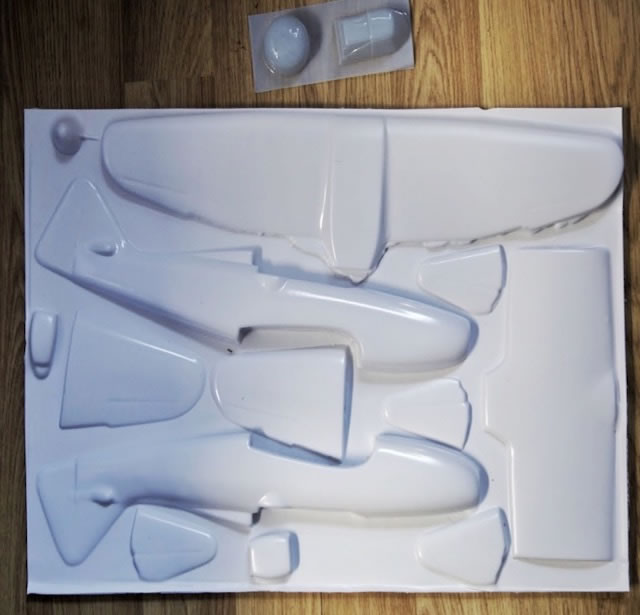 It needs to be cut from it's carrier sanded, riveted and scribed.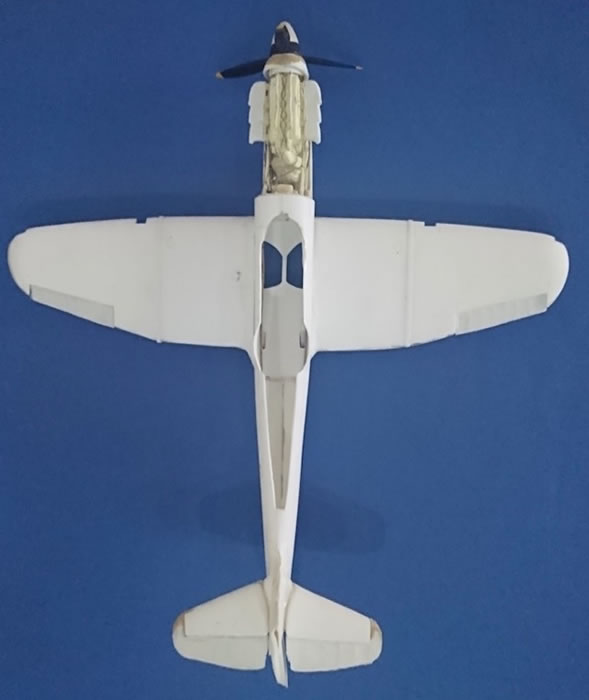 The photos of the build here are subgrouped by assembly and not chronologically. I did the surface detailing in the end.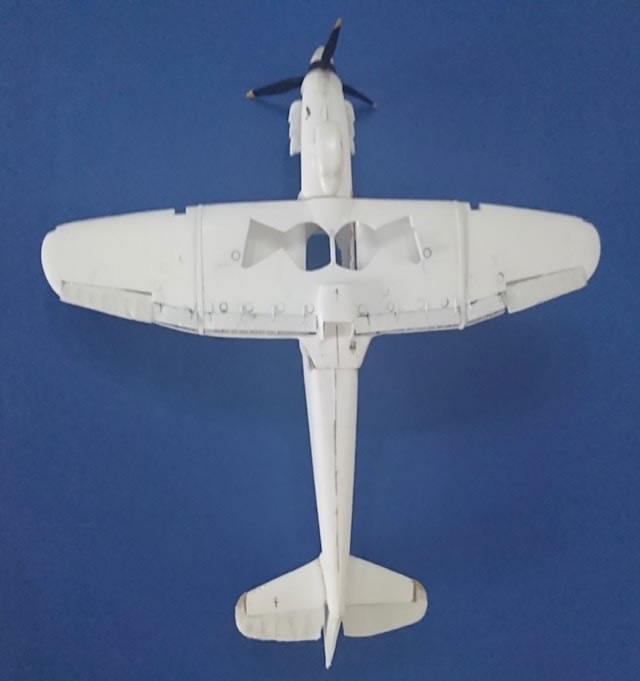 The model matches scale drawings reasonably with the most notable exception being a too long nose. Joints and seams do not match up well but that is expected on these models and nothing to be upset about (Figure 1-3).
---
Undercarriage
The rear wheel is a solid aluminium disc turned on a lathe and held in place by soldered brass.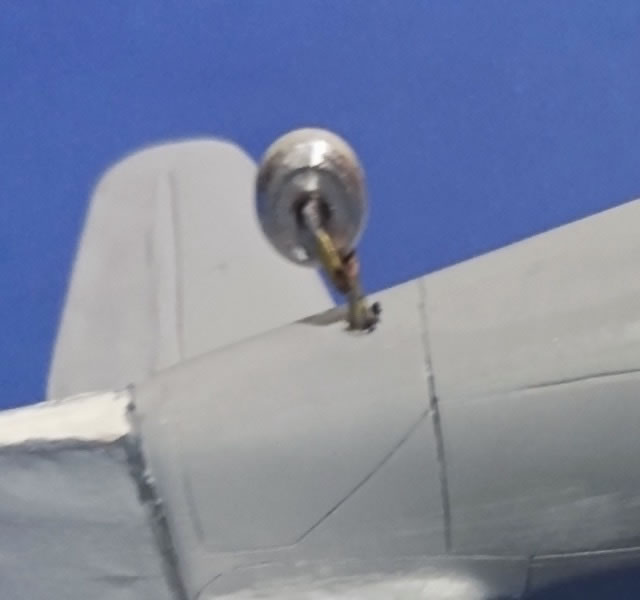 The main undercarriage is brass soldered together and detailed with plastic rod, beer can aluminium and solder.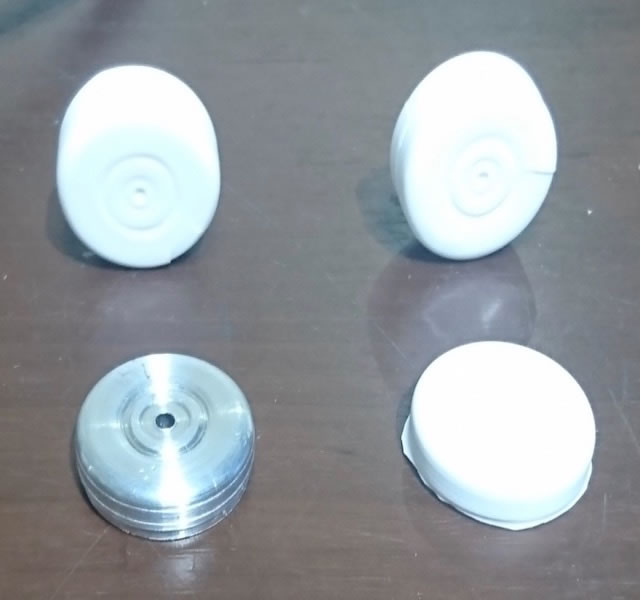 The wheels were vacformed over an aluminium master turned on a lathe.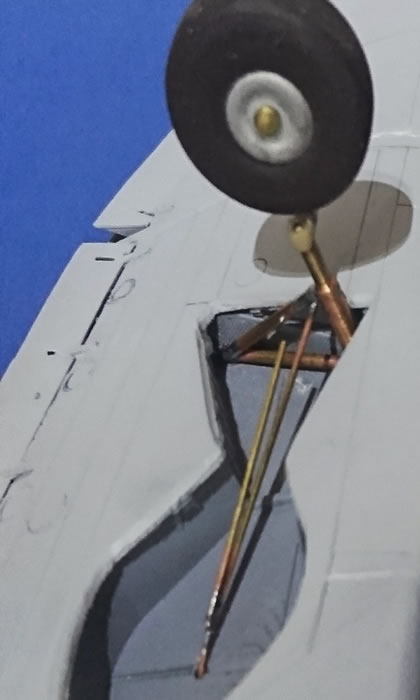 Further detailing was with plastic and brass wire (Figure 4-7).
---
Cockpit
The cockpit parts were mastered following plans from the aviator's manual.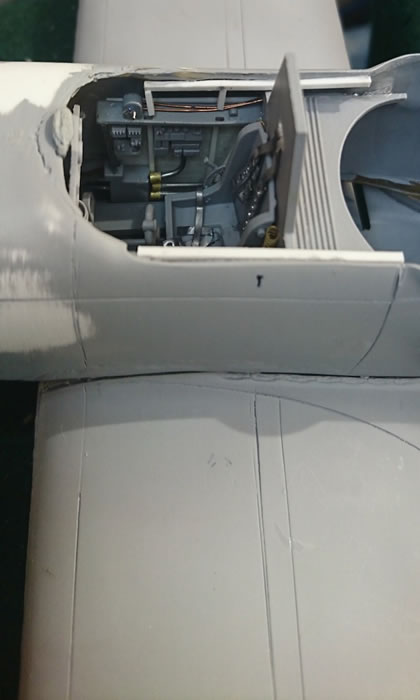 This was detailed with Waldron dials and placards.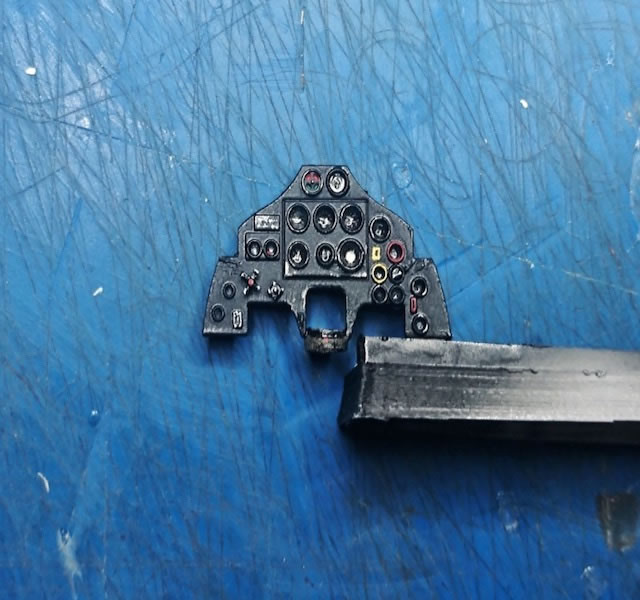 Seat belts were lead foil. Brass rod and fine solder wire was used to model levers and springs (Figure 8-10).
---
Engine Compartment
I had many choices to model the Rolls Royce Merlin. This included re-casting the excellent Tamiya engines. I couldn't bring myself to do that however so I settled on a personalized master based on the old Revell engines. These engines have lost their crisp detail over the years but they are the right shape compared to many contemporary offerings.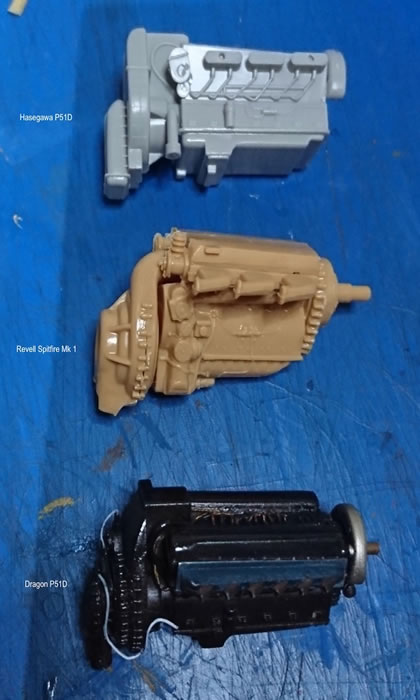 The process started by mastering and vacforming cylinder covers. These do not exist on the Revell engines. The Rolls Royce label was carved out of brass sheet. New riveting and panel detail with wires, hoses and a soldered ignition array completed the master. This was used to make a silicon mold to cast the engines in resin.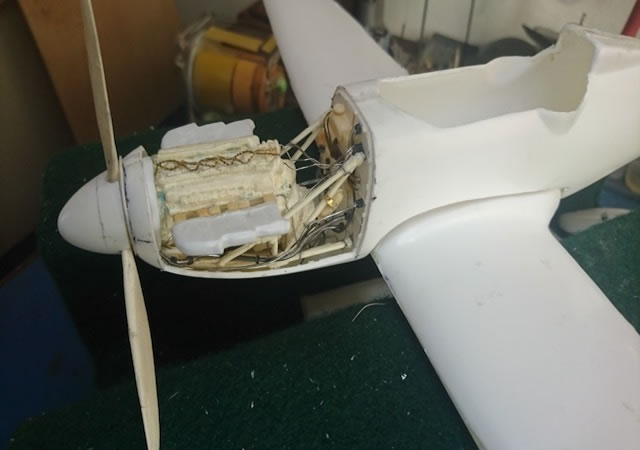 The propellers could not be scavenged off another kit as it is quite unique – long like a mosquitoe blade but thin and narrow like a Spitfire. I did this a few times in resin and plastic but it was prone to warping until finally a brass core was used in the casting. The engine braces were soldered steel masters used to make resin castings. Various odd bits and cabling out of brass and solder completed the engine compartment.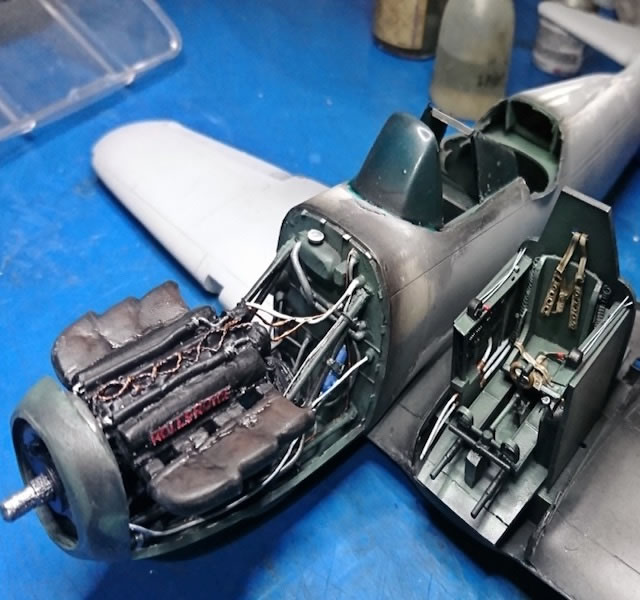 The exhaust stacks were vacuum formed (Figure 11-19).
---
Stabilizers
Airbrakes were built from plasticard. The stabilizers were built as frames. This was used as a master for vacuum forming.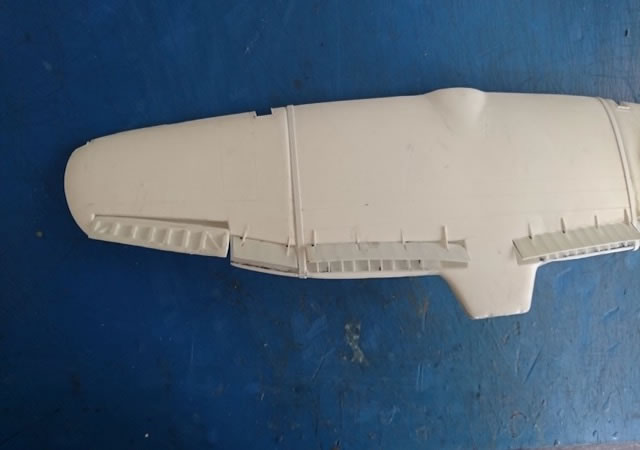 The hard edges were then softened with tissue paper in white glue solution (Figure 20-23).
---
Turret
This was the hardest and most important part of the build.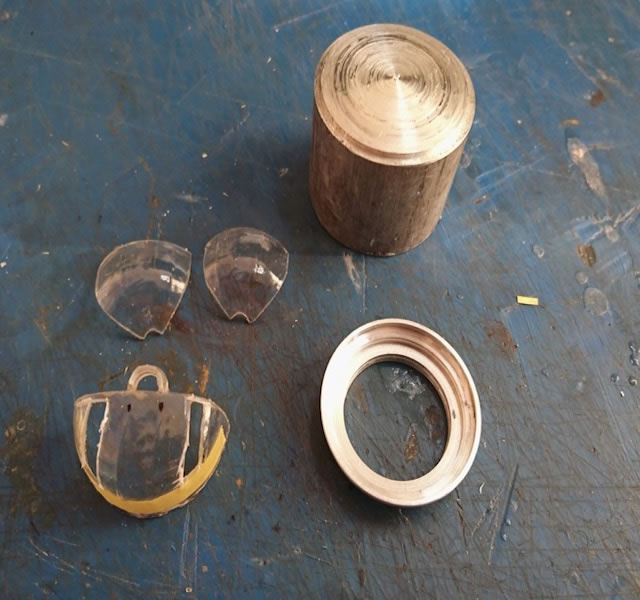 After careful reference to the pilot's manual and videos on the net, the provided canopy was cut into sections. The turret ring was turned out of solid aluminium stock. The parts in the cockpit were modeled and cast in resin.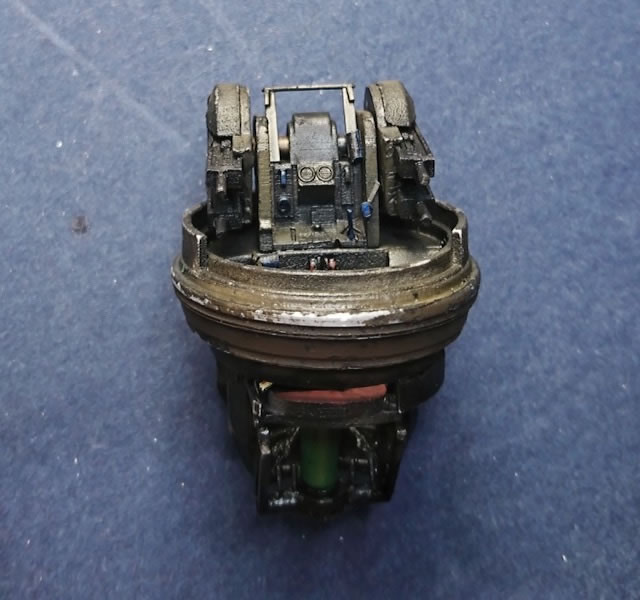 Gun barrels were from RB Models. Waldron dials and placards give the turret the x-factor (Figure 24,25).
The model was base painted in Humbrol Enamels, varnished with Future-Tamiya Flat acrylic, weathered with turpenoids and drybrushed sparingly. I used oil washes for weathering and drop filters for color variation.
All markings were hand painted to portray the aircraft of Flt Lt Nicholas Cooke (Lankey) & NCO Albert Lippet at RAF Kirton-In-Lindsey of Squadron 264 in the summer of 1940.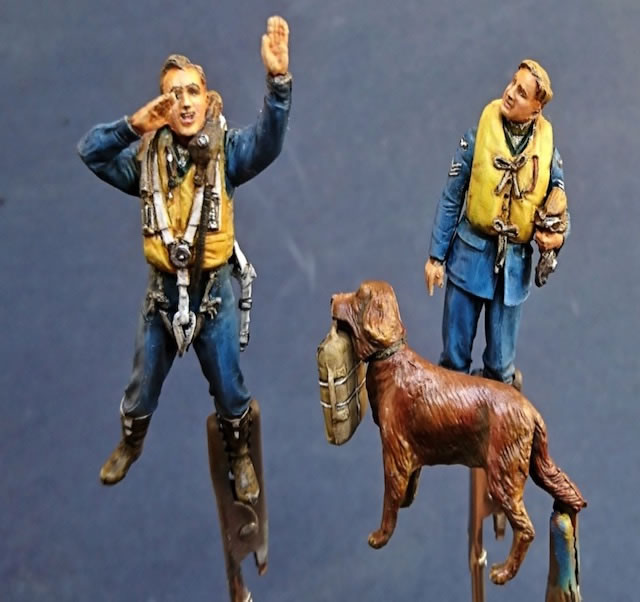 They fought at Dunkirk and became aces in a day but were unfortunately shot down afterwards.
Tigger models has done a great service for the large scale planes community by continuing the ID model line. Vacforms of this kind are challenging endeavors but the strong styrene goes a long way in making these a reality.
The masters for the cockpit , turret and wheel wells will soon be available through HPM models. So do refer back to their site for availability if you want a Defiant in your collection (I do not receive any royalties).
---
References
---
Text and Images Copyright © 2018 by Suresh Nathan
Page Created 4 September, 2018
Last Updated 4 September, 2018
Back to HyperScale Main Page