Bellanca CH/J-300 Lituanica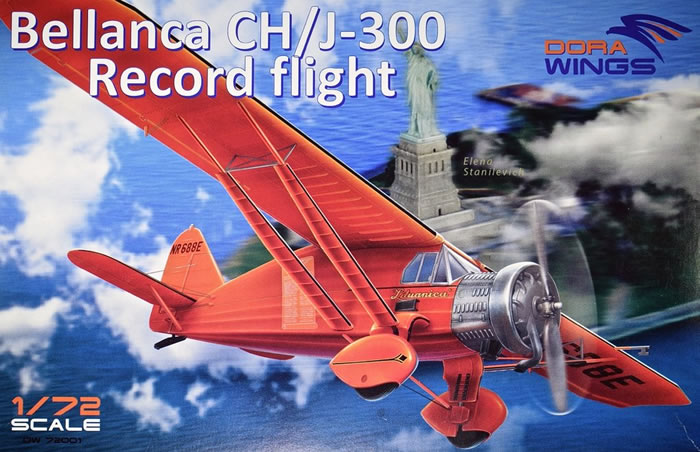 Dora Wings, 1/72 scale
S u m m a r y :

Catalogue Number:

Dora Wings Kit No. DW 72001 - Bellanca CH/J-300 "Lituanica"

Scale:

1/72

Contents & Media

54 parts in grey styrene, 3 clear parts, one PE fret, 2 Resin parts, canopy masks, and one decal sheet with markings for three colorful, record-breaking, civilian schemes.

Price:

£24.70 EU Price (£20.58 Export Price) plus shipping available online from Hannants

and worldwide distributors listed on AMG's website

Click here for currency conversion

Review Type:

First Look.

Advantages:

Surface details, inscribing, and fabric textures are well done as are the PE fret and decals.

Disadvantages:

Conclusion:

This is a very detailed kit of a lesser-known aircraft that's long deserved a good injection molded model. The decals and PE are first rate and the inclusion of canopy masks seals the deal. .

Reviewed by John Miller

Special Hobby's Mirage F.1B/BE is available online from Squadron.com
The Bellanca CH-300 Pacemaker was a six-seat utility aircraft built primarily in the United States in the 1920's and 30's. It was a development of the Bellanca CH-200, fitted with a more powerful engine and, like the CH-200, became renowned for its long-distance endurance.
---
Design and Development
The CH-300 was a conventional, high-wing, braced monoplane with a fixed tailwheel and undercarriage and like other Bellanca aircraft of the period, featured "flying struts". While the CH-200 was powered by 220 hp Wright J-5 engines the CH-300 series Pacemakers were powered by 300 hp Wright J-6s. Late in the series, some -300s were fitted with 420 hp Pratt & Whitney Wasps, leading to the CH-400 Skyrocket series.
---
Operational History
Pacemakers were renowned for their endurance, reliability, and weight lifting capacity, all of which contributed to their successful operation throughout the world. In 1929, George Haldeman completed the first nonstop flight from New York to Cuba in 12 hours, 56 minutes, flying an early CH-300 (1,310 miles, 101.3 mph). In 1931, a Bellanca fitted with a Packard DR-980 diesel and piloted by Walter Lees and Frederick Brossy, set a record for staying aloft for 84 hours and 33 minutes without being refueled. This record was not broken until 55 years later.
In Alaska and the Canadian bush, Bellancas were very popular. Canadian-operated Bellancas were initially imported from the United States, but later, six were built by Canadian Vickers in Montreal and delivered to the RCAF (added to the first order of 29 made in 1929), which used them mainly for aerial photography.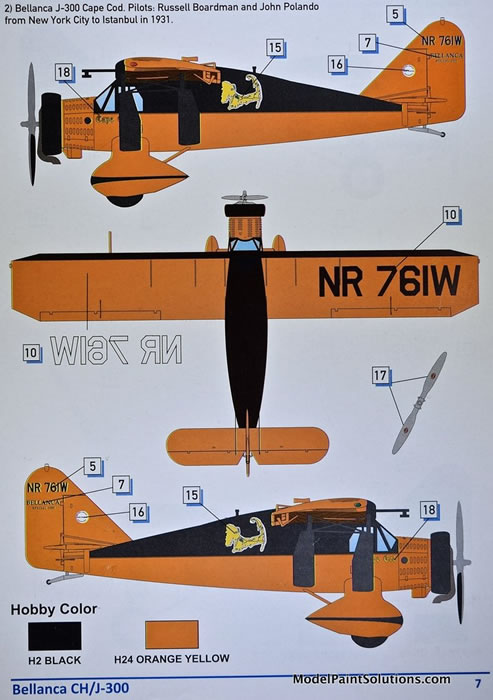 In May 1964, Capt. A.G.K. (Gath) Edward, a senior Air Canada pilot, and Ken Molson (the then curator of the Aviation Museum of Canada based at Rockcliffe) traveled to Juneau Alaska to ferry Bellanca Pacemaker NC3005 back to the museum, which had obtained the aircraft. Edward had flown a similar model of the Pacemaker floatplane for General Airways starting in June 1935 during his bushflying days. He and Molson delivered it to its final resting place in the museum on May 30, 1964, after a trip taking five days and just over 30 hours of flight time. The aircraft was re-registered CF-ATN as the original registered aircraft had been destroyed in an accident in June 1938.
---
Record Attempts
One of the first records set by a Bellanca CH-300 series aircraft occurred on July 28–30, 1931, when Russell Norton Boardman (age 33) and John Louis Polando (age 29) flew from Floyd Bennett Field to Istanbul, Turkey aboard an earlier model of the CH-300, the "Special J-300" named Cape Cod, registration NR761W. Cape Cod made it safely to Istanbul in 49:20 nonstop hours, covering a distance of 5,011.8 miles (8,065.7 km). This was the first known nonstop record flight in aviation history the distance of which surpassed either the English (5,000 mi) or metric (8,000 km) mark.
On June 3, 1932, Stanislaus F. Hausner, flying a Bellanca CH Pacemaker named Rose Marie, powered by a 300-hp Wright J-6, attempted a transatlantic flight from Floyd Bennett Field, New York, to Warsaw, Poland. The attempt failed when he made a forced landing at sea. Fortunately, a British tanker rescued him eight days later.
On July 15, 1933 6:24 AM two Lithuanian pilots Steponas Darius and Stasys Gir?nas flying a heavily modified CH-300 lifted off from Floyd Bennet Field to attempt a non-stop transatlantic flight. After crossing the Atlantic however, they crashed in a forest near Pszczelnik, Poland. A flying replica of the plane is on display in Lithuanian museum of Aviation. The wreckage of the original is kept in Vytautas Magnus War museum in Kaunas, Lithuania.
---
Survivors
Hawaiian Airlines owns a CH-300 known to be in flying condition, although it has recently been disassembled for shipment to the mainland for needed maintenance. The aircraft was acquired new in 1929 by Inter-Island Airways (renamed Hawaiian Airlines in 1941) and used for sightseeing over Oahu for two years before being sold in 1933. Acquired from an aviation enthusiast in Oregon in early 2009, the aircraft was restored at the Port Townsend Aero Museum and later unveiled at Honolulu International Airport.
A newly restored CH-300 was brought to the EAA AirVenture in Oshkosh, Wisconsin, in July of 2016 by its owner, John Pike. This is the second CH-300 known to be in flying condition.
A CH-300 Pacemaker that formerly served with Alaska Coastal Airlines is displayed at the Canada Aviation and Space Museum. Another example is owned by the Virginia Aviation Museum, but this aircraft has been modified to CH-400 Skyrocket-configuration and painted to resemble WB-2 Columbia, which made two pioneering transatlantic flights.
---
Variants
CH-300W – CH-300 converted to use a Pratt & Whitney R-985 engine (one converted).

300-W – Built with a Pratt & Whitney R-985 engine (seven built).

PM-300 Pacemaker Freighter – Cargo version (two built).
---
General Characteristics
Crew: one pilot

Capacity: five passengers

Length: 27 ft 9 in (8.5 m)

Wingspan: 46 ft 4 in (14.1 m)

Height: 8 ft 4 in (2.5 m)

Empty weight: 2,275 lb (1,032 kg)

Gross weight: 4,072 lb (1,847 kg)

Powerplant: 1 × Wright J-6 radial, 330 hp (246 kW)
---
Performance
Maximum speed: 165 mph (266 km/h)

Range: 675 miles (1,086 km)
(Edited from Wikipedia)
The kit comes in a lidded box adorned with an artistic rendering of the "Lituanica," a CH-300 in an all-orange scheme that's covered by the kits decals. Inside are 4 bagged sprues of light grey styrene, one of clear, one PE fret, a pair of resin wheel pants, one large colorful decal sheet, and canopy masks. This is a very detailed kit right out of the box.
All the parts are crisply molded with very little flash. The fabric effect on the fuselage and wings is very well done.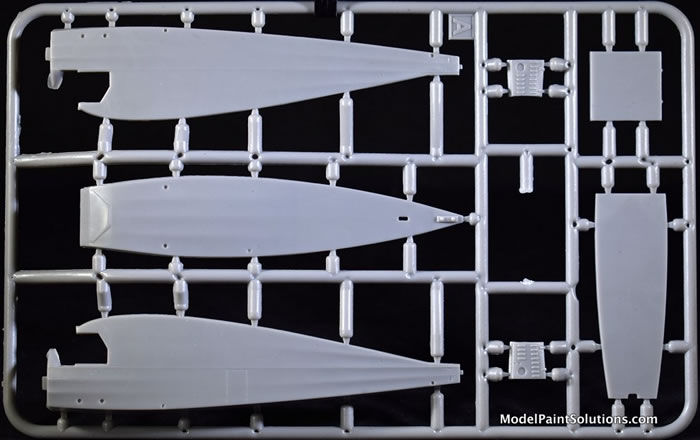 There is an abundance of small parts so a good light and lenses would be a good idea.
Construction begins with the four-part nose cowl that features neatly molded cooling vents. The detailed 9-cylinder engine in added next followed by individual exhaust stacks for each cylinder.

With the engine and cowl assembled, the cockpit is next in sequence. There is adequate detail here with a seat, sticks, rudder pedals, and a nicely molded panel with an accompanying decal with instrument faces. The assembled cockpit is then trapped between the fuselage halves and the engine/cowl assembly is added to the nose.
The windscreen and cabin windows are nicely molded and clear. All three are added to the fuselage assembly prior to adding the cowled engine.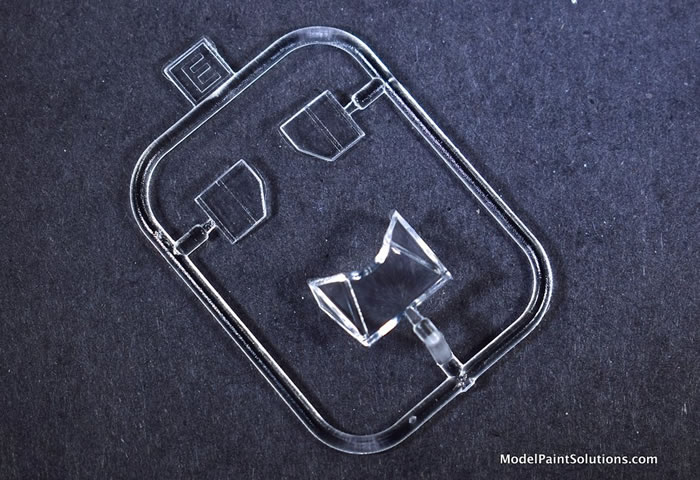 Each of the 3 schemes covered by the decal sheet has its own particular main gear assembly. Two options are provided in styrene and one in resin: very nice.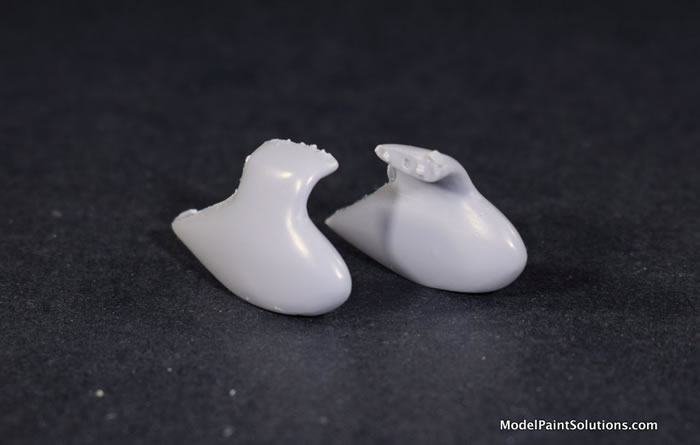 The upper and lower wing halves are assembled next followed by the addition of poseable ailerons. Likewise, the single-piece rudder and elevators are also poseable.
Once the airframe is assembled, photo-etch elevator, aileron, and rudder actuators are added as well as cross braces between the flying struts. The PE parts will go a long way to making the finished build convincing.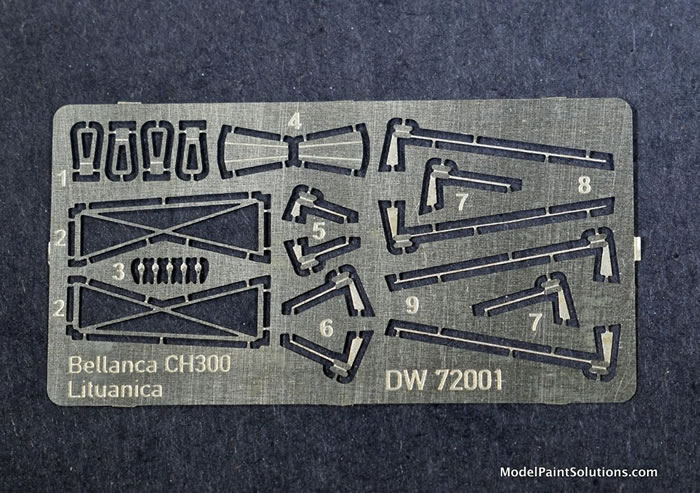 A very nice addition is the die-cut masks provided for the windscreen and windows.
The rather large decal sheet is printed in the Ukraine by Decography.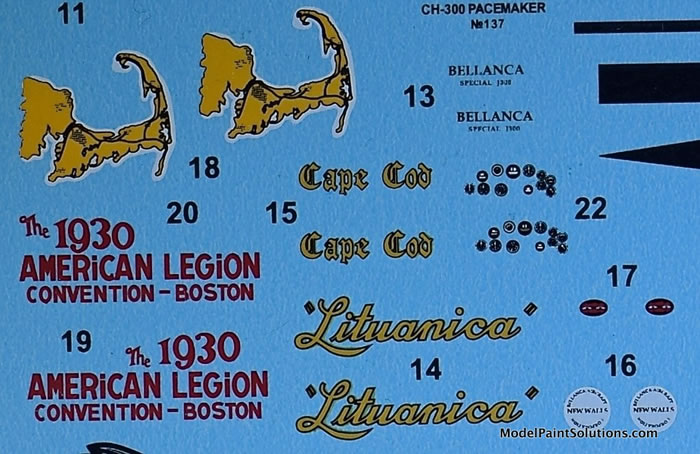 The decals have very little carrier film and the registration is spot on.

Markings are provided for three colorful schemes as follows:
Bellanca CH-300, "Lituanica." Pilots Steponas Darius and Stasys Girenas, Flight Across the Atlantic, 1933.

Bellanca J-300 "Cape Cod." Pilots: Russell Boardman and John Polando, Flight from New York to Istanbul, 1931.

Bellanca J-300, American Legion Plane, Pilot: Russell Boardman, East Boston Airport, 1930
This is a very nice kit. The surface details are crisp and scale appropriate and the engineering in simple and straightforward. The PE parts are well done and will add greatly to the finished model. The nicely printed decals provide markings for three colorful schemes that will definitely liven up your display case.
Highly Recommended!
Kit eagerly purchased by reviewer….again.
For more on this review visit Modelpaintsolutions.com.
---
Review Text and Images Copyright © 2018 by John Miller
Page Created 22 November, 2018
Last updated 22 November, 2018
Back to HyperScale Main Page
Back to Reviews Page