L-29 Delfin
Weekend Edition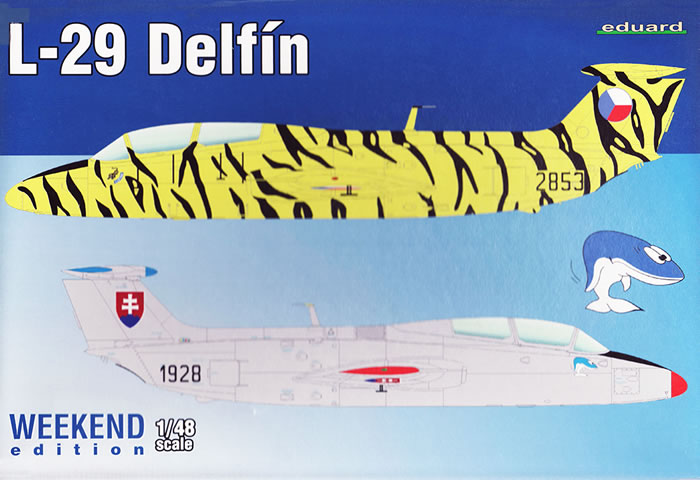 Eduard, 1/48 scale

Reviewed by David Couche


Eduard's 1/48 scale Bf 109 E-3 is available on sale from Squadron.com for only $21.99!

The Aero L-29 Delfín (Dolphin) is a military jet trainer developed and manufactured by Czechoslovakian aviation manufacturer Aero Vodochody. It is the country's first locally designed and constructed jet aircraft, as well as likely being the biggest aircraft industrial programme to take place in any of the Council for Mutual Economic Assistance (COMECON) countries except the Soviet Union.
In response to a sizable requirement for a common jet-propelled trainer to be adopted across the diverse nations of the Eastern Block, Aero decided to embark upon their own design project with a view to suitably satisfying this demand. On 5 April 1959, an initial prototype, designated as the XL-29, performed its maiden flight. The L-29 was selected to become the standard trainer for the air forces of Warsaw Pact nations, for which it was delivered from the 1960s onwards. During the early 1970s, the type was succeeded in the principal trainer role by another Aero-built aircraft, the L-39 Albatross, heavily contributing to a decline in demand for the earlier L-29 and the end of its production during 1974.
During the course of the programme, in excess of 3,600 L-29 Delfin trainers were produced. Of these, around 2,000 were reported to have been delivered to Russia, where it was used as the standard trainer for the Soviet Air Force. Of the others, which included both armed and unarmed models, many aircraft were delivered to the various COMECON countries while others were exported to various overseas nations, including Egypt, Syria, Indonesia, Nigeria and Uganda. Reportedly, the L-29 has been used in active combat during several instances, perhaps the most high-profile being the use of Nigerian aircraft during the Nigerian Civil War of the late 1960s and of Egyptian L-29s against Israeli tanks during the brief Yom Kippur War of 1973.


This boxing from Eduard is another one of their blended kits. In this case, it's the AMK sprues of the lovely little L-29 Delfin with the distinctive and interesting schemes done by Eduard. This is the weekend boxing so it does not have any photo-etch or masks.
The detail on the plastic parts is more than adequate for a well detailed model.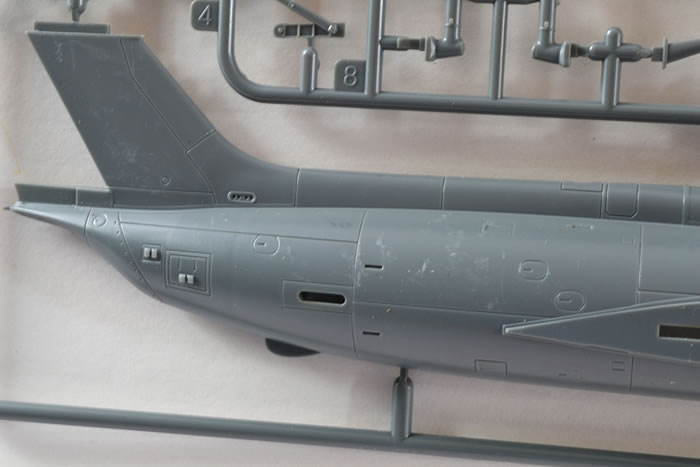 A sturdy top opening box with a bright Tiger Meet aircraft in a prominent position greets you. On opening, you will find 5 sprue trees containing 99 parts of lovely crisp, flash free parts, one clear sprue with 9 parts, a small photo-etch sheet with 8 small parts. Along with this, are 3 decal sheets with a myriad of decals….more on that later, a glossy instruction booklet with coloured profiles and decal schemes in typical well laid out Eduard style.
Sprue A
This sprue contains 22 parts with the fuselage halves being the main components on it. The detail is recessed crisply and not too deep or shallow. Parts also have raised detail where appropriate and this combination gives you a nice palette to work with.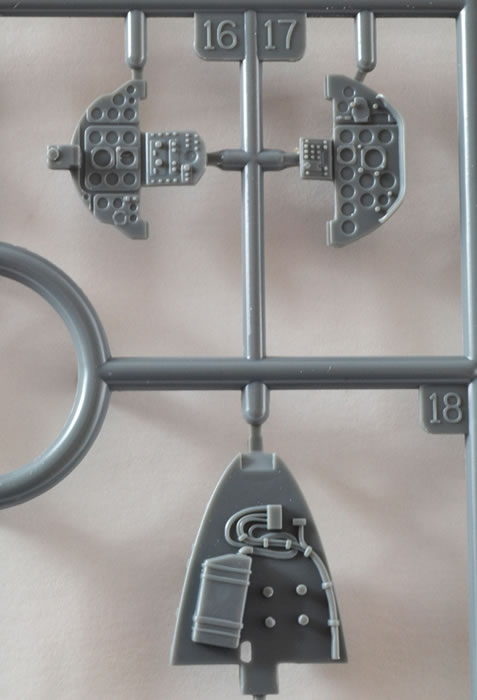 The cockpit tub, instrument panels and under carriage legs are also in Sprue A.
Sprue B
Sprue B gives us the tailplanes, undercarriage doors, nose bay and a number of other small parts bring it to 21 parts.
Sprue C
You have 2 Sprue C's in the box. Each has the components for a seat, a drop tank, one wheel and hub as well as half the tail-pipe. All parts have great detail which careful painting and washes will bring to life.
Sprue D
Here we have the one piece lower wing, the 2 top wing sections as well as pieces for the construction of the flaps system.
Sprue E
This is the clear sprue with lovely crystal clear canopy sections.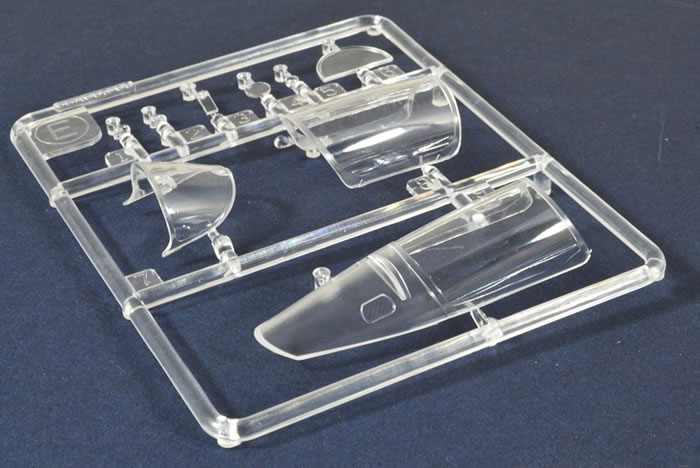 No sign of any moulding seam which is great. Also a number of lights etc on here as well.
Photo-Etch
The small photo-etch sheet has 8 strengthening plates and covers on it. It's plain brass and nicely detailed.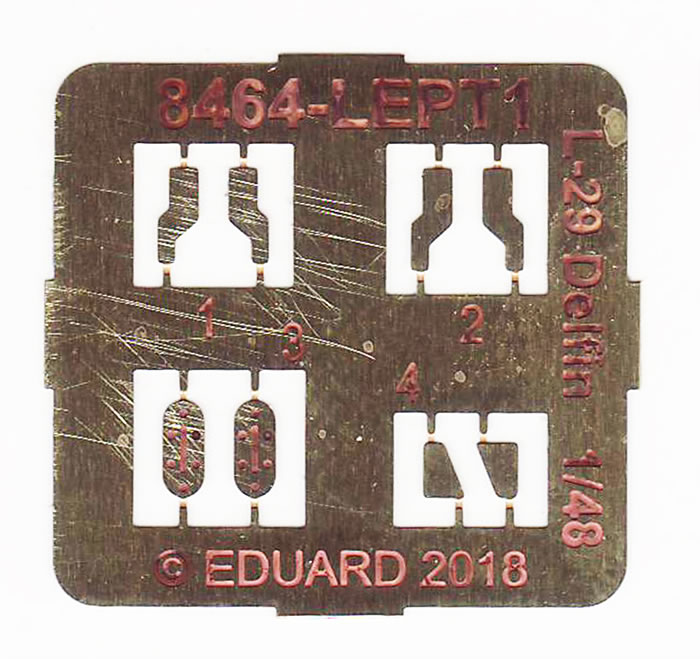 The instruction booklet is the usual Eduard with glossy paper, clear and concise construction drawings. Call outs are for Gunze (Aqueous and Mr Colour) and Mission Models paint.
---
Markings
And this brings us to the decals. This kit is really a fairly simple build with a not overwhelming parts count. The same can't be said for the decals. There are 2 schemes, with these being;
Aircraft No. 2853, 1st Flight, 11th Fighter Regiment, Zatec, Czech Republic, 1993 – a Tiger Meet aircraft

Aircraft No. 1928, 3rd Air Base Malacky, Slovakia, 1993 – overall grey with a "shark" on the nose.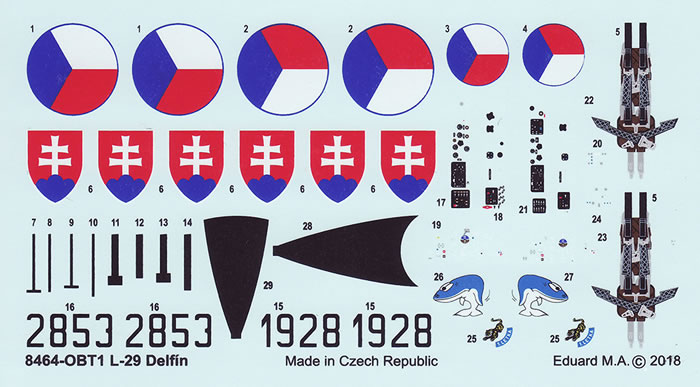 The Tiger Meet aircraft is to be painted yellow and then comes the marathon……175 individual black stripes that need to be added. It takes 5 pages to provide the necessary details to position all of these decals. This will create a time consuming process which will takes a number of sessions at the bench, but give you a great finish with no carrier film between stripes.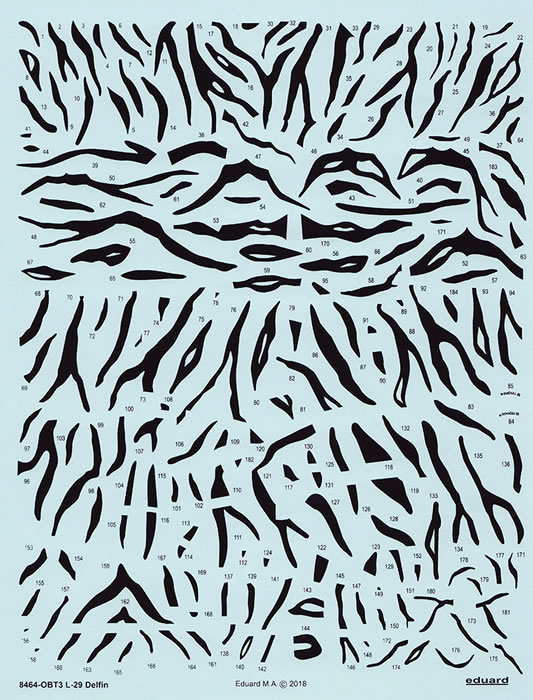 Be aware that you will need to really accurately position these decals as a slap-dash approach will see you no fitting them all on. There are a number of normal type decals with numbers, warning signs etc as well. A search of images for this aircraft show that it luckily has little or no stencilling.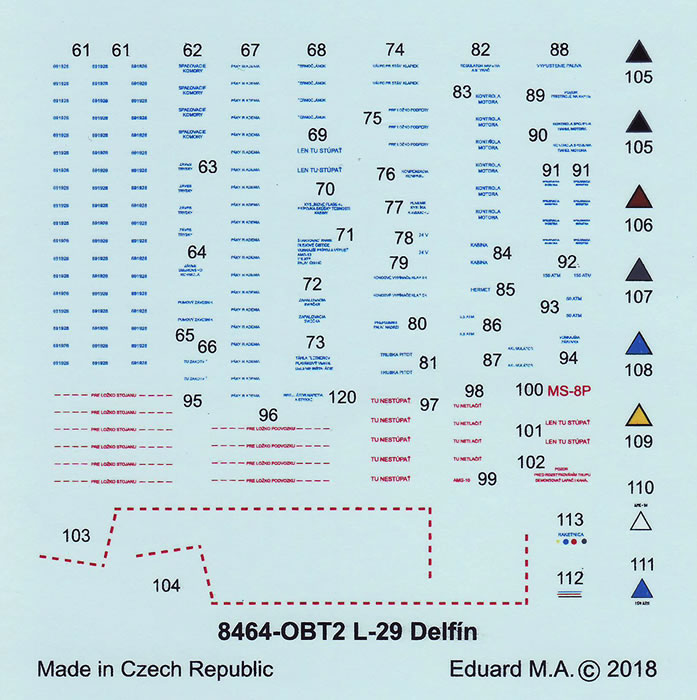 The stencil sheet is close to 150 stencils. My mind boggled at the thought of both Tiger stripes and stencils…..over 300 decals. Not many aircraft would have that number of decals. Mind you, after saying this, I will build this kit as the Tiger Meet aircraft so I'll let you know how the actual process pans out…stay tuned!
The second scheme has a simpler scheme but plenty of stencils to keep you challenged.
Eduard's 1/48 scale L-29 Delfin is a very neat and well detailed kit of a small Eastern European trainer, of which many were made for many different countries.
Eduard has supplied two great schemes to go with this lovely AMK moulded kit.
The kit will build well and fairly quickly but be prepared to put in time and effort with both schemes. Well recommended but I'll give final thoughts after I have done this decal kit.
Thanks to Eduard for the sample
---

Review Text & Images Copyright © 2018 by David Couche
Page Created 27 November, 2018
Last updated 27 November, 2018
Back to HyperScale Main Page
Back to Reviews Page