B43-0 Nuclear Weapon w/ SC43-3/-6 Tail Assembly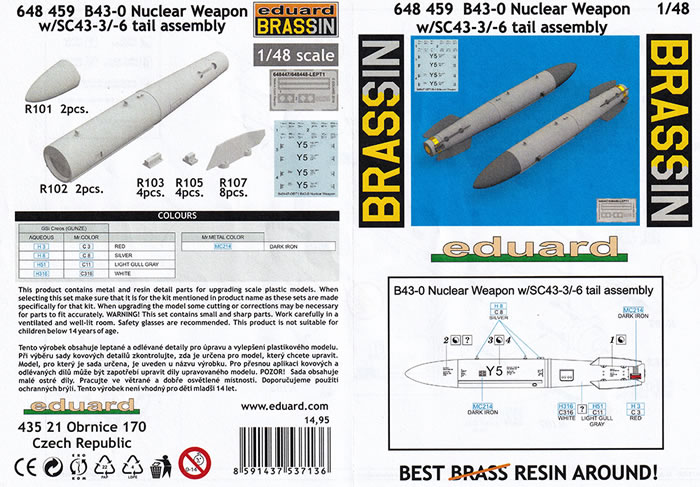 Eduard BRASSIN, 1/48 scale

Reviewed by David Couche


Eduard's 1/48 BRASSIN Spitfire Vb Gun Bays are available online from Squadron.com
The B43 was a United States air-dropped variable yield nuclear weapon used by a wide variety of fighter bomber and bomber aircraft.
The B43 was developed from 1956 by Los Alamos National Laboratory, entering production in 1959. It entered service in April 1961. Total production was 2,000 weapons, ending in 1965. Some variants were parachute-retarded and featured a ribbon parachute.
The B43 was built in two variants, Mod 1 and Mod 2, each with five yield options. Depending on version, the B43 was 18 in (45 cm) in diameter, and length was between 12.5 ft (3.81 m) and 13.6 ft (4.15 m). The various versions weighed between 2,061–2,116 lb (935–960 kg). It could be delivered at altitudes as low as 300 ft (90 m), with fusing options for airburst, ground burst, free fall, contact, or laydown delivery. Explosive yield varied from 70 kilotons of TNT to 1 megaton of TNT.

The B43 used the Tsetse primary design for its fission stage, as did several mid- and late-1950s designs.
The B43 was one of four thermonuclear gravity bombs carried by Canadian CF-104 jets while serving in Germany between June 1964 and 1972.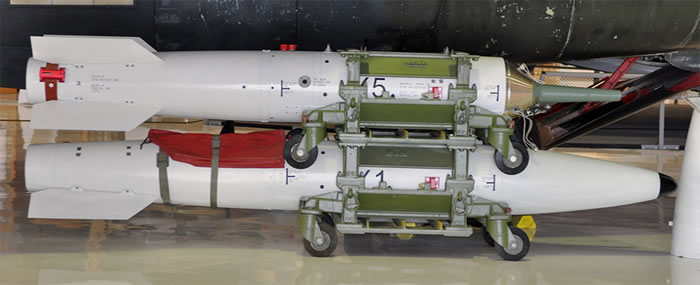 A wide variety of aircraft were certified to carry the B43. Carrier aircraft included most USAF, USN and USMC fighters, bombers and attack aircraft, including the A-3 Skywarrior, A-4 Skyhawk, A-5 Vigilante, A-6 Intruder, A-7 Corsair II, B-47 Stratojet, B-52 Stratofortress, B-58A Hustler, F-100 Super Sabre, F-105 Thunderchief, F-4 Phantom II, F-104 Starfighter, FB-111A strategic bomber variant, F-15E Strike Eagle, F-16 Fighting Falcon and the F/A-18 Hornet. The B-1B Lancer was also intended to carry the B43, though it remains unclear whether this particular aircraft was ever type-approved to carry the B43 prior to the B-1's reassignment to conventional strike roles. The B43 was also supplied for delivery by Royal Air Force Canberra and Valiant aircraft assigned to NATO under the command of SACEUR.
The B43 was phased out in the 1980s, and the last B43 weapons were retired in 1991 in favour of the newer B61 and B83 weapons.
*Text mainly from Wikipedia
The Eduard Brassin B43-0 Nuclear Weapon w/ SC43-3/-6 tail assembly set consists of 20 dark grey parts.
The set consists of parts to make 2 weapons and includes 2 bodies, 2 noses of the bombs, 4 attachment lugs, 4 servo blocks (I think) for the tail section and 8 fins, a small photo-etch sheet with tail end covers and plates for the bombs.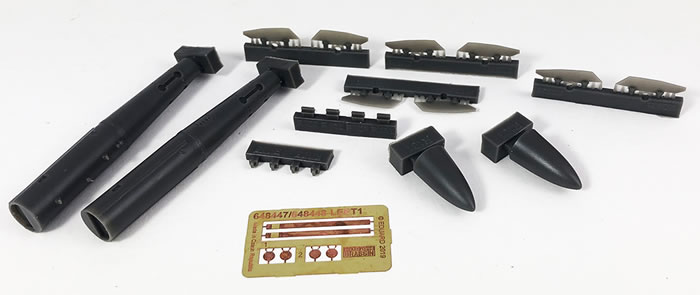 Included is a small set of decals and an instruction sheet. Paint call outs are for Gunze Aqueous and Mr Color paints.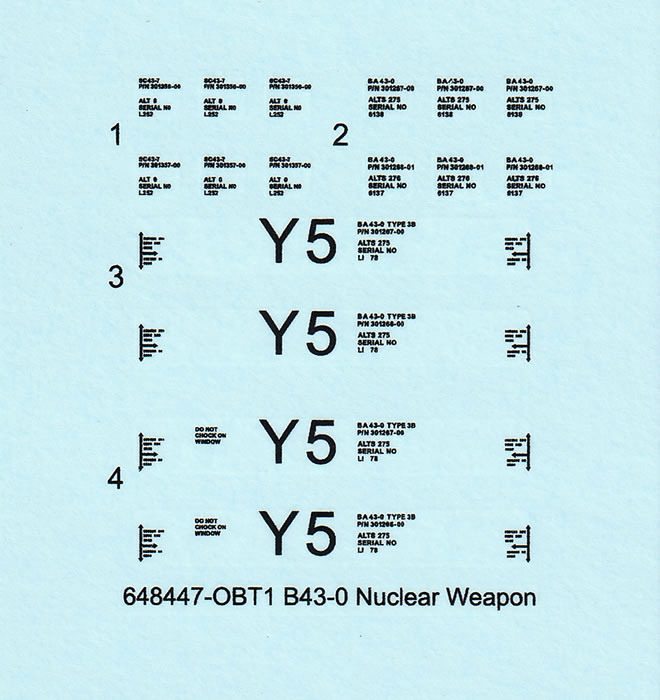 The detail on the bomb bodies is finely reproduced and included a mix of recessed and raised detail as per the real version. The etch parts add a band to the rear of the body and a cover for the rear end of the body.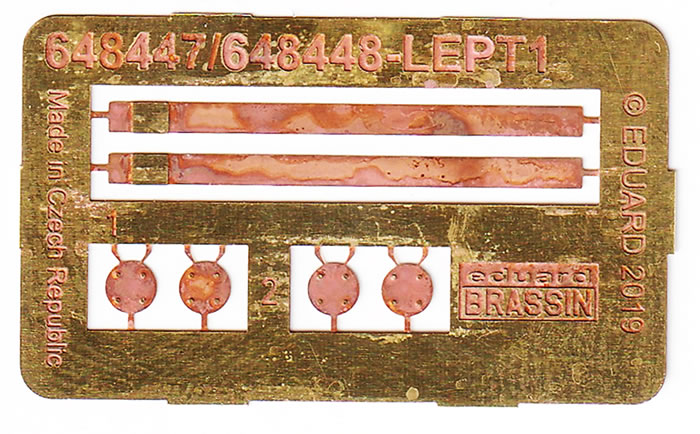 Close inspection reveals no casting flaws or pinholes and removal from the casting blocks will be straight forward.
This is a very nice Brassin set to add a useful and lethal bomb ordinance to your collection which was carried by a large number of US aircraft.
Thanks to Eduard for the samples and images.
---
Review Text and Images Copyright © 2019 by David Couche
Page Created 14 August, 2019
Last updated 14 August, 2019
Back to HyperScale Main Page
Back to Reviews Page