Gloster / A.W. Meteor
by Richard A. Franks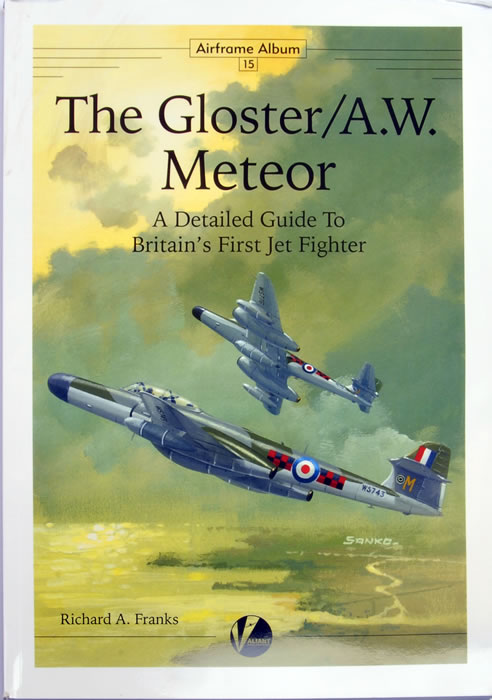 Valiant Wings Publishing
Airframe Album No.15
S u m m a r y

Publisher and Title:

Valiant Wings Publishing
Gloster/AW Meteor
Airframe Album No.15
by Richard A. Franks

ISBN:
978-1-912932-02-3
Media:
Soft coverr; 194 pages.
Price:

GBP£18.95 plus shipping available online from Valiant Wings

GBP£18.95 plus shipping available online from Hannants

and stockists worldwide.

Review Type:
First Read
Advantages:

A well-produced quality book covering a massive amount of detail on this iconic early jet. Great isometrics and photo coverage and reproduction. Quality binding and printing.

Disadvantages:
Conclusion:

This is an excellent volume for the modeller, aviation fan and technophile.

Reviewed by Graham Carter


HyperScale is proudly supported by Squadron.com

This A4 case-bound book contains 194 high quality glossy pages inside a gloss card cover with a lovely illustration of a pair of 85sqn NF14s by Wojciech Sankowski. It is strongly bound and this is good as it allows the pages to be laid flat for study.
Designed to suit the aviation historian, the engineer and the modeller, the book contains a mass of useful information arranged in four broad sections, with an introduction and four appendices.
Starting with a useful Glossary of Abbreviations the Introduction outlines the development of early British jets such as the Gloster E28/39 and F9/40 which led to the Meteor. Then covered is the development of each Mark, including the test aircraft and Prone Meteor through to the Night Fighters and Target Tugs, concluding with table of specifications. Here there is also coverage of the overseas users and most variants are covered with small B&W and colour images.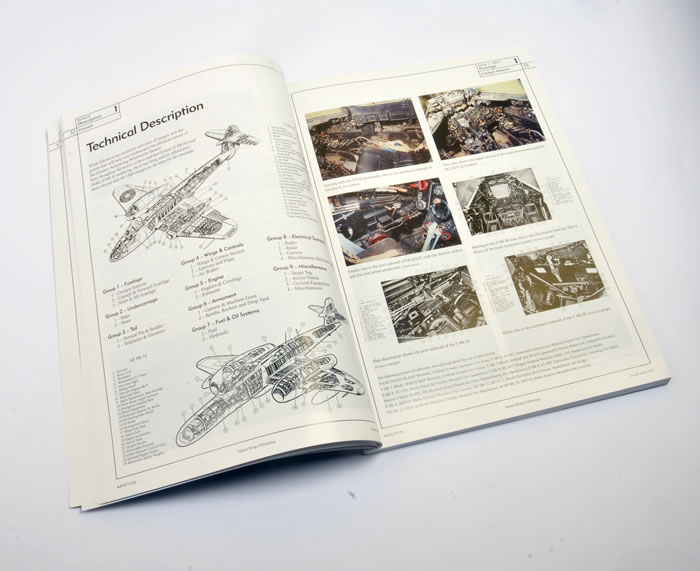 Section 1 is a 54-page focus on the Technical Description of the airframe. Treated with drawings, photos ( both contemporary B&W and modern colour examples) and text, this section covers Fuselage, Undercarriage, Tail, Wings and Controls, Engine, Armament, Fuel & Oil Systems, Electrical Systems and Miscellaneous things like the TTs and Ground Equipment. Everything is covered in exceptional detail and the presentation of well-captioned images and annotated drawings enhances the value of this information. The total 'anorak' in me even noted that mention is made on page 98 of the mesh screens which were fitted inside the nacelles of the gorgeous carmine and cream coloured F4 demonstrator , G-AIDC. These were nick-named 'Gaunt Guards' after an 'erk' of that name got sucked into the nacelle on engine start-up, fortunately without too much harm.
Section 2, Evolution, covers all the different prototype, production and projected variants with each treated to an isometric drawing annotated to emphasise its salient features and usually accompanied by a photograph.
These forty pages should answer most of a modeller's or aviation nut's questions. It is pleasing to see coverage of the unmanned drones and RAF/RAAF nuclear test aircraft as well as the civil registered one and the late Jan Zurakowski's 'Cartwheel' ground attack demonstrator.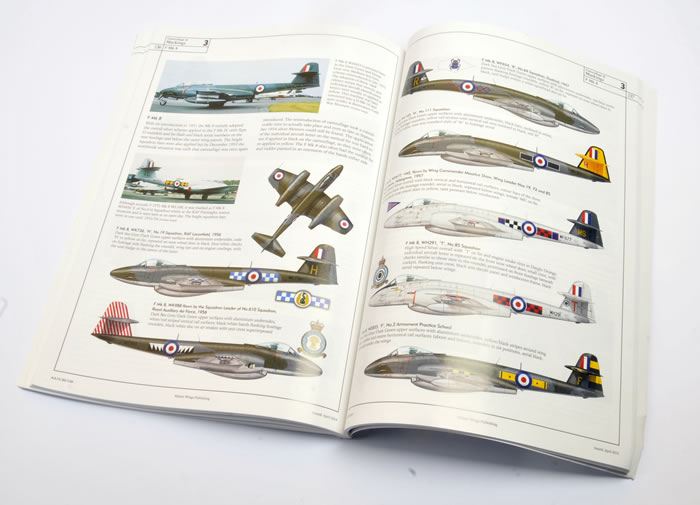 Section 3 commits 43 pages to the Camouflage and Markings used primarily by the RAF versions but also more than adequate information in the schemes and marks of foreign users. All schemes are illustrated with colour side views from Wojciech Sankowski and are clearly captioned. One niggle could be that a couple of plan views (lower and upper) would have been useful. Many B&W and colour images adorn this section and a two-page set of 1/72 scale drawings show the location of markings and stencils. A useful page shows some of the nose art on RAAF F8s in Korea. It is remarkable to reflect on the large number of foreign air forces which used this aircraft.
Section 4 is a brief one aimed at modellers with two detailed builds of readily available kits - the Dragon/Cyber Hobbies 1/72 Mark 1 by Libor Jeki and Airfix's 1/48 FR9 by Steve Evans. Each is nicely illustrated and give some clues to the build and finishing processes.
Then the Appendices cover
a very comprehensive list of all kits produced ( including some projected but never released ones) divided into the major scales. Modellers have been very well served over the years!

an equally detailed list of accessories and conversions available, again by scale.

decals - a huge listing of alternate markings for RAF and foreign users in all scales.

a brief account of all the RAF squadrons which used the Meteor in all its guises, including naval, one offs and hacks.
Finally there is a very comprehensive Bibliography, although not much has appeared since 2006. I did note that the Air Britain volume "Sitting Ducks and Peeping Toms" is not mentioned ( it has good coverage of the drone variants) and that "Cocardes sur l'Alrerie" is clearly a typo as it should be "Cocardes sur l'Algerie" - tut tut! and who said I was a pedant!! I have also always felt that it would be useful to mention where surviving Meteors can be seen - a list of museum examples would be great. But these are minor criticisms and only my opinion.
If you missed the earlier MAP edition then this is an excellent volume for the modeller, aviation fan and technophile. It contains such a lot more information (66 pages or 50%) than the earlier book that it is worth the extra purchase anyway. Highly recommended.
Thanks to Valiant Wings Publishing for the sample.
---
Review Copyright © 2019 by Graham Carter
This Page Created on 16 August, 2019
Last updated 20 August, 2019
Back to HyperScale Main Page
Back to Reviews Page