Focke-Wulf Ta 154 Moskito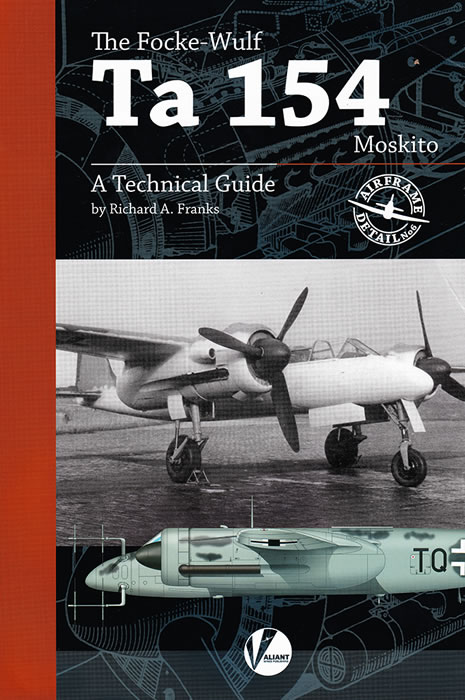 Valiant Wings Publishing
Airframe Detail No.6
S u m m a r y

Publisher and Title:

Valiant Wings Publishing
Airframe Album No.6: The Focke-Wulf Ta 154 Moskito
by Richard A. Franks



ISBN:
978-0-9957773-7-8
Media:
64 glossy pages in A4 Portrait mode, many general aircraft photographs and technical detailed ones, colour profiles and some model details.
Price:

GBP£13.95 plus shipping available online from Valiant Wings

GBP£13.95 plus shipping available online from Hannants

and stockists worldwide.

Review Type:
First Read
Advantages:

Detailed and comprehensive look at the Ta 154 Moskito; great B&W general photos; good line drawings; coloured profiles and technical detail photos; dedicated, but compact, modellers section.

Disadvantages:

None noted.

Conclusion:

A great reference for modellers of all scales interested in the unique Ta 154 and especially for those with the Dragon, Revell, Hasegawa and HpH kits.

Reviewed by David Couche


HyperScale is proudly supported by Squadron.com

The Focke-Wulf Ta 154 Moskito was a fast twin-engined German night fighter aircraft designed by Kurt Tank and produced by Focke-Wulf during late World War II. Only a few were produced and proved to have less impressive performance than the prototypes.
Kurt Tank's team at Focke-Wulf had been working for some time on a fast attack bomber aircraft called the Ta 211, so named because it planned to use an uprated Jumo 211R engine. The plane was a high-wing twin-engined design, built primarily of plywood bonded with a special phenolic resin adhesive called Tego film.The only large-scale use of metal was in the pressurized cockpit.
The project's designation was changed to Reichsluftfahrtministerium (RLM—Ministry of Aviation) assignment number 8-154 (hence Ta 154) when it became apparent that the most suitable engine for the aircraft was the more powerful Jumo 213, and that Junkers could not deliver the Jumo 211-R in time due to technical and production problems. The 154 was also allocated the name "Moskito" as a form of recognition of the Royal Air Force‍?'?s (RAF) de Havilland Mosquito.
By June 1944, the Jumo 213 was finally arriving in some numbers, and a production run of 154 A-1s were completed with these engines. Just prior to delivery of the bulk of these, the only factory making Tego-Film, in Wuppertal, was bombed out by the Royal Air Force, and the plywood glue had to be replaced by one that was not as strong, and was later found to react chemically, apparently in a corrosive manner, with the wood in the Ta 154's structure. In July, several A-1s crashed with wing failure due to plywood delamination.
This latest release from Valiant Wings, the 6th in the Airframe Detail series is titled The Focke-Wulf Ta 154 Moskito- A Technical Guide. It is authored by Richard A. Franks, a well-known name in modelling and aviation publishing.
Valiant Wings' sixth title in the Airframe Detail series is an essential companion for anyone tackling the HpH Model kit in 1/32nd, Dragon/Revell 1/48th, or the Hasegawa and even PM examples in 1/72nd scale. This book of 64 pages, is an A4 portrait with glossy paper and a sturdy thick card cover.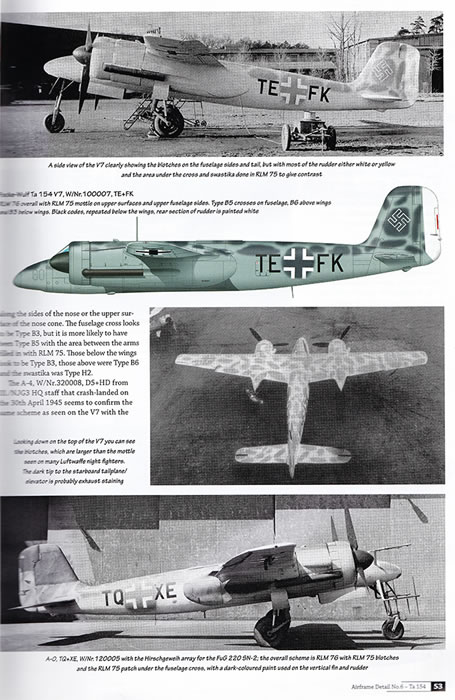 The book is broken down into sections as follows:
Introduction
Technical Description\

Camouflage & Markings

Big-Scale Moskito
Appendices
The first section is the Introduction, covering 16 pages. This gives us a historical look at the development, the various versions and use of the Ta 154 Moskito as WWII progresses and covers the testing and likely roles this aircraft undertook. This section has many interesting historical photographs with quite a few of these great examples for possible dioramas.
The Technical Description section of the book, being 28 jammed packed pages, covers the airframe quite comprehensively from nose to tail. The cockpit and engine section.is jam packed with photographs, technical drawings, excerpts from the original flight and maintenance and manuals. This Technical section also has a great look at the many options of armament and radar used by the Moskito. These sections have provided that special emphasis for details that will be of most interest to modellers.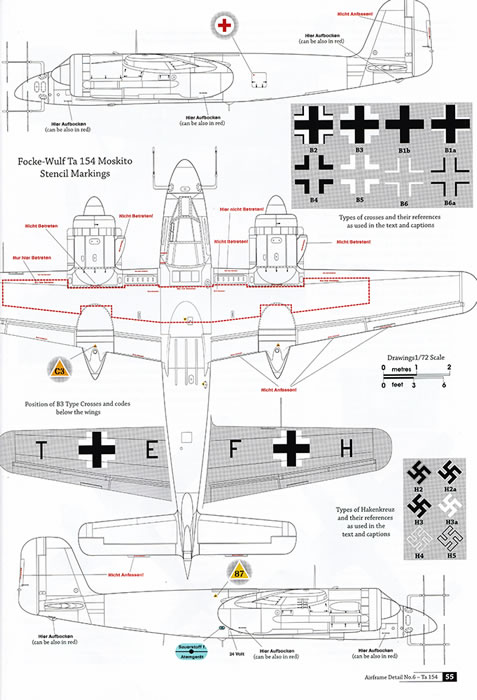 The Camouflage and Markings section (8 pages) provides the schemes used by the Luftwaffe for these aircraft. The Moskito did not have a great range of camouflage schemes so this section is relatively short, but certainly not lacking detail. What I liked and is very useful was the page of diagrams on the basic cross styles and data stencil locations.. There are many colour profiles in this section with nearby photos of those aircraft, which is a great joy to us, the modellers.
The 3rd section of the book covers the specially commissioned kit build, showing construction of the 1/32 HpH resin Ta 154 by well-known modeller Steve A Evans. This is a pretty detailed review of building this large and expensive kit over 8 pages. Considering there are a number of kits out there in 1/72 and 1/48, it might have been nice to include a build of at least one from each scale to show what is possible and to inspire us.
The Appendices, again specifically for modellers, lists all Ta 154 Moskito kits available, accessories and masks produced in all scales. The list of kits is quite large which add fuels to my comments above. Added to this list, is the list of associated accessories of resin, masks and photoetch. There is no decal list, although there may have not been sufficient decals produced to warrant a separate section.
It's good to see that there is also a bibliography including all previous book titles for the Ta 154 so you may chase up further information for your references.
This book has been deliberately produced for the modeller, providing an absolute wealth of reference photographs and detail, profiles and anything else one could wish for to produce and accurate Ta 154 Moskito, Germany's answer to the RAF Mosquito. This is well recommended to all wishing to builders of the Luftwaffe's night fighter in any scale.
Thanks to Valiant Wings Publishing for the sample.
---
Review Copyright © 2019 by David Couche
This Page Created on 26 September, 2019
Last updated 26 September, 2019
Back to HyperScale Main Page
Back to Reviews Page