Rutan Quickie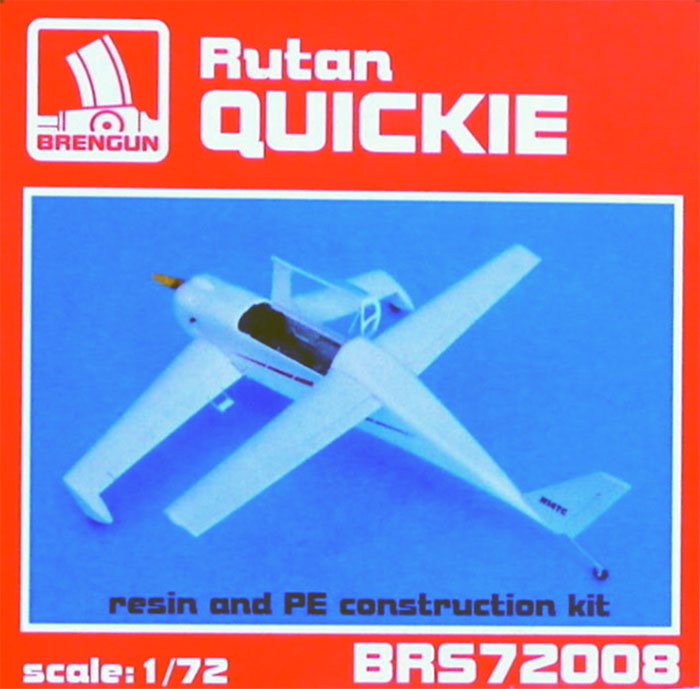 Brengun, 1/72 scale

Reviewed by David Couche

Eduard's 1/72 Avia B.534 IV serie Weekend Edition is available online from Squadron.com
The Rutan Quickie is a lightweight single-seat taildragger aircraft of composite construction, configured with tandem wings.
The Quickie was primarily designed by Burt Rutan as a low-powered, highly efficient kit-plane. Its tandem wing design has one anhedral forward wing and one slightly larger dihedral rear wing. The forward wing has full-span control surfaces and is thus similar to a canard wing, but is considerably larger. The aircraft has unusual landing gear, with the main wheels located at the tips of the forward wing.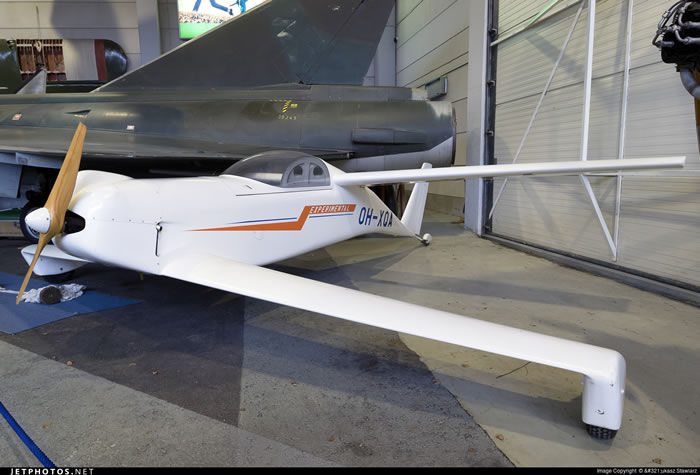 According to Rutan this layout was not new, having previously been used in aircraft such as the Mignet "Flying Flea".
As with other Rutan designs, the Quickie is constructed of glass fibre and resin over a foam core.
In June 1978 a Quickie prototype was flown to the Experimental Aircraft Association's annual gathering at EAA Air Venture Oshkosh at Oshkosh, Wisconsin, where the aircraft drew intense public interest and won the Outstanding New Design Award.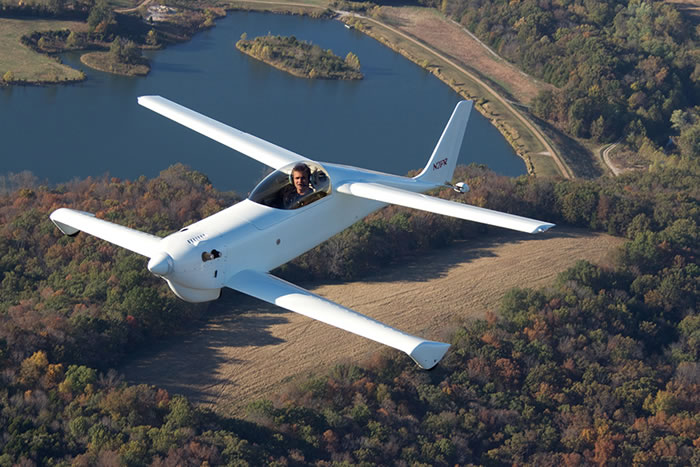 In June 1978, only two months after the prototype's first flight, Jewett and Sheehan formed the Quickie Aircraft Corporation to produce and sell complete aircraft kits. Production began in June 1978, and by 1980 the Corporation had sold 350 kits. Other firms were granted marketing rights, and ultimately some 1,000 Quickie kits were sold. The Corporation closed its doors in the mid-1980s.
Brengun have released another nice little kit to continue their run of new releases over the last 6 months or so. This time it is a 1/72 Rutan Quickie, which is an ultra-light it aircraft from the late 70's and 80's. I did use the term little kit above and I truly mean it.
The kit comes in a small, top folding lidded box of sturdy cardboard, which protects the delicate resin parts well. All parts are well sealed in plastic bags, so no escaping parts.
There are 12 pale grey cast resin parts for this kit, along with a single vacuum formed canopy and a smallish sheet of nice photo-etched parts. There is a very small decal sheets with some simple markings similar to the aircraft pictured directly above here. A double sided small instruction sheets is included as well as a plastic film of instrument faces to sandwich on the instrument panel. The resin looks quite blotchy in colour but I can't find any obvious pin holes etc, so hopefully the colour differences are not indicative of different hardness resin. There is some flash, especially around the seat and the casting block with the propeller on it. All panel lines are recessed appropriately and will look quite in scale with some paint applied.
I mentioned the size of this model. I have given you a photo of the fuselage, which is one complete piece, which only need to be removed from the casting block and given a quick clean up to be ready, sitting beside a matchbox as a size comparison….I said it was small and be reminded, this is a 1/72 not a 1/144 kit.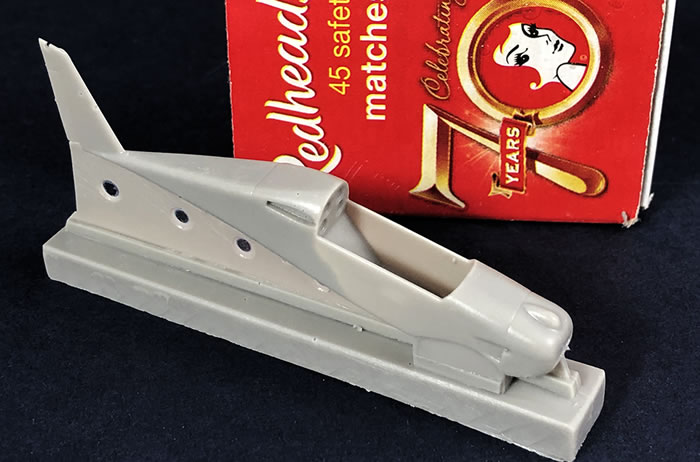 The forward wing is a one piece wing with the wheels to be added to the recesses at the wing tips. This aircraft has no undercarriage as such. The rear wings consist of one piece for port and starboard wings to be attached separately. Those 4 parts make up the majority of the model.
The cockpit is 14 piece affair, with a seat that has an etch cushion pad to be glue to the main seat section, but has a nice seat of etched belts to complete what will be a very obvious cockpit with a quite large bubble like canopy. The instrument panel is a 5 piece construction of resin, film and etch parts but should give good detail. The rear of the instrument panels has detail moulded onto it and is just crying out for some fine wires to be added for that finishing touch. If I see a weak link, it is that the tail wheel is attached to a relatively long piece of etch which I see as wanting to sag or bend easily. This will be found out in the actual building of this model which will come soon.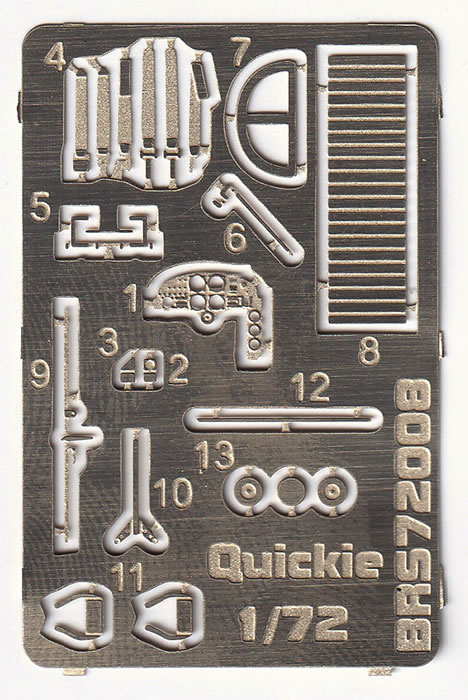 The one piece clear canopy is quite clear but will need a bit of a polish up to improve the visibility into the highly visible style cockpit.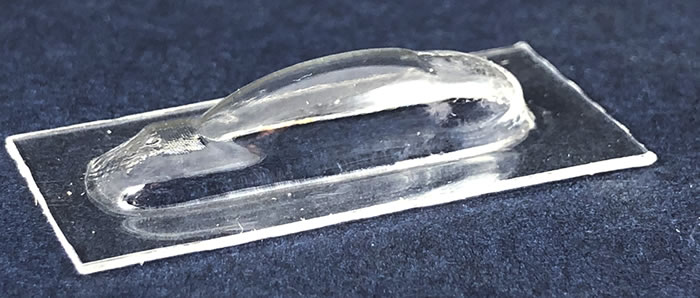 The instructions are a double sided A5 sheet with only 5 simple steps in the construction process.
The kit decals are not for a specific aircraft that I can see but gives you an option that the kit was likely to be produced in.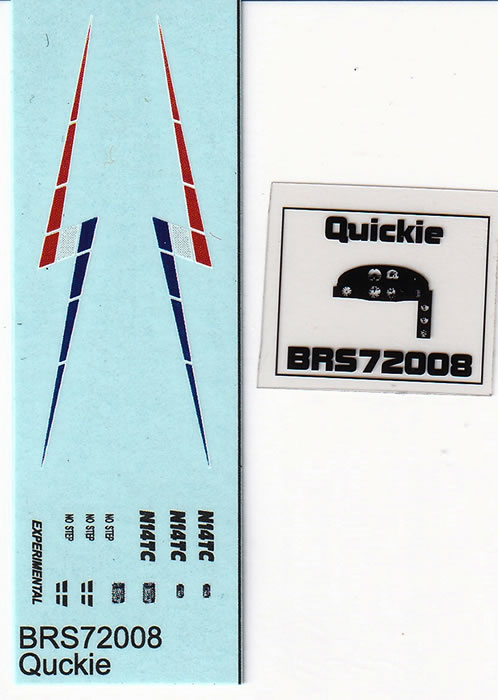 As an aside, when I opened this kit and first photographed the parts, I was surprised to find that I had a casting block of about 8 parts which was from some other kit and I had no block with the Prop etc on it. A quick email to Jan at Brengun saw a replacement part promptly in the mail so hats off to Brengun for having excellent aftersales service, something that not all companies have.
Brengun has intrigued me and inspired me to build a relatively unknown aircraft. I don't normally build civil aircraft but this little kit is leading me in that direction.
For a short run resin kit, whilst not flawless and needing a bit of clean-up, it is of a high quality and well thought out kit.
Yes, it will need some caressing to create a great model but the foundation is there.
The cost of this kit compared to the bulk of kit you get may be high, but the interesting subject will certainly interest the small civil aircraft modellers….and yes I would recommend this kit and I am certainly going to build it.
Thanks to Brengun for the review sample.
---
Review Text and Images Copyright © 2019 by David Couche
Page Created 4 June, 2019
Last updated 5 June, 2019
Back to HyperScale Main Page
Back to Reviews Page