Savoia-Marchetti S.55
'Record Flight'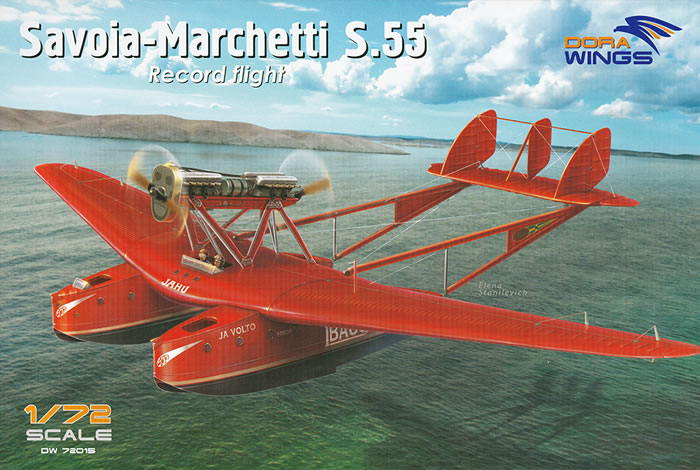 Dora Wings, 1/72 scale
S u m m a r y :

Catalogue Number:

Dora Wings Kit No. DW72015 - Savoia-Marchetti S.55 'Record Flight'

Scale:

1/48

Contents & Media

147 parts in grey coloured injected plastic, 36 clear injected parts, 2 resin engines, 86 etched parts, masks, markings for 3 aircraft and instruction booklet.

Price:

GBP£63.99 EU Price (£53.33 Export Price) plus shipping available online from Hannants

and retailers worldwide as listed on Dora Wings' website

Click here for currency conversion

Review Type:

First Look.

Advantages:

A modern release of a striking and famous aircraft. Accurate outline; crisply moulded plastic parts; nicely printed decal sheet with options for 3 different aircraft with minimal carrier film and perfect register. Clear instructions.

Disadvantages:

Conclusion:

Dora Wings have released a very detailed model of this quite unique flying boat which will tempt modellers of several genres into getting and building it.

Reviewed by David Couche

Special Hobby's Mirage F.1B/BE is available online from Squadron.com
The Savoia-Marchetti S.55 was a double-hulled flying boat produced in Italy, beginning in 1924. Shortly after its introduction, it began setting records for speed, payload, altitude and range.

The S.55 featured many innovative design features. All the passengers or cargo were placed in the twin hulls, but the pilot and crew captained the plane from a cockpit in the thicker section of the wing, between the two hulls. The S.55 had two inline contra-rotating propellers, mounted in tandem. The engines were canted sharply at an upward angle. Two wire-braced booms connected the triple-finned tail structure to the twin hulls and wing.
The last remaining example is preserved in Brazil, at the TAM "Asas de um sonho" museum, at São Carlos, São Paulo. The aircraft, registered I-BAUQ and named "Jahú", was the S.55 used by Commander João Ribeiro de Barros in his crossing of the South Atlantic in 1927.
Dora Wings have now given us an up to date Savoia-Marchetti S.55 to add to our collections of flying boats. For my fellow modellers, the choices of building this unique twin hulled aircraft were the 1958(? my research indicates) release by ITC and released by Kleeware, Ringo Toy and Glencoe over the next years with no change to the moulds and the 1973 release by Delta Models. All of these are well out of production and to get one invloves much searching for second hand kits and a great deal of luck.
On opening the sturdy box, you will find many grey injected moulded sprues indicating that this is not going to be a simple build. There are 11 grey injected moulded sprues containing 147 parts, one clear sprue of 36 parts, 1 larger sheet and 1 very small sheet of 86 photo-etch parts, 2 grey resin engines, window masks, decals for 3 different aircraft and a detailed instruction booklet.
And now, onto a more detailed looks at the sprues.
---
Sprue A & B
These sprues have 2 parts each of the kit and these are the wing sections upper and lower. There is not a great deal of detail on these parts as the real aircraft had little on them originally.

From photos of the real aircraft the main detail is some rib detail showing up along the forward section of the wing, Compared to the real aircraft I feel that Dora Wings has made these too shallow and they will easily be removed if sanded at all. Their sprue maps show much detail on the wings which is not really there so I'm not sure why they added that. Each wing section has 16 sprue gates but they are fairly restrained but a reasonable amount of cleaning up will need to happen.
---
Sprue C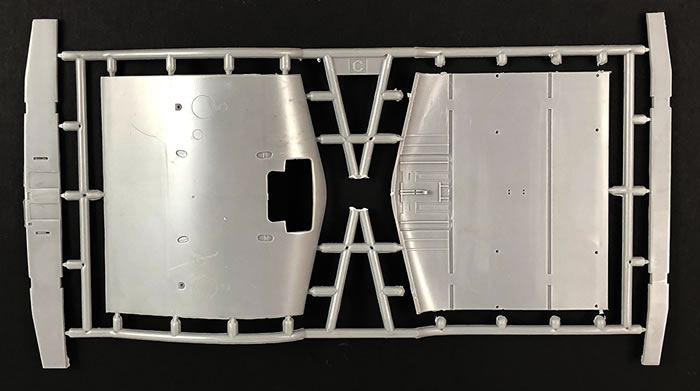 With a parts count of 4, Sprue C delivers us the upper and lower central wing sections which includes the cockpit section and the wing spars. Detail on the parts is mainly internal and is a mix of recessed and raised as needed and exhibits good detail.
---
Sprue D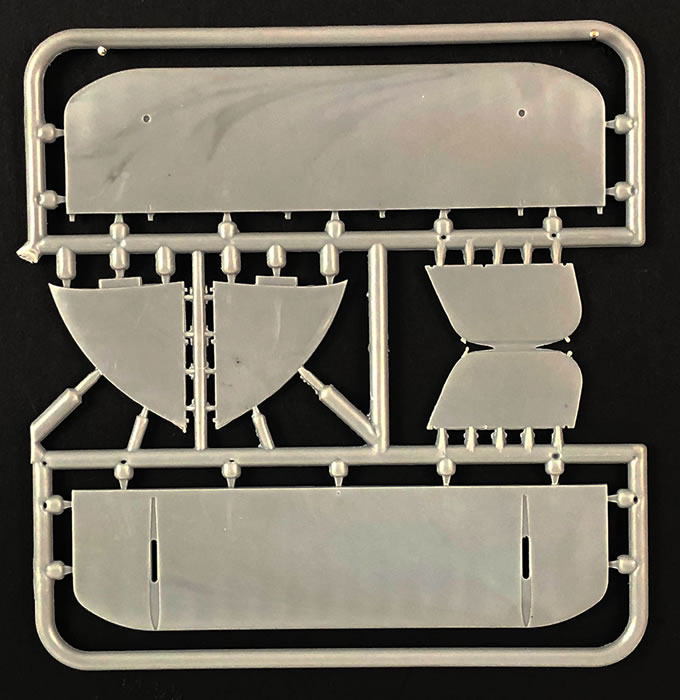 This sprue has 6 parts which will make the complete tail structure. Not a great deal of detail is on the parts but again this appears to match the real example. I did note that, along with the many sprue gates again there is some flash exhibited which will require cleaning up.
---
Sprue E & F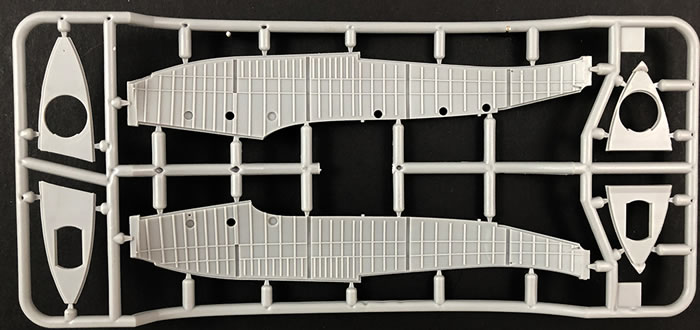 These sprues have 6 parts each and literally identical except one is the port and one is starboard hulls sides and internal frames. There is raised hull details on the exterior of these parts and very detailed interior for the hull forward and aft top sections.
---
Sprue G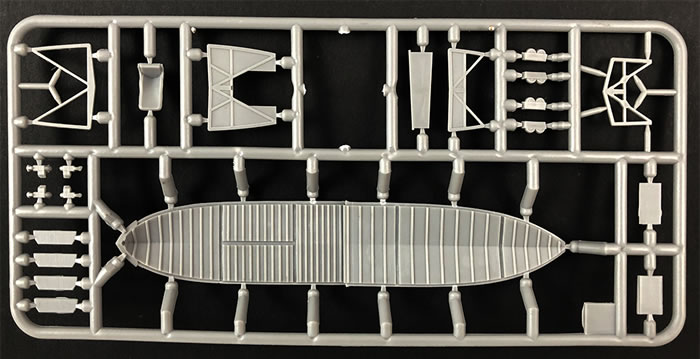 There are 2 identical sprue G's each containing 21 parts. The main part is the bottom of the hull section with extensive interior detail and subtle external details as per real example. This sprue also has the frame sections for the hulls as well as a number of small doors and other detail parts for the hulls.
---
Sprue I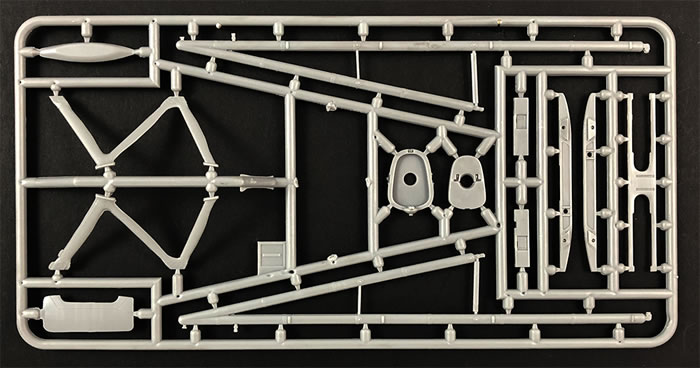 Sprue I has the main tail booms sections, the engine mount struts as well as wing spar sections and the engine radiator parts. Once again a nice mix of raised and recessed detail as required.
---
Sprue K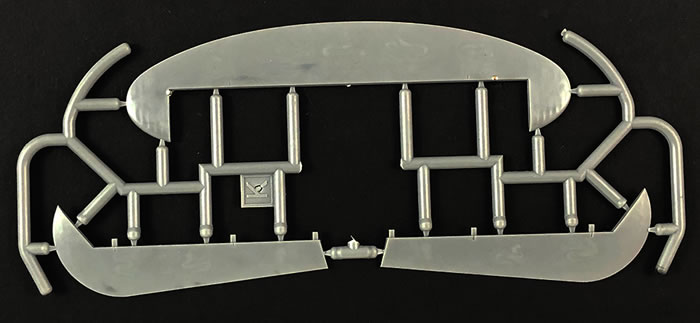 This sprue has only 3 parts on it with them being the 2 ailerons and the tail plane. There is subtle wing rib detail on these parts indicating the fabric mature of the real construction.
---
Sprue J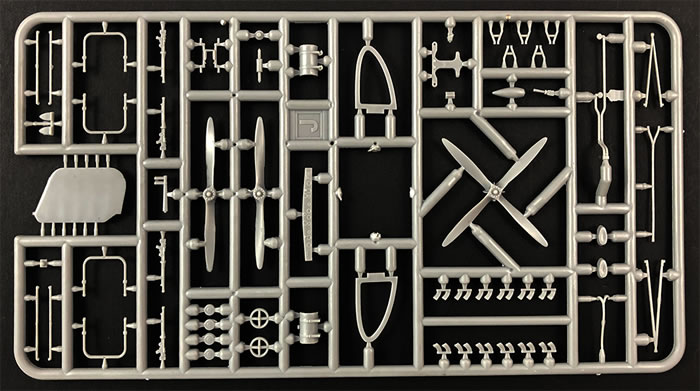 Sprue J has a whopping 63 parts on it. These include the exhaust sections, 6 for each engine, the propellers and there are 2 single bladed props and a 4 bladed prop which is not used, instrument panel, oil tank, various piping for the engines and a number of hull and engine mount structural pieces. Many of these pieces are very fine so great care will be needed in their cleaning up of mould seams and sprue gates.
---
Clear Sprue H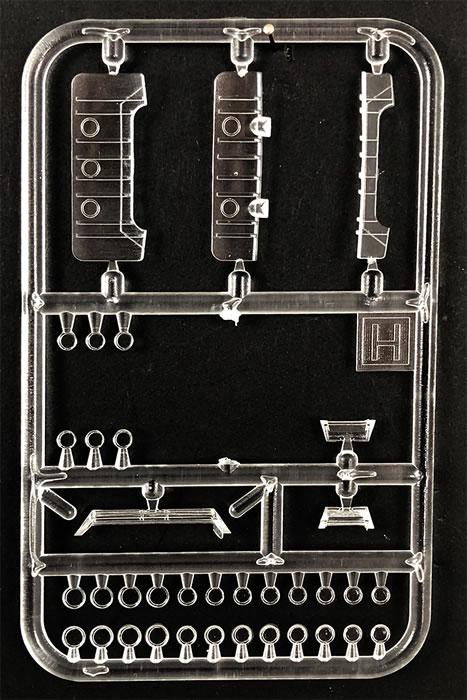 The clear sprue has 36 parts of lovely and clear windows and windscreen sections.
---
Photo-Etch

There are 2 sheets of photo-etch included in this kit. The first is a larger sheet having 83 parts on it. There are radiator detail parts, sections to fill in the rear of the tail boom, and a great number of small detail parts to be added all over the build. Some of these parts are tiny so great care will need to be taken to ensure you don't feed the carpet monster and to neatly add these to the build. A steady hand will be required so maybe one will need to limit the coffees and alcohol consumed at this stage to keep one's sanity.
---
Resin Parts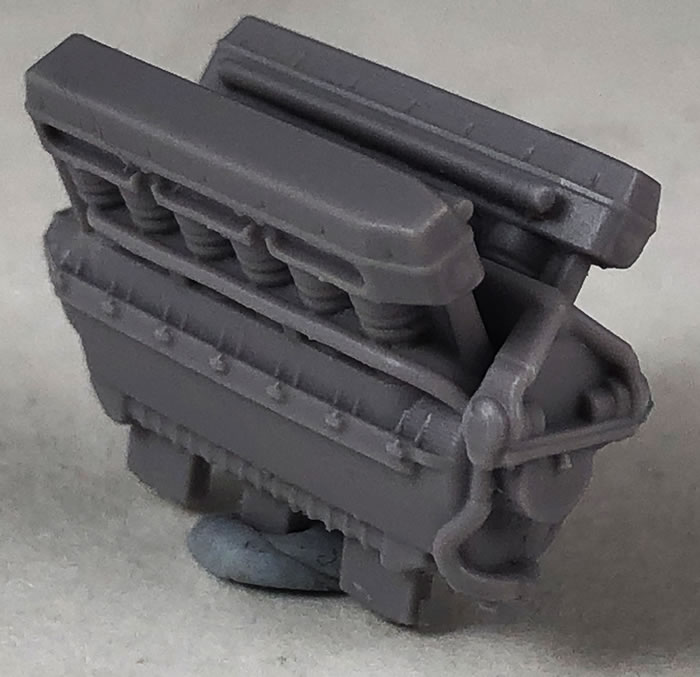 There are 2 beautiful resin cast engines suppled. These will be very prominent, mounted above the wing with no engine covers, so this lovely detail will be on show. Well done Dora Wings for giving us the quality parts here.
---
Instructions and Decals
The instruction booklet is a glossy booklet of 16 pages A5 sized pages with B&W and colour diagrams that clearly illustrate the build sequence of 33 stages. The A6 sized decal sheet is crisply printed in house and appear to be in good register.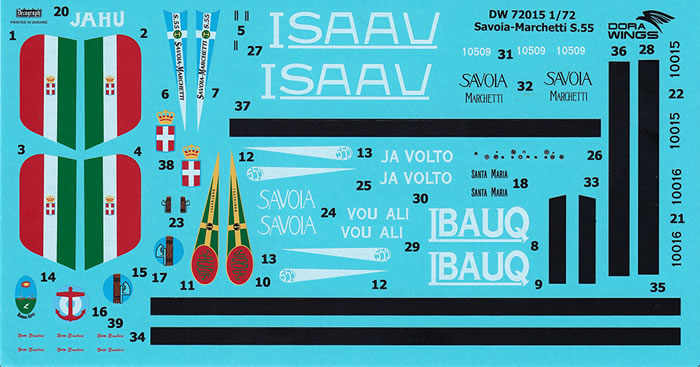 Markings are provided for 3 airframes:
S.55 Santa Maria, Reg No. 10015. Atlantic flight 16/02/1927. (grey aircraft)

S.55 Santa Maria II, Reg No. 10016. Atlantic flight 08/05/1927. (grey aircraft)

S.55 JAHU, Reg I-BAUQ ex I-SSAV, Atlantic flight 28/04/1927 (red aircraft)
This kit arrived on my doorstep as a group of my club members were creating a "flying boat" build challenge and the Savoia-Marchetti S.55 certainly fitted right into that challenge with a most interesting configuration and I'm looking forward to the challenge of this build.
The kit is a complicated build with many tiny plastic and etch parts used. It will end up as a wonderfully detailed model, which in all my show attendances and web viewing, have never seen constructed before.
The all red JAHU version is the only surviving aircraft and is in the TAM museum in Sao Paulo, Brazil. There are plenty of walk around photos on the internet to inspire you and to provide references to help in the construction.
This kit certainly looks the quality to recommend to my fellow modellers but with a rider of, I don't think it is a beginners kit, and more suitable for experienced modellers.
Thanks to Dora Wings for the review sample.
---
Review Text and Images Copyright © 2019 by David Couche
Page Created 4 September, 2019
Last updated 12 September, 2019
Back to HyperScale Main Page
Back to Reviews Page