Dassault Mirage F.1C/C-200 'Armee de l'Air'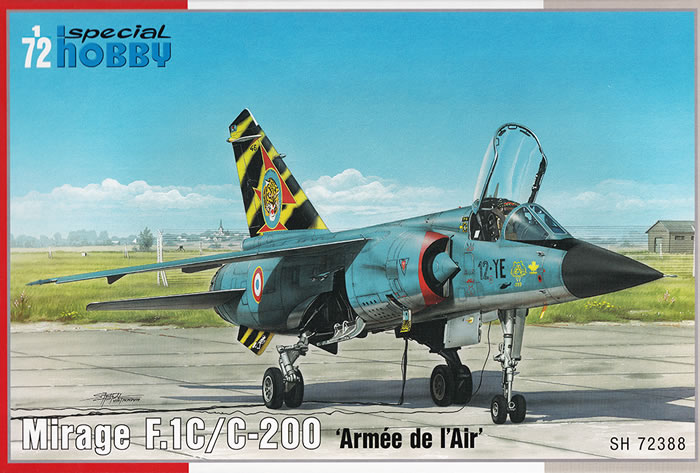 Special Hobby, 1/72 scale
S u m m a r y :

Catalogue Number:

Special Hobby Kit No. SH72388 – Dassault Mirage F.1C/C-200 'Armee de l'Air'




Scale:

1/72

Contents & Media

138 parts in grey coloured plastic, 23 clear injected parts, markings for 4 aircraft, instruction booklet.

Price:

393 Kc plus shipping available online from Special Hobby

GBP£15.80 EU Price (£13.17 Export Price) plus shipping available online from Hannants

and hobby retailers worldwide

Review Type:

First Look

Advantages:

Accurate outline; crisply moulded plastic parts; nicely printed decal sheet with options for 4 different aircraft with minimal carrier film and perfect register. Clear instructions.

Disadvantages:

Some minor flash is evident needing cleaning up. Limited release kit so will need some test fitting to ensure a good fit.

Conclusion:

A must for those interested the versions of the Mirage F.1C or aircraft of the French Airforce. This kit certainly looks the quality to recommend to my fellow modellers.
Reviewed by

David Couche

HyperScale is proudly sponsored by Squadron.com
The Mirage F.1C came about as a private venture by the French Dassault company while it had been engaged in a project designed to fulfil the future needs of the French Air Force (Armée de l'Air) for a modern jet aircraft capable of carrying out interception and tactical attack roles carrying conventional or nuclear armament.
A variety of designs were put forward in order to replace the outstanding Mirage III family which were currently filling this role and these were originally designed the Mirage IIIT, Mirage IIIF, Mirage G and Mirage G8.
The Armée de l'Air chose the most promising of these designs which was the Mirage G8 with a variable-sweep wing but as the military expected a prolonged development of this advanced (for the day) technology they also decided to go ahead with the simpler Mirage IIIF which could enter service sooner and help bridge the gap before the new G8A could be finished. Two prototypes of the IIIF designated F.2 and F.3 were ordered and these were to be powered by a JTF10 engine.
On top of these government contracts Dassault also decided to go ahead with their own simpler private venture design which featured a smaller airframe powered by an Atar 9K power plant.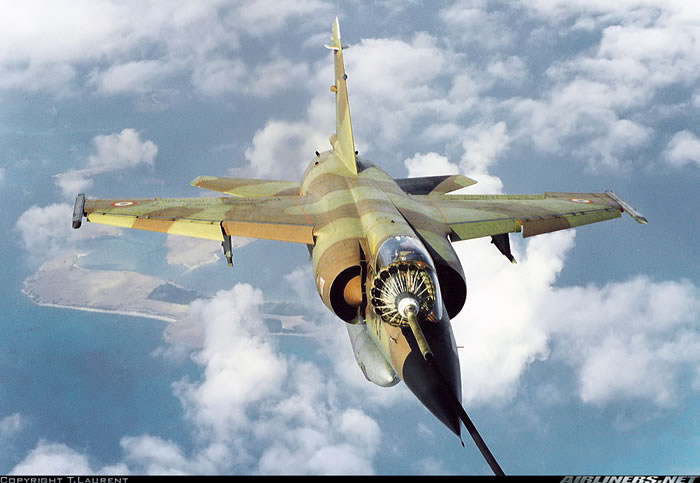 The first flight of the Mirage F.1 took place on 23rd December 1966 and production aircraft entered service with the Armée de l'Air as the F.1C single-seater fighter and F.1B two-seater trainer versions. During their service with France a number of these aircraft were upgraded by fitting of IFR probes which resulted in the designation F-1C-200.
The Armée de l'Air also flew dedicated reconnaissance and a ground-attack versions of the MirageF.1 designated respectively as the F.1CR and CT, the latter being converted from the earlier F.1-200 airframes.
A total of 246 Mirage F.1`s of all versions served with the French and Dassault also tried to offer the aircraft as the F.1E (E for European) version with a more powerful engine to Belgium, Denmark, the Netherlands and Norway as a replacement for their F-104 Starfighter`s but these countries chose the F-16 Fighting Falcon instead and the F.1E remained only as a prototype. Nevertheless two other European NATO members did fly the Mirage F.1 with Greece and Spain ordering the type and it was also exported successfully further afield.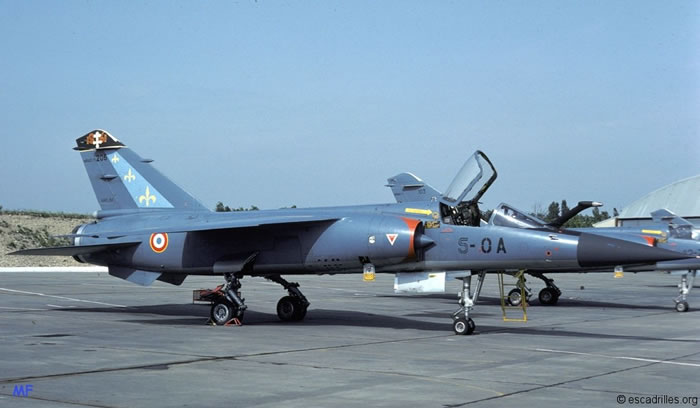 In South America Mirage F.1s were ordered by Ecuador (F.1JA and JE two seaters) for the Fuerza Aerea Ecuatoriana while in Africa and Asia the Mirage F.1 proved especially popular, serving with the air forces of Gabon, South Africa, Morocco, Libya, Iran, Iraq, Jordan, Qatar and Kuwait. Flying with these air forces this variant of the famous Mirage family saw combat action the world, including mock dogfights over the Aegean between Greek F.1`s and Turkish fighters, French aircraft saw action over Chad, Libya, Afghanistan, Mali, Ivory Coast and even stood up against Iraqi Mirage F.1`s during the 1st Gulf War, Ecuadorian F.1`s were used in cross border skirmishes with Peru and South African Mirages also saw extensive action as a ground attack aircraft and fighter during the long Border War with Angola and Mozambique, often coming up against Cuban flown Soviet Mig 17, 21 and 23 jet fighters. Libyan F.1`s alo saw brief action during the Civil War of 2011 when several of them defecting to Malta.
Although it is now quite an old aircraft the Mirage F.1 still sees frontline service with several countries including Libya which is bolstering its remaining fleet by buying some additional ex French aircraft, Gabon has bought six ex South African F.1AZ aircraft and Iran is believed to still fly some of the 24 ex Iraqi Mirage F.1BQ and EQ`s which defected here during the Gulf War.
The Special Hobby kit brings the re-issued but improved with new parts kit from the 2016 original release.
The top opening sturdy box contains 6 grey injection moulded styrene sprues accompanied by one with clear parts. The moulding detail itself is crisp with recessed panel lines and raised details as required. There is very little flash exhibited and will need only minor cleaning up before building. Mould marks and ejection pin marks are not too pronounced, which for a limited run kit is quite reasonable.
The kit does have a pretty big parts count of 159 but 73 of these will not trouble the scorer here. Spare parts box will gain a good feed here.
As with all limited run kits, care and patience must be used to ensure a good fit before gluing. The sprue gates are also quite restrained and should not offer too much of a clean up problem.
There is a sheet with decal markings for 4 different schemes and a good set of instructions.
And now, onto a more detailed looks at the sprues.
---
Unlabelled Sprues

We open with two unlabelled sprue that are the two fusealge halves. These have a nice amount of detail without over doing it, so quite nice detail but restrained, in the wheel bay. Theyn look like creating a great base to build upon.
---
Sprue A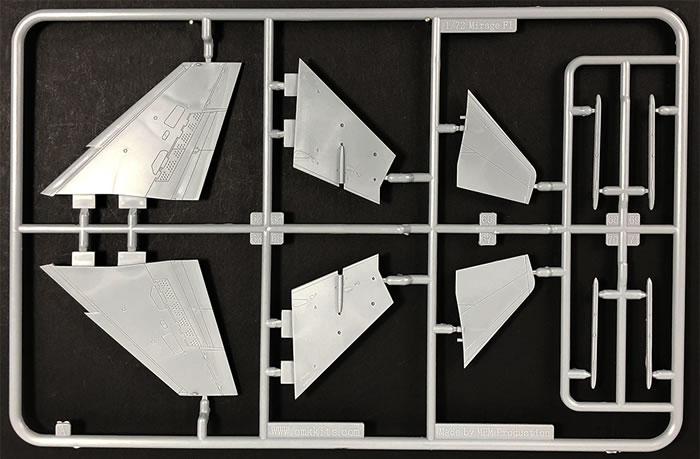 This sprue has 10 parts of the kit on it of which 2 are not used with this version. Here we have the wing sections, the tail planes and wing tips. The panel lines are recessed with restrained depth but lovely detail.
---
Sprue B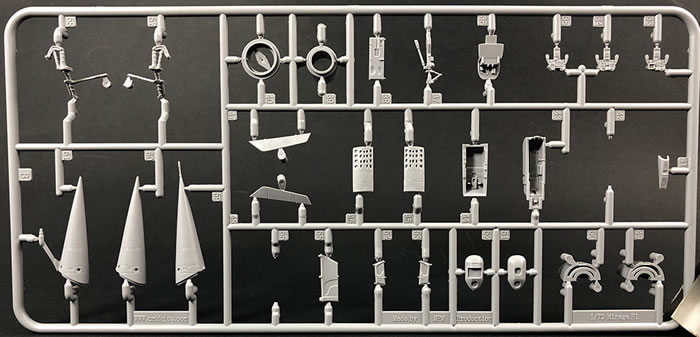 With a parts count of 29, with 5 not for use on this version, Sprue B delivers us cockpit parts, a variety of nose cone halves which are used in various combinations for the 4 different aircraft of the schemes, so select your scheme and make sure you build the version correctly. This sprue also has the exhaust tubes, nose wheel bay, undercarriage parts and air brakes. Detail on the parts is a mix of recessed and raised as needed and exhibits good detail.
---
Sprue C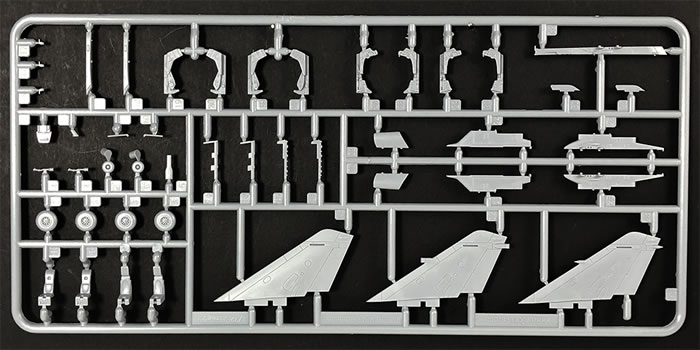 This sprue has 46 parts of which 19 can go straight to the spares box. Here we have a selection of tail fins (3 supplied) of which you use 1, a range of seat but again only one is used, wheel, and pylons. All parts here have a range of raised and recessed detail which with painting will give you a nice base to create from.
---
Sprue D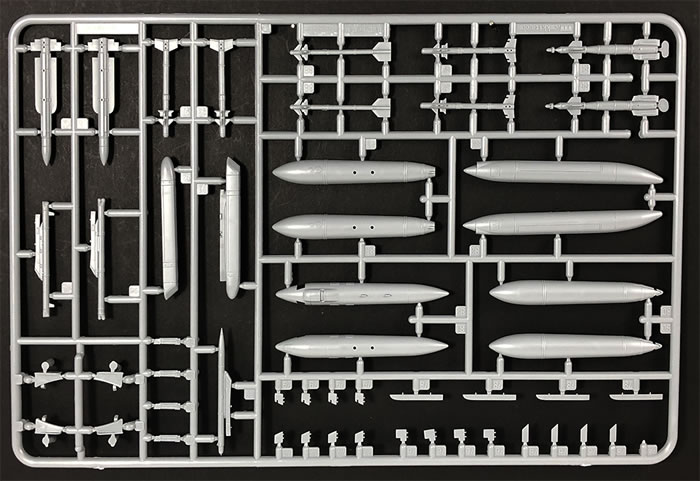 This sprue has 51 parts of which 33 can go straight to the spares box. This sprue is basically all armament, pods and drop tanks. A huge range of ordinance is supplied covering all version of the F.1 and include;
2 x Matra Magic Mk.I/II AAM

2 x V-3 Kukri AAM

2 x Matra Super 530F MRAAM

2 x GBU-16 LGB

1x ASTAC reconnaissance pod

1x RAPHAEL SLAR reconnaissance pod

1x RP35 reconnaissance pod

1x ARAL 1B Phimat

1x ARAB 9A Barrax

2 x RP35 Fuel Tanks
A basic load out is recommended but you will need to check your individual aircraft refences as some of the non-recommended gear may be used. You will have plenty of spare weaponry for French aircraft for future use.
---
Clear Sprue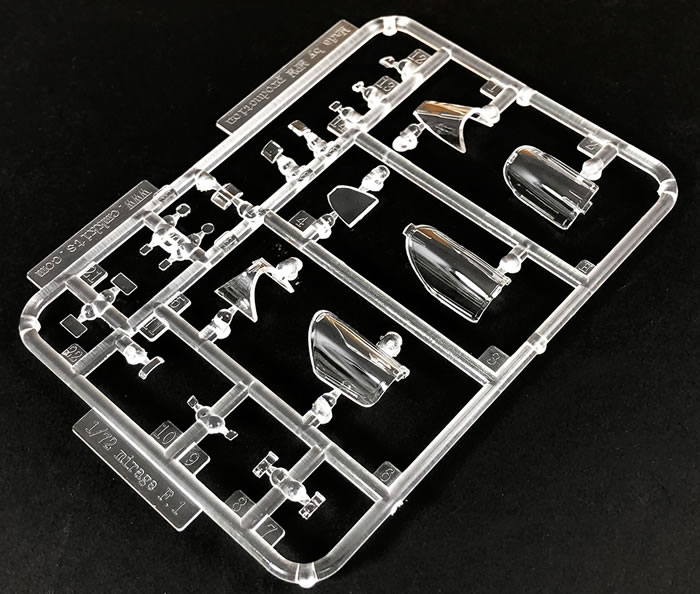 The clear sprue has 23 parts, 14 not used, of lovely and clear canopies with a choice of a closed version or a 2 piece open one. On this sprue there are also many small light parts, the majority of which are not used on this version. Special Hobby have created one clear sprue which has canopies covering all of their released versions including the 2 seat aircraft. Whilst this seams a waste, like the weapons sprue above, it's probably cheaper to do the mould machining once rather than having 4 or 5 different moulds.
---
Decals and Instructions
The instruction booklet is a glossy booklet of 9, just under, A4 sized pages with B&W and colour diagrams that clearly illustrate the build sequence. The A6 sized decal sheets is crisply printed by Cartograf, so you just know they'll behave in their application and appear to be in good register.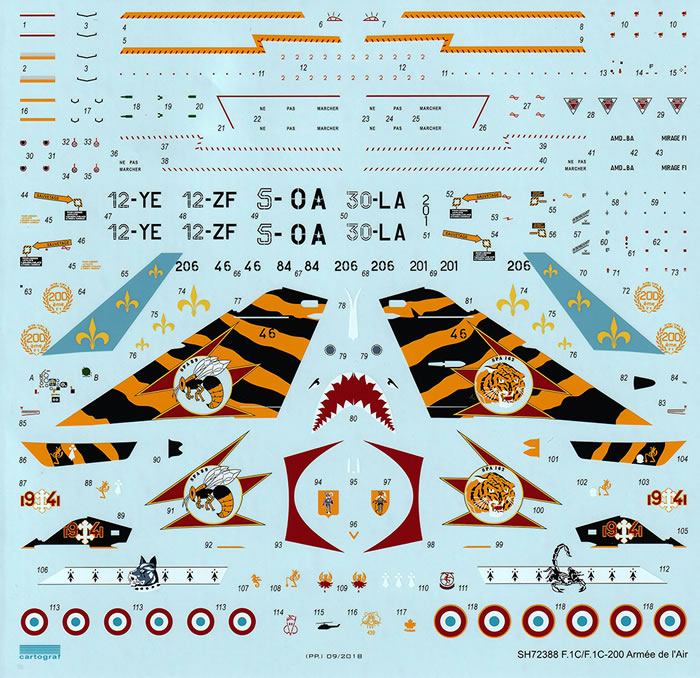 Markings are provided for four airframes:
Mirage F.1C c/n 46. 12-YE, Escadron de Chasse EC 1/12 Cambréses, Base Aérienne BA103 Cambrai Épinoy, 1979 Tiger Meet;

Mirage F.1C c/n 84. 12-ZF, Escadron de Chasse EC 2/12 Cornouaille, Base Aérienne BA103 Cambrai Épinoy.

Mirage F.1C-200 c/n 206. 5-OA, Escadron de Chasse EC 2/5 Ile-de-France, Base Aérienne BA115 Orange Caritat, France 1981.

Mirage F.1C-200 c/n 201. 30-LA, Escadron de Chasse EC 4/30 Vexin, Base Aérienne BA188 based at Ambouli International Airport, Djibouti City, Djibouti, Africa, May 1994.
This kit should build quickly into a neat model by the average modeller and will be a must for those interested the versions of the Mirage F.1C or aircraft of the French Airforce.
This kit certainly looks the quality to recommend to my fellow modellers.
Thanks to Special Hobby for the review sample.
---
Review Text & Images Copyright © 2019 by David Couche
Page Created 20 June, 2019
Last updated 20 June, 2019
Back to HyperScale Main Page