Sopwith Pup "Gnome"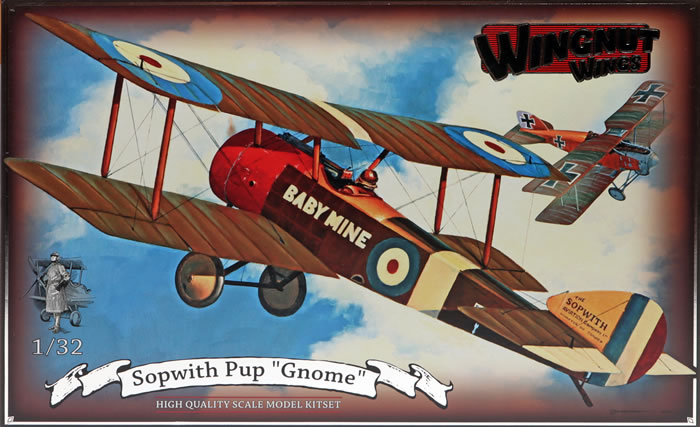 Wingnut Wings, 1/32 scale
S u m m a r y

Catalogue Number:

Wingnut Wings 32055 - Sopwith Pup "Gnome"

Scale:

1/32

Contents and Media:

134 parts in grey injection moulded plastic; nine parts in clear; photo-etched fret; markings for six aircraft.

Price:

USD$79.00 available plus shipping available online from Wingnut Wings

Review Type:

First Look

Advantages:

Cleverly engineered for ease of assembly; optional parts for different sub-variants; modest parts count (not intimidating); outstanding representation of fabric, tape and general surface detail; high quality mouldings with fine sprue attachments; comprehensive decal sheet in perfect register with minimal carrier film, photo-etched seat belts; full-colour instruction booklet doubles as a one-stop reference.

Disadvantages:

Conclusion:

This Pup is beautifully detailed and should be eminently buildable thanks to its clever engineering and modest parts count. This will be a terrific starting point for modellers wishing to try their hand at their first 1/32 scale WWI biplane..
Reviewed by Brett Green

The Sopwith Pup was a British single-seater biplane fighter aircraft built by the Sopwith Aviation Company.
It entered service with the Royal Flying Corps and the Royal Naval Air Service in the autumn of 1916.
With pleasant flying characteristics and good manoeuvrability, the aircraft proved very successful. The Pup was eventually outclassed by newer German fighters, but it was not completely replaced on the Western Front until the end of 1917. Remaining Pups were relegated to Home Defence and training units.
The Pup's docile flying characteristics also made it ideal for use in aircraft carrier deck landing and takeoff experiments.
A prototype was completed in February 1916 and sent to Upavon for testing in late March. The Royal Naval Air Service (RNAS) quickly ordered two more prototypes, then placed a production order. Sopwith was heavily engaged in production of the 1½ Strutter, and produced only a small number of Pups for the RNAS. Deliveries commenced in August 1916.
The Royal Flying Corps (RFC) also placed large orders for Pups.

In May 1916, the RNAS received its first Pups for operational trials with "A" Naval Squadron. The first Pups reached the Western Front in October 1916 with No. 8 Squadron RNAS, and proved successful, with the squadron's Pups claiming 20 enemy machines destroyed in operations over the Somme battlefield by the end of the year.
Raids on London by Gotha bombers in mid-1917 caused far more damage and casualties than the earlier airship raids. The ineffective response by British interceptor units had serious political repercussions. In response, No. 66 Squadron was withdrawn to Calais for a short period, and No. 46 was transferred for several weeks to Sutton's Farm airfield near London. Two new Pup squadrons were formed specifically for Home Defence duties, No. 112 in July, and No. 61 in August.
The first Pups delivered to Home Defence units utilised the 80 hp Le Rhône, but subsequent Home Defence Pups standardised on the more powerful 100 hp Gnome Monosoupape, which provided improved rate of climb. These aircraft were distinguishable by the addition of vents in the cowling face.
Wingnut Wings released two Sopwith Pup kits in 2010 as part of their second batch of kit releases. They have now extended the family with a Gnome-powered Pup kit offering the choice of RNAS, training and Home Defence duties.
Wingnut Wings' Sopwith Pup "Gnome" comprises 134 parts in grey injection moulded plastic, nine parts in clear, a photo-etched fret and markings for five interesting aircraft.
The kit features simply beautiful surface textures, including subtly stretched fabric, fine strips and stitching, crisply recessed panel lines and raised details where appropriate. The stretched fabric effect on the fuselage sides over the cockpit framing is just extraordinary.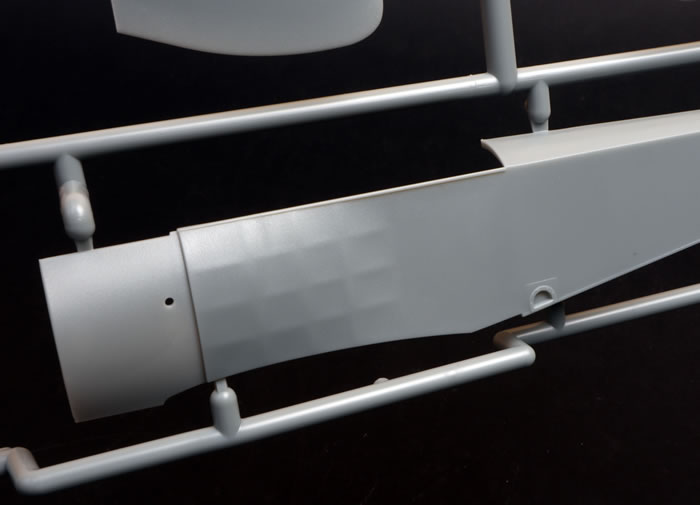 The wings are just as good.
The modest parts count does not detract from Wingnut Wings' customary high level of detail in any way, but it will make this kit a good prospect for any anxious first-time WWII modellers.
Kit engineering is conventional and designed to make construction as painless as possible. Many of the the parts are new oir revised. The new single piece full-span upper and lower wings are notable.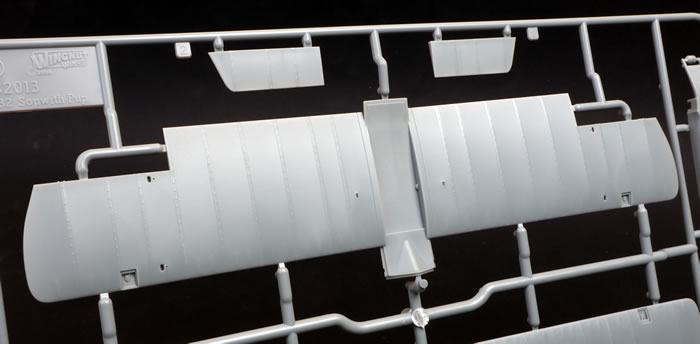 The struts are all fitted with good-sized locating tabs that fit into corresponding holes in the wings. Locating positions are marked for rigging, which should be drilled out with a 0.5mm drill to a depth of at least 1mm if required.
In addition to their exterior detail, the fuselage halves are moulded with interior structures in place too. These will supplement the beautifully detailed cockpit, complete with framing, Vickers Gun magazine and empty belt winder. A detailed internal rigging diagram for the cockpit and control wires is also included for that extra air of authenticity. The instrument panel is adorned with individual authentic decal instruments.
Optional engines are offered - 80HP and 100HP Gnomes. These will be straightforward to build but they are well detailed, with push rods and crank case covers supplied as separate parts. Ignition harnesses are not required.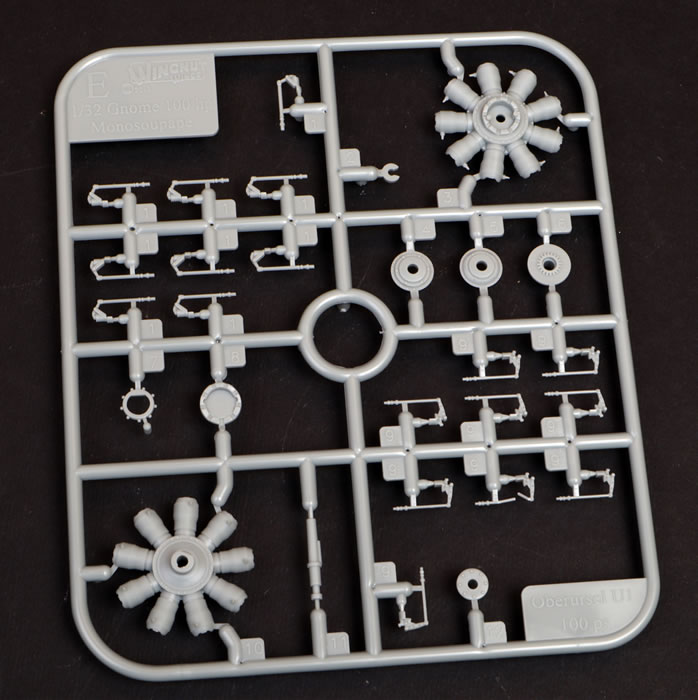 Two different propellers are supplied plus alternate machine gun armament, and more.
Wingnut Wings have also included two sets of Le Prieur rockets. These would certainly look pretty impressive fitted to the outboard struts. Unfortunately, the instructions advise that the Le Prieur rockets were trialled for use against balloons and airships but it is unlikely that they were fitted to any of the aircraft depicted in the kit.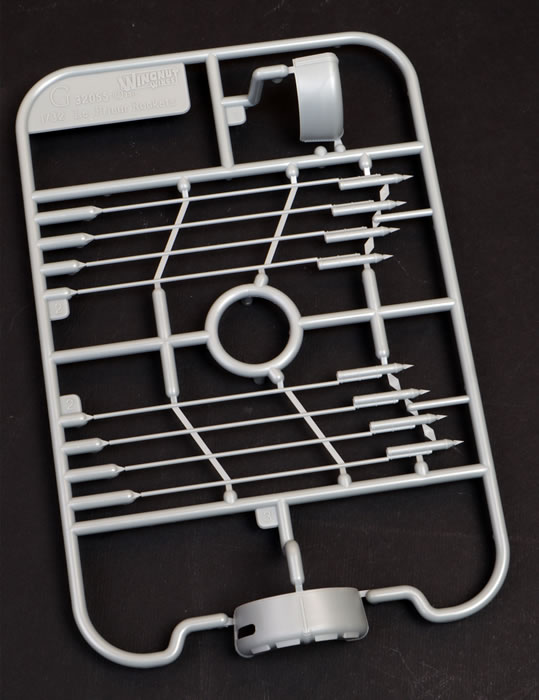 The clear parts are thin and free from distortion.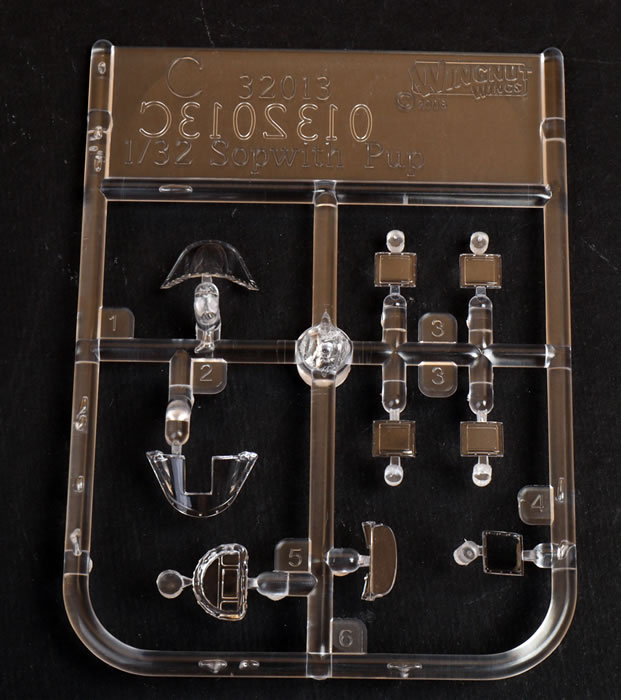 Where optional parts are provided, the instructions indicate the applicable marking options.
The photo-etched fret offers the wide harness straps, actuator and gun sight.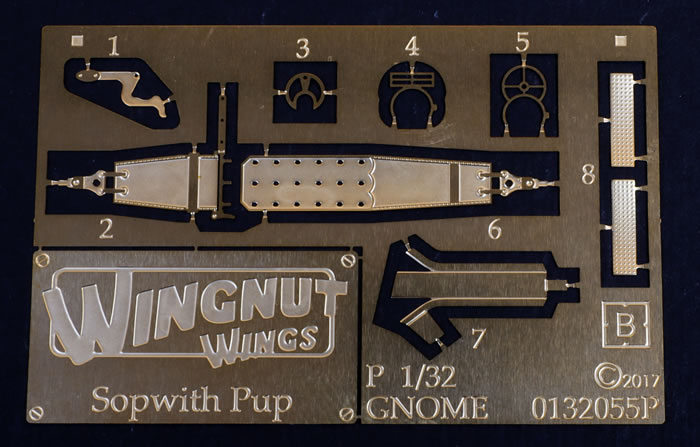 The 24 page instruction booklet includes 3D construction views supplemented by generous reference photos of wartime machines and detail shots of an authentic full-sized replica.
---
Marking Options
Five marking options are provided.
The large decal sheet is brightly coloured with perfect register and thin surrounds. Stencil markings along with the aforementioned instruments accompany the unique aircraft decals.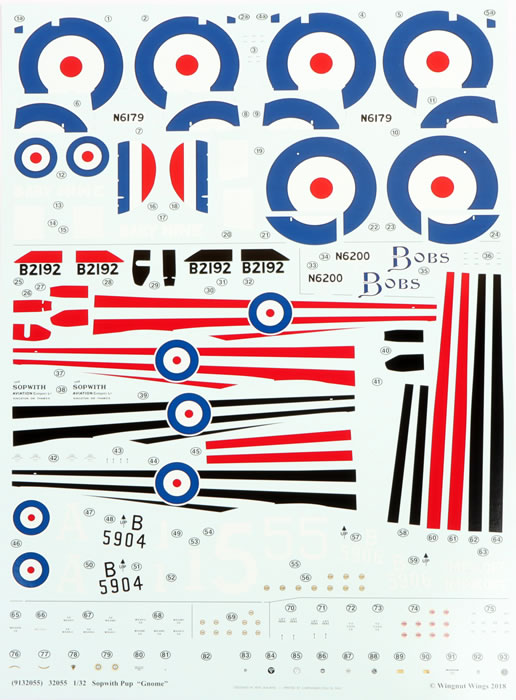 Four of the marking options feature upper surfaces in PC10 and lowers in Clear Doped Linen. Variety is provided by three schemes with bare metal cowls and another in red, plus various stripes and personal markings.
The final option features a black and white stripes entirely covering the wings, fuselage and tail planes. The instructions state that the black and white stripes are entirely believable but they also supply red stripes as an option.
The black and red fuelage stripes are supplied on the decal sheet.
This new Pup is beautifully detailed and should be eminently buildable thanks to its clever engineering and modest parts count. This will be a terrific starting point for modellers wishing to try their hand at their first 1/32 scale WWI biplane.
Thanks to Wingnut Wings for the review sample.
---
Review Text and Images Copyright © 2019 by Brett Green
Page Created 14 October, 2019
Last updated 15 October, 2019
Back to HyperScale Main Page