The Focke-Wulf Fw 190 – Radial-Engine Version
by Richard A. Franks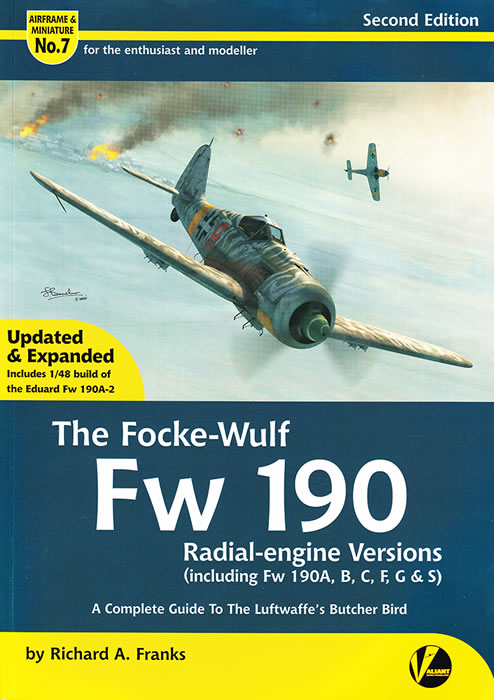 Valiant Wings Publishing
Airframe Album No.7 Second Edition
S u m m a r y

Publisher and Title:

Valiant Wings Publishing
The Focke-Wulf Fw 190 – Radial-Engine Version
Airframe Album No.7 Second Edition
by Richard A. Franks

ISBN:
978-1-912932-07-8
Media:
176 pages in A4 Portrait mode, many photographs and walkaround ones, colour profiles, historical manual drawings, line drawings and model details.
Price:

GBP£20.95 plus shipping available online from Valiant Wings

GBP£20.95 plus shipping available online from Hannants

and stockists worldwide.

Review Type:
First Read
Advantages:

Detailed and comprehensive look at the radial engined Fw 190A, B, C, F, G & S with an extra 16 pages in the second edition. Great historical B&W photos, good line drawings and current walk around photos. Dedicated modellers section.

Disadvantages:
Conclusion:

A great, should have, reference for modellers of all scales interested in the Fw 190 radial engine version aircraft, especially with the new Eduard releases.

Reviewed by David Couche
The release of new 1/48 Fw 190A and F version kits by Eduard over the last couple of years, along with the lovely fairly recent 1/32 Revell release of the F-8 version has seen the need for Valiant Wings Publishing to update their out of print First Edition book. This seventh book, entitled, "The Focke-Wulf Fw 190 Radial-engine Versions
(including Fw 190A, B, C, F, G & S) – A Complete Guide To The Luftwaffe's Butcher Bird", in their much-acclaimed series is back by popular demand. It now contains over 176 pages packed with vital information that no active modeller and Fw 190 enthusiast should be without.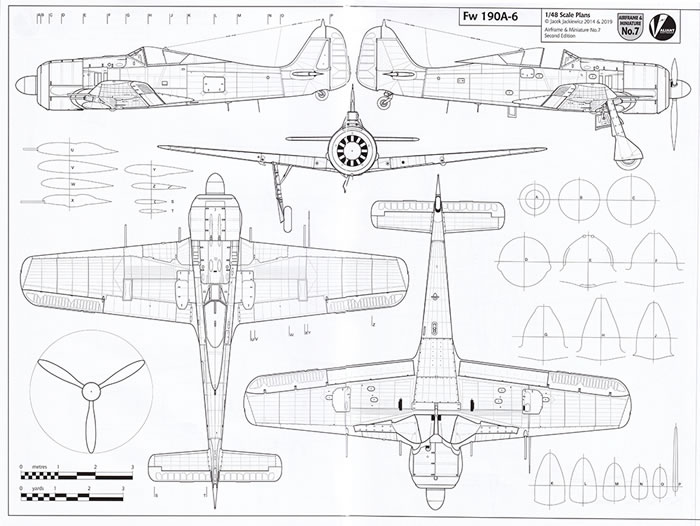 The new Second Edition, in addition to the original content, contains:
Full assessments of all the new kit releases since the title's first release in 2014

A build of the new-tooled Fw 190A-2 from Eduard in 1/48th scale by Steve A. Evans

Updated kit, accessory and decal appendices

An extra 16 pages of content in total
The book is A4 sized, on high quality glossy paper and is quite weighty. I do apologise for some of the grey areas on the sample pages but the size and quality of the binding gave some scanning problems…bad for reviewing but good for those who purchase this book.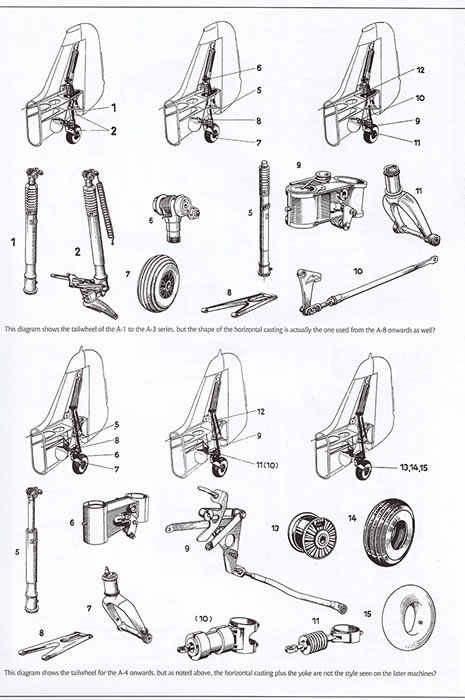 This book contains a great wealth of period photographs of the radial versions of the Fw 190 in action during WWII and includes some of the lesser known versions as well. The photographs selected are all clear and crisp in nature, with details clearly visible. There are quite a number of coloured profiles produced by Richard Caruana, illustrating the varied schemes of the Fw 190 and in liveries of the theatres of war that this versatile aircraft was used in. Complementing the photos and profiles are numerous line drawings taken from Flight Manuals of the Fw 190.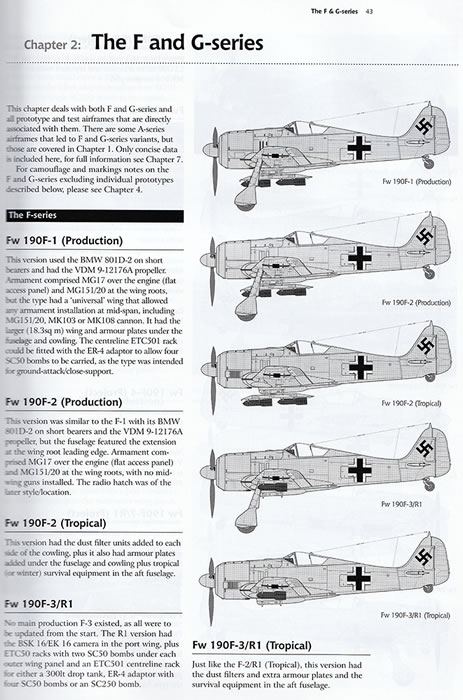 The contents are broken up into eight separate chapters, grouped into two distinct sections:
Preface

Airframe Chapters

Evolution – Prototypes and A series
The F and G series
Conversions, Projects and New builds
Camouflage & Markings

Miniature Chapters

Fw 190A to G kits
Building a Selection
Building a Collection
In Detail: Fw 190A to G

Appendices

Fw 190 Kit List
Fw 190 Accessory List
Fw 190 Decal List
Fw 190 Bibliography
Fw 190 Scale plans
This book has been specifically written for the modeller so the opening preface and chapters give us the history and development in detail of the Fw 190 covering the different radial engined versions of this aircraft. To begin this book there us a page glossary of the Luftwaffe and German terms used within the book. The preface is 6 pages of historical information including which units flew which versions etc with some excellent accompanying photographs of great detail. The evolution of the A versions covers 32 pages with numerous photos and line drawings to complement each other. The second of these sections is for the F and G series which encompasses 11 pages. The radial engined Fw 190 produced a great number of versions, probably more the any other aircraft flown in WWII.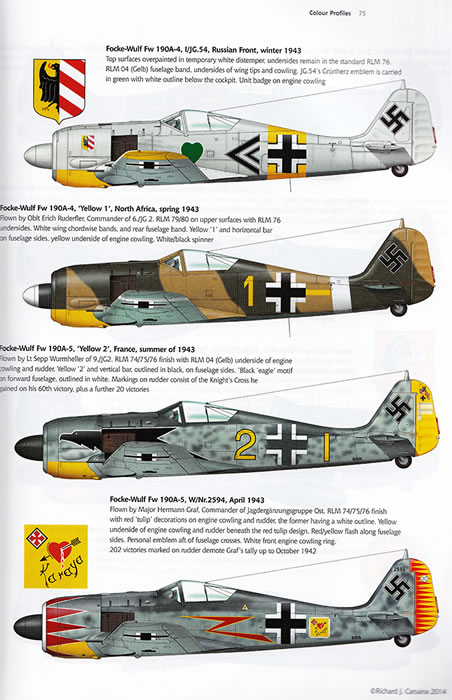 The following chapter looks at the specialised conversions, like the 2 seat versions, the turbo-charged V18 version as well as the initial versions changed to experiment with the DB 603 in line engine. It also looks at the new aircraft being built currently, which are replicas flown today. There are some varied and very interesting aircraft in this section.
The Camouflage and Markings section (21 pages) provides schemes used by the Luftwaffe in the various theatres and stages of the war. This includes some great coloured photos of these aircraft as well as a detailed set of drawings of squadron markings, cowl and RVD band markings as well as theatre marking, which are all in colour. It then moves into 6 dedicated pages of Richard J Caruana produced colour profiles and stencil data drawings, as well as many other interspersed through the pages giving you, the modeller a great range to reference your builds from.
This brings you to the end of the general sections and onto the more modeller specific sections as a series of Miniature Chapters.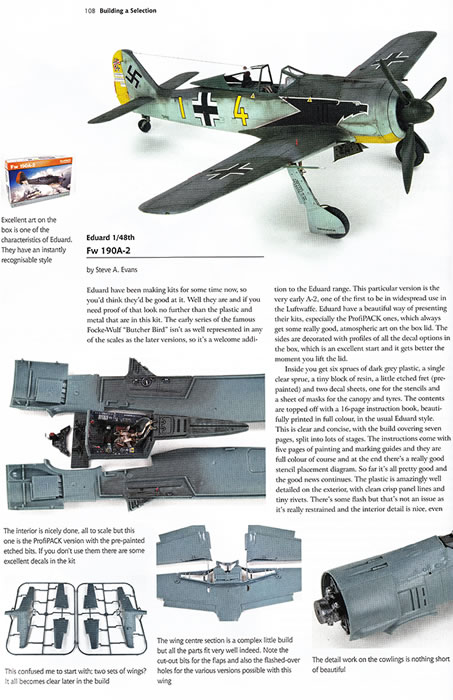 The first of these chapters is a look at Fw 190A to G kits. This 15 page section looks at a range of more popular kits in 1/144, 1/72, 1/48 and 1/32 scales from some of the major manufacturers such as Academy, Airfix, Eduard, HobbyBoss, Revell, Tamiya, Zvezda, Dragon, Hasegawa and Trumpeter and many others in a good deal of detail including how the model parts are presented such as wings, fuselage, tailplanes, propellers and canopies as well as decal schemes provided.
The next section on 'Building a Selection' section of the book of 26 pages with many photographs of stages of construction, covers the specially commissioned kit builds, showing construction of the following;
Airfix 1/72 Fw 190F-8 by Libor Jekl

Hasegawa 1/72 Fw 190A-8/R8 by Libor Jekl

Revell 1/72 Fw 190A-7 with Neptun radar by Libor Jekl

MPM/Revell 1/72 Fw 190S-8 by Libor Jekl

Eduard 1/48 Fw 190A-2 by Steve Evans

Tamiya 1/48 Fw 190F-8 by Dani Zamarbide

Hasegawa 1/48 Fw 190A-4/F-1 "Tunisia" by Steve Evans

Hasegawa 1/32 Fw 190A-5 by Steve Evans
The next mini chapter is one of 'Building a Collection'. This is a series of annotated isometric 3D line drawings by Jacek Jackiewicz detailing the differences between the various development and production airframes of these Fw 190 series. This is a detailed section of 45 pages with drawings within it. You will not be needing to find any more details on any specific version and variant in other reference material as it is so comprehensive.
Following along then is the 'In Detail: Fw 190A to G' chapter of 56 pages of excellent visual references for these version incorporating walk around photographs from surviving aircraft in museums, historical photographs from flight and maintenance manuals as well as still more isometric 3D drawings, especially of the many versions of the engine cowls. Information in this section is presented in itemised sections such as cockpits, engines, wings and so on. Again, incredibly and comprehensively detailed. These sections have provided that special emphasis for details that will be of most interest to modellers.
Finally we hit the Appendices, again specifically for modellers, lists all Fw 190 radial engined kits available, 4 pages of them, 7 pages of aftermarket accessories and a further 3 pages of aftermarket decals produced in all scales. The wealth of produced kits and associated products proves the high degree of interest in these aircraft.

It's good to see that there is also a bibliography of 2 pages including all previous book titles for the Fw 190A to G, so you may chase up further information for your references.
To finish up this great book is a gatefold section of drawings in 1/48 scale by Jacek Jackiewicz on heavy non-glossy paper with full drawings of a Fw 190 V1, A-3, A-6, A-8/R2 on one foldout and the Fw 190 A-9/R1 and S-8 plus supplementary detail drawings on the other foldout. Not only do we have comprehensive tradition 4 views but we are supplied with sectional views for all of the drawing versions apart from the S-8, which are very useful at times.
This book has been deliberately produced for the modeller, providing an absolute wealth of reference photographs and detail, profiles and anything else one could wish for to produce and accurate, and even a different Fw 190A to G version. To say this book is comprehensive would be an understatement. Currently I am building an F-8 version and with an Eduard A-8/R2 nearly at the top of my "to build" pile, this book will be my go to reference. I can't recommend this highly enough to all wishing to build a radial engined Fw 190 in any scale.
Thanks to Valiant Wings Publishing for the sample.
---
Review Copyright © 2019 by David Couche
This Page Created on 21 September, 2020
Last updated 22 September, 2020
Back to HyperScale Main Page
Back to Reviews Page