Desert Storm Vipers II
Preview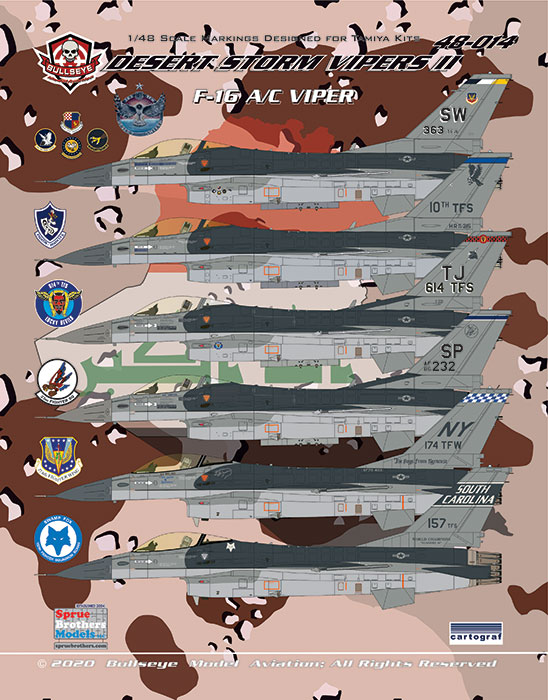 Bullseye Model Aviation, 1/48 scale


Eagle Cals Spitfire Decals are available online from :Squadron.com
Bullseye Model Aviation presents details of their next 1/48 scale release covering the F-16A and C in Operation Desert Storm. These will be exclusively available in the USA from Sprue Brothers and elsewhere internationally from The 48ers:
This is a couple of weeks out, just shipped from Cartograf today. 48-014 Desert Storm Vipers II.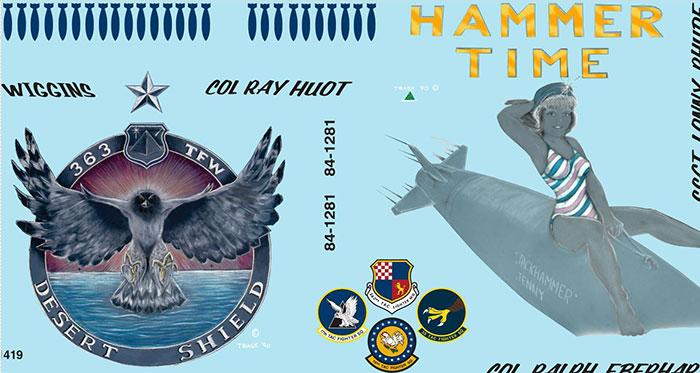 The sheet covers the F-16As and Cs of all the units who fought in Desert Storm except Hill and Moody, who are covered on an earlier release. The Shaw section includes jets that feature the art drawn on them by TSgt Warren Trask, and is some of the best combat art applied to US jets since Korea. The art is not recreated for this sheet, it is printed from hi resolution photographs of the actual art using a process that Cartograf developed to handle subjects like this. It's designed to be used exactly like a normal decal instead of a 2-part one that is applied over a white slug. All of the jets with art on this sheet use this process. It's the actual art, shrunk 48 times smaller than the original. The rest of the sheet covers the jets from Torrejon AB based at Doha in Qatar and Incirlik in Turkey, Hahn AB based in the UAE, Spangdahlem based at Incirlik and both Air National Guard units based in Saudi Arabia. One unusual jet is from Shaw, and it has a temporary 2-tone tan/brown scheme that was used for a couple of weeks during Desert Shield. I eventually uncovered a few color shots of it after digging on it for years.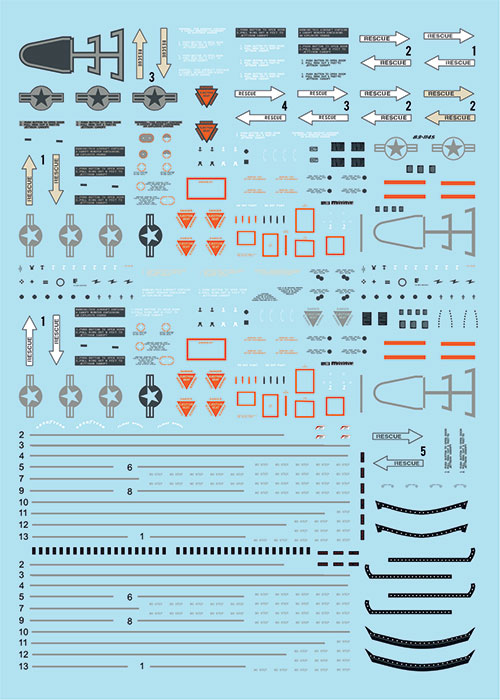 The sheet includes specific unique stencils for the various units, and a set of specific one for the camouflaged jet. The instructions run 26 pages and are really more of a book covering operational and markings history than placement guides. They include a complete breakdown of the various production blocks on the jets, and extensive configuration diagrams.
Available from Sprue Brothers in the US and The 48ers overseas.

https://store.spruebrothers.com/category_s/2644.htm

https://the48ers.com/
Information and images provided by Bullseye Model Aviation
---
Text Copyright © 2019 by Bullseye Model Aviation
This Page Created on 16 October, 2020
Last updated 16 October, 2020
Back to HyperScale Main Page
---