Fokker Dr.I Triplane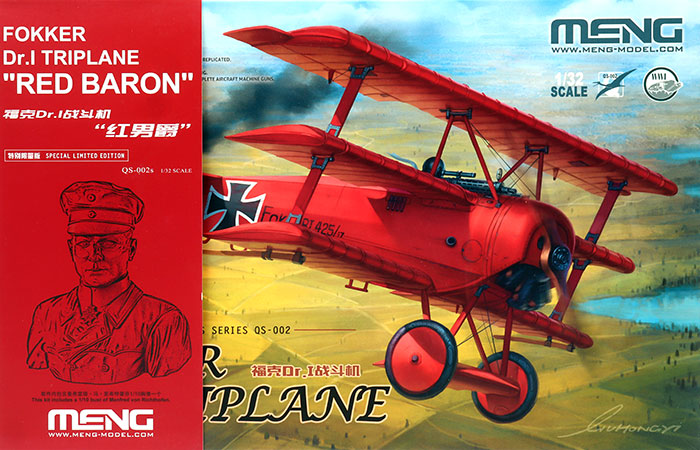 Meng Model, 1/32 scale
S u m m a r y :

Description and Item No.:

Meng Model - Fokker Dr.I Triplane. Kit No. QS-002

Contents and Media:

112 parts in grey plastic, four parts in clear plastic, 15 photo-etched parts on a single fret and markings for four options.

Price:

Limited Edition including von Richthofen Bust - £80.99 plus shipping EU Price (£67.49 Export Price) available online from Hannants

Standard Edition (model only) - £62.99 plus shipping EU Price (£52.49 Export Price) available online from Hannants

and hobby outlets worldwide

Scale:

1/32

Review Type:

First Look

Advantages:

Thoughtfully engineered; outstanding representation of fabric, tape and general surface detail; high quality mouldings with fine sprue attachments; useful options; photo-etched seat belts snd machine gun cooling jackets; well illustrated and logically laid out instruction booklet.

Disadvantages:

Possible breakages or warpage of wings - check your kit.

Recommendation:

It is very pleasing that this 1:32 scale Fokker Dr.I has seen the light of day. Detail is excellent and the small parts count combined with minimal struts and rigging means that it will be an ideal subject for modellers wanting to chance their hand on their first WWI aircraft model..
Reviewed by Brett Green

The Fokker Dr.I (Dreidecker, "triplane" in German), often known simply as the Fokker Triplane, was a WWI fighter aircraft built by Fokker-Flugzeugwerke.
The Dr.I was designed in response to the appearance of the Sopwith Triplane over the Western Front in early 1917.
The Fokker Dr.I saw widespread service in the spring of 1918. It became famous as the aircraft in which Manfred von Richthofen gained his last 19 victories, and in which he was killed on 21 April 1918.
Compared with the Albatros and Pfalz fighters, the Dr.I offered exceptional manoeuvrability. Though the ailerons were not very effective, the rudder and elevator controls were light and powerful. Rapid turns, especially to the right, were facilitated by the triplane's marked directional instability. Vizefeldwebel Franz Hemer of Jasta 6 said, "The triplane was my favourite fighting machine because it had such wonderful flying qualities. I could let myself stunt – looping and rolling – and could avoid an enemy by diving with perfect safety. The triplane had to be given up because although it was very manoeuvrable, it was no longer fast enough."
As Hemer noted, the Dr.I was considerably slower than contemporary Allied fighters in level flight and in a dive. While initial rate of climb was excellent, performance fell off dramatically at higher altitudes because of the low compression of the Oberursel Ur.II, a clone of the Le Rhône 9J rotary engine. As the war continued, chronic shortages of castor oil made rotary operation increasingly difficult. The poor quality of German ersatz lubricant resulted in many engine failures, particularly during the summer of 1918.
The Dr.I suffered other deficiencies. The pilot's view was poor during take-off and landing. The cockpit was cramped and furnished with materials of inferior quality. Furthermore, the proximity of the gun butts to the cockpit, combined with inadequate crash padding, left the pilot vulnerable to serious head injury in the event of a crash landing.*
The gestation of this kit is interesting, to say the least. This kit was originally designed by Wingnut Wings. At the time of Wingnut Wings' heartbreaking closure, their 1:32 scale Fokker Dr.I was late in development and the manufacture of the plastic parts had been contracted to Meng Model.
With the demise of Wingnut Wings, Meng took over the moulds, produced the instructions, decals and packaging, and released it under their own label.
The commercial arrangements are not known publicly, but there is no suggestion of foul play.
We are therefore left with a bittersweet outcome – the release of this keenly anticipated 1:32 scale Fokker Dr.I but the end of the Wingnut Wings era.
Meng Model's 1:32 Fokker Dr.I comprises just 112 parts in grey plastic, four parts in clear plastic, 15 photo-etched parts on a single fret and markings for four options. The modest parts count will be even smaller than this as around a dozen parts are either not used or options.
Each of the three wings is supplied as one full span piece each. This is a pretty neat piece of moulding.
Moulding quality is very good on my sample. The only issue is that one small section of cockpit coaming moulded to the middle wing via a very thin piece of plastic has broken off. This is a commonly reported issue with many of modellers who have received this kit. This does not seem to be a moulding problem – the section has broken off after moulding and, as the small piece was in the plastic bag, probably after packing.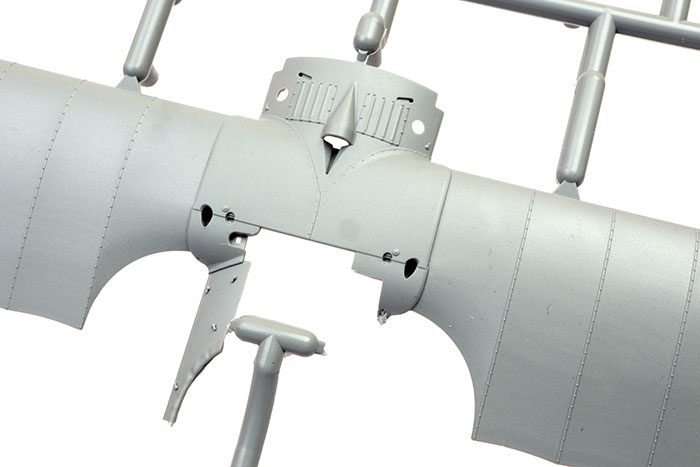 This really should not be a big deal to fix. I will wait until I have secured the middle wing to the fuselage then glue the small piece onto the mid-upper fuselage and the middle wing simultaneously.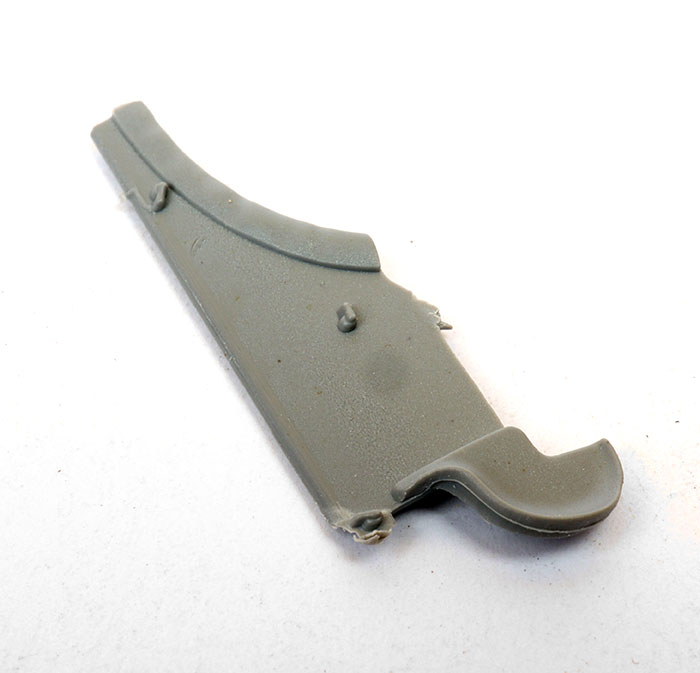 Others have reported that their wings are warped but they are perfectly straight on my sample.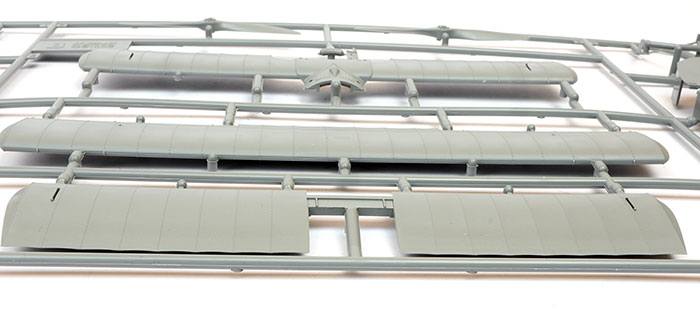 If yours are warped, a short dunk in hot water followed by bending the wings should fix the issue. It is also possible that the warpage will sort itself out once the wings are glued to the fuselage and the struts.
You will be pleasantly acquainted with the features of this model if you have built a Wingnut Wings kit before. Cockpit detail is well done, including photo-etched harness straps. An optional seat cushion is included, as are alternative control columns. Interestingly, the completed cockpit is trapped in place with one tab and one large round locating circle on the inside of each fuselage half. No glue is required.
The twin Spandau machine guns are treated to perforated photo-etched cooling jackets.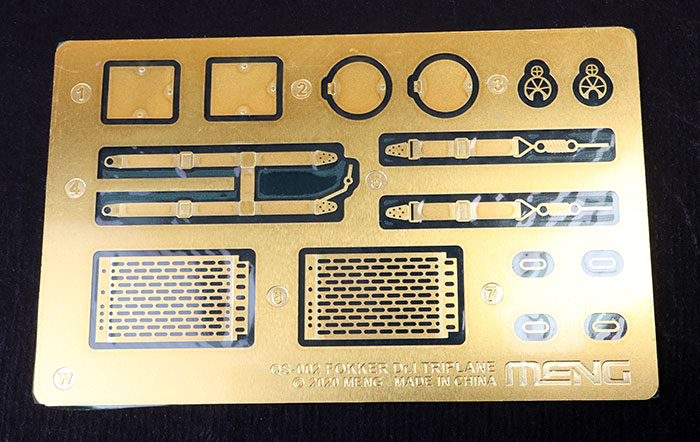 Alternative parts are offered for forward fuselage access covers, the rudder, horizontal stabilisers (elevators are moulded in the neutral position), ailerons, wheels, windscreens, propeller assemblies and forward engine cowling. Optional flare pistols with stowed rounds are included too.
Stretched fabric texture and rib tapes are as nicely done as you would expect.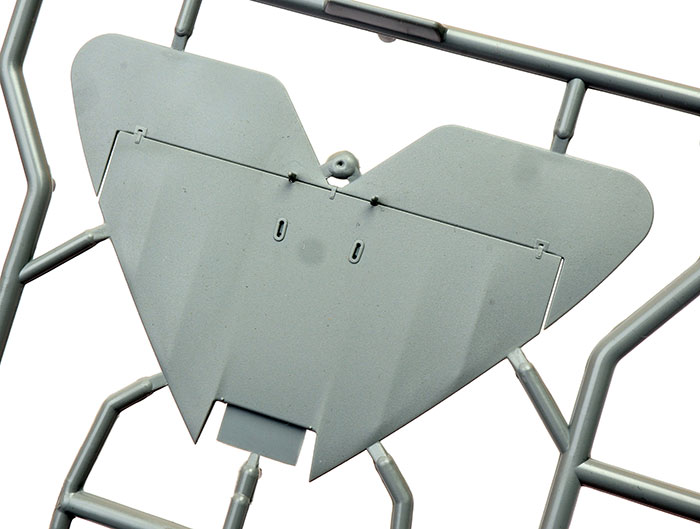 One feature of the fabric is missing however – the upper leading edges featured triangular shapes which are visibly raised under the stretched fabric. If you're keen, you could probably recreate this with tape and putty.
Struts are at an absolute minimum, and rigging is likewise rare, making this a good prospect for a first-time WWI modeller. There are only four stout, single cabane struts bracing the wings plus two simple pairs of interplane struts moulded as one piece per side. A few rigging wires are present between the undercarriage struts and the interplane struts. There is no rigging diagram in the instructions but it is illustrated pretty well on the box art.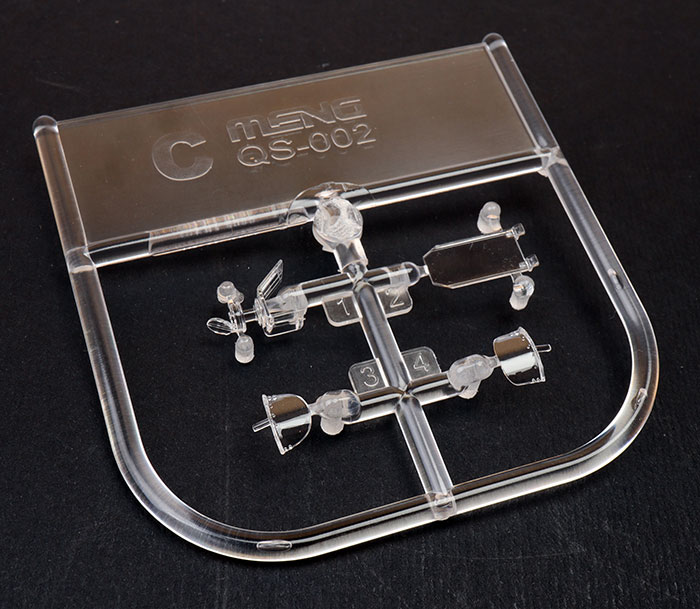 The instructions are supplied in a 24 page booklet. These are in the style of recent Meng releases rather than Wingnut Wings. Each of the 19 assembly steps is well illustrated in different colours to draw attention to options and important elements. AK and Acrysion paint numbers are called out during assembly. It might have been nice to see some of the other paint companies listed too, but the names of the colours are quoted so it won't be too difficult to translate to your favourite brand.
---
Markings
Four marking options are offered.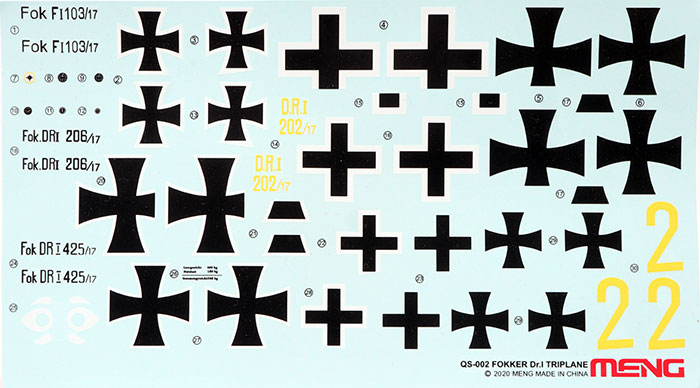 The first is von Richthofen's famous all-red Dreidecker.
The remaining three options feature streaked Fokker fabric and light blue lower surfaces with different panels and patches for some interesting schemes. One is fairly low viz, another features a white tail and empennage and the final option has a yellow and black tail with large yellow "2" digits.
Streaked fabric decals are not supplied.
Decals are printed in China. Registration and colour looks good and they are flat in finish.
Manfred von Richthofen 1:10 scale Bust
Meng is offering a Limited Edition of the kit that includes a resin 1:10 scale bust of the Red Baron, Manfred von Richthofen. This is presented in two pieces of grey resin.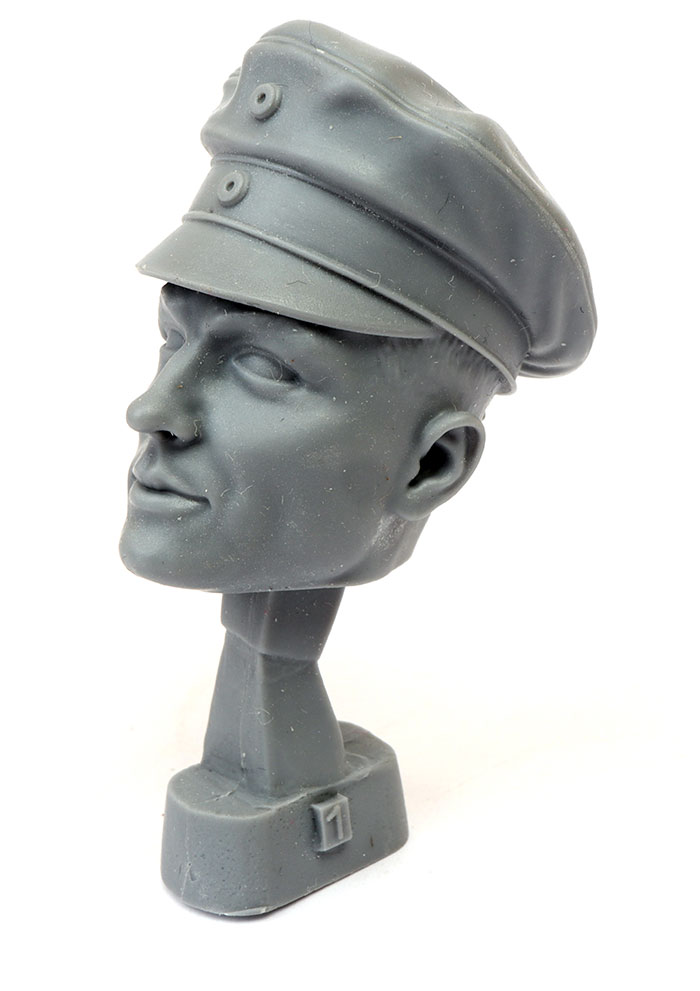 Casting is perfect with no imperfections and small casting plugs, so clean-up will be a breeze.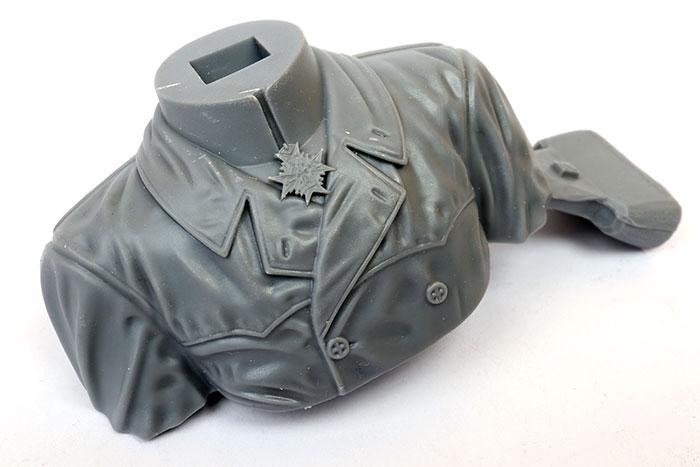 If you are a figure modeller as well as a WWI aircraft aficionado, this will be the release for you!
A standard edition without the bust is also available.
It is very pleasing that this 1:32 scale Fokker Dr.I has seen the light of day.
Detail is excellent and the small parts count combined with minimal struts and rigging means that it will be an ideal subject for modellers wanting to chance their hand on their first WWI aircraft model.
If your kit suffers from either of the two commonly reported problems – the broken coaming and warped wings – they should be straightforward to repair, although I have heard that Meng will happily replace the sprue if you prefer.
I'll look forward to see if Meng continue with the WWI theme in future.
* Historical summary adapted from Wikipedia - https://en.wikipedia.org/wiki/Fokker_Dr.I
Thanks to Meng Model for the sample
---
Review Text and Images Copyright © 2020 by Brett Green
Page Created 24 September, 2020
Last updated 24 September, 2020
Back to HyperScale Main Page
Back to Reviews Page