FiSk 199
Converting the Hasegawa Bf 109G-2
by Henri Vanderstraeten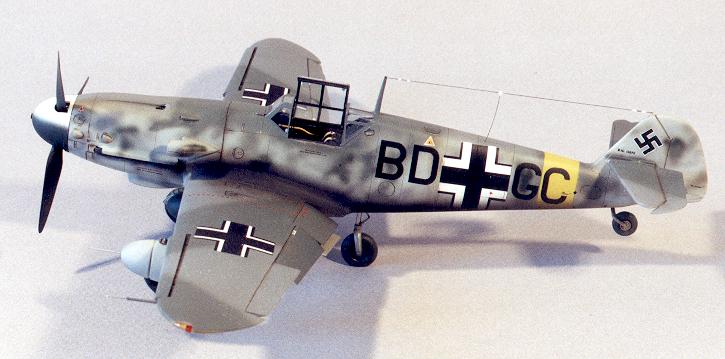 FiSk 199

One of many experiments with the Bf 109 airframe was the attempt to make it carry (and deliver) a 500 kg bomb. Fieseler in Kassel did the design work and Skoda (in Bohemia & Moravia) built the prototype which was designated FiSk 199.
A Bf 109 G-0, BD + GC, was converted to test the development potential. The DB601 was replaced by a DB 605, one R4 drop tank was added beneath each wing, as well as an ETC500 bomb rack under the fuselage. To clear the large 500kg bomb from the ground during take off, a third main landing gear leg and wheel was plugged in a middle position in the fuselage, right behind the pilot's seat. After take off, the supplementary wheel was jettisoned back to earth with a parachute. Some tests were made but didn't lead to production.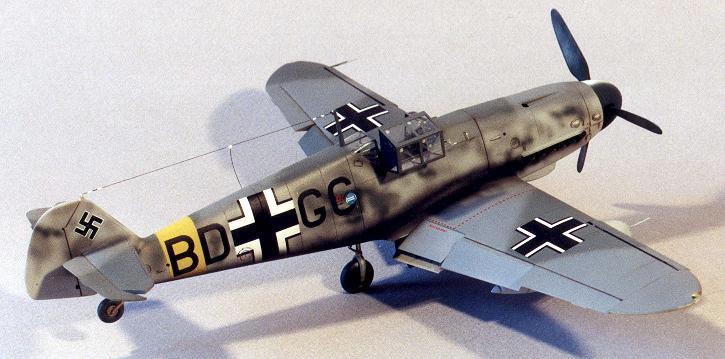 To make my model, I choose Hasegawa's beautiful 1/48 scale Bf 109 G-2 kit. I really like this kit, as it is simple, accurate and easy to convert to a multitude of versions. There are also plenty of decals and after market detail sets available.
The cockpit was detailed with the set from Cooper Details, one of the best on the market in my opinion. All moving surfaces were cut and replaced at an angle, for added realism. To make the wingtip lights, I drilled a tiny hole in a piece of clear acrylic and I filled it with the according clear red or green paint. It was then glued in place, filed to form the wingtip contour and polished.
The third landing leg was made from aluminium tubing and plastic card, and the wheel came from the spares box. The large 500 kg bomb came from the old Fujimi Bf 109 G/K kit and was detailed with new fins from plastic card.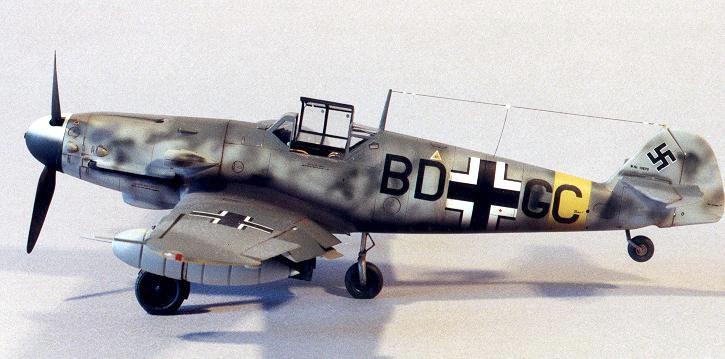 The cockpit was pressurised and the moving part of the canopy was therefore modified accordingly by adding a plate behind the pilot's head. I used a piece of clear plastic, where the two small triangular windows were masked before painting RLM 66 as the rest of the cockpit.
The rest of the kit was built as per the instructions, and the camouflage painted with Aeromaster acrylics. I usally used as few decals as possible, I thus painted the crosses directly onto the model, using frisket paper masks. I would have done the same with the codes, but three sets of « rounded » letters were too much for my patience at the time ! I confess I used decals…
This was a pleasant and quite easy conversion to make and I hope you enjoy the result as much as I did the work.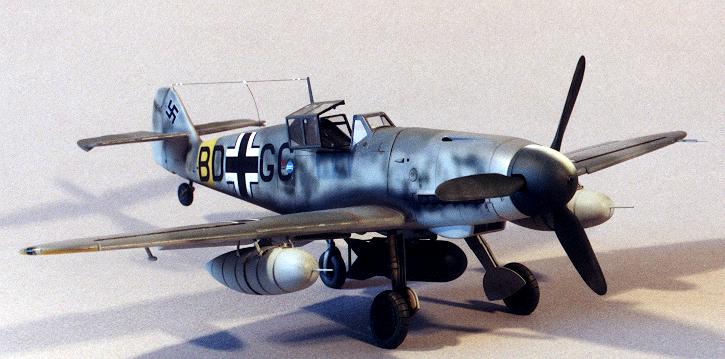 ---
Article, Images and Model Copyright © 1999 by Henri Vanderstraeten
Page Created 16 September, 1999.
Last updated 26 May, 2007.
Back to HyperScale Main Page
Back to Features Page