Focke-Wulf Fw 190A-8/R8
by E. Brown Ryle III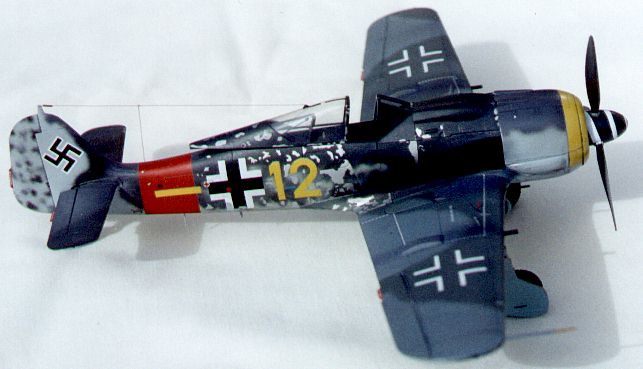 Focke-Wulf Fw 190A-8/R8
6./JG300, Yellow 12. Uffz Pau1 Lezfield
Brown Ryle will be known to many HyperScale visitors as the creator of Kommandeur Decals/Resin Products and the co-author of the Squardon/Signal Fw 190D Walk Around book. As we see tonight, Brown also builds very fine models!

The basic kit is DML's 1/48 Fw 190A-8 converted using Resin Bits and the MSAP A-8/R8 decal sheet released a few years ago.

Cockpit
The Eduard detail set was installed with a few other replacement items. MASP seat/shoulder belts were installed, Airwaves rudder pedals were appropriately "hung" from the bar and the floor was corrected. Other details were improved including the control stick (with the addition of electric gun firing wire), throttle friction control, and additional wiring/tubing located in lower cockpit.
Fuselage
The bottom of the forward fuselage has #8 cylinder exhaust added. The auxilliary tank was detailed. The fuselage upper has MG131 covers installed with interiors of both opened. The upper spine panel line corrected.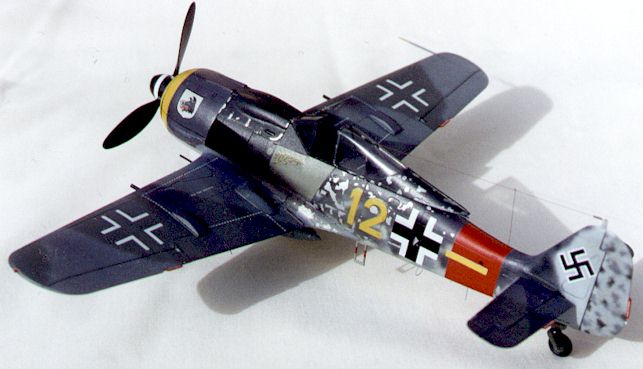 Canopy
A Squadron Vac-u-form canopy was added to the kit interior . Head armor bracing was detailed.
Antenna
The antenna is small diameter copper wire correctly attached at both ends. Resistors were simulated, plus a tension spring at the tail and sag in vertical antenna wire (for open canopy configuration ).
Wings
30mm panels were added. 20mm and 30mm ejection ports were opened and interiors detailed. "Detail Tube" supplied the 20mm and 30mm gun barrels. "Premier Plus" wing lights finished off the wings.
Wheel wells
Eduard parts were used to detail the wheel wells. The cowling l3mm ammo trays and link/empty case chutes (and bracket) removed. Attachment points/guides for chutes were retained and fuel filters (for FWl90A-7/8, F-8) added to the firewall. The inner gear door actuator arm outer attachment point (left-over from earlier A series) were added. 20mm barrel shrouds include weld lines. Various holes and wiring were also added.
Landing gear
Brake lines and retainers, plus gear up/down lock electrical indicators were added, and torque links detailed. Oleo covers were added (for this particular aircraft). Tail wheel retract wire added to right strut. True Detail tires.
P a i n t i n g a n d D e c a l l i n g
Painting
The subject aircraft has a rebuilt and repainted fuselage with a new powerplant. Grays 74/75/76 have been used for the new paint job. The wings are rebuilds with upper & lower faded 74/75/76 paint.
I painted the aircraft with ALCLAD type O overall. Portions of the painted surface have been removed to simulate paint peeling and flaking from the airframe per the original appearance of Yellow 12.
Paint and Decal Resources Used
Aeromaster, Modelmaster, Floquil and Testor's paints. ALCLAD. MSAP, Scalemaster and Aeromaster decals.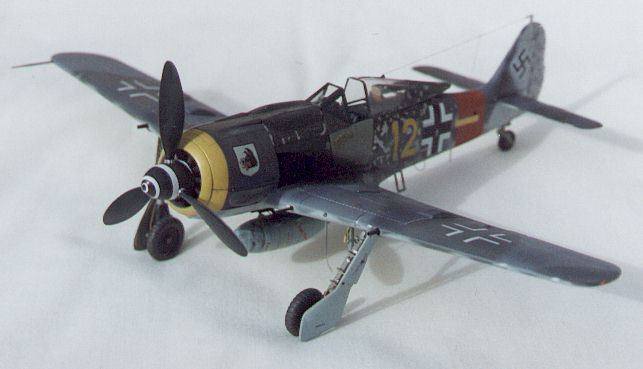 Model Art FWl90A/F/G, Aero Detail Fw l90A,
Squadron-Signal FW190,
JG26 Pictorial History,
Planes of The Luftwaffe Fighter Aces vol.Il,
Aircraft and Legend FW190.
Le Focke-Wulf 190.
Fw190 Luftwaffe Rivet Manual, dtd1940.
Private photographs.
Special information provided via Rio Hondo, Texas.
---
Article, Model and Photographs Copyright © 1998 by E. Brown Ryle III
Page Created 28 September, 1998.
Last updated 26 July, 2007.
Back to HyperScale Main Page
Back to Features Page