Douglas A-20G Havoc
by Mark Mallinson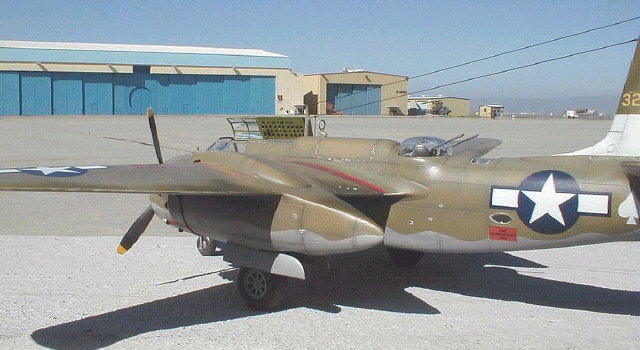 Douglas A-20G Havoc
This is AMT/ERTL's 1/48 scale A-20G Havoc.
I was pleasantly surprised to see that you get a lot of kit for the money. Along with the True Details resin wheels (a necessity!), resin life raft and some shoulder/seat belt harnesses, the whole thing only cost around $13.00 USD's.
Four words accurately describe this kit: Good styrene, bad decals.
Using tips from Brett's great RAAF Boston III article, I wound up making quite a few modifications to the base kit. They include:
Hollowed-out the exhaust stacks.

Opened up the exhausts ports on either side of the carburetor intake (above the engine nacelles).

Simulated battle damage using a hot #78 drill bit.

Rather than using the kit's 12.7mm machine guns, I used a combination of styrene tube and the kit's 20mm cannon, which were cut down to size and then hollowed out for effect.

The cockpit was dressed up with True Details resin life raft, and buckles for shoulder and seat belts.
I did have some trouble on mating the cockpit floor and front wheel well to the front bulkhead. At one point, I realized it wasn't all fitting together as shown in the directions. A little plastic surgery to disassemble the pieces and start over solved the problem.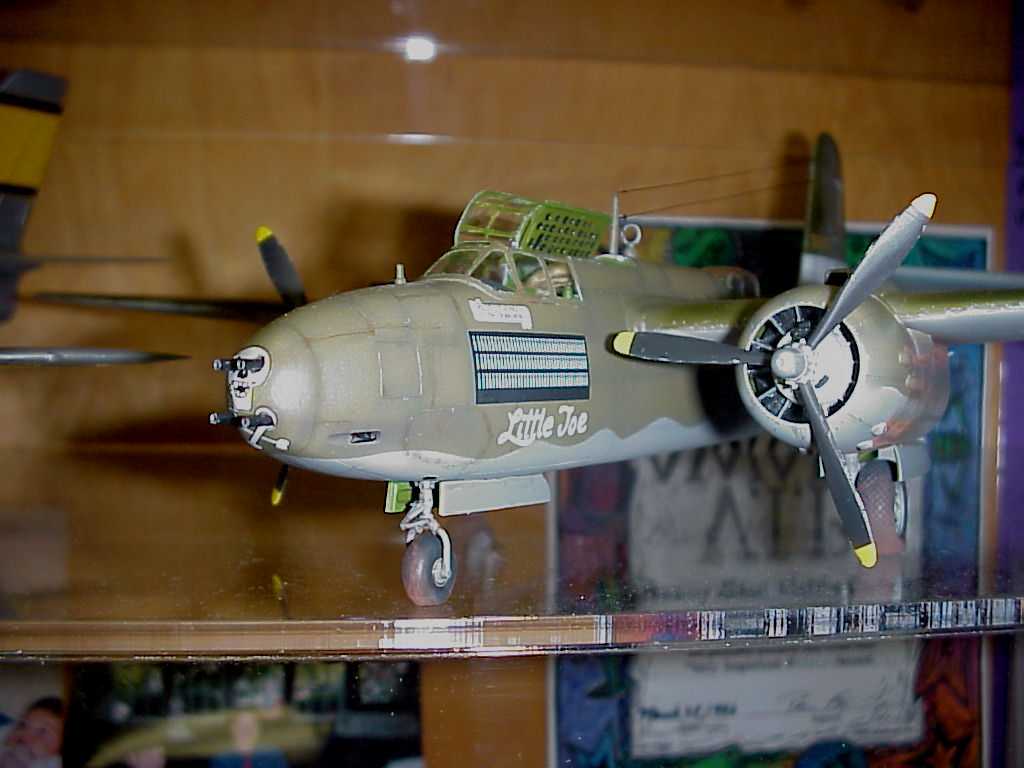 Using Brett's tips, the kit was not much trouble at all. Everything else had no significant fit problems.
I used a combination of Model Master acrylics and enamels. Two different acrylic olive drabs were used to add depth and fading effect. My reference photos from the South Pacific show these aircraft with severely faded, chalky and weathered paint on the upper and upper/side surfaces.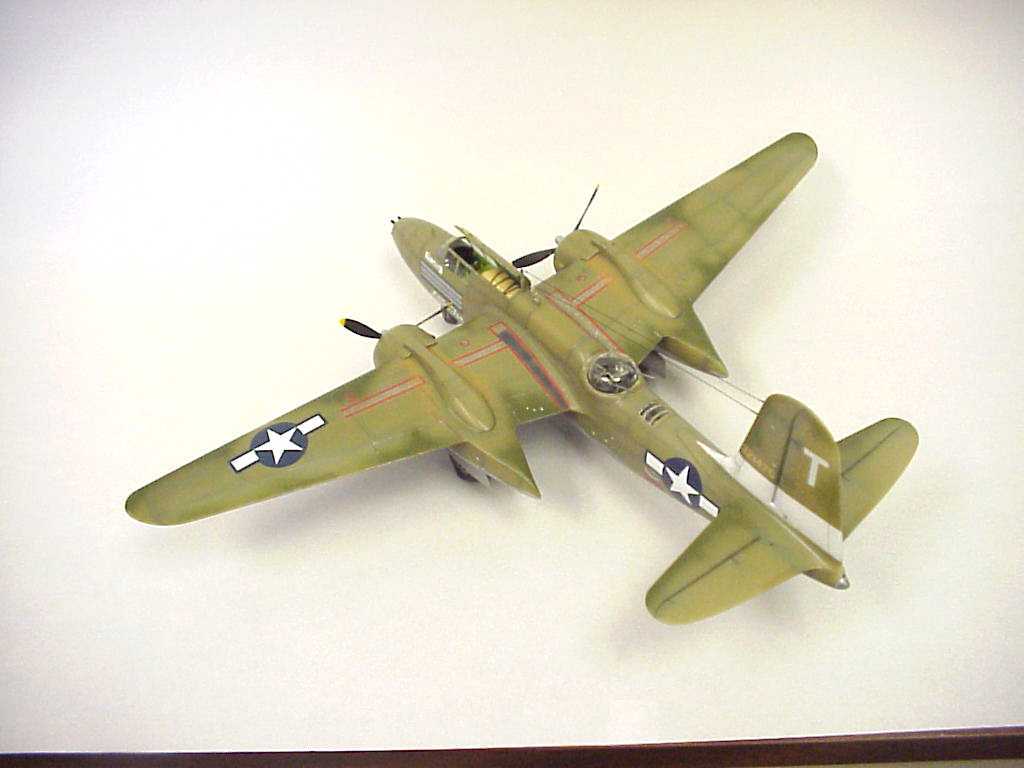 The darker green around the edges of the wings and tail surfaces were done in enamel. Unfortunately, it didn't want to stick to the multiple layers of Future and paint!
I really liked the box art, and my only reference on this aircraft had several good photos of aircraft from the 312th BG with their skull and crossed bones painted on their noses. So, of course, I tried to use AMT's decals. Big mistake. All of the decals were terribly out of register.
With careful trimming, I was able to use those decals that I couldn't scrounge from my spares box. The skull and crossed bones decals took many applications of SuperSol to get them to almost conform to the compound curvatures of the nose. Eventually, I had to cut slits in the raised folds around the decal's edges and overlap the excess. Like covering a tennis ball with a flat sheet of paper, it took some work to conform to the shape.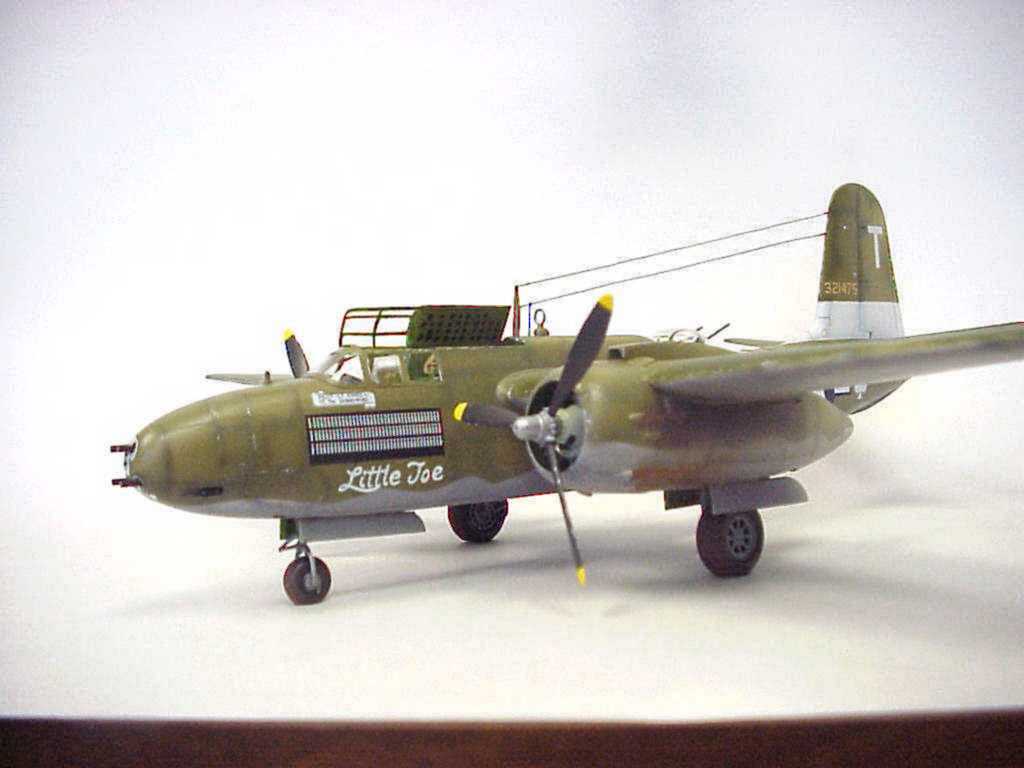 The most time consuming decal fix were the red walkway stripes. The AMT's have "clear" film between them that leave an ugly milky mess underneath. I refused to put up with that, so I carefully removed them, and then made individual stripes from strips of red decal material. Measuring, cutting and getting both sides to look the same added many additional hours to this kit. Waldron's expensive, but handy punch and die set was used to make red fuel tank rings with the same material.
For the worn walkway, I used Post-Its to temporarily mask the area and dark grey.
Panel line detail was subtly emphasised by pre-shading with black and washing them with thinned burnt umber enamel after painting.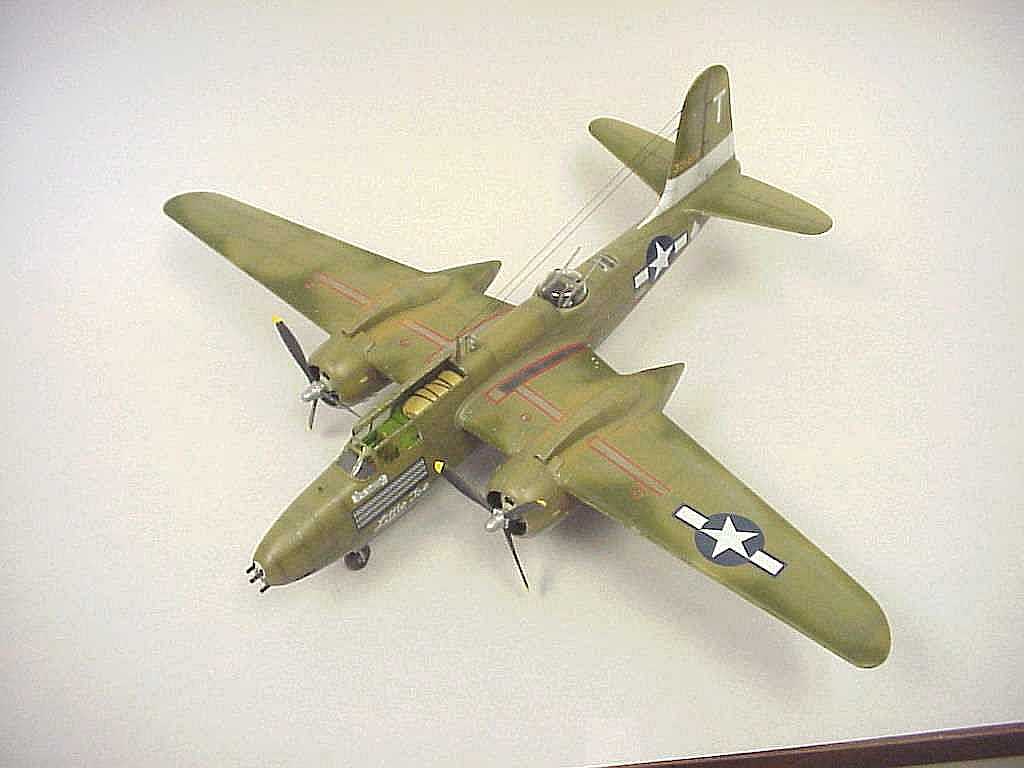 Plenty of chrome silver was used to show paint chipping on leading edges and on frequently accessed panels.
With the exhausts all opened up, I added staining using a combination of Tamiya smoke undercoat and rust on top.
This is not a bad kit for the money, but you must buy the True Details resin wheel set (Brett's article talked about the ridiculous kit wheels). After-market decals would be a good idea too. So you may end up paying nearly twice in the end as you did for the original kit, but even then, the end result is big, fairly well detailed and represents an often overlooked aircraft of WW2.
---
Model, Text and Images Copyright © 2000 by Mark Mallinson
Page Created 20 June, 2000
Last Updated 26 July, 2007
Back to HyperScale Main Page
Back to Gallery Index