Arado Ar 234B
by Glenn Irvine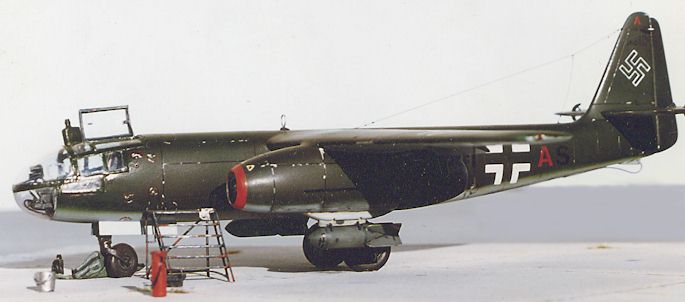 Arado Ar 234B
Ofw. Friedrich Bruchlos of 8./KG 76
Three More Images in the Text and Four More Thumbnailed at the Bottom of the Page

The Arado 234 was unique in W.W. 2. It was considered capable of flying high enough and fast enough to not be require any forward firing guns and, as it turned out the planned rearward firing guns were never fitted either. A clean design, the Arado was the best of the German jets to fly. With its big glasshouse exposing the cockpit, I just had to build it.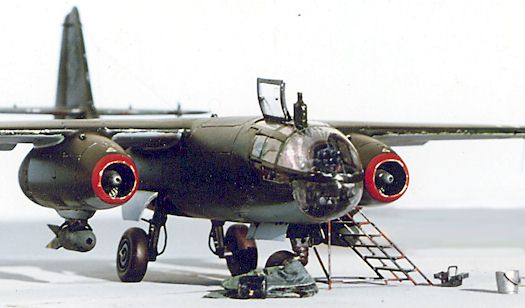 I chose to rebuild an old Lindberg model as I couldn't find a Frog kit at the time.(late 80's) I didn't realise at the time that I would have a Frog kit just before I finished this model and that Dragon would have a new kit out within a couple of years!! As anyone who has seen or has built this kit knows, there is not much to it. I decided not to attempt to correct to narrow fuselage and see what could be done with it as was. Not much I hear you say... but read on.
The model was built to represent the aircraft flown by Ofw. Friedrich Bruchlos of 8./KG 76 during the attack on Remagen bridge.
All panel lines were rescribed
The outline of the turbine housings was altered to the correct shape and angle to the wing
Inlet and exhaust cones recast in resin using more accurate masters from the Hasegawa 262 in 1/72
Small air scoops were added to the nacelles
New bomb racks were built to suit
All control surfaces were removed, thinned down and reattached in a 'disturbed' position
Hinges were constructed and added to the tailplane empennage
Trim tab actuators were added to the appropriate positions
The braking parachute cable and anchor point scratchbuilt
All navigation lamps scratchbuilt from clear sprue with coloured 'bulbs' drilled from the rear
Fug 25 loop aerial and mount scratchbuilt
Pitot tube from hypodermic tubing and aerials from VERY fine wire
Wheel well detail completely scratchbuilt
All oleo legs scratchbuilt,main legs from brass tube, plastic and lead wire.The nose oleo from plastic, the wheel covers from heat formed plastic sheet, and the main wheel hubs scratchbuilt to correct configuration.
Cockpit interior was scratchbuilt from plastic and wire, also a set of Model Technologies rudder pedals & buckles.
The cockpit canopy was press formed from acetate sheet and assembled from several pieces.
The cockpit hatch & frame etc was scratchbuilt. The small clear panel was simulated with scotch invisible tape
The periscope was also scratchbuilt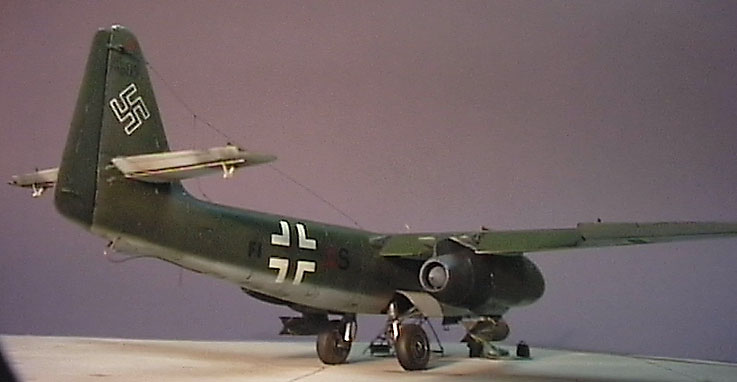 The model was painted with Model Master enamels mixed to match the colour chips in the Kookaburra book - "Luftwaffe Painting uide for Modellers". Decals came from the spares box and a Letraset rub-down lettering sheet. Weathering consisted of washing the panel lines with dilute artists oils in black and grey, and some slight chipping with silver. The ground equipment was scratchbuilt. The cockpit was washed with thinned black and brown and drybrushed to lift the detail.
---
Model, Article Text and Photographs Copyright © 1998 by Glenn Irvine
Page Created 03 August, 1998
Last Updated 26 July, 2007
Back to HyperScale Main Page
Back to Features Page