B-58 Hustler
by Steve Hawley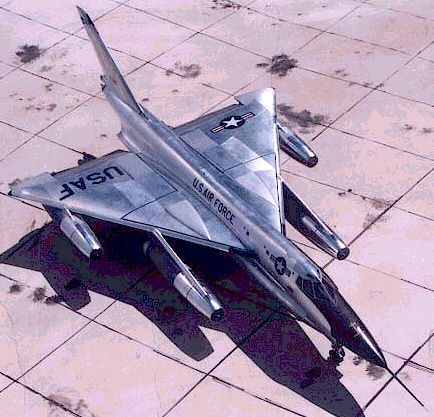 B-58 Hustler
You know, you have to hand it to Monogram. They've got the courage to build models other manufacturers wouldn't dream of tackling.
Where are Hasegawa, Tamiya, etc when it comes time to offer a 1/48 scale B-29, B-17, B-24, B1-B as well as a 1/72 B-36? Unbelievable. It is true that all of Monogram's kits require quite a bit of detailing to make an impressive model but it beats the hell out of scratchbuilding these planes!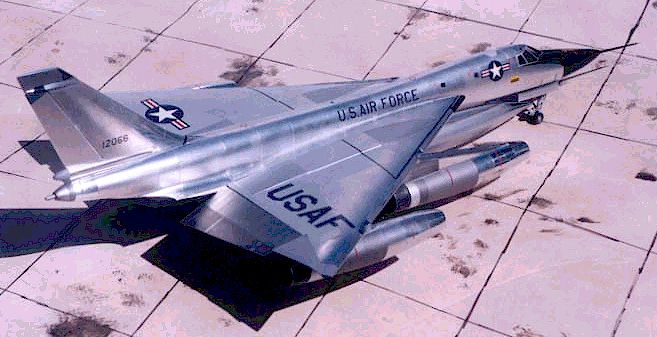 Such is the case of Monogram's 1/48 B-58 Hustler. The best part of all Monograms kits are their overall accuracy. From every angle they have the look and the soul of the actual aircraft. But like all their kits, there's room for improvements.
Here is a list of details that needed attention:
1. Remove all raised panel lines.
2. Rear tail gun cover is wrong and needs to be sanded into more of a cone shape.
3. Small fuselage windows (behind windscreen) are in the wrong position and need to be
re-contoured. Replaced with clear plastic and sanded to shape.
4. Rudder gaps excessive and need to be filled.
5. Main gear doors molded together...separate.
6. Remove large left and right pitot tubes.

7. Fill molded gash in front of left windscreen.
8. Engine spikes need to be relocated behind
mounting point rather than in front, for
proper appearance.
9. Rear fillets poorly enginneered. Sand edge
sharp before installing and fill.
10. Pylon to wing fit poor.
11. Add styrene to leading edge at contact point of fuselage. Also chord too thick.
12. Decals are useless unless you trim clear film very carefully.
13. Pod on trailing edge of tail needs to be greatly reduced in size.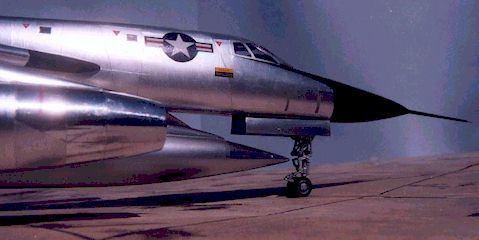 The landing gear is surprisingly well detailed though the instructions are a little vague. I found it amusing that the box model photo left two pieces off the nose gear. Thanks to Jaj Miller's B-58 book, I found their location. Don't even try to build this model without Jay's book. It was a lifesaver more than once.
I finished my B-58 with kitchen foil. As they say, " it looks like metal because it is metal". Every panel line you see on this aircraft is a real panel line between separate pieces of foil. I hope to do an article for Hyperscale on this technique in the near future.
I strongly recommend the Monogram B-58 for all who are interested in a model that captures the real beauty of the world's first supersonic bomber. Your patience will be rewarded.
Click the thumbnails below to view images full-sized.
Click the "Back" arrow on your browser to return to this page.
---
Models, Description and Images Copyright © 1999 by Steve Hawley
Page Created 24 October, 1999
Last Updated 26 July, 2007
Back to HyperScale Main Page
Back to Features Index