Messerschmitt Bf 109E-4
by Fred List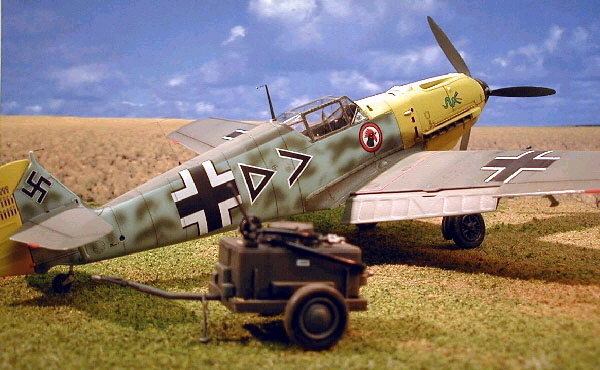 Messerschmitt Bf 109E-4
Hptm. Hans Von Hahn, Gruppenkommandeur I./JG 3 "Udet", France 1940
This is the Tamiya Bf-109 E-4 in 1/48th scale. Stationed in North Western France in the summer of 1940. It was flown by Gruppenkommandeur Hptm. Hans von Hahn. Assigned to I Gruppe of Jagdgeswader 3 'Udet', this aircraft saw action in France and the Battle of Britain.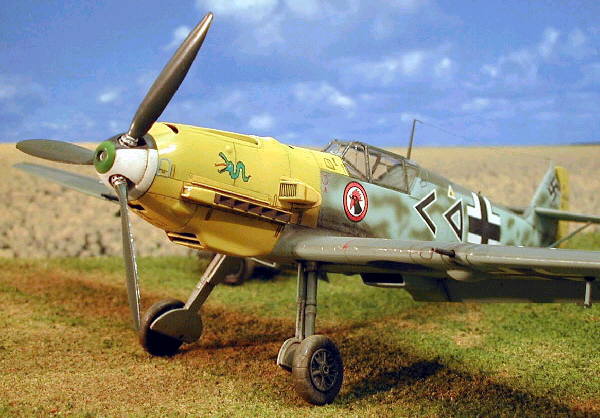 I elected to build this kit straight from the box with no aftermarket accessories except for the Aeromaster decals. As is the norm with Tamiya's kits, it went together without a hitch. I made the seatbelt/harness from masking tape, brass and copper wire. The antenna is made from nylon/Lycra thread from a knee-high stocking (not mine). I find that these threads are the best thing to use to model antenna, because you can really get the correct scale thickness and they take superglue very well. I wanted to concentrate on improving my airbrush technique by trying a mottled Luftwaffe scheme.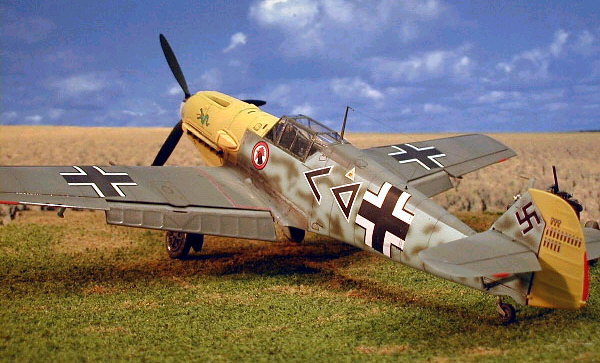 I did learn some surprising (to me), things in researching this aircraft. I expected the borders between the camouflage colors to be the feathered edge we normally see on Luftwaffe aircraft. However, quite a number of photographs of JG 2 and JG 3 aircraft (and probably some others) in 1940 show a very sharp delineation between the colors. The Aeromaster painting guide showed feathered edges, but I elected to follow the photographic evidence.
Also I expected there to be armor plating behind the pilot in the E-4 version of the Bf 109, but I saw many photos of E-4's without it even during the Battle of Britain. I elected to leave it off this aircraft assuming that for most aces, better vision is more important than armored protection. If anyone has evidence to the contrary, I've kept the armor plate and can easily put it on.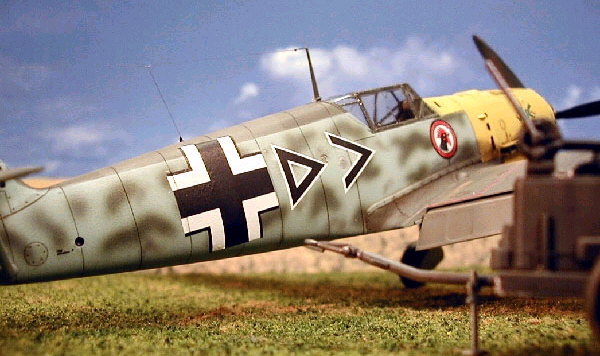 This was a definitely a low stress kit, but one that produces a fine finished model.
Click the thumbnail to view the image full size.
Use the "Back" arrow on your browser to return to this page.
---
Text and Images Copyright © 2000 by Fred List
Page Created 01 August, 2000
Last updated 26 July, 2007
Back to HyperScale Main Page
Back to HyperScale Features Index