Messerschmitt Bf 109G-10
by David Anderson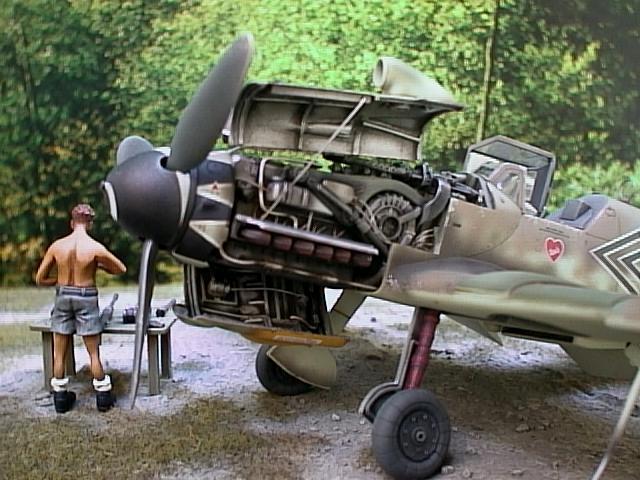 Messerschmitt Bf 109G-10
Erich Hartmann, Gruppenkommandeur, I./JG 52, Germany, April 1945
There has been no complete picture found to date of this highly speculative aircraft flown by Gruppenkommandeur Erich Hartmann. However one close-up photo of Hartmann standing next to this aircraft with the engine cowling in view gives some indication that it may a Messerschmitt Bf 109G-10.
In the absence of more complete photographic evidence, I have portrayed the aircraft as a Messerschmitt Bf 109G-10 (HyperScale visitors may also see Matthew Walker's Bf 109G-10 in these markings but converted to represent the streamlined port-side faring).
For this project, the aircraft wears a scheme of RLM 81, 82, 84 camouflage; with the fuselage band, aft lower cowling and wingtip undersides finished in RLM 04 Yellow.
The aircraft possibly had red landing gear struts, indicating the requirement for 100 Octane fuel to maintenance personnel.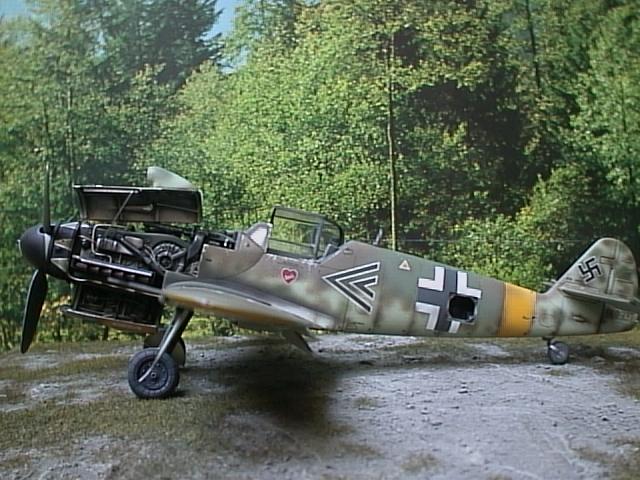 I used the Fujimi 1/48 scale Bf 109G-10 as the basis for this project. Despite not being previously familiar with the Fujimi brand, I was pleasantly surprised with the detail and fit of parts.
I also used the FM Detail set, which specifies the use of the Fujimi kit. The FM Detail set includes a DB605D engine and its mounts, cowl guns, replacement cowls, some flap and full cockpit detail in the set. It is made up of mainly resin parts with some etched metal and engine wiring. Instructions are clear and informative.
The radio compartment comes from the Verlinden Bf 109 after market super detail set. Kit wheels were replaced with True Detail wheels.
Past experience with detailed engine sets has shown that there are usually construction problems. FM Detail did not disappoint me in this respect, although the problem was not major. The bottom cowl is 2mm too short so I had to super glue sheet styrene 2mm thick to one end of the cowl then file and sand to the correct shape.
The two engine bearer lower support bars are not supplied, so I scratch built mine from brass tubing. The building and particularly fitting of the bars can be quite challenging. After a lot of work and patience on the engine and installation the end result is very pleasing to the eye.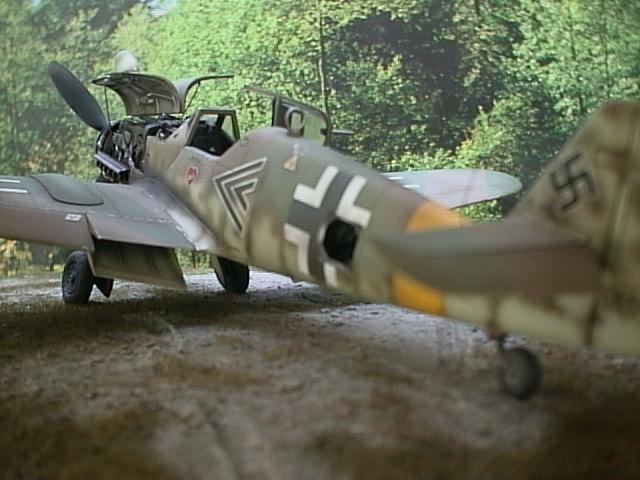 The model was painted in enamels and acrylics. Then decals (AeroMaster - PAF 48-04) were applied, followed by an acrylic wash.
A d d i t i o n a l I m a g e s
Click the thumbnails below to view images full-sized.
Click the "Back" arrow on your browser to return to this page.
German Aircraft Interiors 1935-1945 Vol. 1, by Kenneth A. Merrick, published by Monogram Aviation.
---
Model, Text and Photographs Copyright © 1999 by David Anderson
Page Created 23 November, 1999
Last Updated 26 July, 2007
Back to HyperScale Main Page
Back to Features Index