Messerschmitt Bf 109G-14

by Xavier Lena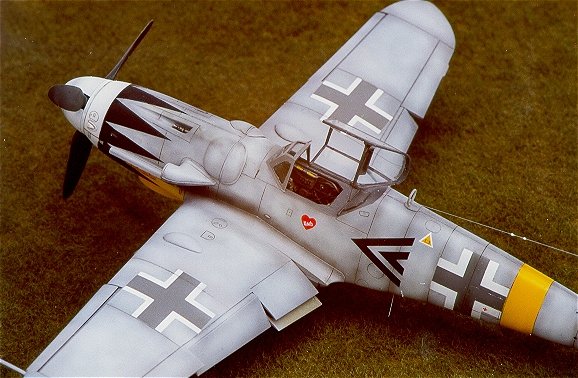 Messerschmitt Bf 109G-14
I./JG54, Major Erich Hartmann, February 1945, Czechoslovakia
When I bought Hasegawa's 1/48 scale Messerschmitt Bf 109G-14, my first thought was to finish the model in a different paint scheme from those offered in the box.

Unfortunately, there are not many aftermarket decals for the G-14.

I therefore decided to depict one of the kit schemes using aftermarket decals (!), as I had the Aeromaster sheet "PAF 48-04" dedicated to Erich Hartmann's planes.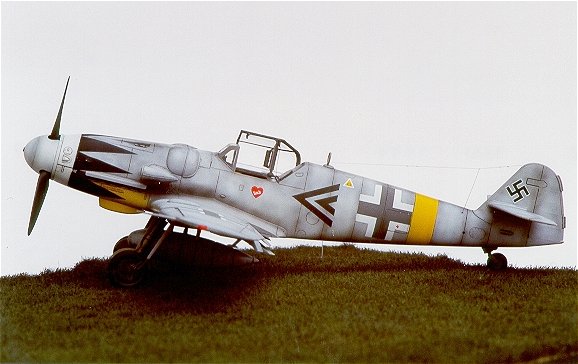 As we say in France, "Why do it the easy way when you can do it the hard way?"

Speaking of easy, the construction of this kit is really straight forward, as already described by Brett in his earlier article.

I decided to add Adeco's excellent cockpit, to ease the construction even further.

This detail set is very finely moulded, with crisp details. You just need to add a wash and drybrush to realise an excellent and accurate cockpit.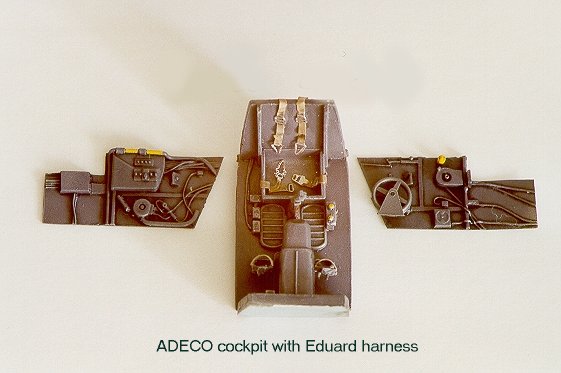 The only additions were an Eduard photo-etched harness and foot straps on the pedals made of lead from a wine bottle - a very French modelling resource!
I also added the little hatch that covers the pilot's stowage area behind the seat. This feature can be seen when the canopy is open.

The fuselage needed some sanding and filling around the engine cover. The fit was otherwise very clean.

Painting was approached as per the real aircraft.

First, the standard mid war day-fighter camouflage was applied. Gunze paints were used for the upper surface greys (RLM 74/75) and the lower surface white-blue (RLM 76)…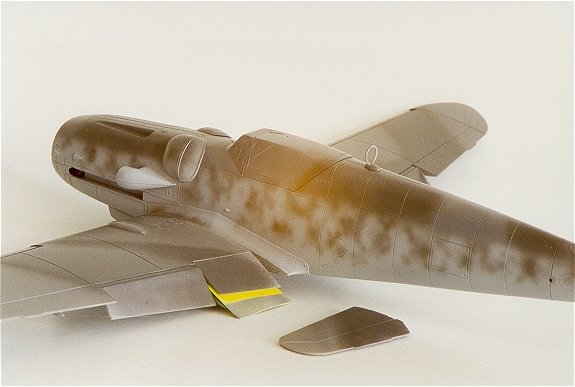 …followed by a coat of very diluted matt white (Gunze H11)…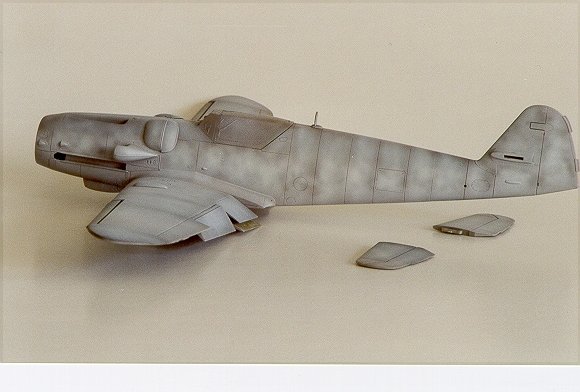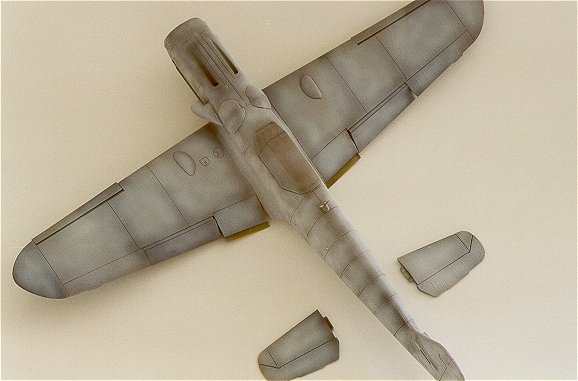 …and finally a coat of Gunze clear varnish.

Decals went without any problem.

After sealing the decals with a coat of clear varnish, a wash of oil paint diluted in fluid for lighters was applied. Final weathering was achieved using heavily thinned Gunze paint sprayed at low pressure (1bar, 7psi).

Some finishing details were added on the canopy including a latch handle and wire; retaining spring and wire; and hinge bar.

So that's it - another Gustav in the collection!




Click on the thumbnailed images below to view full-size.
---
Model, Photographs and Article Text Copyright © 1999 by Xavier Lena
Page Created 23 May 1999
Last updated 26 July 2007
Back to HyperScale Main Page
Back to Features Index