Focke-Wulf Fw 190D-12
by Jeffery S. Harrison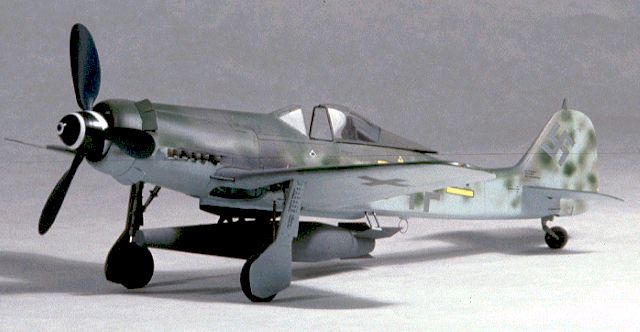 Focke-Wulf Fw 190D-12
This is Trimaster's 1/48th scale kit of the FW 190D-12 (MA-2 released early 1988) armed with a BT1400 bomb-torpedo.
I built this model quite by accident sometime late in 1989.
I started out sitting in my work room checking out the kit and started playing with the fit of various components.
Next thing I knew the wheel well was complete and attached to the wing so I glued the wings together. After that I realized that you don't need to build the cockpit before assembling the fuselage so I glued the fuselage together. At this point the model was starting to really look like a Focke-Wulf, so I had to get the cockpit assembled and in the fuselage in order to attach the wings.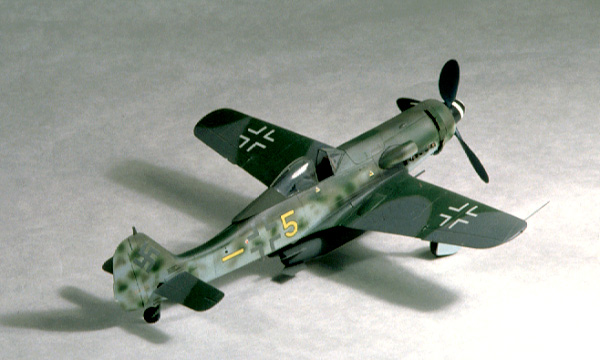 By this time it was pretty obvious that I was going to complete this model in a timely fashion so I started working on it for 'real'. When I came to that realization the only major construction left was to attach the wing and horizontal stabilizers. Then it would be time to paint, decal and attach the details.
There is some discussion about how many Fw 190D-12's were actually produced, if any. Nor can anyone seem to decide just where they were used.
Trimaster's own admission is that they have no idea what these planes looked like and say they based the paint scheme for this plane on Fw 190D-9s and Fw 190D-13s in service with JG 26.
I was building this kit out of the box (literally the only things not from the box I used was the glue, paint and decal setting solution). I followed the kit painting instructions without trying to substantiate its accuracy. This is also the last model not to receive the paint "scale effect" for the next 10 years.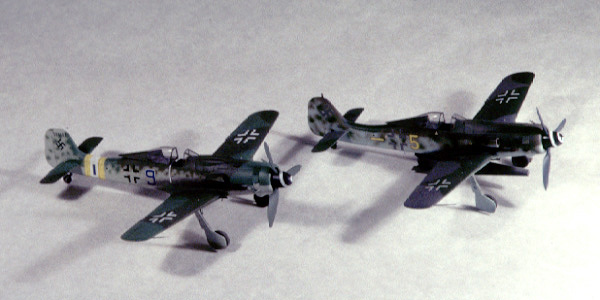 The scheme I chose was RLM 75 and 82 (now called RLM 83) on the wings with RLM 81 and 82 on the fuselage. The lower surface color is RLM 76 and there is a mottle of RLM 81 and 82 along the fuselage sides and on the fin. The landing gear struts and inside of the gear doors are painted RLM 02, the BT1400 is RLM 74, the spinner is black with a white spiral and the propeller blades are painted Humbrol Tarmac. I used Floquil Military colors and they were airbrushed freehand using a Badger 150 airbrush.
This model, as well as the Trimaster Fw 190D-9 I built later (see my Aircraft Mini Gallery 4) are two of the best fitting models I've ever had the privilege to build.
If you've ever struggled through building the DML release of the Trimaster Doras you owe it to yourself to give one of the original Trimaster releases a shot. You won't be disappointed.
---
Article, Images and Model Copyright © 2000 by Jeffery S. Harrison
Page Created 16 April, 2000
Last updated 26 July, 2007
Back to HyperScale Main Page
Back to Features Page