Focke- Wulf 190D-9
by Michel Poutnikov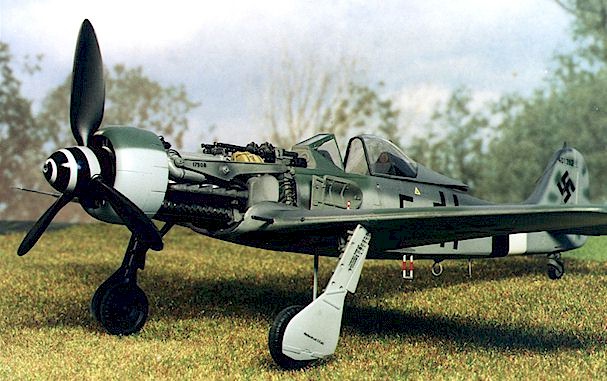 Focke Wulf Fw 190D-9
W. Nr. 401392, Stab JG 26, Germany 1945
---
Michel Poutnikov is a Russian modeller with a background in aircraft equipment and systems. He puts this experience to good use in this modelling project. Tamiya's popular 1/48 scale Focke Wulf 190D-9 is superdetailed with a full engine, pilot's stowage and weapons.
Michel wishes to express his appreciation to David Brown, whose detailed article on late-war Luftwaffe camouflage was particularly helpful during this project.
Michel's current projects include Accurate Miniatures Il2M-3 Stormovik. I hope we see soon see more of Michel's work on HyperScale!
The FW190D-9 was probably the finest piston engined fighter to serve with the Luftwaffe. This high performance aircraft on par with the latest allied fighters of the time such as the P-51, P-47 and Griffon-powered Spitfire.
T a m i y a ' s 1 / 4 8 F o c k e W u l f 1 9 0 D - 9
Tamiya provides a standard production FW 190D-9. The box contains nicely molded details with engraved panel lines. The fit is as good as it gets. The kit includes alternate engine cowlings and separate canopy/windscreen. This kit is also highly recommend as a basis for building other variants.
B u i l d i n g a n d D e t a i l i n g t h e F o c k e W u l f 1 9 0 D - 9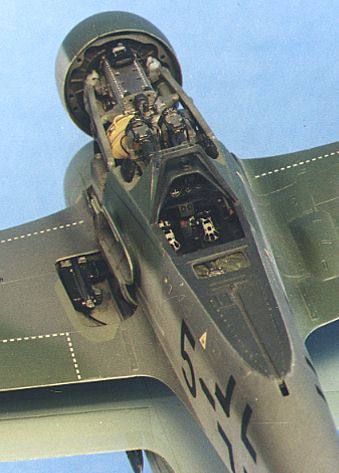 The cockpit is a critical area of any model and I paid it appropriate attention.
I replaced the entire tub with Eduard's photo etched detail set (stock number 48 167) but used Tamiya's side consoles. Eduard's comprehensive set includes photo etched parts to replace the instrumental panel, rudder pedals and armor plate. I feel that the two-part etched instrumental panel with negative film looks more convincing than the Tamiya's item.
Additions include new gun sight, seat belts, fuel tank change lever, throttle lever, map case and other small details. The cockpit parts were painted RLM 66 color and weathered. I installed the stowage bin for the pilot's personal items just behind the cockpit. This was borrowed from Verlinden's Fw 190D detail set.
The next step was to cut off the kit engine cowling and install the fire wall. I decided to use Verlinden's resin engine with metal exhaust pipes by Moskit (Russia). This highly detailed Jumo 213 with cast arms of the engine support, oil tanks and L-shaped coolant tanks looks great. In the picture you can see the external starter, starter-generator and a jumble of wires.
I thinned the upper surface of the wheel well to ensure a good fit then added undercarriage linkages and struts. The port and starboard upper wings were glued to the assembled fuselage to ensure a snug fit at both wing roots. At this stage the port wing cannon access panel was cut open to allow the installation of a detailed weapons bay inside the wing. Finally, the lower part of the wing with wheel wells was attached. Shell ejector chutes were also opened.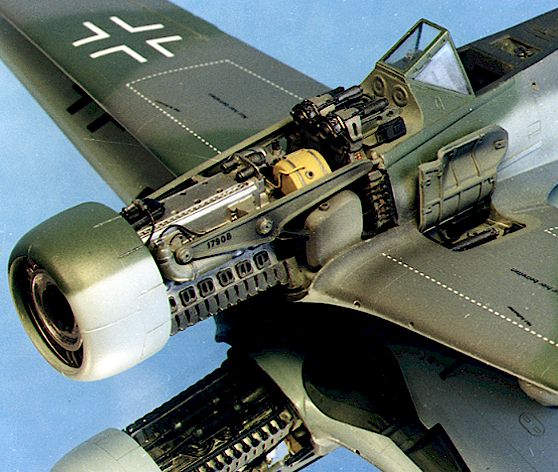 I replaced the plastic machine gun barrels, pitot tube, FuG radio antennas and DF loop with metal strip or tube; and added brakelines to the undercarriage legs.
I placed the canopy in the open position. The canopy shape had to be changed and a canopy jettison unit was added. Antenna wire was represented using fine metal wire (diameter 0,05mm) from aircraft recording system. Its important to remind modellers that when Fw 190's canopy is open, the antenna wire drops to fuselage side.
P a i n t i n g a n d D e c a l s
I chose to depict an aircraft captured by British Forces and turned over to USAAF, in spring of 1945. This aircraft wore a standard color scheme of RLM 83 Dark Green and RLM 75 Grey-Violet on the upper wing surfaces and upper fuselage, RLM 76 on the lower wing surfaces and lower fuselage sides and RLM 83 tail mottling.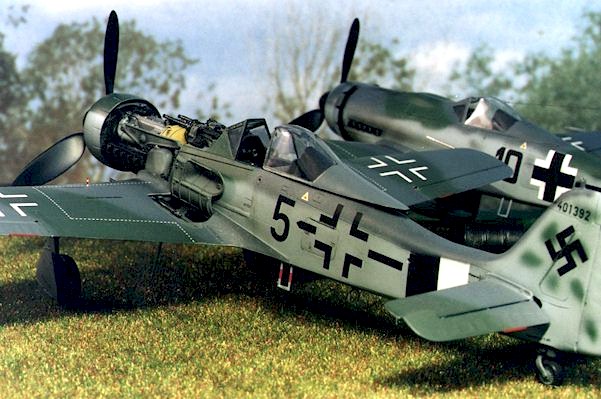 The model was airbrushed with mixture of Gunze and Tamiya acrylics and then weathered. The Reich Defense bands were masked using Tamiya tape and sprayed. The white spiral decal on the spinner settled down with an application of DecalSol setting solution. Decals come from Aeromaster Sheet 48108 and Aeromaster Stencil data sheet 1448010. The final step was the application of a flat coat plus exhaust and gun stains for a more realistic appearance.
S u m m a r y o f P r o d u c t s U s e d
The following products were used to complete this project:
TAMIYA kit no.61041

Verlinden #1190 FW 190D-9 engine & detail set

Moskit metal exhaust pipes #4806 FW 190D-9

EDUARD #48167 FW 190D-9 photo etched detail set

AMD #48108 FW 190D-Aeromaster Decal Sheet

AMD #1448010 FW 190A/F/G Aeromaster Stencil data sheet

EQUIPAGE wheels set for FW 190D-9
1. E. Brown Ryle and Malcolm Laing , "FW190 D9 Walk Around", Squadron Signal, 1996
2. "FW190 D9" Aero Detail Series #2
3. David E. Brown "Commentary on the Evolution and Usage of Luftwaffe RLM Colors 81, 82 & 83"
4. Kenneth A. Merrick "German Aircraft Interiors 1935-1945 vol. 1", Monogram Aviation Publishing
---
Model, Article Text and Photographs Copyright © 1998 by Michel Poutnikov
Page Created 26 July, 1998
Last Updated 26 May, 2007
Back to HyperScale Main Page
Back to Features Page