Lieutenant Hans "Hasse" Wind
Finnish Air Force, 1943

by Mike Good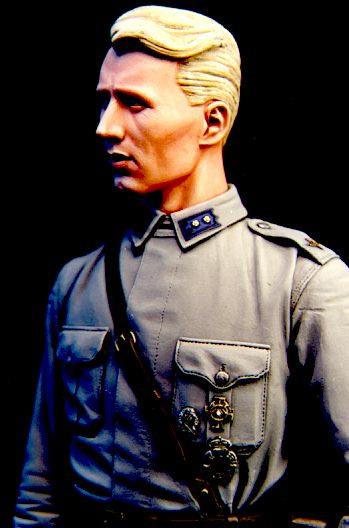 Lieutenant Hans "Hasse" Wind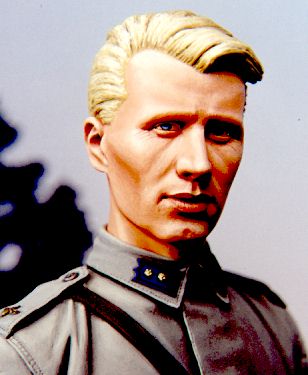 Hans "Hasse" Wind was Finland's second ranking fighter ace with 75 victories.
The tiny Finnish Air Force wreaked havoc on the Soviet Air Force during the Second World War. The superior training, tactics, leadership and resolve of the Finns kept the massive Red Air Force at bay for far longer than their obsolete equipment should have. As an example, Wind was the leading exponent of the Brewster 239 (Buffalo), with 39 of his total kills obtained while flying Brewsters. With Brewsters, the Finnish pilots obtained a kill ratio of 38 Russian aircraft shot down for the loss of each Brewster! For those who might think that such kill ratios were obtained against bombers and other "easy" targets, it is interesting to note that nearly all of Wind's kills were against fighter aircraft. These included Hawker Hurricanes, the superb Lavochkin La-5 and even a pair of Spitfires, all shot down with the Brewster Buffalo!

Wind was twice awarded Finland's highest medal, the Mannerheim Cross. He, along with Finland's ace of aces, Ilmari Juutilainen, was one of only four people in the entire Finnish Army to be given this award twice.



This large scale (1/9, 200mm) figure was not sculpted entirely by me, but rather began life as a Cossack figure that is currently available from Jaguar Models. I needed to do a conversion for a book on figures that I am working on, and after seeing the lovely Cossack figure created by talented Korean sculptor, Ky Gap Park, I decided that this would be an excellent basis for a conversion! The next step was deciding what to convert him into. When doing a conversion, it is important to pick a subject that lends itself easily to the original model. The boots, waist and cross belts were fairly similar to those worn by the Finns. With my heavy interest in the exploits of the Finnish Air Force, this was a natural choice!
First on the agenda was to sculpt a new head. I decided to do a portrait of Hans Wind. His photo appears on the front cover of the "Finnish Fighter Aces" (Havttaja-Assat) published by Tietoteos in Finland. The head was sculpted from Sculpey modeling clay. All other conversion work was done with Magic Sculpt epoxy putty, with selected fine details done in Kneadatite epoxy putty.

Then the hard work began! The baggy Cossack pants had to go. I attacked these vigorously with a sanding drum on my Dremel tool. It was important to stop when I thought I got down to his legs, as this was to be the basis for rebuilding the pants into riding breeches. His boots were too long in the calf and had to be shortened as well. This meant extending his legs by chopping off the top of his boots, gluing the top boot portion to his legs and grinding down and rebuilding the entire area to resemble the close fitting lower portion of his pants. I managed to save some of the excellent folds sculpted into the pant legs by Park but a lot of sculpting, blending and sanding was necessary to make the new folds homogenous with the old.

Next was the figure's tunic. The front opening, pockets, shoulder straps and collar were all new items added by myself. The baggy Cossack sleeves were totally inappropriate and it was easier to simply replace the arms with newly sculpted items, which I did. Stitching to match that sculpted onto the original figure was impressed into the soft putty with (appropriately) a needle point. The Lahti pistol holster was sculpted over a "buck" made from heavy sheet plastic. The medals and insignia were made from Kneadatite epoxy putty, bits of sheet plastic and fine wire and stretched evergreen plastic strip. The flight helmet was one of the trickiest bits of sculpting on the whole figure. I first started with a basic shape made from two pieces of rolled out epoxy putty "sheet". The folds, seam and stitching details were sculpted into subsequent layers of putty, with buckles (made from wire) and straps added later.

The extensive remodeling of this figure consumed over two months of full time work. I could have sculpted the entire figure from scratch in that time! The finished figure was painted with Humbrol and Testors enamels. The head was entirely hand painted, while most of the uniform painting was accomplished with an airbrush, followed by bright highlights and deep shadows painted in by hand. No flat or semi-gloss overcoats were used. Instead I relied on the known surface finish qualities of the selected paints to portray dull cloth and eggshell finish leather.

This model was, without doubt, a labor of love. I owe a debt of gratitude to my Finnish friends, Pekka Nieminen and, especially, Tuomo Maenpaa for providing me with crucial reference materials to ensure that all details were as authentic as I could make them. Kiitoksia paljon, to both of them!

Mike Good
---
Model, Text and Photographs Copyright © 1999 by Mike Good
Page Created 21 April, 1999
Last Updated 26 July, 2007
Back to HyperScale Main Page
Back to Features Index