Heinkel He 162
by John Trueblood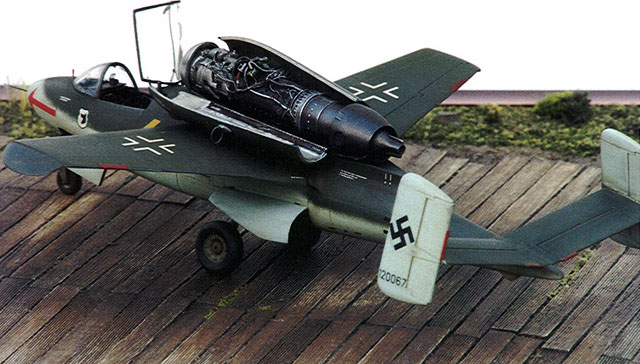 Heinkel He 162
When the 1/48th scale Trimaster kits were introduced in the late 1980's they created a modeling sensation. Many previously unavailable Luftwaffe subjects were now at hand. The kits were well researched, accurate, beautifully molded and contained both photo-etched and white metal detail parts.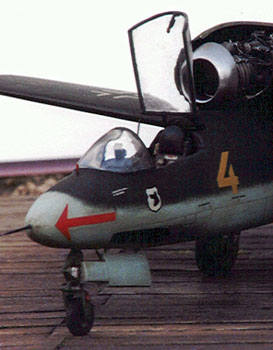 My fellow modelers and myself considered the Trimaster kits to be very expensive at the time, but fortunately I bought one of each. In hindsight, had I known then what these kits would be selling for now via internet auction sites I would have taken a 2nd mortgage on the house and bought a truckload of Trimaster!

I was always been fascinated by the Heinkel Volksjager. Born in desperate times, it showcased the madness of the Nazis; built by slave laborers under horrid conditions, its intended pilots the adolescents of the Hitler youth groups.

Although it was lightweight and small these characteristics in no way made it an easy airplane to fly. Had the little fighter been available earlier and in quantity it is quite certain that the young glider-trained pilots would have died in droves. General Galland protested that the "People's Fighter" was a needless waste of resources which should be directed toward production of the proven and effective Me 262.

Although it probably never saw combat; by the end of the War over 100 of the Volksjager fighters were built. A number of them survived the War and today reside in museums around the world. My Volksjager was restored in Canada in the 1960's. The aircraft I have depicted is an He 162 A-2 assigned to 3 Gruppe of JG1. The nose emblem is of III/JG77, to which the pilot previously belonged.
Since the kit was easy to build and paint (82 over 76), I spent most of my building time adding additional detail. Armed with extensive photos, (yes I'm the guy you've seen lying on his back and pointing his camera up into the wheel wells) I went to work.
I added fuse wire plumbing and wiring to the main wheel bay and cockpit. Trimaster supplied a nice rendition of the BMW 109-003 E-1 engine and photo-etch piano-hinges for the engine cowlings so they could be shown open. As is normal with these sorts of assemblies the first hinge went together in about 2 minutes and the second hinge required about 2 hours.
After overcoming the hinge challenge I added all sorts of fiddly bits to the engine. Since the He 162 was one of the first aircraft to be fitted with an ejection seat I detailed it with belts, buckles and the rear wiring harness.
After looking at a number of war-time photos I chose to apply the RLM 82 somewhat haphazardly to the top surfaces and kept the weathering to a minimum. The timber hardstand is a resin product from "Just Plane Stuff", painted with oils and detailed with RR scenery products.
---
Models, Text and Photography Copyright © 2000 by John Trueblood
Page Created 17 December, 2000
Last Updated 26 July, 2007
Back to HyperScale Main Page
Back to Gallery Index