Messerschmitt Bf 109 G-6/R3
by Brett Green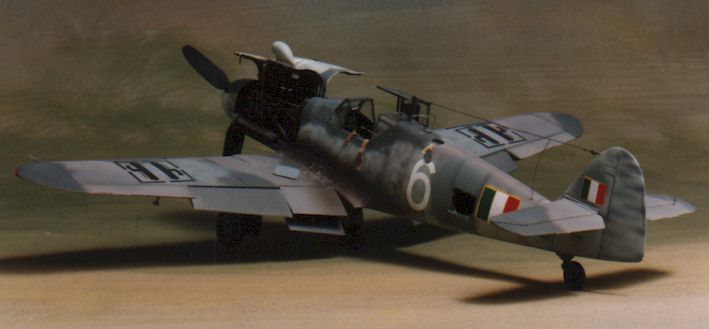 Messerschmitt Bf 109 G-6/R3
Aeronautica Nazionale Repubblicana 3 Sq. II Gr. C., Verona, July 1944
Following the Italian surrender in 1943, German troops continued to occupy the Northern part of Italy. Although Mussolini declared a new Repubblicana Sociale Italiana, the north of Italy was, in effect, under direct German control.
A new Air Force was created from the northern remnants of the old Reggia Aeronautica (Royal Air Force). This was called Aeronautica Nazionale Repubblicana (ANR) and, in spite of the political climate, it maintained its identity as an independent Italian service until the very end of the war.
The new Italian Air Force was equipped with a variety of aircraft, including Fiat G.55 and Macchi MC 205. However, many of these local aircraft (and the local manufacturing facilities) were lost after the Armistice. Germany therefore invested heavily in re-equipping the fledgling ANR with various models of the Messerschmitt Bf 109.
There was no truly accurate Bf 109 G-6 kit available when I started this conversion a few years ago. The donor kit was the Hasegawa Bf 109 G-2. Although this is an excellent kit, it has some accuracy problems including a slightly short spinner and a fin which is somehow not quite right. These areas were addressed by the Medallion Models G-4/6/14 conversion (stock number MM31). This conversion provides new upper wings with the correct bulge to accommodate the wider tyres; correct wheels; a large tail wheel; a new spinner, 2 x 20mm gun packs; white metal pilot's head armour; new cowls with the mg bulges; and a resin "tall tail" for late G-6 and G-14 aircraft. These parts are moulded in a caramel coloured resin and are completely free of pin-holes and other imperfections. I also used the excellent Cooper Details resin cockpit set.
I replaced the kit spinner with an item borrowed from the Revell 109G-10 kit (even after all these years, this old kit remains a shining example of accuracy - and it builds into a very nice model). I drilled out the end of the spinner and inserted brass tube to represent the coaxial cannon. I used the backplate and propeller blades from the Hasegawa kit. The fit was perfect.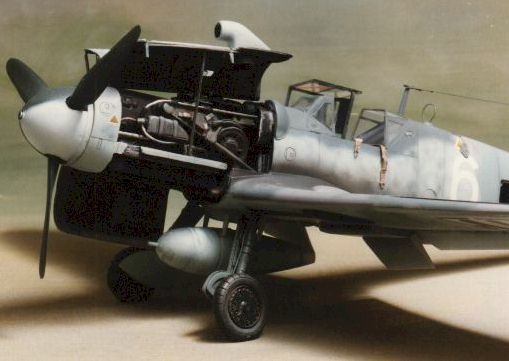 I wanted to display the DB605 engine, but there was no commercially available option at that stage. I therefore took the engine block, supercharger and engine supports from the Tauro Macchi MC 205 kit and modified these to represent the original German version. The various reservoirs, pipes, tubes, guns, ammo chutes and feeds were all scratchbuilt. The vac-formed engine cowling was cut from a Falcon Bf 109 G-14 conversion and detailed using strip styrene. The kit lower cowl was modified to fit.
The next step was to detail the cockpit. The Cooper cockpit was assembled and painted. The radio hatch on the port fuselage was cut out and the fuselage sidewalls were thinned down around the resulting hole. Strip styrene was glued to the fuselage interior for structural detail and brass rod was added to represent control lines. An Airwaves E5A radio (Airwaves set SC48-11) was installed on a scratchbuilt shelf inside the fuselage.
True Detail wheels were used due to their attractive (even if slightly exaggerated) bulged and flattened effect. Brass wire was added to the undercarriage to represent brake lines. This was secured with thin strips of masking tape. The kit tailwheel was used, but I added a "leather" boot from Milliput.
P a i n t i n g a n d M a r k i n g s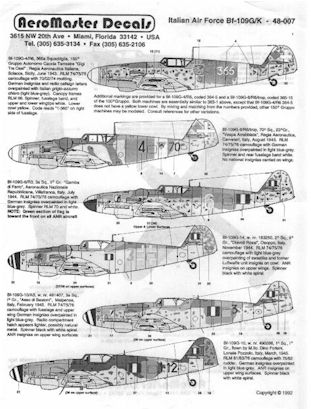 The depicted aircraft wore a patchy camouflage scheme. German markings had been hastily overpainted in Italian blue-grey with ANR markings painted over the top of the resulting mess. Further, the aircraft carried interesting nose art and a slightly unusual wavy camouflage on the rudder. The model was painted using a Testors airbrush and my own mix of Tamiya paints for all camouflage colors. Decals were sourced from one of Aeromaster's earliest releases - sheet number 48-007 "Italian Air Force 109 G-K". This sheet offers a broad range of schemes for 7 aircraft from both the Reggia Aeronautica and the ANR. As usual, the Aeromaster decals were trouble free.
This was an interesting and enjoyable project. However, the same project today would be less challenging and would result in a more accurate result due to the plethora of excellent Bf 109 G-6s, G-14s and Bf 109 engine detail sets now available.
My recommendation would be to buy the new Hasegawa 109 G-14 (see review) and the superb Hi-Tech detail set, which includes not only the control surfaces, the cockpit and bulged tyres; but also a full engine bay and replacement vac-form canopy.
Now where did I put those 109 references again….
---
Model and Text Copyright 1998 by Brett Green.
All other photographs Copyright 1998 by Pieter Stroethoff.
Page Created March, 1998.
Last updated 26 July, 2007.
Back to HyperScale Main Page
Back to Features Page