Avro Lancaster B.I
by Dr Simon Collier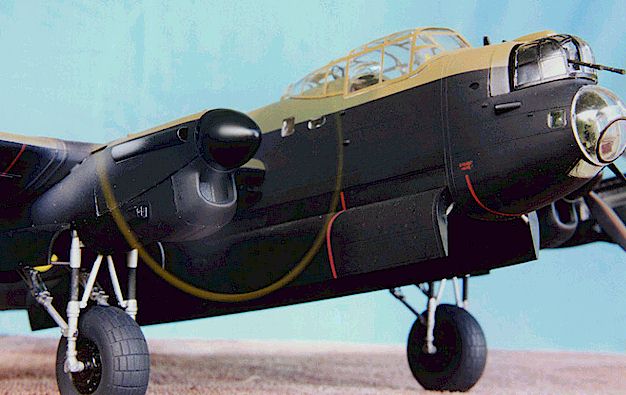 Avro Lancaster B.I
W4118, ZN Y No. 106 Squadron, No. 5 Group, October 1942, R.A.F. Syerston
Here are some photos of my Tamiya 1/48 scale Lancaster. I never really finished this model after losing interest somewhat after being disappointed in the poor quality decals that silvered horribly.
The silvering may have been lessened had I sprayed gloss clear first, but I didn't. As damage control, I actually masked up the large red numbers to spray black over the silvered clear film between the letters but this was not possible with the small decals.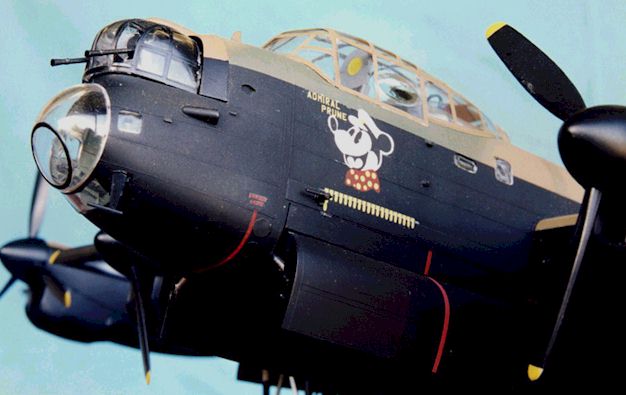 I had another bad experience when I sprayed the dark green/dark earth three times, masking all the little windows each time. I first free-sprayed with Aeromaster acrylics which sprayed like sand. I then masked the camo pattern and sprayed again, but the result was poor. I finally free-sprayed with Gunze, with satisfactory results.
When I bought the model I was hoping that it was a new mould, but upon opening it found that it was a 1975 model. For such a big and old kit it went together surprisingly well, although I had terrible trouble fitting the engine nacelles. It was a huge project even straight from the box. This was a typical case of needing two kits - one to figure out by trial and lots of error how to build the thing properly, and the second one to be the final model.
For all its faults it is still a very impressive model, having a wing span of about 60cm. Nevertheless it has been gathering dust in the garage for months. Just what do you do with a plane this size?
The kit offered three versions, and I chose the early one without the (ugly) H2S radar. It was Lancaster B1 W4118, ZN/Y No. 106 Squadron, No. 5 Group, October 1942, R.A.F. Syerston. The plane was lost on 5th Feb, 1943.
For the photo of the spinning propeller, I blew the prop while the camera shutter was open. This was possible because the props and spinners are not glued on yet - they are just sitting there.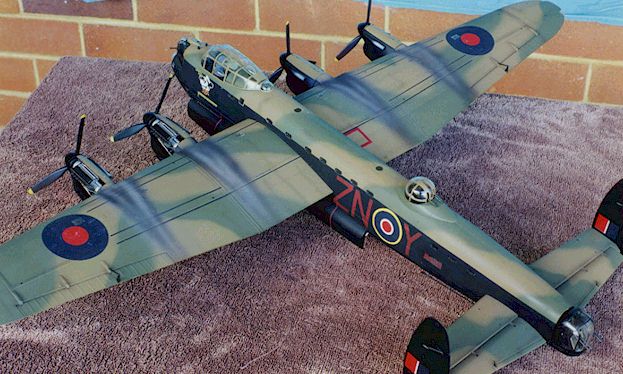 The heavy exhaust stains can be seen in lots of photos, but the plumes from a given engine should be parallel, not converging as I have them.
The kit supplies two engines for display, one inboard and one outboard.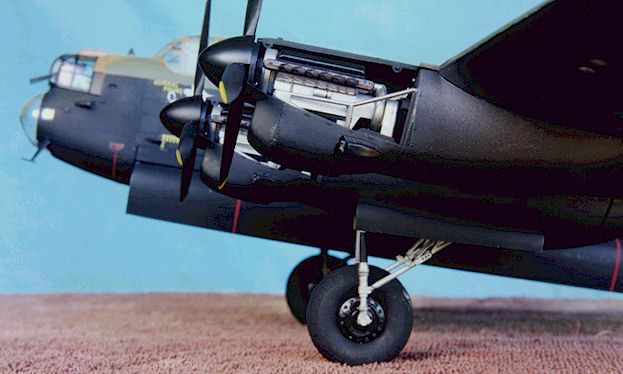 I might fix the plane up one day, but it is not high on the priority list.
I definitely recommend the kit, however. It was a bit ambitious for me after having been modelling for less that a year ( I hadn't yet discovered Milliputt, for example).
Some of the fanatics who contribute to Hyperscale would make a fine job of it!
---
Model, Description and Photographs Copyright © 1999 by Dr Simon Collier
Page Created 21 August 1999
Last updated 26 July 2007
Back to HyperScale Main Page
Back to Features Index