Panther Ausf. G
by Mike Millette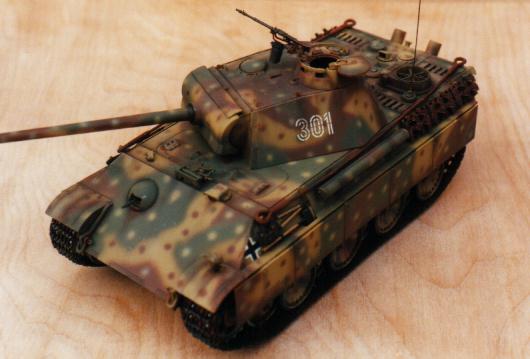 Sd.Kfz. 171 Panzerkampfwagen V Panther Ausf. G
As a long time builder of mostly aircraft models, it came as rather a surprise to several people (myself included) when I recently developed an interest in armor modeling. The last armor model was an M-48 Patton I built for my dad 20 years ago or so.
I blame this sudden interest on Brett. If HyperScale were not dedicated to both aircraft and armor, I might have happily spent my days building aircraft, blissfully unaware of how much fun those armor guys were having.... Thanks Brett!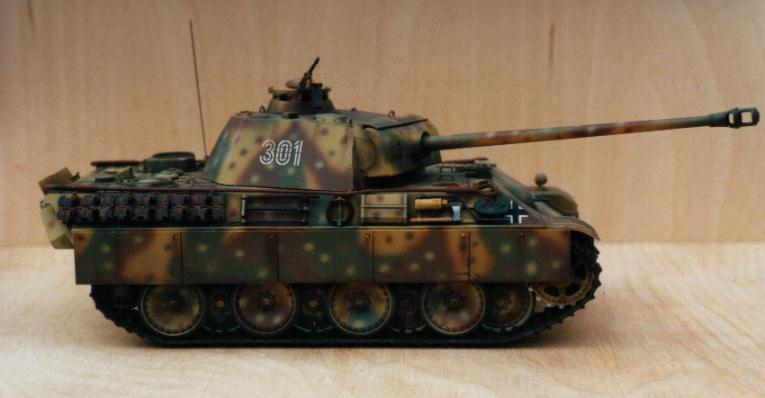 Most of my recent aircraft projects have been primarily WWII Luftwaffe subjects which undoubtedly had some effect on my decision to build a WWII German tank. I decided to build a Panther, so I picked up "Panzer Colors I, II, & III" by Bruce Culver, Bill Murphy and Don Greer, and Squadron/Signal's "Panther in Action" to get some background. I also bugged several friends who build armor kits and posted some questions to HyperScale to get a feel for what else I might need to know. Thanks to everybody who offered help!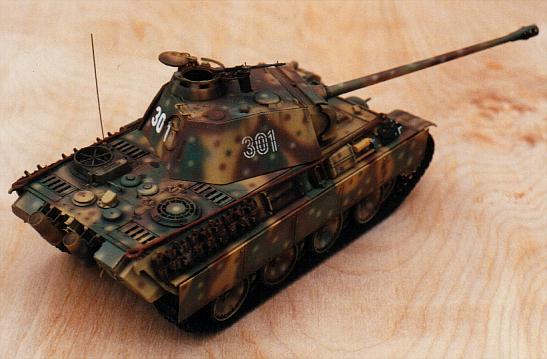 My plan was to build a model straight from of the box. Fortunately this coincided with my desire to model a Panther with an "ambush" scheme. My next step was to read James Blackwell's HyperScale article "Painting Panzers".... about 10 times. This short but extremely helpful article kind of reminds me of reading Miamoto Musashi's "Book of Five Rings". The steps sound simple, but "practice, practice, practice" is the word of the day.
Not much to say here. Tamyia's Panther Ausf G (late) was constructed straight out of the box. I was impressed at the engineering of this kit and its ease of construction. Apart from its high price, this is a good choice for a first kit. I guess that's the cost of quality.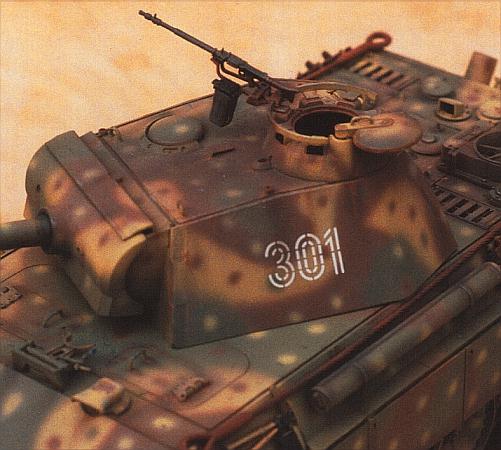 I painted my Panther using one of the kit-supplied schemes. For the most part I followed the steps in James Blackwell's article here on Hyperscale
I did paint the wheels, treads, turret and other small details separately, but the rest was painted per James' recommended method.
I used a scale lightened version of Model Masters Panzer Dark Yellow, a custom mix for the Red Brown and Aeromasters RLM 80 Olive Green, all enamel paints. For weathering, I used colored pencils to represent rust, dirt, leaking wheel bolt grease and chipped paint.
The middle set of road wheels and drive sprocket teeth were rubbed with a silver quilters pencil to simulate the polished metal. The weathering is kind of light, probably reflective of my aircraft experience. I'll have to get a bit more adventurous on future projects.
How bad am I hooked? Well, I have 2 half built aircraft projects that have been pushed back on the shelf and a Tiger II under construction as I write this, with another Panther and a couple of Sd Kfz 251s in the closet.

Will it displace aircraft modeling permanently? I doubt it, but it certainly a fun change of pace.
---
Model, Images and Article Copyright © 2000 by Mike Millette
Page Created 25 January, 2000
Last updated 26 July 2007
Back to HyperScale Main Page
Back to Features Page