RB-50G "ELINT" Superfortress
by Markus Wuellner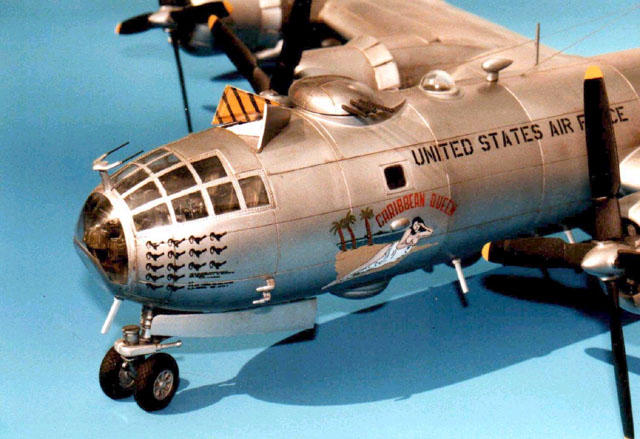 Boeing RB-50G "ELINT" Superfortress
Two years ago I built a 1:48 Scale RB-50 G "ELINT" Superfortress from the old Monogram kit using the Paragon B-50 Conversion Set.
I thought this might be of some interest for some "Hyperscalers" out there.
Here are some facts about the model:
The entire fuselage has been rescribed to follow the fine engraved lines of the paragon conversion set.
The conversion includes an all new vertical stabilizer, four new engine nacelles (incl. new props and engine), two new underwing fuel tanks, a new forward upper gunturret and a new clear vacform nose window.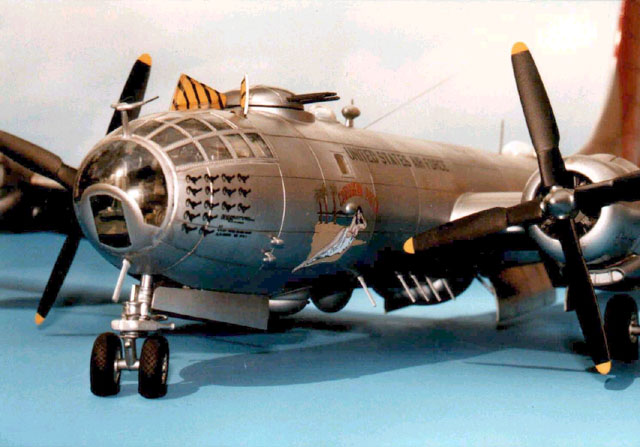 Due to the weight of the large resin vertical stabilizer, a really heavy balance weight must be placed in nose of the model. In fact the whole front bombbay is filled up with metal pieces to keep the nosewheel down. That's the reason why I left the forward bomb bay doors in closed position. All antennae and the three bubbles under the rear fuselage are scratchbuilt following the instructions of the 1:72 Scale Academy RB-50 G kit. The Academy kit generally served as a model for my scaled up example.
The extended flaps are also scratchbuilt because two years ago the Paragon B-29 resin flaps did not yet exist. I wanted to show the inflight refuelling hatch in the open position and so had to modify the massive resin upper gun turret by cutting it horzontally and reposition it 90° turned to the left.
There is a nice picture of a B-50 during inflight refuelling in the Squadron Signal - B-29 In Action where you can see this configuration. The weighed wheels are from True Details.
For painting the insignia red areas I used Xtracolor paint and for the natural metal parts I took nearly every metalizer shade from various manufacturers I could find in my paintbox.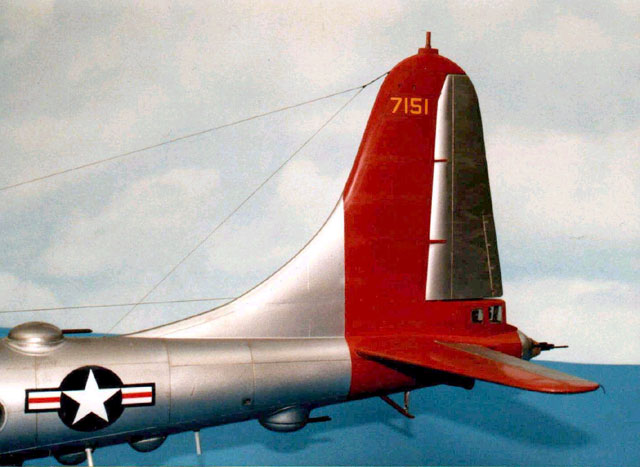 The decals are taken from various Aeromaster B-29 Sheets and the "Carribean Queen" Noseart is based on the up-scaled 1:72 copy of the Academy decal but most of "the Lady" it is hand painted!
I hope that somebody likes my "baby"!
Click on the thumbnails to enlarge.
Use your browser's "Back" arrow key to return to this page
---
Model, Text and Images Copyright © 2000 by Markus Wuellner
Page Created 13 November, 2000
Last Updated 26 July, 2007
Back to HyperScale Main Page
Back to Features Index