Hawker Tempest II
by Stephen Allen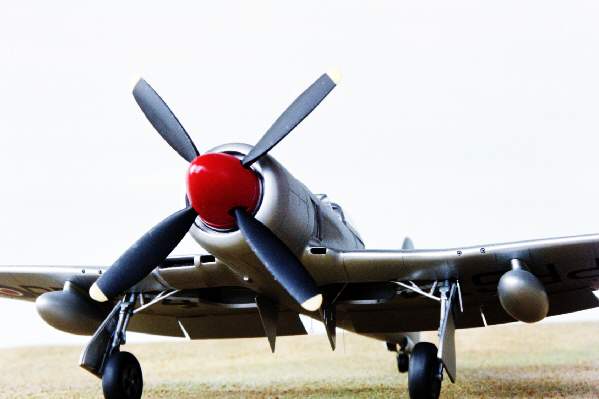 Hawker Tempest II
135 Fighter Wing, 1947/48
This is Eduard's "Basic" Hawker Tempest V late series kit, modified with the Model Design Construction Tempest II conversion to represent a Wing-Leader's aircraft from 135 Wing in 1947/8. The aircraft is marked with the late wartime/early postwar Type C and C1 roundels.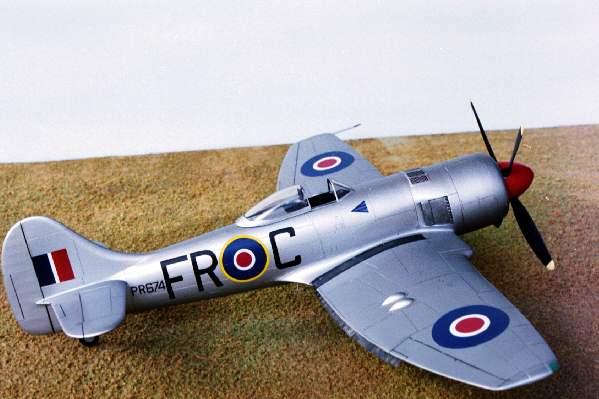 In its current form the MDC conversion (depicted here) errs in the way that the exhausts, exhaust plate and transition from the radial cowling to the fuselage are represented. As well, a lot of filling and sanding is needed to get a reasonable match between the conversion and the kit. Thanks to Darren Mottram's recent post on Hyperscale's "Plane Taking" discussion group, I understand that the set is to be corrected. Full marks to MDC and its pattern-maker for listening, and being prepared to bring this set up to the standard of their other releases.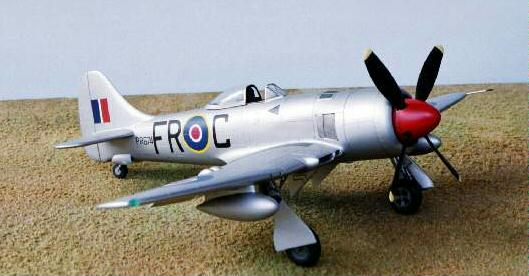 MDC supplies a new nose, wing leading edge intakes and spinner to convert the Eduard kit.
The kit prop blades must be shortened at their tips, and a new Pitot tube is needed for the port wing leading edge. Eduard's aftermarket etched set provides most of the additional detail. My own bits and pieces include a gyro gunsight to replace the kit-supplied reflector type, the three canopy guide rails, clear navigation and landing lights, cannon barrels from brass tube, and a split tread 'anti-shimmy' tailwheel, made by converting the kit part. The tail fillet is reduced in width and given a sharper leading edge to better represent the real thing.
Basic paint scheme is Tamiya's AS12 baremetal in a spray can, which makes for a nice painted aluminium finish. Panel lines and fasteners are accentuated with a technical pencil, and acrylic ink outlines control surfaces and was run into the carburettor intake louvres.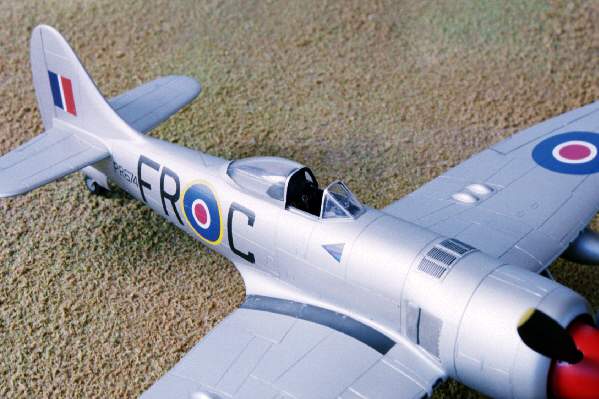 Kit-supplied national markings were used. The small serials came from an Xtradecals sheet and the codes, underwing serials and wing walks were all cut from black decal sheet. Aeromaster enamel matt clear sealed everything in, and Testors metaliser sealer provides a realistic sheen for the spinner.
Weathering was minimal, as this was a senior officer's aircraft in peacetime and well-kept. A hint of exhaust staining applied with dark pastels, a little paint chipping and some pastel chalk scuffing on the wing walks and some ebony and pewter rub and buff to the wheel wells and landing gear to add depth and grime.
The MDC conversion offers one way of getting to a Tempest II in 1/48 scale. The amended set - when available - will hopefully provide modelers with an opportunity to readily add this important member of the Hawker family to their collections.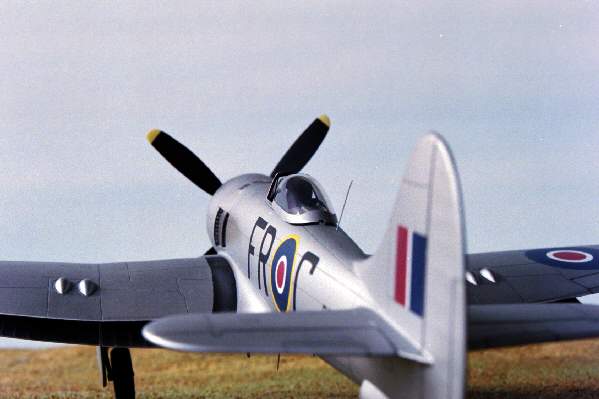 There are a couple of good Tempest II walk-arounds on the web. One is at
http://user.tninet.se/~ytm843e/tempest.htm
the Hawker Tempest homepage, and another is at IPMS Stockholm -
http://www.hotel.wineasy.se/ipms/stuff_eng_detail_tempest2.htm.
These will help you to accurately model the unique features of the Centaurus-engined Tempest.
---
Model, Article Text and Photographs Copyright © 1999 by Stephen Allen
Page Created 04 October, 1999
Last Updated 26 July, 2007
Back to HyperScale Main Page
Back to Features Page