Mitsubishi A6M5 Zero
by Mark Beckwith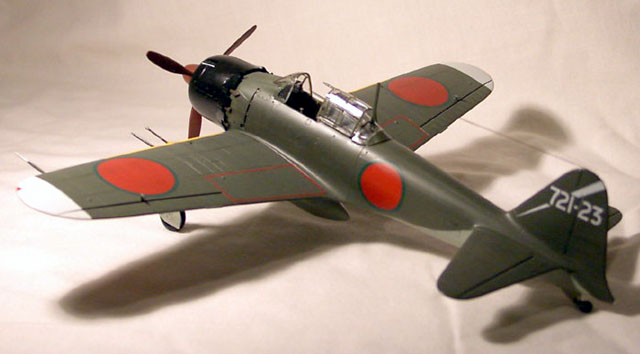 Mitsubishi A6M5 Type 52 Zero

Tamiya's A6M5 Zero Type 52 is available online from Squadron.com fro just USD$12.96
This is the old Tamiya 1/48 scale Mitsubishi A6M5 Zero Type 52 kit. I picked it up in a trade well over a year ago. It was only the sixth kit I built since returning to the hobby, and the first one I felt came out well.
I built the model straight out of the box. Quality was superb with no filler required and very little sanding. Construction was so straight forward that, if I recall correctly, I had the plane ready for paint in a little over 6 hours working time!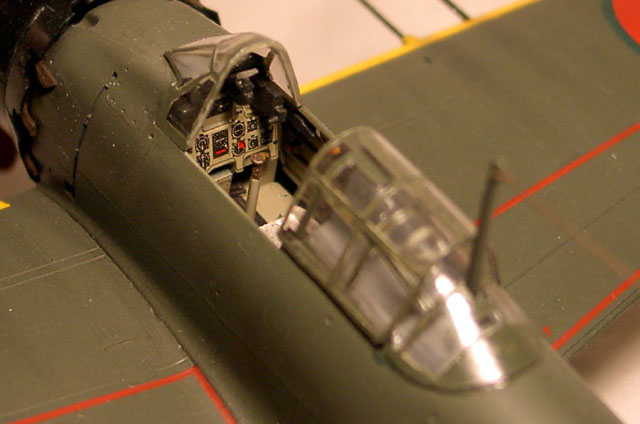 I left the nose section off at this point and painted it and the prop separately. The canopy was masked with Parafilm, and I was ready to paint. I had picked up an Areomaster decal sheet and chose to do this very simple scheme because of my limited ability and because I liked it.
Painting was done over several sessions working with Gunze paints thinned with rubbing alcohol. First I sprayed the yellow leading edges and masked with tape. Next was the underside. When dry, I masked with Tamiya tape everywhere required except the radius leading to and from the horizontal stabilizers. For these areas I made masks with construction paper that I robbed from my kids' closet. When I was happy with the masking I put down the green.
After leaving the model 48 hours to cure thoroughly, I sprayed a couple of light coats of future in preparation for decaling. One of the reasons I like Gunze semi-gloss paints is that they spray so well that future is almost not required to achieve a surface finish good enough for silver-free decals. The Areomaster decals went down extremely well with only a little Micro-Sol to help them, I experienced no problems at all with wrinkling or silvering. I used the kit decals for stencils and colour stripes for the undercarriage and prop blades. Once the decals were dry and the residue wiped off I gave it another light coat of Future to seal them all in before flatting it all down with Dullcoat.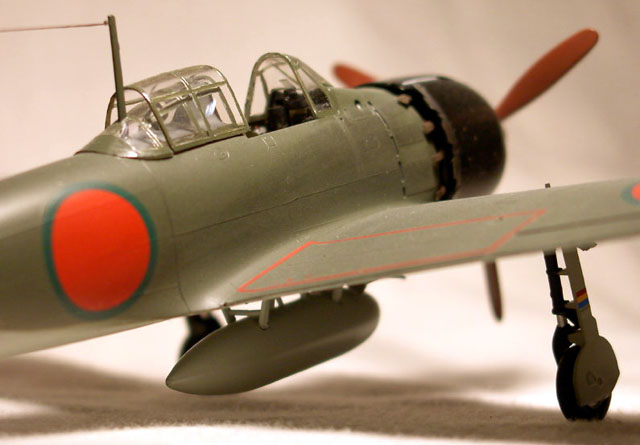 Somewhere at about this point I will have attached the landing gear and other bits that I will almost always knock off again before the model is completed.
I planned for this aircraft to be depicted as a nearly new example so I kept weathering to a minimum. I don't usually use a wash as I don't like the patchwork effect that gives to the panel lines. Almost all my weathering is done with pastels, as was the case with the Zero. I like to apply the pastels to the dullcoat before it is completely dry, within an hour of application, as I it helps their application, makes them look more "part" of the model, and certainly prevents accidental rubbing off later. When the pastels were done I gave it all one more shot of Dullcoat.
There it is. I really enjoyed this kit, I have another in the "when-are-you-going-to-have-time-build-all-those-models" pile, which I will get around to some time. That one will have a slightly more ambitious colour scheme.
Click the thumbnails below to view the images full-sized.
Use the "Back" arrow of your browser to return to this page.
---
Model, Text and Images Copyright © 2001 by Mark Beckwith
Page Created 26 April, 2001
Last Updated 04 June, 2007
Back to HyperScale Main Page
Back to Features Index