Messerschmitt Bf 109G-6
by Werner Scheibling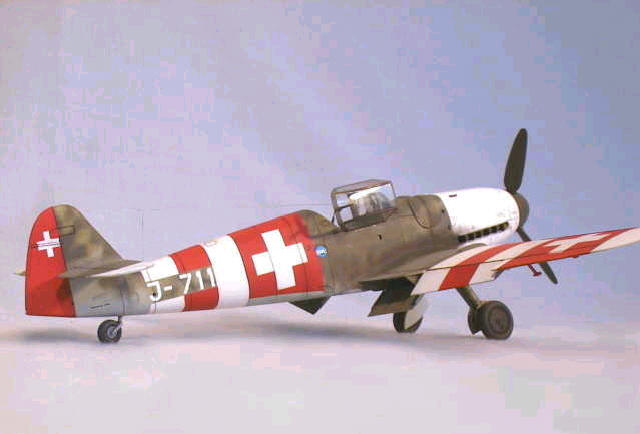 Messerschmitt Bf 109G-6
J-711 of Fl Kp 7, Flugwaffe (Swiss Airforce), Interlaken, Switzerland, June 1945


Hasegawa's 1/48 scale Messerschmitt Bf 109G-6 is available online from Squadron.com
Early last year I took a stroll in Basel's (Switzerland) old town centre and ended up in a very nice bookshop (which doesn't stand out, as most shops there seem to be extremely exclusive and shiny jeweller's/watchmaker's premises for people with shiny platinum credit cards...). And there, on a table in front of me, was a whole pile of Georg Hoch's brand new book about the Me 109 in Swiss Airforce Service
(see: references). After thumbing through one of the copies, I was hooked and 75.- Swiss Francs poorer. And I had to buy a Hasegawa kit right away on my journey back to my home town in Southern Germany.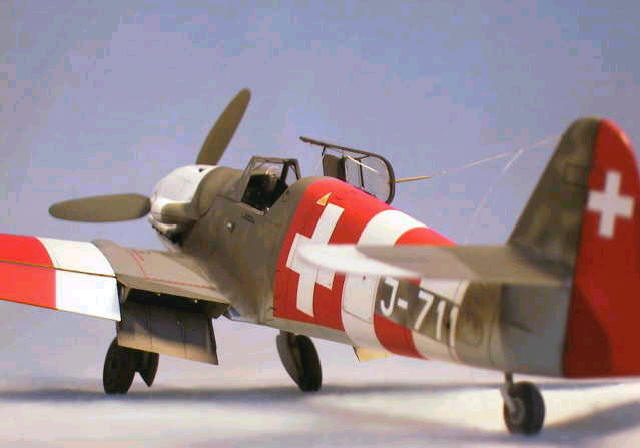 This book is positively Swiss. Outstanding paper, printing and photo reproduction quality and a love of accurate detail that shows the author's competence (Georg Hoch is a Swiss Airforce instructor, hobby historian and scale modeller).
My luck was complete when soon afterwards 'good guy' Robert Hart from San Diego offered his rare Cutting Edge decal sheet 'Swiss Bf 109s' for trade after I had called out for help on Hyperscale's forum. Thanks again, Rob!
So be warned: Here comes a rather stripy and colourful 109 that could be way too much to take for the hardcore Luftwaffe camouflage expert.
The Gustav was the Flugwaffe's final encounter with Prof. Messerschmitt's famous fighter. Unfortunately it was also the least successful, as late war production quality grounded the whole group of aeroplanes more than once.
The Swiss Airforce had been flying Me 109 Ds and Es since late 1938/early 1939. It was now spring 1944 and these 109s were obsolete when compared to the latest designs of Allied, German or Italian origin. The Swiss purchasing commission tried to acquire British Spitfire Mk. IXs or Typhoon IBs but these attempts amounted to nothing.
The Germans were utterly reluctant to negotiate sales of their latest 109 G model, after Swiss pilots had 'dared' to shoot down numerous Luftwaffe aircraft intruding their neutral airspace.
How the Swiss managed in the end to coax the Germans into selling them twelve brand new 109 G-6s is a rather remarkable story.
On 28 April 1944 the pilot of a German Me 110 G-4 nightfighter of NJG 5 (C9+EN) landed in Duebendorf/ Switzerland after having been caught and tracked by anti-aircraft searchlights.
The aircraft was undamaged and equipped with the latest and highly classified
FuG 220 'Lichtenstein' SN-2 radar. The Germans feared Allied intelligence operations and demanded the immediate return of this aircraft. The Swiss refused, which brought them to the edge of a military confrontation with the 'Third Reich'.
In the end the two countries agreed on a secret deal: The Swiss Army would blow up the Me 110 under German supervision on 18 May 1944 and Messerschmitt would sell twelve brand new Me 109 G-6 to the Swiss immediately after.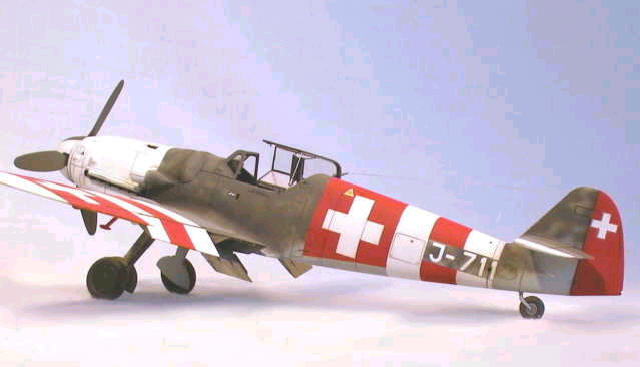 The Messerschmitt fighters were as secretly as possible delivered by German pilots (who had to wear civilian clothes), immediately repainted in Swiss markings and coded J-701 to J-712.
After three years of mostly troublesome flying experiences (all twelve Daimler-Benz engines were riddled with technical faults and malfunctions) the Gustavs were retired from active duty in summer 1947. One last attempt to keep the 109 Gs flying after the war was to equip them with Swedish licence-built DB 605s. Svensk Flygmotor would have charged 191.000.- Swiss Francs for one engine, so the Swiss purchasing commission sensibly decided on surplus P-51 D Mustangs which were being chucked out by the USAAF for $4.000.- a piece.
All Me 109 Gs were scrapped soon after. One early Me 109E was preserved and is now on exhibition at Duebendorf's Fliegermuseum (see: http://www.ju-air.com/).
Swiss Gustav Specifications
All aircraft were equipped with standard German weapons (one 20 mm MG 151/20 and two 13 mm MG 131). None of the aeroplanes ever carried under-fuselage ETC racks. Gunsight was the older Revi C/12b.
Radio equipment was a single FuG 16Z transmitter/receiver. All other standard Luftwaffe radio sets were not installed. The PR 16 D/F- loop was removed from all planes soon after delivery.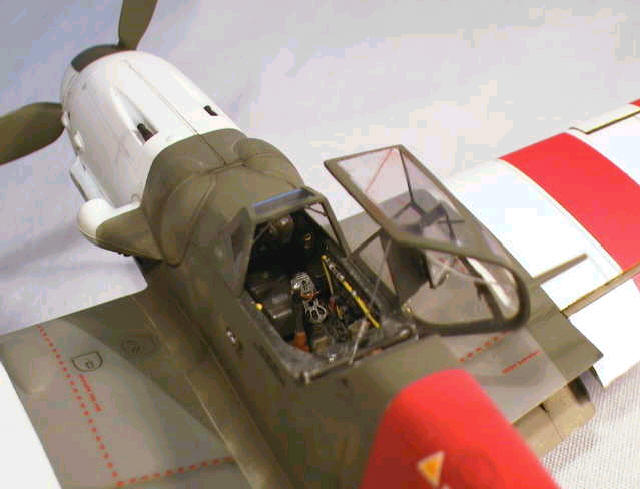 J-701 – 706 were equipped with the small rudder and framed canopy. J-707 – 712 sported the tall wooden rudder and a full-vision Erla-Haube.
The Me 109 G was also the first fighter plane in Swiss service with adequate armour protection for the pilot.
Camouflage and Markings
The twelve Gustavs were delivered in standard German fighter camouflage of RLM 74/75/76. The fuselage sides were mottled with RLM 02 and 74 over 76.
J-711 initially carried the transitional German factory registration NF+FP, it's Werk-Nr. being 163 815.
Georg Hoch says, hardly anything is remembered these days about the paints used by the Swiss for touch-ups and partial repainting. Most probably Swiss products were used and mixed locally to vaguely match the original hue.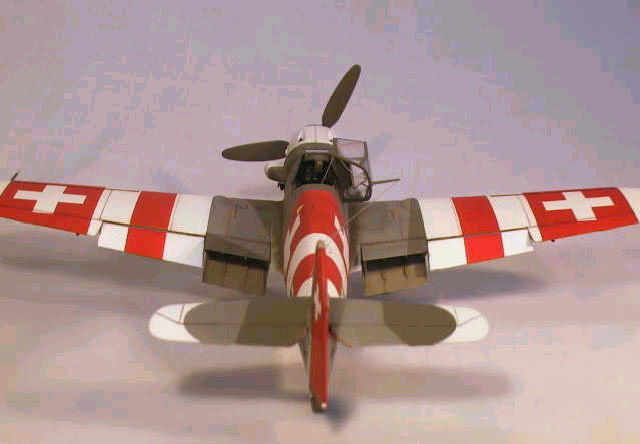 A rather well-known picture of J-711 from 1945 shows the left fuselage side with heavy overspray right down to the wing-root.
All Flugwaffe aeroplanes were hurriedly marked with red/white neutrality stripes, oversized national insignias and white cowlings in September 1944 after a Swiss Me 109 E had been mistakenly shot down by 339th FG Mustangs. The Swiss pilot was killed in that incident, his plane, like all Swiss E-models, totally lacking armour protection.
I used Hasegawa's well known 'G-14' kit, because it comes with all the parts necessary to build nearly any late war G-6/14 with high rudder and Erla-Haube.
Everything has been said about this kit in previous articles here on Hyperscale, so I won't invent anything new exciting. I'll just mention one little flaw with my sample of the kit. Both landing flaps were not moulded properly and had big sink marks on both sides running the whole length of the flaps. Some filler and sand-paper took care of this fault. Apart from that – no problem at all.
Aires' beautiful resin cockpit set was a joy to work with. The casting is flawless and in combination with photoetch rudder pedals and instrument panel (included) an extremely accurate replica can be built.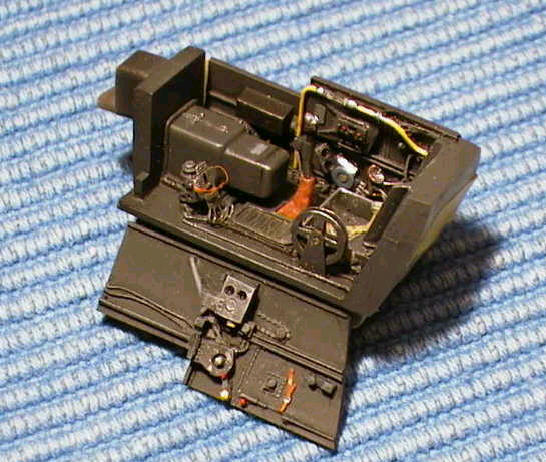 One problem turned out to be the armoured glass panel for the pilot's armour. Aires provide the metal frame and metal panel with their PE-set but leave the glass panel to your improvisation. Unfortunately the part from Hasegawa's kit doesn't fit, as it is much too small.
I finally cut that part from a CD-sleeve. Two big squares of 1mm thick crystal clear polystyrene that usually gets thrown in the dustbin when the hinges break. I'm sure I'll find many more uses for that wonderful material.
The most labor-intensive part of this model was substituting the integrally moulded wing tip position lights with lenses cut from clear sprue. This is how I generally do it. Shape a section of clear sprue to roughly fit the cut- out in the wing tip. Then drill a tiny hole into the sprue and fill it with the appropriate colour paint. This will later look like a coloured light bulb. Stick the sprue to the wing and let it dry for a whole day. Shape the wing tip lens with sand paper or a power tool and then polish – finished.
This is my preferred method – and I learned it from modellers here at Hyperscale!
To make the opened radiator flaps look more realistic, I added detail from very thin styrene sheet.
For the paint job I used Aeromaster and Polly Scale acrylics - and at least half a roll of Tamiya masking tape. The neutrality stripes and national insignias were airbrushed, using Aeromaster's RLM red over RLM white.
Panel lines were accentuated with heavily diluted matt black Humbrol enamel. I let the mixture run from the tip of a very fine brush straight into the panel lines. Exhaust staining was done with different shades of dark pastel dust.
Eduard's Express masks fitted on the spot, but were a bit too inflexible for my liking. I had to warm them for a few seconds under my modelling lamp to make them fit around curved areas. Otherwise they would just straighten out again and not stick properly.
For the first time I had the chance to use Moskit's ultra-realistic metal exhaust stacks. How on earth our Russian friends manage to produce these may remain their secret, but the results are terrific. What you see in my pictures is the Moskit set straight from the box. No painting, no weathering - the exhausts are proper dark metal covered with a very light layer of real rust. Unbelievable. As the exhaust stack is quite a bit deeper than the original Hasegawa part, a full opening has to be cut into the cowling. Correct alignment and secure fit of the replacement parts is thus tricky and depends completely on your improvisation.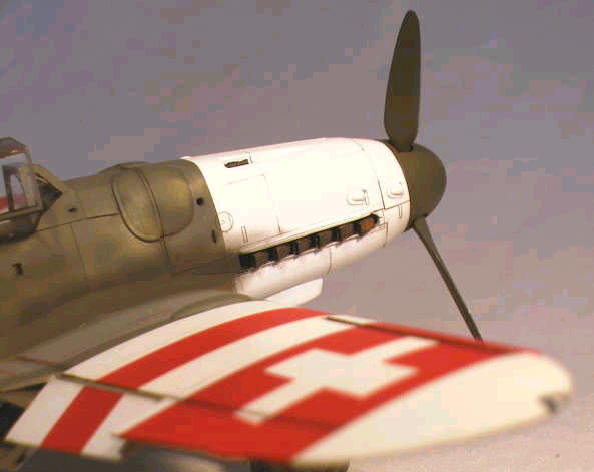 Cutting Edge's decal sheet provides markings for thirteen (!) Me 109 D, E and G models and here the graphic design was truly mastered without errors, if I may say so... Very, very nice indeed. Just why do more and more accessory companies switch to 'limited edition' sales strategies? To me personally this is more annoying than tempting. So, now I've said it. Feel better already.
Some additional detail from stretched sprue and wire around the cockpit area and landing gear legs and my 109 was finished.
As with all my models also this one suffers from some little glitches. When I cut the flap for the pilot's stowage compartment at the back of the cockpit, I got the shape slightly wrong (the top corners need two more angled cuts). I found a revealing photo of the original after gluing and airbrushing, of course.
Some stencilling is missing on my model, too. It was impossible for me to reproduce it and Cutting Edge didn't include it in their otherwise totally comprehensive decal sheet. First, the yellow fuel quality triangle should say '93' and immediately in front of it should be the white stencilling 'OZ 93' (for: Oktanzahl 93 = octane rating 93).
Secondly and ironically, Swiss Me 109s were most likely the only ones that wore official French/German stencilling. The wing leading edge slats were marked nicely in white and red 'Ne pas toucher' / 'Nicht anfassen' = Do not touch. I would have really loved to put these decals on my model.
· Hasegawa 'Messerschmitt Bf 109 G-14', Kit #JT 48, 1/48th scale
· Aires, 'Messerschmitt Bf 109 G', resin/photo-etch cockpit set, Kit #4034
· Moskit Russia, 'hollow metal extremely thin exhaust pipes for Messerschmitt Bf 109 F/G/K' #48-02
· Eduard Express Mask, 'Bf 109 K for Hasegawa kit', #XF 016
· Cutting Edge Decals, 'Swiss Bf 109s', #CED 48040 (o.o.p.)
Die Messerschmitt Me 109 in der Schweizer Flugwaffe – ein Stόck Zeitgeschichte by Georg Hoch, self- published by the author, Rue Jolimont 25, CH-1530 Payerne, Switzerland, 1999, ISBN: 3 905404 10 9
Aero Detail 5, Messerschmitt Bf 109 G, published by Dai Nippon Kaiga Co. Ltd. Japan, 1992, ISBN: 4-499-20589-1 (o.o.p.)
Messerschmitt Bf 109 F-G In Luftwaffe And Foreign Service, Aircam Aviation Series No. 40 by Francis K. Mason and Richard Ward, Osprey Publishing Ltd.,1973, ISBN: 0 85045 153 1 (o.o.p.)
The Messerschmitt Bf 109 G, by J.R. Smith and I. Primmer,
Profile Publications No. 113 (o.o.p.)
---
Model, Images and Text Copyright © 2001 by Werner Scheibling
Page Created 20 July, 2001
Last Updated 04 June, 2007
Back to HyperScale Main Page
Back to Features Index