Curtiss BFC-2 Goshawk
by Arlo Schroeder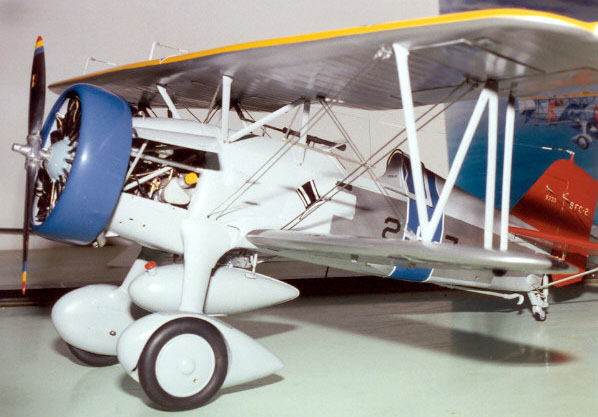 Scratchbuilt 1/16th Scale Curtiss BFC-2 Goshawk
Text by Ben Backes

HyperScale is proudly sponsored by Squadron
This model represents the 3rd section lead of VB-2B "High Hat Squadron" aboard the USS Saratoga circa 1936.
Building time for this project was 1,391 hours.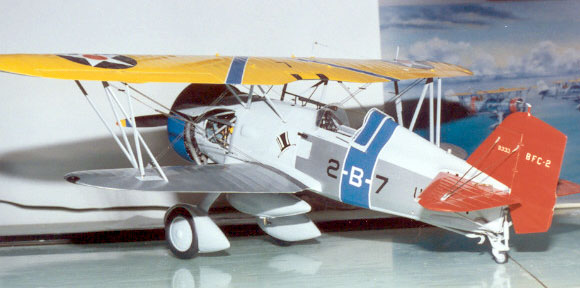 Features include working shock absorbers on the landing gear, working control surfaces and hinged engine access panels.
Automotive acrylic lacquers were used to paint this model, and markings were custom-made dry transfers from Woody Vondracek.
Construction Photo Feature

The internal structure and landing gear is soldered brass tubing.

---

This was accomplished with the aid of a soldering jig. First a drawing of the internal structure was glued to a piece of wood, then small wooden blocks were nailed at strategic locations with the proper angles cut into the corners to hold each piece of tubing in its proper location while the soldering was done.

---

Arlo used real wood stringers to simulate the real wood stringers!

---

Underside of the upper wings internal structure. Sheet aluminum sandwiched to the plastic spars adds incredible strength. The attachments for the struts are metal too.

---

Upper view of the upper wing internal structure. Plastic was used for most of the spars, but were the struts attach aluminum was used for added strength.

---

The finished lower wing sits behind the wood pattern for the upper wing skin. Thin pieces of tape were laid along the location for each rib. When the skin is vacuum-formed these will create raised bulges. It looks as if small sections of blue tape are in some places, but this is not actually the case. Different colors of scrap tape were used and some of the pieces were alternating blue and white patterns.

---

This is the underside of the upper wing, before the skin is applied. Wood has been carved and glued to the aluminum to provide something solid behind the skin of the leading edge.

---

Many of the major components painted and ready for final assembly.

---

The wood box is a temporary jig to get the upper struts lined up correctly.

---

The Wright R-1820 engine is attached and behind it is the accessory section. The flying wires are flattened aircraft model safety wire.
---
Model and Images Copyright © 2001 by Arlo Schroeder
Text Copyright © 2001 by Ben Backes
Page Created 10 October, 2001
Last Updated 04 June, 2007
Back to HyperScale Main Page
Back to Features Index