Focke-Wulf Fw 190D-11
by Bryan McDermott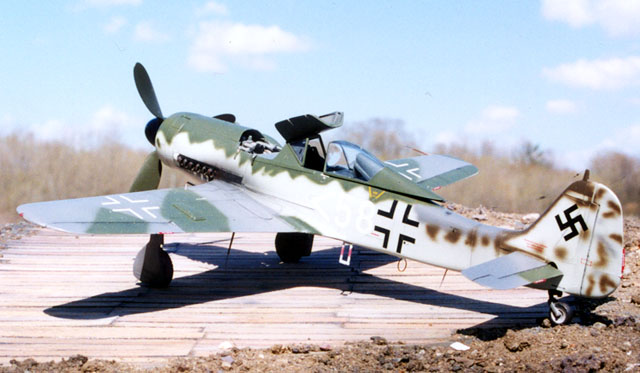 Focke-Wulf Fw 190D-11
images by Kelly O'Brien


HyperScale is proudly sponsored by Squadron
My model is a representation of <58, a rare Focke-Wulf Fw 190D-11 (werknummer unknown) discovered at Munchen-Reim.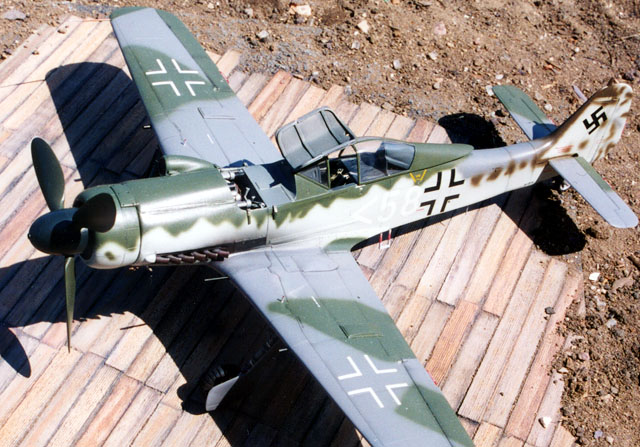 KIT - Trimaster Fw 190 D-12
SCALE - 1/48
ENGINE - This is a complete scratch-built engine. Casts of basic parts taken from Trimaster TA 152 engine. Detail Master accessories for fittings and plumbing; Unique Technology Exhaust manifolds
COWLING - Trimaster Fw 190 D-12 cowl modified to true D-11, D-13 shape. Supercharger intake reformed from kit unit to authentic shape. Scratch-built fire wall.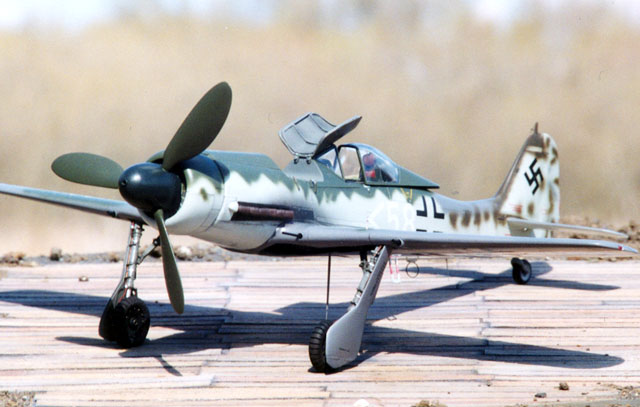 COCKPIT - Kit cockpit with Edward seatbelts added, and scratch- built throttle lever.
LANDING GEAR - Kit gear with True Detail wheel-tire assemblies. Scratch-built brakes lines. The wheel well bay was opened up to accurately represent the "D" series aircraft. Engine bay detail also added.
FUSELAGE - Kit part. Opened fuselage upper cowl, and scratch- built inner structure.
WINGS - DML Fw 190 A-8 lower wing kit part. Made Mk-108 ejection chutes and Mk-108 access cover bulges. Added upper wing fairings for outer wing cannon.
DECALS - Eagle Editions
PAINT - Automotive lacquer, (see next page).
I have made an extensive study of known photographs of Fw 190D-11 <58. I have studied photographs of other Fw 190 D-11 aircraft, as well. There is photographic documentation for nearly the entire aircraft <58 except for the bottom. Since there are no known photographs of the bottom of the aircraft, camouflage and markings are left to speculation.
I decided to present this aircraft as it was received by JV.44. There are no red and white stripes at delivery stage. Instead, I gave the lower wings a finish found on many late Fw 190's, including the batch of D-11's, as evidenced in photographs. I believe the following underside pattern is completely accurate for this aircraft: 75 Gray-Violet forward of the Mk-108 access panel, the remainder of the wing is left natural metal, ailerons are 76 light blue.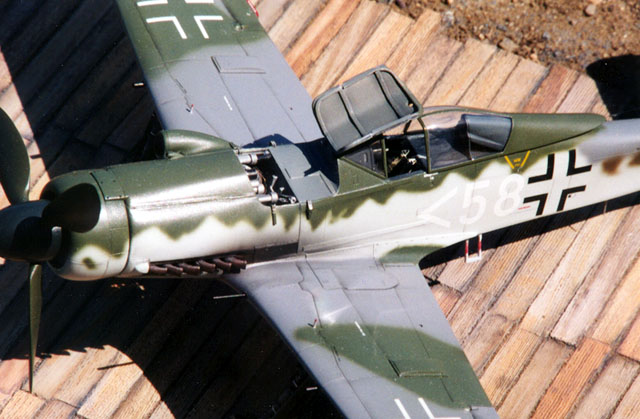 All photos of true Fw 190 D-11 production aircraft show standard size B4-styleBalkenkreuz on undersides of wings, and fuselage. Camouflage and markings on the rest of the aircraft is similar to standard D-9's On <58 this seems to be 75, 83, over 76 with mottle of 81 on rear fuselage and tail. (see photos)
Thanks to Jerry Crandall, James V. Crow,and all those who contribute to this history. Special thanks to Brett Green for maintaining this wonderful web site.
---
Model and Text Copyright © 2001 by Bryan McDermott
Images Copyright © 2001 by Kelly O'Brien
Page Created 13 July, 2001
Last Updated 04 June, 2007
Back to HyperScale Main Page
Back to Features Index