Focke-Wulf Fw 190D-9
by Bryan McDermott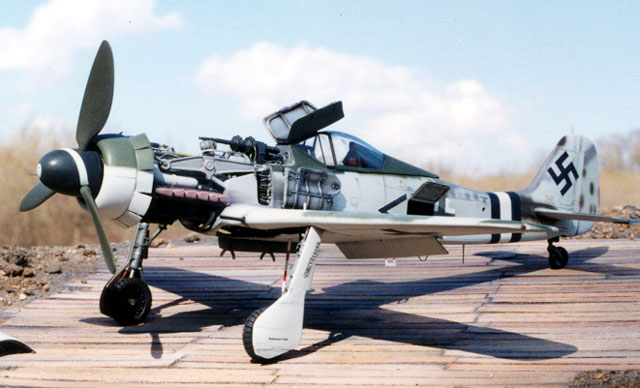 Focke-Wulf Fw 190D-9
Stab./JG 4 "Provisional"
images by Kelly O'Brien


HyperScale is proudly sponsored by Squadron
Many photos exist of this aircraft subject belly-landed at Rein Main airfield Germany. Some recent speculation suggests that the black white photographs hide the identity of the Jagdgeschwader.
Now, there is belief that this could be a JG 2 aircraft. Until then the tail bands will remain JG 4. Who flew this plane in combat? This is yet another unanswered question.
Trimaster made a great kit! This is their 1/48 scale Focke-Wulf Fw 190D-9. It is the most accurate kit of the Fw190D-9 containing a lot of photoetch parts, plus metal landing gear.
I added the following to this wonderful kit:
Aries Junkers Jumo 213A engine

components of Verlinin Fw 190D-9 detail set

Eduard Fw190 landing flap kit, and cockpit set

Moskit exhaust

True Detail wheel-tire set

Detail Master fittings, solder, pulleys, and plug wire

Eagle Cals, Kommandeur, and AMD decals.
Many details were also scratchbuilt. I made correct engine bearers before the Aries D-9 set was released. The engine plumbing was a research project in itself. I created a complete diagram from fragmented Company drafts and photographs. From this the plumbing was created and installed.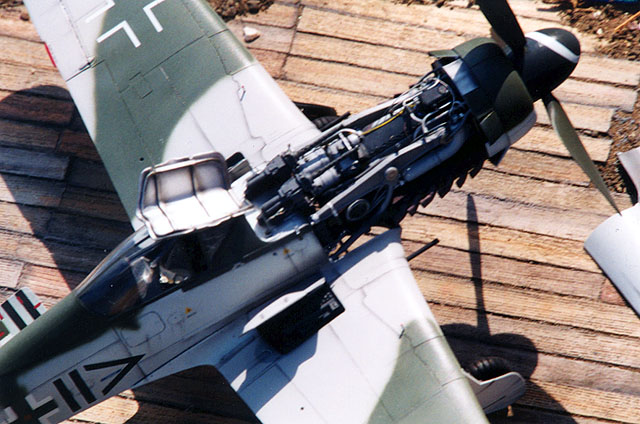 The apparatus that holds the radiator is soldered brass. Exhaust manifolds made of scorched copper were built around the Moskit ejectors.
Brake lines, Undercarriage control lines were added. Antenna is dental floss with solder insulators.
Materials include lots of superglue, and Micro Scale Krystal Kleer. For paint, I mixed all of the colors from automotive lacquers; automotive clear lacquer was used to blend-in the decals.
The many photographs of the fighter plane reveal most of the upper, and lower surface colors, and patterns well with the exception of the wings. Through careful study I have been able to completely document the lay out of the camouflage-makings with one exception. On many 600xxx series birds the trailing half of the wing undersurface is natural metal. This area is not visible as, in the photo, the plane is on it's belly so I flipped a coin.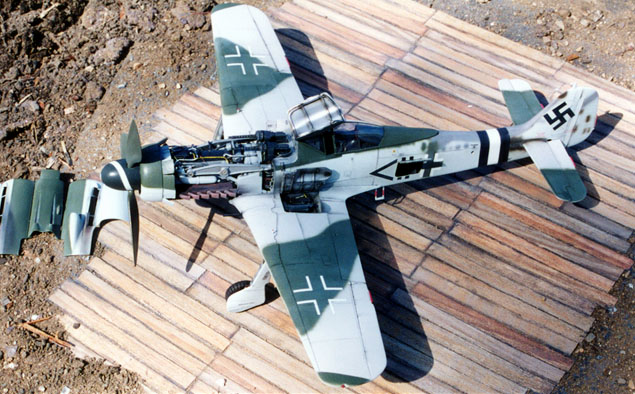 All of the visible colors were precisely mapped out, and faithfully reproduced here on the model. Where colors are concerned I believe this is the proper combination. On photographs the color on the tail is much darker than any other color on the plain. My interpretation was therefore the dark version of Brown Violet 81 sometimes applied to Focke-Wulfs. All the colors, and schemes are loyally reproduced to create as accurate a model as possible.
Although I spent over two years researching and building this creation, the results would not be as accurate without the assistance of the following: IPMS, James V. Crow, Jerry Crandall, and E. Brown Ryle. Thank you Mr. Green for your online marvel!
---
Model and Text Copyright © 2001 by Bryan McDermott
Images Copyright © 2001 by Kelly O'Brien
Page Created 31 May, 2001
Last Updated 04 June, 2007
Back to HyperScale Main Page
Back to Features Index