IS-2M
by Ulf Andersson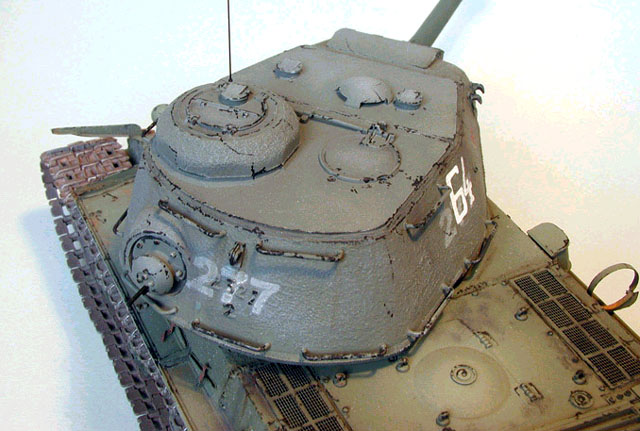 IS-2M


Shanghai Dragon's 1/35 scale IS-2M UZTM version is available online from Squadron.com
I was chatting with a fellow modeller at the C4-exhibition in Malmö during fall 2000 about unique and exciting techniques to get an interesting model - something eye catching. One of the endless possibilities that took my fancy was depicting a tank that had recently gone through a major field modification/repair.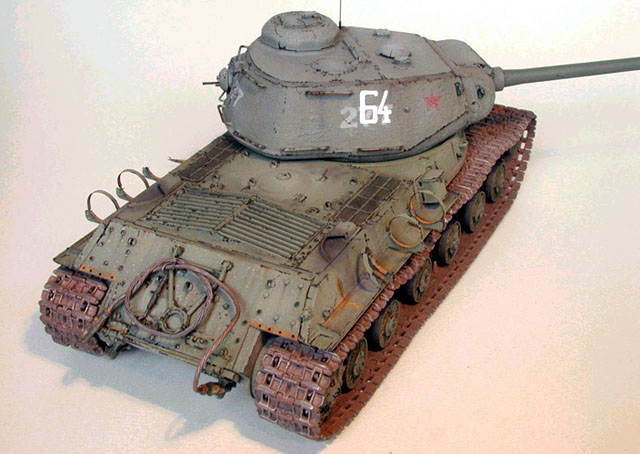 Imagine the following scenario - Tank A with its turret destroyed and tank B with everything except the turret blown to pieces. A quick match of the two for fastest possible replacement for a unit under pressure. This instantly suggests a million ideas about how to reinforce the impression of two different beasts married as one.
I'll come back to this concept later.
I decided to use Dragons 1/35 scale IS-2m. Why the IS-2? Because, in my opinion, nothing's comparable to the heavy Russian tanks in terms of raw design, lack of extra detail and brutality. This helps when there are aspects beside the tank design itself that's the main point.
The track was replaced with Anvil Miniatures' resin "click-link" item, and the Eduard PE-set was used. This photo-etched set was designed for Italeri's IS-1 but was also suitable for the model I built.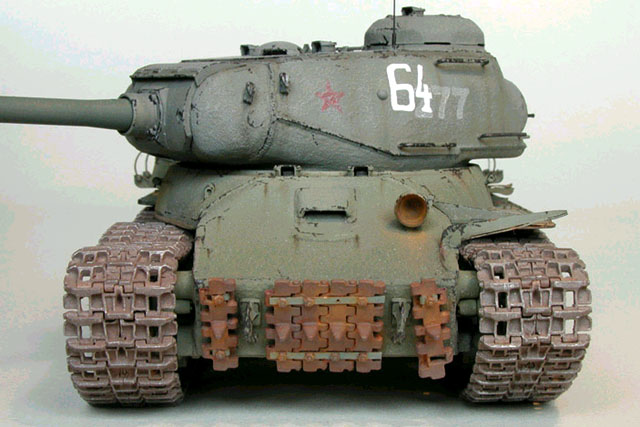 The gun barrel (as always) was replaced with Jordi Rubio, but the muzzle brake from Dragons gun was retained. The white metal lump that came with the turned aluminium barrel was poorly detail and simply didn't match the plastic one!
The only other serious modification was the addition of cast texture on the front hull sides and weld seams on the rest of the lower hull. I used Milliput to add this texture.
Tank A was hit from the right, turret put out of action. Another shell from a smaller calibre gun hit the tank on the same side just over the fender. Shrapnel from this hit ripped of part of the fender and caused some damage on the tank. Later, the repair crew removed the whole section and welded a piece of scrap armour on the damaged part of the hull. Tank B had only it's turret in workable shape after running over a mine.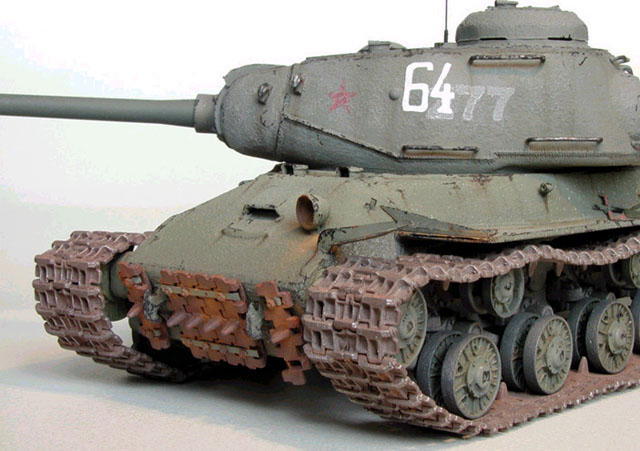 Both tanks were recovered and towed away to a field repair unit. Standing side by side it was quite obvious for the repair team what to do…. Consequently two wrecked tanks became one operational. I painted the turret in a slightly different shade and added new turret numbers over the old ones so that the new vehicle was given appropriate ID linked to it's new unit.
Paint was Humbrol and weathering was achieved with oils and pastels plus some touches of thinned Humbrol, mainly on the engine deck. Chipped paint was painted with Humbrol as well.
Painting step by step (same technique but different colours for turret and hull):
Base colour airbrushed - hull Humbrol 98, turret 98 mixed with 92

Lightened base colour airbrushed on turret roof and top of tank

Dry brushing with a couple of different shades to further enhance variations. NOT ON EDGES!

Painting of the original markings.

Markings dry brushed with light base colour until nearly invisible.

Chipped paint. Humbrol 33

Raw Umber oil paint carefully painted in places and streaks of dirt painted along the sides.

Rust painted with Humbrol 62 and pastels.

New fresh markings put in place (dry transfers, Verlinden)

More Raw Umber.

Different shades of pastels

Smoke over engine grilles and behind exhaust pipes airbrushed and pastels added as streaks of smoke down the sides.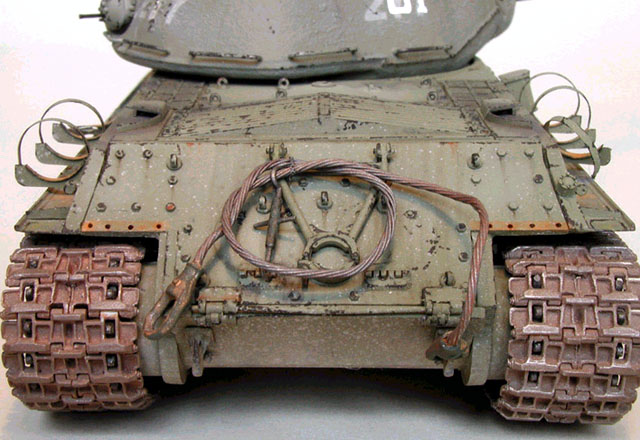 I didn't use my airbrush as much as I usually, do but stuck to brushes to a greater extent. Its nice to try a new approach sometimes. The kit with all the aftermarket parts has been laying around for a year, so it's nice to finally have this creature sitting on my shelf.
Click the thumbnails below to view the images full-sized.
Use the "Back" arrow of your browser to return to this page.
---
Model, Text and Images Copyright © 2000 by Ulf Andersson
Page Created 17 April, 2001
Last Updated 04 June, 2007
Back to HyperScale Main Page
Back to Features Index